MANOR RICO ARISTO – sleeps 8
easy access to shops, towns and cities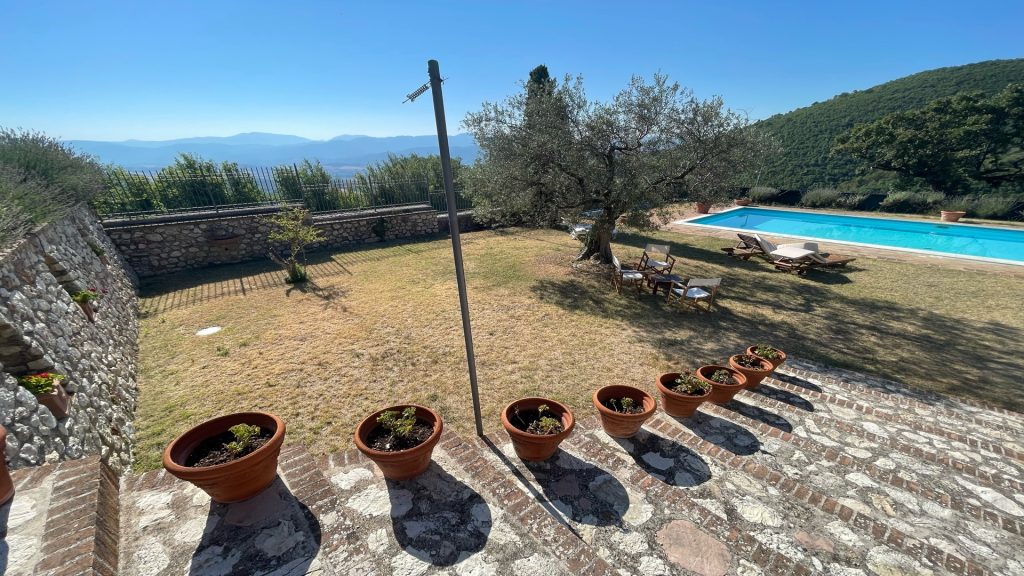 Sleeps:

8

Bedrooms

3

Bathrooms

3

Property type:

Apartment, Country house, House, Rustic, Villa
GENERAL DESCRIPTION
This huge manor house is 11 kms to central Spoleto and close to all the hot spots eg Perugia, Assisi, Montefalco, Orvieto etc.
It sits atop a small hill, on the eastern slope of the Martani mountains, amidst expansive private grounds.
Below the manor there is a spectacular panorama that sweeps across olive groves, mountains, valleys, sunflower fields, taking in ancient monasteries, tiny villages and fairy tale cities in its wake.
The manor is equipped with all you can possibly require for the holiday of a lifetime.
Located in one of the most beautiful parts of the world, this stately house is steeped in history, culture and local traditions.
INTERIOR
This magnificent manor contains 2 large apts.
However, for the rest of this year 2022, the 2nd apt will remain empty. This means that when you book, you have the whole place to yourselves.
The pool and the grounds will be yours exclusively.
Your apt consists of 2 floors –
Upper floor contains 3 double bedrooms – the master with aircon/ensuite plus 2 bathrooms -inc ensuite…
Ground floor contains 1 kitchen/diner, 1 fully equipped galley kitchen, 1 sitting room plus 1 cloakroom…
Optimally, the apt sleeps 6 persons. However, we can provide 2 extra camp beds that can be placed in 2 of the bedrooms so enabling a group of 8 persons to stay here.
TYPE OF GUEST THIS MANOR APPEALS TO
Queen Elizabeth has always favoured living in a small cottage on one of her estates. She prefers the " down to earth" natural way of life to that of living in a palace. Her small cottage is a place where she kicks off her wellington boots and leaves them by the front door along with the muddy shoes of her privileged guests. It is a place without the flunkies and fineries usually associated with the fabulously rich. Here, we are talking "old money" not nouveaux riche.
It is the same with Manor Rico Aristo! This is not a modern reconstruction. It is a traditional rebuild of an Umbrian country manor, a huge, comfortable and easy living house, a house that you can totally relax in, a house that has seen many generations of young and old.
This is a house of the old style Italian aristocrat.
CONSECRATED CHAPEL IN GROUNDS !
Yes! You can be officially married here. We do not arrange marriages. But, if you are able to arrange it and deal with the bureaucracy etc, then, certainly, this is an ideal location for you and your guests.
The charge for use of the church and for the grounds to host a large event is 1000 euros. Ask for further details.
Otherwise we do not permit parties or other large gatherings in the house or grounds.
Accomodation and features
Holiday Theme: activity, away from it all, budget, family, historic, romantic, tourist attractions
Bedrooms: 1 master with ensuite and aircon, 1 twin plus 1 double
Bathrooms: 2 shower rooms plus 1 cloakroom with WC/wash basin
Living Room Facilities: soft furnishings
Dining Facilities: dining furniture in both kitchen diner and dining room
Kitchen Facilities: 4 ring stove, dish washer, freezer, fridge, grill, hob, ice maker, iron+board, oven, washing machine, coffee maker, cooking utensils
Internet Access: internet access, wireless broadband
Swimming pool: outdoor pool, private pool on site
Outside:parking off street, patio, porch, terrace, veranda, garden chairs, beach chairs, deck chairs, sun loungers, extensive grounds, parkland
General Property Facilities: ceiling fans - room fans, central heating, chauffeur, daily maid service on request, hair dryer, linens provided, welcome paper towels, private chef, welcome shampoo, welcome soap, welcome toilet paper, beach towels, air-conditioning
Suitability of the Property: children welcome, suitable for elderly or infirm, pets considered
Rates
RENTAL RATE :
3000 euros/week - the apt, the pool and the grounds exclusively yours. No-one else will have access to the property except for the grounds man and his wife, who will clean the pool and look after the land - at times to suit you - usually very early in the morning before you are awake !
The rate includes all utilities, linens, towels - inc pool towels - and final clean. It does not include the city tax, which must be paid in cash on arrival - 4 euros/per person over 12 for the 1st 4 days of each month.
Weddings allowed in consecrated church in grounds - 1000 euros charge for event to take place on site and use of church……. We do not organize the wedding but we can advise about catering.
DAMAGE DEPOSIT :
Refundable damage deposit of 500 euros to be paid in cash on arrival. This is as an insurance against serious damage/vandalism eg if a washing machine door is ripped off and such like acts. We do not charge for minor accidents such as breakages of crockery etc. The deposit will be returned in full on the day of your departure, assuming no claim has been made. To date, in 25 years of business, we have never charged anyone - I stress it is an insurance policy for us and, particularly for younger groups, encourages a greater degree of vigilance.
SHORT TERM RENTAL CONTRACT/AGREEMENT:
Frz. Terzo San Severo #46
Spoleto, Italy 06049
The following terms, conditions, and notices of liability constitute the short-term rental agreement for the above referenced property.
All terms and conditions also function as "house rules". Violation of any of the terms, conditions, or house rules is considered ground for immediate eviction.
The Short Term Rental Contract/Agreement is an additional set of terms, conditions, and notices of liability, sometimes overlapping, to any terms, conditions, or rules present on the rental listing for The Property.
DEFINITIONS
The Property: Frz. Terzo San Severo #46 Spoleto, Italy 06049 Short Term Rental Period: All rental agreements are for 28 days or less. The maximum vacation rental period at The Property is 14 consecutive days.
Owner/Lessor: Rico Tagliaferri is the owner and proprietor of The Property and rents this property to individuals under the terms of this short term rental contact/agreement.
Lessee(s)/Vacation renter(s)/Guest(s): individual renting the property as a vacation renter according to this short-term rental contract/agreement. This includes all individuals in the group of Lessee(s)/Vacation renter(s)/Guest(s) for any given.
Short Term Rental Period. The maximum number of individuals, including children 18 years or under, of and Lessee/Vacation Renter/Guest group is eight [8] individuals.
Swimming Pool and Area: all area included in the gated area at the south end of the property which includes the swimming pool and stone pool border, gazebo, grassy area and gardens, and stairs leading up to the house.
SWIMMING POOL AND AREA
1. Pool opens at 9am and closes at sundown.
2. No glass bottles, glasses, dishes, or other glass items in the pool or at the pool area; including the gazebo and picnic table and other pool furniture.
3. No diving, somersaults, or jumping into the pool.
4. No running around the pool.
5. No running up or down the stone stairs leading to the pool.
6. Swimming in a pool is a high-risk activity and all Lessees/Vacation
Renters/Guests assume  the risk of any injury incurred while swimming or engaging in other swimming related activities in the Swimming Pool and Area and relieve the Owner/Lessor of all liability of any injury that occurs during said swimming or swimming related activities.
GENERAL RULES
1. No smoking. There is no smoking in the house at The Property, which
includes entryways and the stone walkway surrounding the house. Cigarette
waste is to be disposed of properly and not left on the ground or littered on The Property gardens or grounds. Violating of these rule will result in an additional 500 Euro cleaning fee.
2. No pets. Violation of this rule will incur an additional 250 Euro cleaning fee plus reimbursement for any damages caused by pets to furniture, walls, or anything else on The Property.
3. No parties. No parties or gatherings at The Property without the prior permission of the Owner/Lessor. Only individuals from the Lessee(s)/Vacation renter(s) group are allowed at The Property.
4. Noise Level. A respectful noise level must be maintained at The Property. Although The Property is walled and gated, it is on the edge of a small village and there are neighbors to be respected.
5. Local Tourism Tax. There is a one and a half [1.5] Euro Local Tourism Tax mandated by the Commune di Spoleto. The tax is per guest fourteen [14] years or older for the night – maximum four nights per month. The Local Tourism Tax is paid in cash at arrival and check in.
6. Check in & Check Out. Check in is after 4:00 pm on the first day of the Short Term Rental Period and Check out is before 11:00 am on the last day of The Short Term Rental Period.
FACILITIES & GROUNDS
1. Toilets. Only toilet paper may be flushed down the toilets. No cleaning wipes or sanitary products may be flushed down the toilet.
2. Grounds and Gardens. The grounds and gardens surrounding The Property contain significant numbers of lavender and other flowering plants. These lavender and flowering plants attract bees. If any Lessor/Vacation Renter/Guest is allergic to bees, the Lessor/Vacation Renter/Guest assumes  the risk of being stung and any resulting allergic reaction, including death, by renting and/or being present on The Property.
3. Pizza oven. The pizza oven located in the stone wall next to the house is not for Lessee/Vacation Renter/Guest use. No fires shall be started in the pizza oven by Lessees/Vacation Renters/Guests.
4. Fireplaces within the house. There are three fireplaces in the house – kitchen, sitting room, and utility room that are accessible to Lessees/Vacation Renters/Guests. Fireplaces within the house are not for Lessee/Vacation Renter/Guest use and no fires shall be started within the fireplaces by Lessees/Vacation Renters/Guests.