SPOLETO VILLA + LODGE – sleeps 18
Large villa + lodge in 42 hectares of private land with large pool, 3 miles from historic centre of Spoleto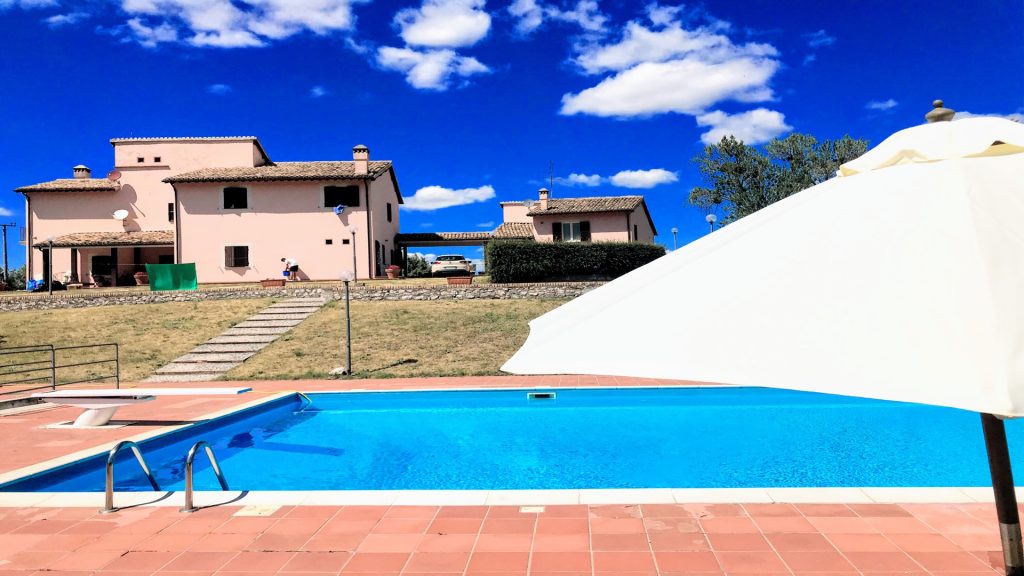 Sleeps:

18

Bedrooms

7

Bathrooms

6

Property type:

Country house, House, Luxury, Villa
THE VILLA + THE LODGE (sleeps 18)
See reviews close to end…..
Only 3 kms from central Spoleto…….
The Villa sleeps 14 and the Lodge sleeps 4. In total, they sleep 18 persons.
THE RATE INCLUDES UP TO 18 PERSONS.
VILLA –  (sleeps 14)
5 double bedrooms (3 of which are ensuite), 4 bathrooms, 1 enormous sitting/dining room with snooker room + separate kitchen, inc dish-washer, WIFI, large lap pool with pergola + sensational views.
The pool is 300 square meters
1 meter deep at one end
2.5 meters deep at diving board end.
It has 5 bedrooms:
Bedroom 1 – 1 large double bed, ensuite
Bedroom 2 – 2 large twin beds that cannot be joined
Bedroom 3 – 1 large double bed with 1 single bed
Bedroom 4 – 1 large double bed with 1 single bed
Bedroom 5 – 2 bunk beds + 1 double bed
4 bathrooms (1 ensuite),
1 separate fully fitted kitchen with dish washer and washing machine,
1 enormous sitting / dining room that can seat 25 for dinner,
1 snooker room at the end of the dining room,
1 large veranda with BBQ,
1 large pool with gazebo/open May 1 to Oct 31.
Just 10 mins drive from the mediaeval centre of Spoleto, this fabulous villa, set in its own private 44 hectares of gorgeous countryside, is stunning !
THE LODGE (sleeps 4)
The large Lodge is at the side of the villa.
2 double bedrooms, 2 bathrooms, 1 very large sitting/dining room + separate kitchenette – sensational views.
It has 2 bedrooms:
Bedroom 1 – 1 large double bed
Bedroom 2 – 2 twin beds
2 bathrooms – 1 on ground floor, the 2nd in the basement on same floor as the 2 bedrooms
1 separate kitchenette
1 very large sitting / dining room that can seat 12 for dinner
1 large veranda with BBQ,
Carlo Minotti, who created the original Spoleto Festival, spent his summers here !
The famous Carlo Minotti, he of 'the Festival of Two Worlds' fame, spent his holidays here, along with a host of other celebrities throughout the years, all hosted by the owners of this beautiful property.
Now, the owners have moved away and this grand house is available as a holiday rental. This means that you, too, can follow in the footsteps of Andy Warhole, Brigit Bardot, Peter Sellers, Pavarotti and the many other friends that Minotti had visit, while he was here.
Friend reunions and family gatherings…..
This large, spacious, comfortable house is perfect for reunions of family and/or old friends.
A property with vast amounts of space, where everyone can be private when they want, but, with an enormous sitting/dining room, where everyone can congregate together. Indeed, it can seat up to 20 persons easily, INSIDE AND OUTSIDE !
This Villa has a separate kitchen/breakfast room with a dish washer, just off the enormous dining area and next to the outside patio, overlooking the pool. The Lodge also has a separate fully equipped kitchen. just off the very large dining area, overlooking the pool.
Besides the large lap pool, there is a pergola with seating for 4 – 6 persons and……a fantastic sound system. And, for those of you who like discos, you can have the sound system turned up to full volume since all the land, as far as the eye can see and further, belongs to you, during your stay at SPOLETO VILLA .+ LODGE.
A central location with easy access to all the Umbrian "hot spots" !
Set in 44 hectares of PRIVATE drop-dead, gorgeous countryside, all private, ALL YOURS, Wifi throughout the villa and TV, I can assure you there is nothing that can even begin to compete with this villa in the area. And, with the fairy tale, mediaeval, walled city of Spoleto, a city that predates Rome, just 10 – 20 mins drive away, Assisi, Perugia, Orvieto, Montefalco and Gubbio, all within easy reach, and, Rome, a mere 1 hr 15 mins drive (or, by train, from Spoleto station), this heavenly abode is an out and out winner!
REVIEWS….
| | |
| --- | --- |
| Review #15752775 "Vallocchia Villa + Lodge, large pool with diving board, Rome 1 hr" | |
| | |
| --- | --- |
| Hidden gem uncovered! Perfect for a group vacation. | |
Originally we wanted to stay in a villa in the Tuscan countryside. Fortunately we decided to make the extra effort to go that little bit further to Umbria and looking back it was a great decision. Our party was quite large (14) but the Vallocchia Villa was perfect for us. Being musicians it was important to us that we had the whole place to ourselves. We barbequed, we swam in the pool, we jammed, we cooked, we read and most of all, we chilled. Vallochia gave us the ability to do all we wanted…or nothing at all. Some of us broke away for day trips to Spello, Montefalco, Assisi and Rome. Tip: check out Restaurant Sabatini in Spoleto. The food and service were excellent!

Upon arrival to Spoleto we were greeted at the meeting point by Laurie, who then led us to the property.

The Villa itself was fabulous. Set atop a hill in the Spoleto countryside we had a gorgeous view to the north of Spoleto and on the south/east side the ridge line of the green hills forming part of the central Appenine mountain range. The house was well equipped with almost everything a group such as ours needs to prepare meals for each other with plenty of pots, pans, crockery, utinsels, and serving bowls and dishes.

There were a few small issues but a quick call to Laurie and the owner Enrique resolved those almost immediately. We very much appreciated their customer oriented approach to ensuring our stay was stress free and enjoyable. As there was no AC we were a little anxious beforehand that we would be sweltering in the heat. We did not miss AC at all. The Villa, with its shutter system remained cool throughout the week. The temperature averaged 30°C for the 7 days we were there and when the right windows were opened or closed the breeze and thick walls of the buildings kept us cool.

We were treated with a family of wild boar passing through the property early one morning as well as seeing a badger scurry across the private road upon returning from one of our day trips to a nearby town. On the property by the pool there is a large fig tree which we were able to pick fresh figs each day, as well as blackberries just behind the barbeque. The pool was wonderful. Exactly what we had hoped for. Tip though: be sure to bring plenty of insect repellent. The horseflies and mozzies can be nasty.

All in all we had a wonderful stay in Vallochia Villa and would recommend it to anyone who is looking for an out of the way relaxing stay in a charming Italian Villa.
HOMEAWAY/VRBO
………………………………………………………………………………………………………………………..
| | |
| --- | --- |
| wonderful position with a great pool and good accommodation | |
| | |
| --- | --- |
| This year our family of 15 stayed at Spoleto. What a great villa with a wonderful pool. Out of the town and very quiet. The cooker and fridge in the big house were a bit of a challenge but in no way spoilt our stay. The grandchildren loved the pool and the holiday for all of us was over too quickly. A great location with lots of things to do and places to visit. | |
HOMEAWAY/VRBO
HOW TO VIEW THE PHOTOS OF VALLOCCHIA VILLA (sleeps 14) AND THE LODGE (sleeps 18)
in the gallery of photos, the 1st set of photos is of VILLA VALLOCCIA (without Lodge). Then, when the 1st set of photos is finished, you will see a 2nd set headed "LODGE, TO SLEEP ANOTHER 4 PERSONS"
Accomodation and features
Accomodation type: self-catering
Holiday Theme: family, romantic, reunions, historic, tourist attractions, away from it all, budget
Bedrooms: THE VILLA/5 BEDROOMS : 2 doubles, 1 twin with large twin beds, 1 family bedroom with 2 twin beds (can be joined) + 2 bunk beds and 1 bedroom with 1 double bed + 1 single bed. Can be booked with THE LODGE/2 BEDROOMS : 2 double bedrooms
Bathrooms: THE VILLA/4 - (1 of which is ensuite). Can be booked with THE LODGE : 2 bathrooms
Living Room Facilities: THE VILLA : 1 lounge/dining room - seats up to 8 persons. Can be booked with THE LODGE : 1 sitting/dining room - seats 6
Dining Facilities: THE VILLA : dining for 18 persons in sitting/dining room - separate kitchen/diner with fully fitted kitchen - seats 4. Can be booked with THE LODGE : 1 fully fitted kitchen in separate dining room - seats 4
Kitchen Facilities: 4 ring stove, dish washer, freezer, fridge, grill, hob, iron+board, oven, washing machine, coffee maker, cooking utensils, toaster, microwave
Entertainment Facilities: games room, TV, pool table, stereo system
Internet Access: wireless broadband, internet access
Swimming pool: outdoor pool, private pool on site
Outside:garden, BBQ, parking off street, patio, porch, terrace, veranda, garden chairs, beach chairs, sun loungers, extensive grounds, parkland
General Property Facilities: central heating, hair dryer, linens provided, welcome shampoo, welcome soap, welcome toilet paper, towels, daily maid service on request, local restaurant guide, welcome paper towels, chauffeur, local maps, private chef, beach towels by request
Suitability of the Property: children welcome, pets considered, long term rentals available, suitable for elderly or infirm, non smoking only, pets
Notes:
10 mins drive to central Spoleto.
Situated in 42 hectares of the most beautful, Umbrian countryside, in the commune of Spoleto.
Please note that the Lodge at the side of the villa is NEVER rented out independently of the villa.
The Lodge is ONLY ever rented AS AN EXTENSION to the large villa. It has 2 double bedrooms, 2 bathrooms, 1 sitting/dining room + a terrace/porch.
Private chef, chauffeur and/or maid service, by request. Please enquire....
PLEASE NOTE THAT THE MAIN VILLA USED TO HAVE AIR-CON. HOWEVER, THE VILLA HAS PROVED TO BE COOL INSIDE, WITHOUT THE AIR-CON. AND, EVERYONE SAID THEY PREFERRED NOT TO USE IT. THEREFORE, FOR ECOLOGICAL/HEALTH REASONS, WE REMOVED IT !
Rates
| | |
| --- | --- |
| VALLOCCHIA VILLA + LODGE | Nightly Rate  |
| April, June | 429 euros |
| July | 500 euros |
| Aug | 572 euros |
| Sept, Oct | 429 euros |
ADDITIONAL CLEANING FEE OF 200 EUROS, TO BE PAID IN CASH WITH THE RETURNABLE DAMAGE DEPOSIT (ON YOUR DAY OF DEPARTURE) OF 600 EUROS - SEE BELOW FOR DETAILS.
The rate includes up to 18 persons.
GENERAL BOOKING NOTES :
For longer term bookings, please ask for a quote – it is very helpful, if you advise me of your budget.
Minimum booking period is 7 days.
Flexible Arrival/Departure Dates - subject to availability.
A deposit of 25% is required to secure a booking.
A returnable damage deposit of 600 euros on arrival, returned on day of departure, in case the snooker table baize is ripped or something serious is broken eg the washing machine door ripped off its hinges (yes, these things do happen!!). We do not count the breakage of glasses or minor things as "breakage" !