Terrazza Duomo – sleeps 6
Luxury, spacious apartment in mediaeval centre of Spoleto with stunning views from 2 terraces. 25 mins walk to train station (or short bus-ride). Car NOT necessary.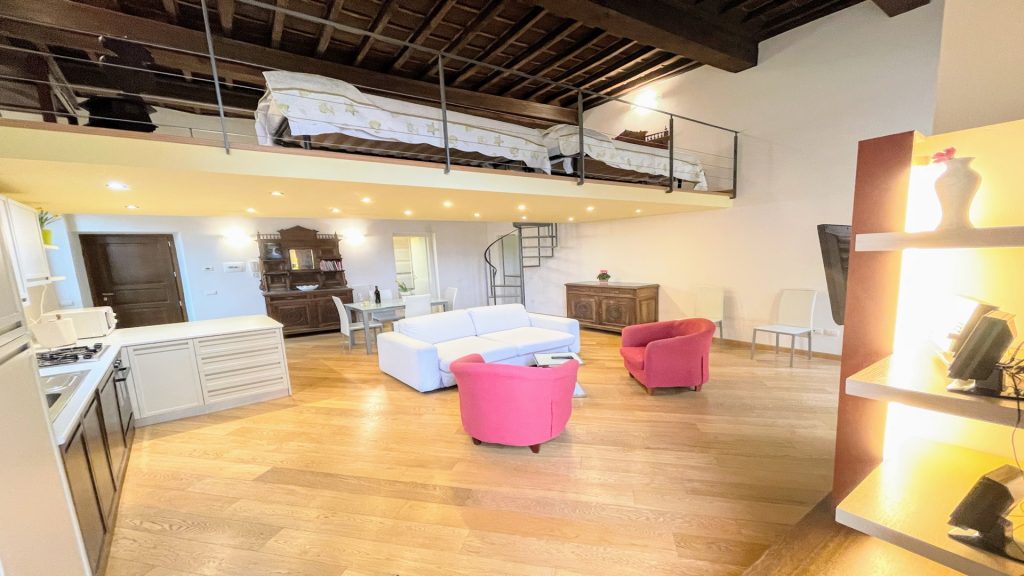 Sleeps:

6

Bedrooms

3

Bathrooms

2

Property type:

Apartment, Luxury
REVIEWS….
Review of Terrazza Duomo – car NOT necessary/central Spoleto
Wonderful stay in Spoleto
Left on Nov 24, 2017 for a stay in Sep 2017
This apartment was great for us (two couples). The location was perfect with just a short walk to the main piazza. Very easy access, not too many stairs . Condition of the apartment was very clean with everything we needed including 2 proper bathrooms. Spoilt for choice with the restaurants within walking distance and very close to two of the escalator systems. The agency was a delight to deal with and the owner met us as well with a gift of a lovely pie and olive oil and a great tip of the local cafe around the corner for breakfast and coffee. Didn't need the car at all in Spoleto but it was easy to access the car park when we wanted to travel to many of the beautiful hill towns within a short drive away. But the icing on the top was the view from the terrace. We spent ages just gazing out and feeling all our stress levels disappear. Thanks for a fabulous holiday.
This review is the subjective opinion of a TripAdvisor member and not of TripAdvisor LLC.
………………………………………………………………………………………………………
On Thursday, September 3, 2015 8:44 AM, Funke wrote:
Hello, Norma, Laurie and Ettore,
Spoleto is a fascinating town and we loved our stay there. We want to say thank you for the hospitality in your appartment. It was wonderful to have breakfast on the terrace and to enjoy the view over Spoleto. So you see we had a wonderful time. Thank you.
Christine, Bianca, Anne, Evelyne, Marie and Petra
………………………………………………………………………………………………..
Luxury apartment, sleeps 6
WiFi.
Elevator.
The cool, contemporary interior of this stunningly, beautiful apartment belies the antiquity of the grand palazzo that houses it. Opening onto views of Il Duomo, La Rocca, the roof-tops of mediaeval Spoleto and the mountains and valleys beyond, this is a million dollar location ! We receive nearly as many offers to buy this sensational apartment as we do to rent it. However, please note that this apartment is priceless and, for the foreseeable future, it is not for sale !
It has 2 totally private, double or twin bedrooms, one ensuite. And, on a mezzanine floor, there is a 3rd bedroom/study area, on which there are twin beds that can be joined. While the mezzanine bedroom is not totally private, the interior of the room cannot be seen from below.
The very large and spacious sitting/dining room has dining and seating for up to 6 persons. The 2nd bathroom is off the dining area. The 2nd bedroom is off the sitting room area.
Location….
In what many of the up-market Spoletini regard as the posh end of Spoleto, Terrazza Duomo is just 2 minutes walk from Piazza Mercato and 5 minutes walk from Piazza Liberta. Here, there is the tourist office, opposite the ancient Roman Forum, where plays, theatre and dance are still performed. Nonetheless, the cages that once restrained the lions from devouring the Christians, until the audiences arrived, remain intact.
While Terrazza Duomo is not on the main drag and, consequently, not in the hubbub of city life, it is within a few minutes radius, in any direction, of plenty of shops, bars and restaurants. The main "action" takes place in "down town" Spoleto, a 10 minutes, inspiringly beautiful, downhill stroll. Then, rather than walk back uphill, you can take the escalator, a 10 minutes pleasure ride that takes you upwards and above the roof-tops, on a covered but open moving staircase, which delivers you finally to just above Terrazza Duomo, at the entrance to the Rocca.
And, you are a mere 5 minutes walk from the very top of Spoleto, where, crossing Il Ponte, the splendid Roman aquaduct, you find yourself in the Sacred Mountains, where there are a myriad of marked paths, following in the footsteps of St Francis and his pilgrims.
IMAGES OF YOUR IMMEDIATE ENVIRONMENT IN CENTRAL SPOLETO
Accomodation and features
Accomodation type: self-catering
Bedrooms: 3
Bathrooms: 2
Living Room Facilities: seats 6
Dining Facilities: seats 6
Kitchen Facilities: 4 ring stove, dish washer, freezer, fridge, grill, hob, iron+board, microwave, oven, cooking utensils, toaster, ice maker, washing machine, coffee maker
Entertainment Facilities: TV, DVD player
Internet Access: wireless broadband
Outside:terrace, garden chairs, sun loungers, parking off street, deck chairs, 1 car space for hire
General Property Facilities: activities guide, ceiling fans - room fans, central heating, hair dryer, linens provided, local maps, local restaurant guide, welcome paper towels, security system, welcome shampoo, welcome soap, towels, beach towels by request
Suitability of the Property: children welcome, long term rentals available, non smoking only, suitable for elderly or infirm, pets
Notes:
Please note that the fire place in the photos can not be used.
Rates
| | | |
| --- | --- | --- |
| Period | Weekly Rate | Monthly Rate |
| All year | €900 | €3400 |
The rate includes up to 6 persons.
Flexible Arrival/Departure Dates - subject to availability. No arrival on Christmas Day or New Years Eve.
A deposit of 25% is required to secure a booking.
To see the full cancellation conditions, please click on Cancellation conditions :
http://www.umbriaholidayrentals.com/general-information/cancellation-policy.html
Reciprocal Links