VILLA SOLE VINO – sleeps 15 – Montefalco
Walk to Montefalco or Bevagna - 3 kms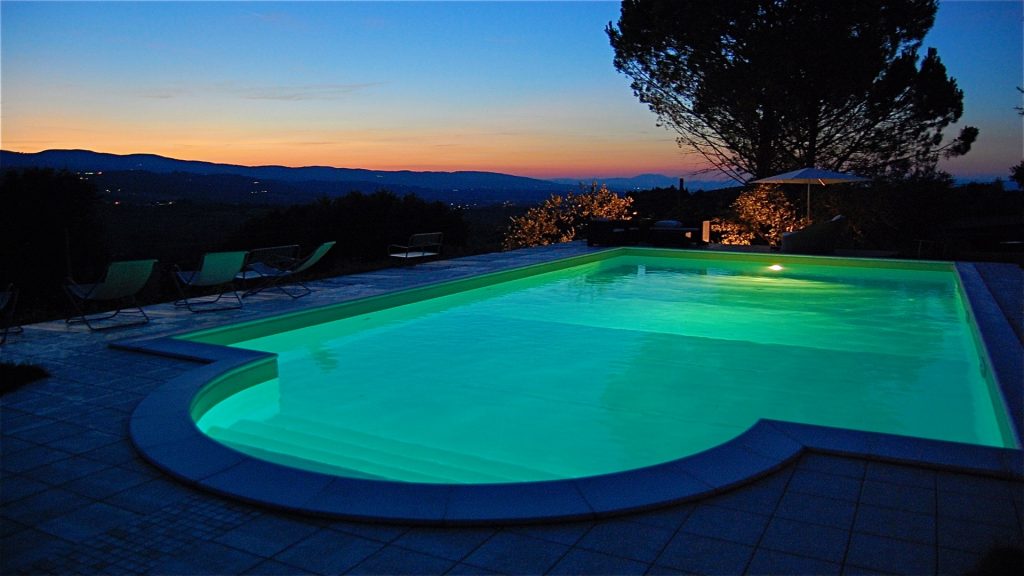 Bedrooms

6

Bathrooms

6

Property type:

Country house, House, Villa
Outstandingly beautiful holiday villas – sleeps 15 persons max.
Detached, the villa stands in its own opulent grounds and gardens.
Extensive manicured lawns, a salt water swimming pool, deckchairs and sunbeds, two gazebos, a large sun patio and a barbecue will make this trip your holiday of a lifetime.
Furnished with glass tables to seat 15 persons, a burnished copper fireplace takes centre stage. The high ceilings, the open space + floor plants create a feeling of oneness with Nature.
From the large front terrace, overlooking the grounds and the pool, you step into an aesthetically gorgeous, living/dining room that occupies most of the ground floor. Opulent and spell bindingly beautiful, it's large windows, overlooking the garden and the pool, offers an indoor/outdoor experience. As if you're in a huge conservatory.
BEDROOMS : 6 + 6 bathrooms/en-suite
The 6 double bedrooms, all en-suite, 2 of them suites, 3 of them with terraces, are all sumptuous :
on the ground floor –
a spacious double bedroom with en suite bathroom, TV and large covered terrace, overlooking the swimming pool
on the first floor –
double bedroom with en suite bathroom and TV
double bedroom with large en suite bathroom, TV and terrace
very large triple bedroom with en suite bathroom and TV
on the second floor –
a very large suite with big window, overlooking the valley, with two separate sleeping areas, spacious en-suite bathroom and TV
a smaller suite with large covered terrace, overlooking the swimming pool, the entire grounds and beyond. No TV.
In total, the villa sleeps 15 persons max in :
4 double beds (3 King size, 1 queen size)
5 single beds
1 sofa bed
GENERAL DETAILS + LOCATION
The villa has ceiling fans in every room plus partial  air conditioning.
A muted colour scheme creates a superbly relaxing atmosphere.
The owners enjoy an organic lifestyle. To this end, they've created vegetable gardens and an orchard, just a few meters beyond the pool. Guests are invited to help themselves to whatever is in season during their stay.
The panoramic views take in a vast landscape of mountains and valleys, peppered with vineyards and olive groves.
Here, you are in the heart of Italy's olive oil, truffle and wine producing area. These vineyards, truffle woods and olive oil plantations are actually on your doorstep. Not only that, but this is the main reason you can eat so well and extremely economically – no rip-off tourist rates here! Imagine the price of a meal with fine wines and truffle in New York, London, Sydney or Hong Kong! At least 1000 euros/head. Here, the same meal is about 35 euros/head! And we Italians keep the best of everything for ourselves!!
The villa itself is fabulous.
Marble and parquet floors throughout.
The kitchen is small but very well equipped with dish washer, washing machine, microwave, fridge freezer etc. It can cater for groups of up to 15.
And, there is well equipped BBQ in the grounds.
There are numerous seating areas for dining and lounging, apart from the large Verandah.
You are 3 kilometers from either Montefalco, Foligno or Bevagna and 26 kilometers from Spoleto centre.
Foligno is a busy and very beautiful shopping centre.
In Montefalco or Bevagna, you will find lots of places that offer tastings. Both very beautiful places.
You can walk to all these places through the vineyards.
As for Spoleto, in comparison, this is like a visit to the big city, a walled, pedestrian, mediaeval, giant castle, teaming with hundreds of bars, restaurants, museums, art galleries and churches, all jostling for position in a myriad of arched and cobbled lanes, piazzas dotted here and there.
Both Montefalco and Bevagna are mini versions of Spoleto.
It's just 1 kilometer to the nearest pizzeria and a few shops.
This is the land of plenty !
NOTE
A member of the family lives next door. They tend the gardens, the land and clean the pool early in the morning before you wake….. or, at a time, you prefer. Otherwise, they are not in evidence, unless you wish for advice or help. They have their own private outside area, which cannot be seen from the villa.
ACTIVITIES + SERVICES
You are positioned on top of the prettiest hill and amongst the best wine bars in this area.
At 1 km there is a market, a pizzeria and a service station.
At 3 km there are the medieval towns of Montefalco and Bevagna with restaurants, wine shops and various other stores, including grocery shops and bakeries.
At 1 km there are riding schools.
At 3 km there is a tennis court.
At 35 km there is a golf course.
You can rent bicycles (conventional or electric) via the owners – they will be delivered to your door. Best to book in advance of arrival. You can specify what model of bike etc you require.
You can hire our chef, who can prepare meals for you, simple or lavish. All the meals are accompanied by unlimited fine wines. He will cater according to your tastes and budget. Starting rate is about 30 euros/head for a 3 course meal, less for children under 12. Have a chat with him. NO OBLIGATION! Laurie, my husband, will arrange this for you.
EXTRA INFORMATION RE BEDROOMS + KITCHEN:
1.
Bedroom 1 has one double bed
Bedroom 2 has one double bed that can be separated into two single beds and we can add a 3rd single bed, by request
Bedroom 3 has one double that can be separated into two single beds
Bedroom 4 is a triple bedroom with one double bed + one single bed
Bedroom 5 has two double beds (including a double sofa bed)
Bedroom 6 has one double bed
In addition, we can provide as many portable and foldable beds as you want for children.
Prior to your arrival, we ask you to instruct us on how you would like us to implement your sleeping requirements. And, we follow your instructions accordingly.
2.
While the kitchen is small, it is very well equipped : gas hob with 3 burners, dishwasher, microwave, fridge freezer + oven.
The kitchen opens onto a terrace.
On this terrace is a table, chairs + a multi functional piece of furniture that includes pantry, washing machine, storage for kitchen equipment + food supplies. Plus a 2nd fridge freezer.
This is an attractive extension to the kitchen.
And, do not forget, there is the larger, covered and well equipped BBQ area.
NOTE ABOUT NOISE, PARTIES + PETS
Check with us first about your pet.
This Villa Is In A Residential Area So There Can Be No Loud Music Or Noise After 10 pm.
Check with us first if you want to have a party or large gathering.
Accomodation and features
Kitchen Facilities: 4 ring stove, dish washer, freezer, fridge, grill, hob, ice maker, iron+board, microwave, oven, washing machine, coffee maker, cooking utensils, toaster
Entertainment Facilities: ping pong table
Internet Access: wireless broadband
Swimming pool: outdoor pool, private pool on site
Outside:balcony, garden, BBQ, parking off street, patio, terrace, veranda, wooden decking, garden chairs, beach chairs, deck chairs, sun loungers, extensive grounds, parkland
General Property Facilities: air-conditioning, ceiling fans - room fans, central heating, chauffeur, daily maid service on request, hair dryer, linens provided, welcome paper towels, private chef, welcome shampoo, welcome soap, welcome toilet paper, towels, beach towels
Suitability of the Property: children welcome, suitable for elderly or infirm, pets considered, long term rentals available
Notes:
air con is not throughout house - it is placed strategically