Cerro Cottage – sleeps 8, Spoleto 9 kms
Exquisitely Pretty, Detached Cottage, 9 kms to Central Spoleto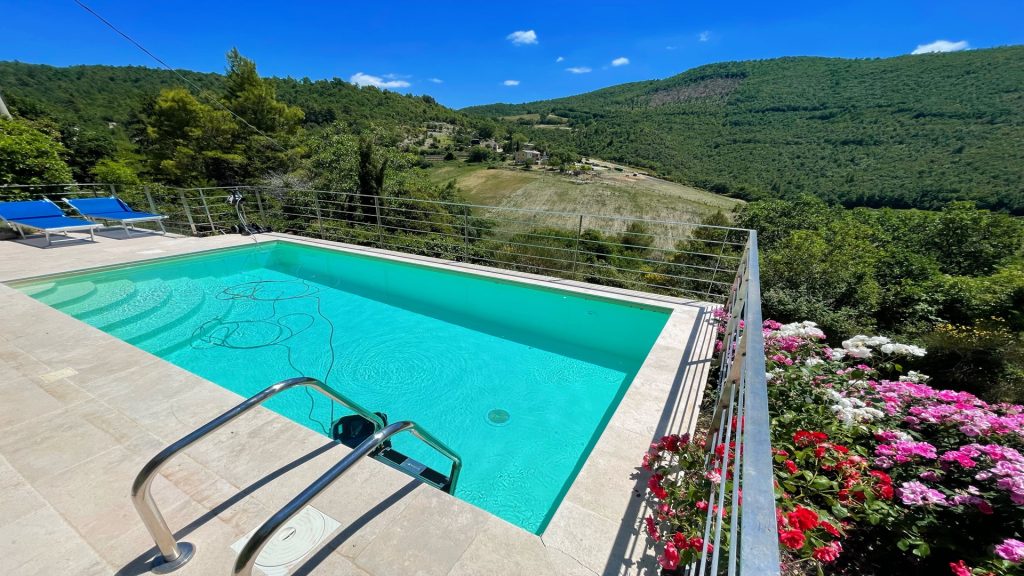 Sleeps:

8

Bedrooms

4

Bathrooms

4

Property type:

Cottage, Country house, House, Luxury, Villa
PRIVATE EXCLUSIVE POOL ON SITE !
SCROLL DOWN TO LAST SET OF PHOTOS (2ND GALLERY) FOR FULL SET OF POOL + SURROUNDING SCENERY VIEWS
SUMMARY…..
WIFI throughout and AIRCON in every room upstairs – to include 3 of the 4 bedrooms.
Comfortably furnished with 4 double bedrooms, 4 shower rooms (3 ensuite), 1 large sitting room with fire-place, 1 fully fitted kitchen with dish-washer, 1 dining area, 1 BBQ area in covered terrace, 1 large terrace + magnificent views plus a beautiful pool with sensational mountain and valley views all around.
Cerro Cottage is a holiday home, owned by friends of ours. They are away for much of the year, and, therefore, this beautiful home is available on the holiday rental market when they are not there.
Part of a fortification for the Duke of Spoleto in the 1600s, it is 9 kms from central Spoleto.
EXCLUSIVELY FOR YOUR USE – PRIVATE POOL…..
Please note that one side of the pool, where you see the rail, there is a steep drop. This means that children must be supervised at all times.
6 X 3 metres large
1.2 metres deep
With wide sunbathing/lounging space around 2 sides of the pool
LOCATION….
From central Spoleto, it takes about 15 minutes to reach this extremely pretty, detached cottage. About 4 miles along a quiet country road, sensationally beautiful countryside tumbling below, as you gently meander skywards, you reach a plateau on the hill-side. Turn left and follow an easily driveable country lane (that's slightly bumpy for the last minute or two) for aprox a further 1 km, along a mountain ridge that joins the tiny hamlet to the "mainland" and skirts a deep valley of vineyards, poppy fields and olive groves between the 2 points.
In a fairy tale hamlet, consisting of just a few other abodes, Cerro Cottage stands alone, all its windows and its large terrace looking out onto yellow seas of sunflowers, illuminating the hill sides with their candescent shimmer, and blood red oceans of poppies that daub the land in vibrancy and drama.
On the other side of the vast chasm, the road from whence you came continues to wend its way to the top of purple tipped mountains that soar above the valleys, stretching towards the blinding, deep blue heavens, while casting sun drenched reflections amidst the rippling grasses and searing the landscape with heat and beauty.
Enveloped by sun, colour and mesmeric views, embedded in a golden tapestry, as far as the eye can see, this is all "yours" for the duration of your stay.
Assisi, Gubbio, Todi, Orvieto, Trevi, Montefalco, Bevagna, Spello, Perugia are all just a hop, skip and a jump away. Rome is about 1 hr 15 mins by car or 1hr 20 mins by train from Spoleto train station.
INTERIOR OF CERRO COTTAGE….
Stepping from the blinding splendour of this quintessentially Umbrian world, into this magnificent stone cottage, you enter a state of tranquillity and elegance. A magnificent sitting room and dining area beckons your senses to take a break and to be calm in the cool interior.
The furnishings are up-market, comfortable and practical, all designed to enable easy living!
Up 5 shallow steps is the fully fitted kitchen with work surfaces, a dish washer and all the usual gizmos.
On the ground floor, directly off the sitting room is a double bedroom with a large double bed.
Directly off the kitchen is a dining area and a shower room.
From the kitchen, up a sturdy spiral staircase, is a corridor, which opens onto 3 more double bedrooms (each with a large double bed), one of which contains an extra single bed.
One of the double bedrooms on the upper floor is down 5 steps.
Most of the windows have spell-blinding views.
The cottage is fully equipped as a home rather than as a holiday rental. So, staying in this house, you will want for nothing. Indeed, this is the closest to Paradise that anyone could want for.
A BEAUTIFUL FRUIT GARDEN !
In the garden are many tempting fruit trees : cherry, plum, apple, fig and pomegranate – all yours for the taking!
Accomodation and features
Accomodation type: self-catering
Holiday Theme: activity, away from it all, budget, family, luxury, romantic, reunions
Bedrooms: 4 doubles, can be singles - 1 of the double bedrooms contains a sofa-bed and, therefore, can be used as a study.
Bathrooms: 4 with showers
Living Room Facilities: large with 2 sofas + fireplace
Dining Facilities: large separate, fully fitted luxury kitchen - dining area to the side
Kitchen Facilities: 4 ring stove, dish washer, freezer, fridge, grill, hob, iron+board, microwave, oven, washing machine, coffee maker, cooking utensils, toaster
Entertainment Facilities: stereo system, DVD player
Internet Access: wireless broadband
Swimming pool: private pool on site
Outside:garden, BBQ, parking off street, patio, porch, terrace, veranda, garden chairs, beach chairs, deck chairs, sun loungers
General Property Facilities: activities guide, ceiling fans - room fans, central heating, hair dryer, linens provided, local maps, local restaurant guide, welcome paper towels, welcome shampoo, welcome soap, welcome toilet paper, towels, beach towels by request, air-conditioning
Suitability of the Property: children welcome, suitable for elderly or infirm, pets not allowed, long term rentals available, non smoking only
Notes:
Please note there is an outside shower that runs hot and cold water.
Further, this is a cool house inside - aircon not necessary but it is available.
But, please note NOT to use either the aircon or the central heating with windows and doors open.
We do NOT charge for NORMAL usage of aircon or central heating.
NORMAL USAGE means ALL DOORS AND WINDOWS SHUT when using aircon or central heating. Otherwise, you risk a charge that may be deducted from the damage deposit.
The REFUNDABLE damage deposit is 500 euros. This is an insurance policy against vandalism, the leaving of the pool umbrella open in the wind and its subsequent breakage and/or excessive usage of aircon or central heating.
To date, we have never charged anyone for any of the above abuses.
Rates
Minimum of 7 days booking:
April 15 - May 27
Sept 23 - Oct 21
3500 euros/week
…………………….
Minimum of 4 days booking:
May 27 - July 1
Sept 2 - Sept 23
500 euros/day
……………………
July 1 - July 15
Aug 19 - Sept 2
671 euros/day
……………………
July 15 - Aug 19
757 euros/day
……………………
The rate includes up to 8 persons.
Final Clean - 150 euros
Refundable damage deposit in cash on arrival - 500 euros (to date never implemented - our insurance against acts of vandalism eg furniture smashed, pool and patio umbrellas broken etc).
For longer term bookings, please ask for a quote – it is very helpful, if you advise of your budget, inclusive of all utilities, linens, towels + final clean.
Bookings taken for a minimum of 4 days.
Flexible Arrival/Departure Dates - subject to availability.
A deposit of 50% is required to secure a booking. Balance due 8 weeks prior to arrival date.
Free cancellation until 8 weeks prior to arrival. Then, refund dependent on subsequent rebooking less possible costs and discounts awarded against the rebooking and/or if the rate paid was discounted.