SPOLETO COUNTRY PARK – sleeps 28 persons/can sleep up to 37, including 6 children
something for everyone !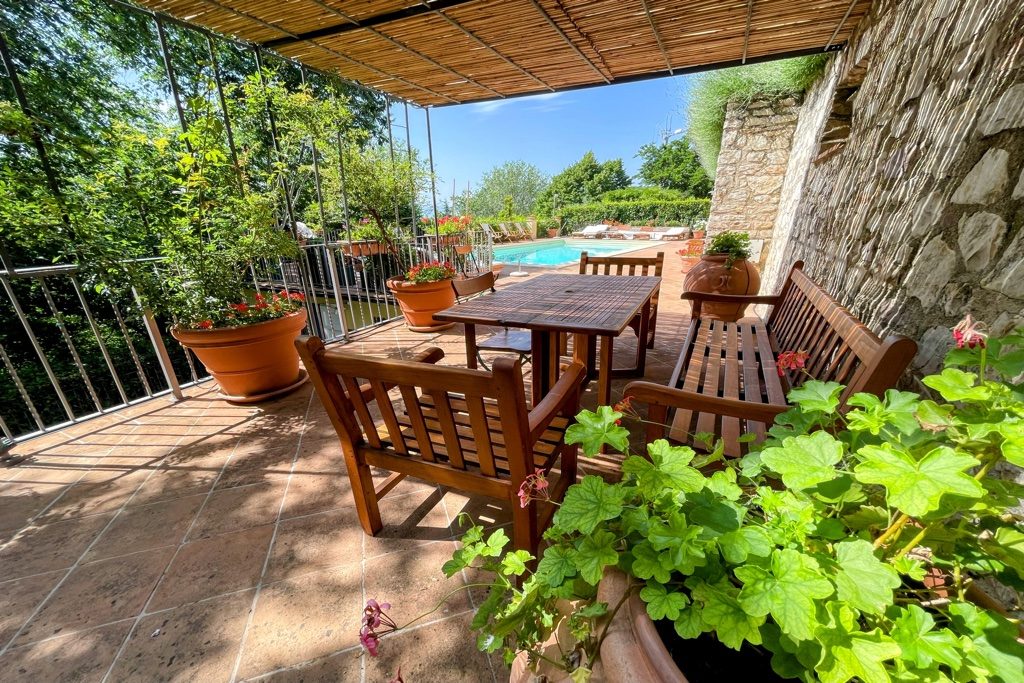 Sleeps:

37

Property type:

Country house, Villa
Spoleto Country Park? Or a hotel? It's a no brainer!
FOR 2 EXCELLENT REASONS:
EXCLUSIVE! We offer 7 houses NOT rooms, Verandah, sports area, kiddies play area, games area, pool, parks, gardens + woods with picnic areas. All exclusively for you!
AND..
NOT EXCLUSIVE! Hotel facilities are open to the public. The whole place can NEVER be exclusively yours! NEVER! The restaurant + bar is open to the public! As for activities, the most you'll get is a pool and a gym. Both open to the public!
We have all the advantages of a hotel plus many add-ons. And, NONE of the disadvantages.
We can provide a chef to cook for you in the large Verandah. Either inside or outside.
And there are staff on site to assist you 24/7. Otherwise, you need never see them.
So, why go to a hotel when our MUCH superior offer can be yours …. And EXCLUSIVELY!
Spoleto Country Park is truly UNIQUE !!
Be active or relax! Here, in this oasis of dreams, you are spoilt for choice.
We host events for up to 80 persons!
For maximum comfort and privacy, this property has an OPTIMUM sleeping capacity of 28 persons.
Comfortably sleeps 32 persons.
However, for a more intimate experience, it can sleep up to 37 persons, to include 6 children. To include sofabeds + verandah.
So why is this property so different to other Umbrian or Tuscan properties of a similar size?
Simple!
We've designed it to suit EVERY  kind of holiday experience you could wish for!
If you are an exercise junkie, there's a volley ball pitch, a huge trampoline and a football pitch in the surrounding fields. And, there are acres of private land to run in.
If you enjoy games, there's a football table, an exercise bike and table tennis in a designated games area in the centre of the village.
If you have children, there's a specially designed kiddies' corner in the woods with a slide and swings.
If you prefer to relax, there are picnic areas in the expansive woods, meditation spots in the vast gardens and a pool to recline besides.
If you enjoy cooking (or wish to hire a chef), there's a large communal Verandah that can seat you all, inside or outside. Here is a BBQ and a pizza oven. And there's a fully fitted kitchen and lounge area so that you don't mess up your own cottage when meeting up with one another.
And, if you're a foodie, you are perfectly located for a gastronomic experience. This area is food paradise. Not least because it's here that you find the world's finest olive oils, wines and truffle – all home grown! And that won't break the bank!!
Just 2 kms away in the quaint and well appointed village of Strettura, you'll find Palazzo Del Papa, a 1st class restaurant and inn where the Pope regularly stayed as he journeyed between Assisi and Rieti. This restaurant, with its beautiful grounds, has been in the same family since time began!!
There are another 3 eateries in Strettura, including a trattoria and a pizzaria. There's also a butcher, a grocery store and a post office!
Then, just 0.8 kilometres down the steep hill into our village is another wondrous restaurant, Il Capanno. It, too, nestles in sumptuous grounds, and offers 1st class cuisine.
Both these superb restaurants host wedding parties and special events, the latter of which hosted the model, Kate Moss's, party when she and her entourage stayed at Spoleto Country Park some years ago, when it was a smaller version of itself!
Wander in 6 hectares of wondrous parkland that surrounds an exclusive and private village. A hamlet of pretty cottages, immersed in sensational views, all with their own private outside areas.
The village is on different levels and the cottages are discretely spaced from each other, each with their own private garden, terrace and/or balcony.
You can be totally private in your own cottage. When you're with a large group, however much you love each other, it's great to get a bit of peace at times!!
Or, you can socialize together in a number of communal areas :
-the infinity pool with covered seating area
-several pretty park areas with flowers, trees and benches
-the Verandah with its large table, its BBQ and its pizza oven. It also has a fully fitted kitchen and a shower room
-the sports area in the grounds
-the games area in the village
-picnic areas in the woods
From absolutely every point in this Country Park, whether you're in the village or in the surrounding private parkland and woodlands, you will be hypnotised by heavenly views…..mountains, olive groves, vineyards, fields of sunflowers and bluebells, tiny churches atop hill top villages in a swathe of monasteries and pilgrim trails.
In Spoleto Country Park, you can explore woods, meditate in nooks and crannies hidden amidst flowers and shrubs, enjoy picnics, play energetic games for children or adults, bake pizzas together, cook delicious BBQs, swim in the infinity pool or simply enjoy tranquility in an oasis of spectacular countryside.
We can also provide info re a private chef, who will prepare simple meals or a banquet for a special occasion.
Or, you can learn how to make pizza and pasta at a local Spoleto restaurant.
And we can advise re guided tours : olive oil tastings, wine tastings or simply sight seeing – local or further afield.
The accommodation in Spoleto Country Park consists of :
Casa Grande with huge terrace + large garden
5 double bedrooms + 5 bathrooms
sleeps 10
1 sofabed + cot
Casetta with patio + large garden
2 double bedrooms + 2 bathrooms
sleeps 4/5
1 sofabed
CASA GRANDE AND CASETTA ARE NEXT DOOR TO EACH OTHER AND THEIR VERY LARGE GARDEN IS COMMON TO BOTH PROPERTIES
Torretta with spacious terrace, patio + wrap round garden
2 double bedrooms + 2 bathrooms
sleeps 4/5
1 single bed on mezzanine
Casa Vicolo with small panoramic terrace
2 double bedrooms + 2 bathrooms
sleeps 4/5
1 sofabed
Casa Piscina with patio + garden
2 double bedrooms + 2 bathrooms
sleeps 4/5
extra single can be placed in 2nd bunk bedroom
Bar Piscina with patio
1 bedroom + 1 bathroom
sleeps 2
Cisterna with balcony – huge garden + patio
1 double bedroom + 1 bathroom
sleeps 2/3
1 sofabed
Veranda – 1 sofa bed + 1 bathroom (2 people)
The large Verandah is in the centre of the village. This is your communal meeting place with a seating area for 30 persons both indoors and outdoors, complete with pizza oven, BBQ, fully fitted kitchen, shower room + lounge area.
This is a fantastic convenience because you can party the night away together without messing up your individual cottages.
PLEASE NOTE THAT ALL 7 OF THE ACCOMMODATIONS HAVE THEIR OWN PRIVATE SITTING/DINING ROOM WITH A FULLY FITTED KITCHEN, INC DISHWASHER + MICROWAVE.
Excluding sofa beds and excluding Veranda we can fit 31 people.
To include sofa beds and Verandah, the property can sleep 31 adults + 6 children.
Note that children are easy to accommodate.
HOWEVER, FOR OPTIMUM COMFORT, WE RECOMMEND 28 GUESTS.
The rate includes :
City tax
Linens + towels
Pool – if heating required in April or October, 10% extra per day. To be paid in cash on site.
Playground + sports area
Verandah with BBQ + pizza oven
Wifi
Aircon
Parking onsite
24 hr assistance from caretaker family living onsite (at edge of village – you need never see them unless you require anything)
So, forget hotels!
Go for exclusivity, privacy and experiences! Book with us!
Accomodation and features
Bedrooms: 15
Bathrooms: 16.5
Internet Access: wireless broadband
Swimming pool: private pool on site
Outside:balcony, conservatory, garden, BBQ, parking, parking off street, patio, porch, terrace, veranda, wooden decking, garden chairs, beach chairs, deck chairs, sun loungers, extensive grounds, parkland
General Property Facilities: air-conditioning, central heating, chauffeur, consierge, daily maid service on request, events allowed, hair dryer, linens provided, welcome paper towels, private chef, welcome shampoo, welcome soap, welcome toilet paper, staff, towels
Suitability of the Property: children welcome, pets, long term rentals available
Rates
Minimum booking of 4 nights
July, Aug - 1643 per night
April, May, Sept, Oct - 1347 per night
to include all facilities, utilities, towels, linens, taxes + final clean
EXCEPT FOR..... April and October, when central heating will be charged to you -- cash payments for central heating in April and October to be paid in cash.