Spoleto Splash – WHOLE VILLAGE – sleeps 20 – 7 kms to central Spoleto
luxury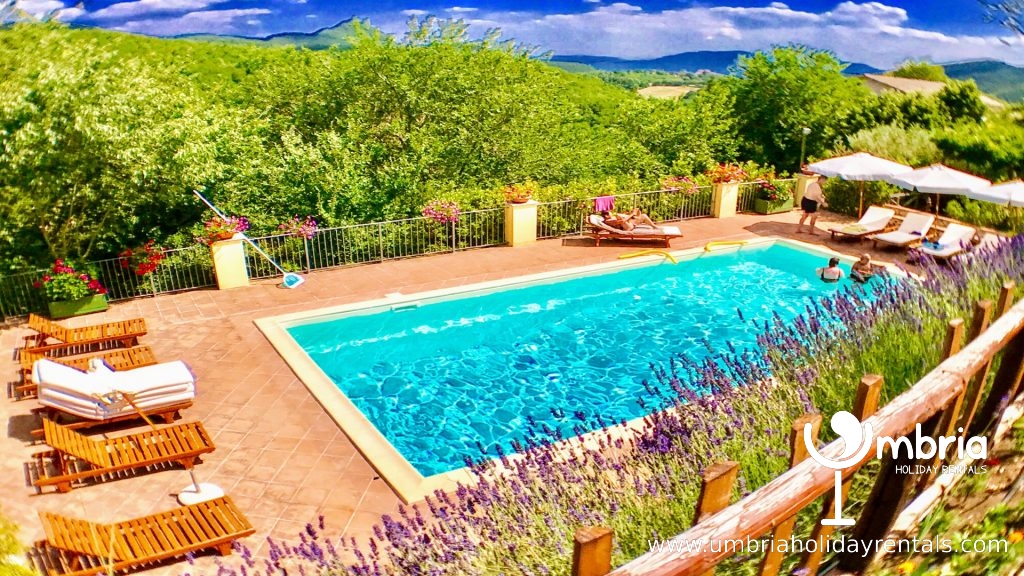 Sleeps:

20

Bedrooms

9

Bathrooms

10

Property type:

Apartment, Cottage, House, Luxury, Suite, Villa
ALERT !
PLEASE NOTE THAT SPOLETO SPLASH IS LOCALLY KNOWN AS  ACQUAIURA.  HOWEVER, DO NOT CLICK ONTO OTHER SITES BECAUSE YOU MAY BE DIRECTED BY GOOGLE ONTO COMMISSION BASED HOLIDAY SITES. THEN, YOU WILL BE UNABLE TO RETURN TO DIRECTLY BOOK WITH ME WITH NO COMMISSION CHARGE BECAUSE OF PENALTIES – POSSIBLE SUSPENSION FOR ME AND BLACKLISTING FOR YOU !!
Locally known as Acquaiura, Spoleto Splash is a hill-top village, along the Valnerina, 7 kms from central Spoleto, 1 km from the nearest village with 4 restaurants, a grocers, a butcher and a bakery and 0.5 kms from a fabulous country restaurant, where Kate Moss, the famous model, hosted her agent's wedding celebrations.
"Spoleto Splash" is the stage name of Acquaiura !
SUMMARY…
Spoleto Splash – sleeps 20, luxury village of 5 cottages, exclusive pool, private grounds
9 bedrm/10 bathrm/6 kitchn/terraces/gardens/grounds/exclusive pool
5 luxury cottages + Verandah/communal space (+bed/sitter), all with WiFi, at discreet distances from each other, in the private village of Spoleto Splash.
Located in the borgo of Acquaiura, consisting of acres of private land with sensational views all around.
GENERAL DESCRIPTION…
The sensationally beautiful private village of Spoleto Splash is 750 meters above sea level.
Surrounded by mountains and woods, it is 120 km from Rome, 200 km from Florence, 50 km from Perugia and 7 km from Spoleto, a medieval, walled, pedestrian town with many works of art, cultural activities and teaming with shops, bars and restaurants.
A groundsman and his small family live on site in order to maintain this vast and unique property. They have looked after this property for at least 15 years and so are extremely experienced in hospitality. Nothing is too much trouble for them. They are on hand should you need anything. They will get takeaways for you from the huge local restaurant (set in splendiferous gardens, 0.5 kms down a steep hill – walking distance, but only for the fit amongst you !). Otherwise, they remain unobtrusive at all times.
The owner, the President of the largest winery exporter in Italy, is a truly lovely person. He has his own cottage in the village but he doesn't live there. He uses this cottage as a regular w/end retreat. When he is not travelling, he lives in Rome, where he owns a bijoux, luxury hotel in the centre of Rome. Hospitality for him is his middle name. He is committed 100% to creating the holiday of a lifetime for you, when you stay at Spoleto Splash.
Indeed, several years ago, the famous model, Kate Moss, stayed here with her entourage, to celebrate the wedding of her agent. And, they had their festivities at the aforementioned restaurant, 0.5 kms away.
Each of the 5 cottages is at a discreet distance from the other so that privacy can be maintained at all times.
And, in the centre of the village is the Verandah, a cottage with a huge entertaining space with a fully fitted kitchen, a large pergola with a pizza oven and a BBQ, where you can all congregate to eat and socialize together.
This large Verandah also has bed-sitting facilities (so that friends can stay over), bathroom, kitchen + large communal areas, both inside and outside.
Besides the pool is a pool house with showers and a WC.
In the grounds is a covered games area with a ping pong table etc.
To see each of the 5 cottages individually…..
Please paste each of the links into your browser :
TORRETTA : http://www.umbriaholidayrentals.com/property/borgo-acquaiura-torretta/
CASETTA : http://www.umbriaholidayrentals.com/property/borgo-acquaiura-casetta/
CISTERNA : http://www.umbriaholidayrentals.com/property/borgo-acquaiura-cisterna/
VICOLO : http://www.umbriaholidayrentals.com/property/borgo-acquaiura-casa-vicolo/
PISCINA : http://www.umbriaholidayrentals.com/property/borgo-acquaiura-casa-piscina/
LOCAL CELEBRITY CHEF FOR HIRE….
Please note that you can hire our chef, a local Spoleto celebrity by the name of Leonardo. He will create feasts with unlimited fine local wines for you for as little as 30 euros/head (Dec, 2017).
We can arrange for Leonardo to chat with you re your budget and your tastes. ABSOLUTELY NO OBLIGATION TO EMPLOY HIM! But, you will…. because his catering is exceptional value. We have excellent reviews of him, going back years, on that well known review site !
Leonardo also arranges truffle hunts, picnics in the you like that includes food and unlimited fine local wines !! He is famous all over Umbria and knows everyone. So, whatever you desire, from olive oil tasting to wine tasting, he can arrange in any area you wish. And he offers cooking for chldren ! Followed, of course, by the obligatory feast and unlimited fine local wines !!
TENNIS + GYM..
Please note that in nearby Spoleto, there are gyms (one, a spectacular state of the art gym, where I am a member !) and a tennis club, all of which offer day or temporary memberships.
Accomodation and features
Living Room Facilities: 5 living/dining rooms, each with a fully fitted kitchen with dishwashers and fridge-freezers
Dining Facilities: The Verandah offers a huge dining area for 20 persons, both inside and outside - here there is a fitted kitchen, BBQ + pizza oven
Kitchen Facilities: dish washer, freezer, fridge, grill, hob, ice maker, iron+board, microwave, oven, washing machine, coffee maker, cooking utensils, toaster
Entertainment Facilities: ping pong table, TV
Internet Access: internet access, wireless broadband
Swimming pool: outdoor pool, private pool on site
Outside:balcony, garden, BBQ, parking off street, patio, porch, terrace, veranda, wooden decking, garden chairs, beach chairs, deck chairs, sun loungers, extensive grounds, parkland
General Property Facilities: air-conditioning, ceiling fans - room fans, central heating, chauffeur, daily maid service on request, firewood, fitness room, hair dryer, local maps, welcome paper towels, private chef, welcome shampoo, welcome soap, welcome toilet paper, staff, towels, beach towels
Suitability of the Property: children welcome, suitable for elderly or infirm, pets, long term rentals available
Notes:
Private chef, chauffeur, maid service etc - all available by request. Pls ask for details.
State of the art gym + tennis club in nearby Spoleto that offer temporary memberships.
Village with 5 restaurants, one here the Pope used to stay, and a butcher, a baker, a grocery store etc 1 km away.
Nearest wonderful restaurant, where Kate Moss, the famous model, had her party, while staying here with her entourage, is 0.5 kms away.
Rates
April 1 to June 27 : 4200 euros/week
June 28 to Aug 30 : 5300 euros/week
Aug 31 to Oct 31 : 4200 euros/week
The rate includes utilities, linens, towels, taxes + final clean