9C Macerino Castle : Pool View – sleeps 4/5
17 kms to Spoleto centre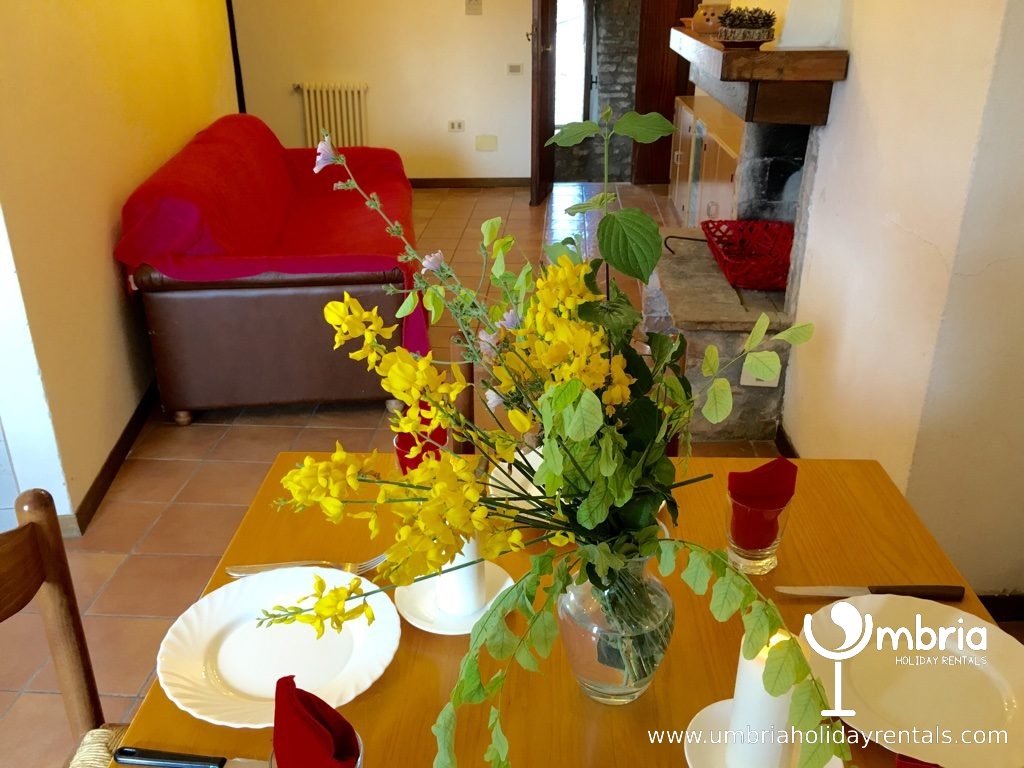 Sleeps:

5

Bedrooms

2

Bathrooms

1

Property type:

Apartment, Castle
9C RESTORED CASTLE : 17 kms from central Spoleto.
See reviews at end…..
TWO POOLS INCLUDED IN RATE :
ONE PRIVATE/SHARED
ONE PUBLIC – 3 MINS WALK !
RESTAURANT, BAR + TRATTORIA – 3 MINS WALK !
Pool furniture is in pool room next to private shared pool. Take what you like and put where you like !
Pool View with WiFi :
2 double bedrooms, 1 bathroom + 1 sitting/dining room with a fully fitted kitchen.
A spacious apartment with sofabed in sitting room.
Simply furnished, an extremely competitively priced apartment, in the most exquisite and unique of contexts. With 2 beautiful pools to choose from (one private/shared, the other public, 3 mins walk), both pools included in the rate, plus a restaurant and a trattoria, you can forgive the lack of soft furnishings. This is very much an outdoors context…..for walkers, nature lovers, sunbathers, animal lovers who want to bring their pets, romantic couples, families and groups of friends.
Location of 9C Macerino Castle….
You will receive directions to Fogliano, 12 kms from central Spoleto. At this point, you leave a tarmacked road and proceed onto a country track, which is easily driveable. NOT a white road, full of stones and holes. NOT a dirt road. It is a flattened earth road. Indeed, it is a beautiful country drive through woodlands and chestnut groves, perfect for nature lovers and conservationists alike. A 5 kms long spectacle of pure tranquility. You may come across some ramblers. And, maybe a car. But this would be rare because this is the driveway, directly to the castle !!
Then, you arrive……to a magical place, until now, hidden from the world. A 9C beautifully restored, walled castle, full of higgledy piggledy tiny, cobbled lanes and arches, with 2 piazzas and a church.
Located between Spoleto and Aquasparta, in the midst of lush countryside.
History and ambience…..
Bought and restored by a local Macerino man, the adorable Romeo!
Neither he nor his wife, a marriage of 45 years, believe in old age, because they say that Macerino Castle casts a special "buona salute" spell on those who desire it.
Maybe it's the natural spring water. Maybe it's the up and down lanes to navigate. Maybe it's the captivating quality of this Harry Potter place working its white magic on our souls.
Certainly, you will leave Macerino Castle a changed person. It transforms bad to good, ugly to beauty and complicated to simple.
After a stay here, you will feel totally restored.
Restaurant, bar + trattoria…
Immediately outside the walls of this tiny castle, is a trattoria, a very simple place for locals that does exceedingly good food.
In addition, there is a rather flash restaurant + bar in front of a very glamorous public pool.
Spectacular mountain views embrace a landscape peppered with olive groves and vineyards.
ALFRESCO EATING ?
While this apartment has no outside area, there are several open areas immediately outside the entrance to the apartment, within the castle walls, which are very sunny, where you can erect a table and chairs for alfresco eating. If this is your wish, please advise and we can arrange a table and chairs to be available outside, usually on the sundeck besides the pool.
There are no residents inside the castle walls so you may have the place more or less to yourselves !!
PLEASE NOTE THE FOLLOWING :
THERE IS A SHARED UTILITY ROOM WITH A WASHING MACHINE ETC. CONVENIENTLY PLACED IN THE CASTLE. PLEASE ASK TO BE SHOWN IT ON ARRIVAL.
IRONING FACILITIES, HAIR DRYERS, COTS + HIGHCHAIRS ARE NOT LEFT IN THE APARTMENT BECAUSE WHEN LARGE GROUPS STAY, THEY TEND TO MOVE THESE THINGS AROUND AND THEY GET LOST !! SO, IF YOU WISH TO HAVE ANY OF THE ABOVE IN YOUR APT, PLEASE REQUEST THEM PRIOR TO ARRIVAL.
ACTIVITIES….
GOLF CLOSE TO PERUGIA
TENNIS + HORSE-RIDING CLOSE TO SPOLETO
BIKES CAN BE HIRED VIA THE INTERNET AND DELIVERED TO THE CASTLE
We can organise olive oil tasting, wine tasting, chef at home, eating in chef's house, truffle hunting, picnics with a donkey, cheese making, caving, canyoning, rafting, canoeing, horse riding…..anything you like…….all at better rates than you get going through the conventional channels. This is because all the aforementioned activities, except for horse-riding, are offered by our partners to ensure you have the holiday of a lifetime !
For instance, the olive oil of one of our partners (Ciarletti) was blessed by the Pope 2 years ago, after it had won the top prize in Italy. He, amongst other of our partners, offers olive oil tasting, accompanied by a lunch, at his farmhouse.
All our activities are totally authentic, put on by Italians, whose families go back for centuries and who have been in the truffle, olive oil and wine trade for all of that time.
And, because all the activities we offer are "inhouse" we can undercut all the "professional" businesses, for whom it is their livelihood. Such activities are not our livelihood.  Neither are they the livelihood of our partners. We and our partners offer these activities with the aim of enriching your holiday.
REVIEWS….
AIRBNB Aug 4 – 11, 2016
"We had a brilliant stay at Macerino Castle. Laurie was extremely helpful and generous, meeting us at a supermarket close to Macerino to ensure we knew where to go, providing us with clear travel instructions and a bag of essentials – thank you, that was very much appreciated. The accommodation was great – simple, clean, traditional and equipped with everything we needed. The shower wasn't great but we managed ok. The view from the apartment was breathtaking. Laura, our host at the castle was a wonderful warm person – checking that all was ok and providing us with anything extra that we needed, even though she is a very busy lady. The setting is stunning, peaceful and very relaxing. Both swimming pools were lovely (only open from May to September though I think). Macerino is a great place to explore the surrounding area – Spoleto and Todi were especially beautiful. We would highly recommend this accommodation for a peaceful and relaxing stay. Thanks again. "
……………………………………………………………………………………………………………..
From Homeaway/VRBO – August 11 – 18, 2016
"Nous avons découvert cette location au dernier moment. Norma et Laurie ont été très efficace. Il s'agit d'un endroit étonnant au calme situé dans les montagnes de l'Ombrie à 17km de la magnifique petite ville de Spolète. Nous étions loin de tout et entourés d'un paysage extraordinaire. Nous regrettons seulement de ne pas avoir pu y séjourner plus longtemps. Sur place Laura et son mari Roméo ont été aux petits soins et toujours à notre écoute. J'espère avoir le plaisir d'y retourner."
"We found this property at the last moment. Norma and Laurie were very effective. This is an amazing place quietly in the mountains of Umbria 17km from the beautiful town of Spoleto. We were away from everything and surrounded by an extraordinary landscape. We only regret not having been able to stay longer. Onsite Laura and her husband Romeo were very caring and always listen to us. I hope to have the pleasure to go back. "
From Homeaway/VRBO
Accomodation and features
Bedrooms: 1 double + 1 twin (twins can be joined)
Bathrooms: 1 shower room
Living Room Facilities: seats 4
Dining Facilities: can seat 6, by request
Kitchen Facilities: 4 ring stove, freezer, fridge, hob, ice maker, iron+board, oven, washing machine, coffee maker, cooking utensils
Entertainment Facilities: TV
Internet Access: internet access, wireless broadband
Swimming pool: outdoor pool, private pool on site, shared pool
Outside:parking, garden chairs, beach chairs, deck chairs, sun loungers, extensive grounds
General Property Facilities: hair dryer, linens provided, welcome toilet paper, towels
Suitability of the Property: children welcome, pets, long term rentals available, non smoking only, not suitable for elderly or infirm
Notes:
The pool furniture is in the pool room next to the pool. You can take whatever you want and place it anywhere you want to.
Tables and chairs can be placed anywhere you like within the castle walls or on the sun-deck besides the pool, if you wish to cater for yourselves and eat outside.
If there is anything of particular importance to you, please check with me in case I have made an error re the details.
Rates
700 euros/week, to include up to 5 persons.
The rate includes all utilities, linens, towels, (not pool towels but you can use bath towels around the pool) + final clean.