Duomissimo – ideally sleeps 6/can sleep 8
15C palazzo, in the most central, up-market part of Spoleto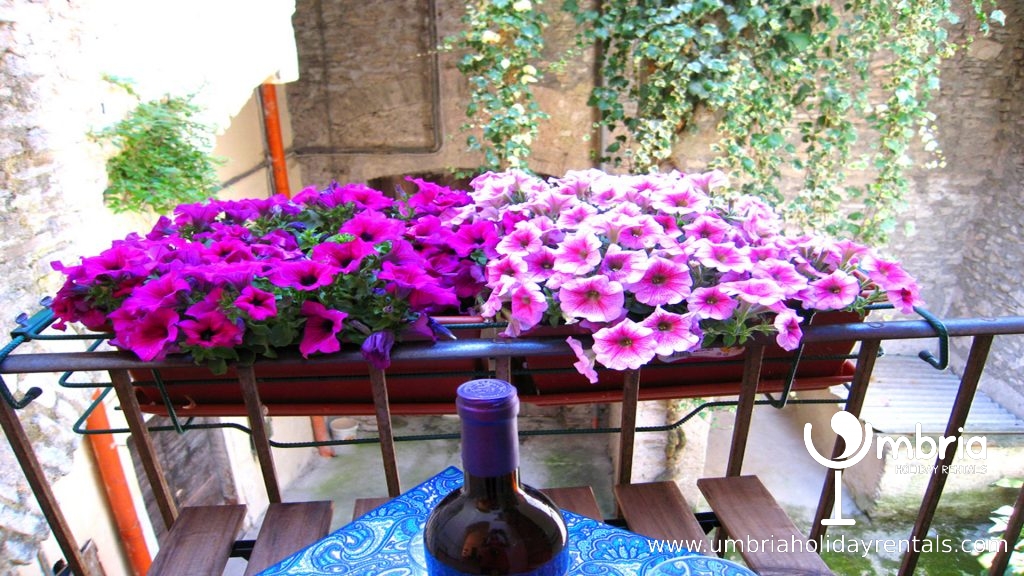 Sleeps:

7

Bedrooms

3

Bathrooms

2

Property type:

Apartment
Large private pool included in the rate, 7 miles away, at our Villa Marianna.
15 C family home, next to the Duomo and opposite the travelator…
A loved and lived in family home in THE most upmarket location of central Spoleto. Steeped in history, this is a grand and spacious apartment. Situated immediately off Piazza Mercato, next to the Duomo, in an area teaming with shops, bars and restaurants, it is conveniently opposite the entrance to the  travellator, a network of elevators, moving walkways and escalators, designed to convey you to every part of this tiny, mediaeval fairy-tale city.
SUMMARY..
3 double/triple bedrooms, 2 bathrooms (1 with sunken bath tub), 1 fully fitted kitchen/diner with hob, microwave, fridge-feezer, dish-washer + washing machine, 1 sitting room. WiFi throughout.
Sleeps 6 comfortably. However, one of the bedrooms can sleep up to 4 persons by utilising the 3 double sofabeds in addition to 1 single bed. Therefore, the apartment can sleep up to 8 persons, IF 4 OF THE PERSONS SLEEP TOGETHER IN THE FAMILY ROOM.
There are about 4 steps down to the master bedroom and a further 2 or 3 steps into the bathroom with the sunken bath tub. Please check with me if the steps are an issue and I will count them exactly.
PLEASE NOTE THAT IN THE FAMILY ROOM, THE SOFA BEDS ARE SUBSTANTIVE AND SOLID, WHEN UNFOLDED, EQUAL TO SLEEPING ON A CONVENTIONAL MATTRESS !
The apartment opens onto a large atrium, where there are 3 tables and chairs to seat 6 to 8 persons. The tables can be joined. This area is partially open to the sky. Therefore, it is possible to sunbathe. The entrance to Duomissimo is in the atrium. No other people live in this area. However, there is access via the atrium to an upstairs apartment, where 2 people live. The atrium is a very large area.
The atrium gives way to a small balcony, overlooking a sunken courtyard – seats 4 snugly.
General Description
This rustic apartment is large and rambling. Owned by a wealthy Roman family, used as a retreat from the hustle and bustle of "the eternal city", this is a very comfortable, practical and "lived in" apartment. An apartment that has had children, grand-children and their grand-children raised in it. Indeed, since time immemorial, generations of family gatherings and significant events have taken place here.
This impressive apartment is definitely NOT a typical holiday rental.
If you are after a more "show-housey" place, especially designed exclusively for holiday-makers, this is not for you. In this case, please ask for other suggestions because we provide a wide range of holiday accommodation, including luxury dwellings, in central Spoleto.
If you are after authenticity and you would like to experience living as an upper middle class Italian, then, this IS most certainly for you.
This stately apartment happily and proudly wears its history on its sleeve, while at the same time, it throws in the odd luxurious touch such as the dish-washer and the sunken bath.
The Family Owners
Father is a vet who specialises in dolphins. Mother is a therapist. 3 children, one of whom is the youngest female Rugby referee in the world, aged 22, (in 2015), the 2nd eldest following in her footsteps, a boy, aged 11, and, an older brother of 25, also a professional Rugby player. A quintessential, up-market Italian family, who wish to share their home with you ! Rather than leave it alone and empty, while they are not there. You can see the Rugby referee, aged 22 (2015), on the left of the photo, with her younger brother and sister.
REVIEW..
| | |
| --- | --- |
| Review #17350851 "A loved & lived in family home in THE most upmarket location of central Spoleto" | |
| | |
| --- | --- |
| This property is in a great location in the lovely hilltop town of Spoleto. Piazza Mercato is right around the corner and literally has everything you need – food, wine, espresso, restaurants, general groceries, etc. You are also very close to the Duomo and the hilltop Rocco Albornoziana and the aquaduct. Property has a decent kitchen which we enjoyed cooking in. We enjoyed the table in the kitchen and in the atrium area. 2 bedrooms and 2 bathrooms with an extra room that is perfect for a bunch of kids to sleep in. The elevator from the Travellator is right across the narrow street. You don't need a vehicle but if you do have a vehicle the parkade is basically at the bottom of the Travellator. Couldn't be easier. Norma and Laurie were super friendly and very accommodating and helpful. | |
Accomodation and features
Bedrooms: 2 double/triple bedrooms + 1 family bedroom that can sleep 4
Bathrooms: 2 (1 with sunken bath tub, 1 with cubicle shower)
Living Room Facilities: 3 sofas + 2 easy chairs
Dining Facilities: dining for up to 8 persons
Kitchen Facilities: 4 ring stove, dish washer, freezer, fridge, grill, hob, iron+board, microwave, oven, washing machine, cooking utensils, coffee maker
Entertainment Facilities: satellite or cable TV
Internet Access: internet access, wireless broadband
Swimming pool: private pool not on site, outdoor pool, shared pool
Outside:veranda, BBQ, parking off street, garden chairs, deck chairs, sun loungers
General Property Facilities: activities guide, central heating, daily maid service on request, firewood, hair dryer, linens provided, local maps, local restaurant guide, welcome paper towels, welcome shampoo, welcome soap, welcome toilet paper, towels, ceiling fans - room fans, events allowed, private chef, beach towels by request
Suitability of the Property: children welcome, suitable for elderly or infirm, pets considered, long term rentals available, non smoking only
Rates
OPTIMUM SLEEPING FOR 6 PERSONS - can sleep up to 8 persons (if 4 of the persons are children and can sleep together in the family room
Weekly Rate.....
May to Oct : 850 euros, to include 6 persons
Nov to April : 750 euros, to include 6 persons
The rate is all inclusive of utilities, linens, towels, taxes and final clean PLUS a generous Welcome Pack.....tea, coffee, sugar, wine, olive oil, pasta, pasta sauce + toiletries to start you off.