FOGLIANO VILLA – sleeps 8
20 mins drive to Spoleto centre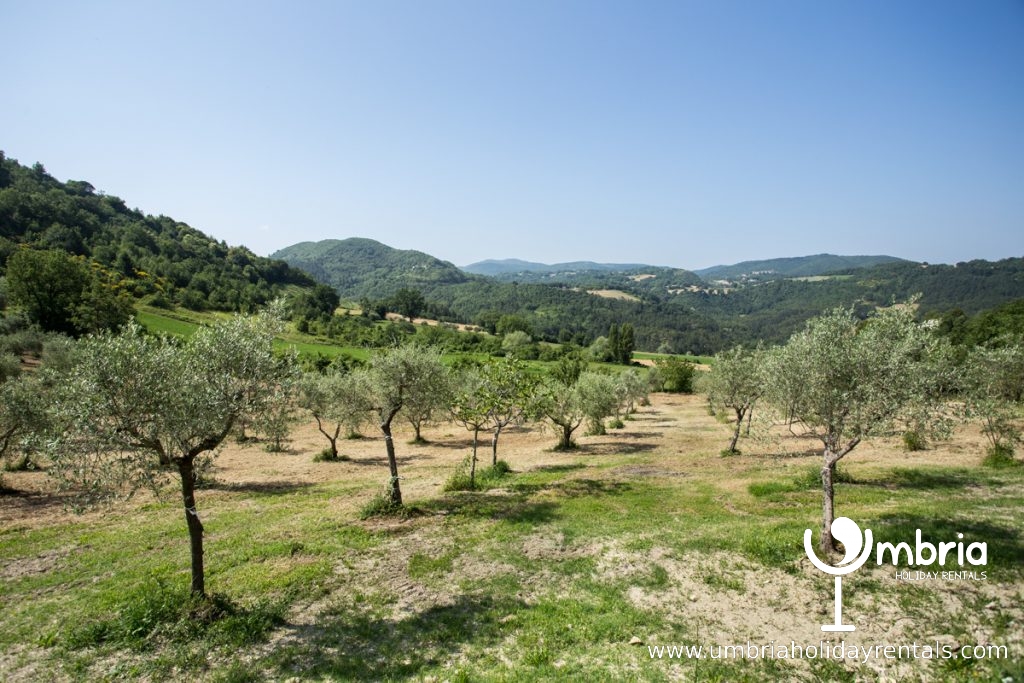 Sleeps:

8

Bedrooms

4

Bathrooms

4

Property type:

Country house, House, Luxury, Villa
BRAND NEW TO MARKET !
See review(s) at end….
11 kms to Spoleto central. Nearest village with all the facilities is Baiano, about 3 kms.
NEWLY RESTORED. OWNED BY ONE OF THE MOST ILLUSTRIOUS FAMILES IN THE AREA  – THEY BUILT THE LOCAL CHURCH, 600 YEARS AGO ! HERE YOU EXPERIENCE THE PURE HISTORY OF UMBRIA !
With WiFi, 2 fully fitted kitchens + a large public pool in the country, 5 kms away, with a restaurant. A beautiful walk !
My place is close to art and culture, great views, restaurants and dining, and family-friendly activities. You'll love my place because of the outdoors space, the neighborhood, the light, the comfy beds, and the 2 kitchens. My place is good for families (with kids), big groups, and furry friends (pets).
Unique rock pool 3 mts by 1 mt, fed from natural fountain in the nearby woods. It is not a clear water pool because the fresh water oxidises as soon as the sun shines on it. This is a totally natural and harmless process. Indeed, the Romans frequently bathed in green water because it is very good for the skin. The rock pool is continuously replenished with fresh water. So, enjoy living like a Romans did !
Public swimming pool with restaurant 5 kms from Rock Pool Cottage, in country – a beautiful walk or car drive. Daily rate for pool is 5 euros or 25 euros/week. The rate includes everything….sun-lounger, brolly etc.
This LUXURY villa is ONLY rented as a whole villa to ONE party.
The villa comprises…..
a large self-contained bed-sitter for a person or couple, who wish for extra privacy…… Consists of :
2 single beds (can be joined by request)
fully fitted kitchen with dish-washer
shower room/WC
The rest of the villa consists of :
2 double bedrooms
1 twin bedroom – beds can be joined
2 bathrooms
1 cloakroom/WC
1 fully fitted kitchen with washing machine + dish-washer
Large lounge – seats 8
Large dining room – seats 12
2 outside dining areas – each seats 12
Private parking
Animals welcome, if well behaved and not a threat to humans, cattle or sheep. There is a large secure animal enclosure with shade, if you prefer your dogs to be outside – this is an option and not essential !
1 hectare of private land
This is a luxury property, owned by a local family, going back centuries.
Please note the following :
1. The rock pool is usually filled from underwater springs. However, sometimes, in hot weather, the trough dries up. In such circumstances, the trough will be replenished with water from another source.
2. The car park is shared by an Italian couple, who have a small neighbouring property that is inhabited from time to time.
NO SWIMMING POOL NOR LEISURE POOL ON SITE….
There is only a fresh water rock pool that in a bygone era was a fresh water trough for the farm animals.
The large pool you see in the photos is 5 kms away in Macerino, where there are also 2 great restaurants, one of which offers the best pizza. Both are exceptionally great local rates – no rip-off tourist menus here.
I should draw your attention to the fact that the rock pool is divided into 2 sections:
the 1st section is where the totally fresh water is but it is the smallest section.  Just 1 person could sit here.
the 2nd section is "more organic" looking ie not clear water.
The fresh water constantly runs so the overall water is constantly replenished, albeit slowly.
In the old days, this pool would have been used for keeping containers of food in to keep cool. And for animals to drink from. However, coming from London, I used to swim in the famous Hampstead Heath Ladies Pond, which was also "organic" looking. So, when you finished your swim, you would get out with a film of organic matter on you, which is excellent for your skin.
This is what made me decide to present the "rock pool". A totally natural experience!
There is a wet room opposite the rock pool, so you can instantly shower, if you do like organic matter on your skin!
PUBLIC POOL + RESTAURANT NEARBY…
There is a fantastic public pool and restaurant, 5 kms away, a short drive through lush countryside on a very quiet country lane.
REVIEW…
Casolare tranquillo
Left on Aug 18, 2016 for a stay in Aug 2016
La casa è accogliente e fornita di tutto il necessario, compreso un locale lavanderia/stireria. I proprietari sono molto gentili e disponibili e ci hanno fatto trovare un cestino con prodotti locali. Il terreno che circonda la casa è un uliveto molto grande. Il giardino a ridosso della casa è ben tenuto e fiorito. Magari sarebbe bene organizzare una doccia esterna vicino alle sedie a sdraio. La proprietà è isolata e questo è da considerare nella scelta. Per noi andava bene. Unico neo: non eravamo stati avvertiti dall'Agenzia che ci sono dei vicini (persone peraltro molto gentili che vivono nello stesso fabbricato), poichè abbiamo cani che avremmo voluto lasciare liberi. Infatti nelle mail di richiesta avevamo specificao che cercavamo una casa solo per noi.
FROM TRIPADVISOR
NORMA'S RESPONSE :
"I do not understand Italian very well. But, I think our reviewer might be saying that while she enjoyed the house, the gardens, the land, the views, the greeting she received from her hosts and the welcome food goodies that they presented to her, she felt mislead by me.
As I understand it, this is because I did not say that in one small corner of this huge farmhouse, there exists another small holiday home that belongs to an Italian family, who occasionally stay there at week-ends. This family have NO access to the vast private gardens and land that surround this magnificent farm house. They have a small patio area, fenced off, in front of their independent entrance to the right of the front of the house – you can see it in one of the photos.
The upshot of this omission is that the reviewer claims that her 2 dogs could not run free.
The reason I omitted to mention the neighbour is as follows : our reviewer was originally interested in one of the 9C Macerino Castle apartments with a private pool and a public pool included in the rate. After many emails, where she oscillated between Rock Pool Cottage and Macerino Castle, I UNDERSTOOD that her decision to decline the pool property was because she required more privacy and for her dogs to be loose.
At the pool property, the dogs would not have been allowed access to the pool area and there would have been other holiday makers in the vicinity. It was for this reason that I had suggested that Rock Pool Cottage would allow her privacy from other holiday makers and plenty of space for her dogs to roam, providing they were obedient and would not worry sheep or cattle that might be in surrounding fields.
I had alerted her that the private property surrounding Rock Pool Cottage is unfenced. However, I had informed her that there was a large secure animal enclosure, within which she could place her dogs, were they not obedient, should she prefer them to be untethered and not in the house.
In all our many emails, with the emphasis being on privacy and space, as I had understood it, it did not occur to me to mention a small family unit, who own one tiny part of this huge farmhouse and who have NO access to all the land that belongs to Rock Pool Cottage and who may or may not have been there at that time.
Indeed, while there is a large terrace at the front of the house, next to the neighbour's patio, and, the fresh water rock pool can be viewed by the neighbour, at a distance, as soon as you go to the side and the back of the house, where there is another large patio area, you would have absolutely no idea that you have a neighbour and you can enjoy total privacy.
What our reviewer omitted to tell me was as follows : one of her 2 dogs has a problem with people. The reason she did not want other people around was not for the peace and tranquillity provided by Rock Pool Cottage, as I had been led to believe. It was because she was nervous about her dog's reaction, if faced by a stranger.
Had she alerted me as such, while we discussing her options, I would have immediately informed her about the possibility of a neighbour at Rock Pool Cottage. Instead, I laboured under the misguided notion that she merely required space for her dogs, alongside peace and tranquillity, all of which is provided by Rock Pool Cottage.
Indeed, had I known that the reviewer's dog was placing the neighbour at risk, were the dog to be accidentally let loose, I would never have accepted the booking."
This response is the subjective opinion of the management representative and not of TripAdvisor LLC.
Accomodation and features
Accomodation type: self-catering
Meals provided: self-catering
Holiday Theme: family, historic, luxury, romantic, tourist attractions, reunions
Bedrooms: 4
Bathrooms: 3.5
Living Room Facilities: separate : seats 12
Dining Facilities: separate : seats 12
Kitchen Facilities: 4 ring stove, dish washer, freezer, fridge, grill, hob, iron+board, microwave, oven, washing machine, coffee maker, cooking utensils, toaster
Entertainment Facilities: TV
Internet Access: internet access, wireless broadband
Swimming pool: outdoor pool, private pool on site, shared pool
Outside:garden, BBQ, parking off street, patio, terrace, garden chairs, beach chairs, sun loungers, extensive grounds, parkland
General Property Facilities: activities guide, ceiling fans - room fans, central heating, chauffeur, daily maid service on request, firewood, hair dryer, linens provided, local maps, welcome paper towels, private chef, welcome shampoo, welcome soap, welcome toilet paper, towels, beach towels
Suitability of the Property: children welcome, suitable for elderly or infirm, pets, long term rentals available, non smoking only
Notes:
Private chauffeur, chef and or maid service can be arranged - please ask for details.
The 3 mts x 1 mt cool pool is fed by a mountain fountain. Totally organic.
There is a large public pool in a country village, 5 kms away. Here there is a restaurant.
The 4th bathroom is a cloakroom.
Rates
1050 EUROS/WEEK,.
4 days cost 900 euros/week
ALL INC OF UTILITIES. TOWELS, LINENS ETC, TAXES, FINAL CLEAN