9C Macerino Castle : Vicino Piazza – sleeps 4/5
17 kms to central Spoleto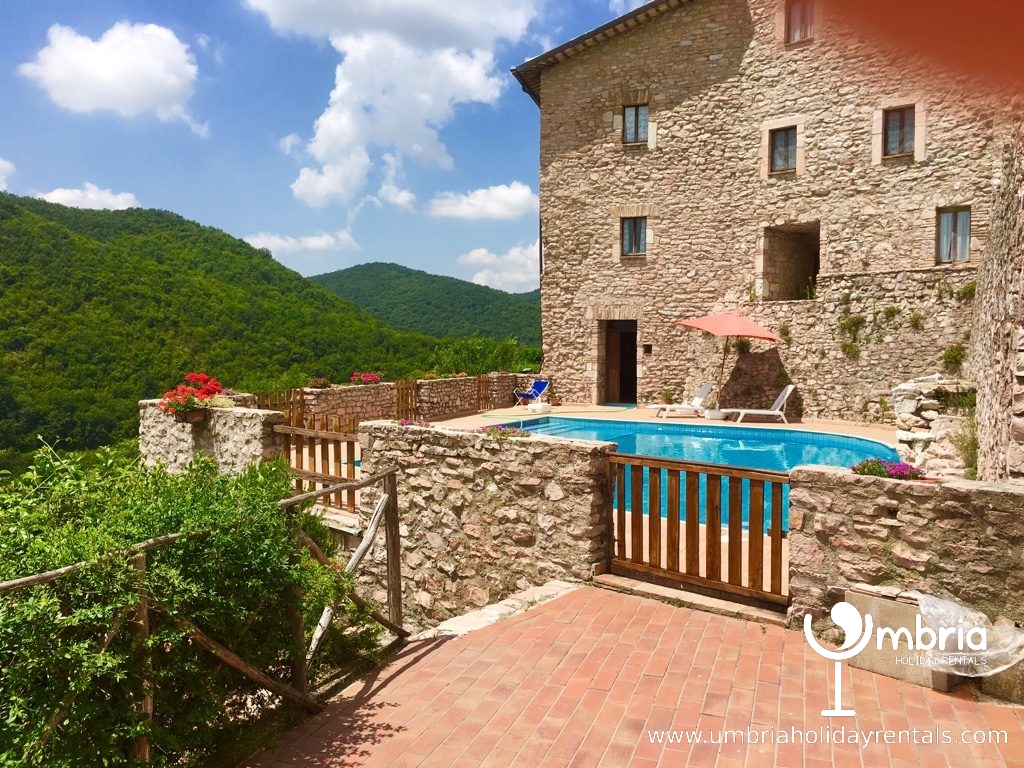 Sleeps:

5

Bedrooms

2

Bathrooms

1

Property type:

Apartment, Castle
The apartment consists of…..
VICINO PIAZZA has 2 double bedrooms (1 a twin – beds can be joined), 1 bathroom + 1 sitting/dining room with a fully fitted kitchen.
A spacious apartment with a sofabed in the sitting room.
Simply and sparsely furnished + WiFi, this is an extremely competitively priced apartment, in the most exquisite and unique of contexts. And, with 2 beautiful pools to choose from (one private/shared, the other public) plus a restaurant and a trattoria, you can forgive the lack of soft furnishings. This is very much an outdoors context…..for walkers, nature lovers, sunbathers, animal lovers who want to bring their pets, romantic couples, families and groups of friends.
17 kms to central Spoleto, Macerino Castle…
Macerino Castle is 5 kms from Fogliano, towards Aquasparta…..
Please note that at Fogliano, you leave a tarmacked road and proceed onto a country track, which is easily driveable. NOT a white road, full of stones and holes, and, NOT a dirt road, it is a flattened earth road. Indeed, it is a beautiful country drive through woodlands, perfect for nature lovers and conservationists alike.
Then, you arrive……to a magical place, until now, hidden from the world. A 9C beautifully restored walled castle, full of higgledy piggledy tiny, cobbled lanes and arches, with 2 piazzas and a church.
Located between Spoleto and Aquasparta, in the midst of lush countryside
Bought and restored by a local Macerino man, Romeo, who is adorable ! Neither he nor his wife, a marriage of 45 years, believe in old age, because they say that Macerino Castle casts a special "buona salute" spell on those who desire it.
Maybe it's the natural spring water. Maybe it's the up and down lanes to navigate. Maybe it's the captivating quality of this Harry Potter place working its white magic on our souls.
Certainly, you will leave Macerino Castle a changed person. It transforms bad to good, ugly to beauty and complicated to simple.
After a stay here, you will feel totally restored.
Immediately outside the walls of this tiny castle, is a trattoria, a very simple place for locals that does exceedingly good food.
In addition, there is a rather flash restaurant + bar in front of a very glamorous public pool. Spectacular mountain views embrace a landscape peppered with olive groves and vineyards.
And, for guests at Macerino Castle, the private pool and the public pool are both included in the rate. Spoilt for choice !
ALFRESCO EATING ?
While this apartment has no outside area, there are several open areas immediately outside the entrance to the apartment, within the castle walls, which are very sunny, where you can erect a table and chairs for alfresco eating. If this is your wish, please advise and we can arrange a table and chairs to be available outside. There are no residents inside the castle walls so you may have the place more or less to yourselves !! OR, you can place your table and chairs on the sun deck, next to the private pool. Indeed, there is a very laid back atmosphere here and you can do pretty much as you wish !
Accomodation and features
Meals provided: restaurant
Bedrooms: 2 double bedrooms (one a twin - beds can be joined)
Bathrooms: 1 shower room
Living Room Facilities: seats 5
Dining Facilities: seats 6
Kitchen Facilities: 4 ring stove, freezer, fridge, hob, ice maker, iron+board, oven, washing machine, cooking utensils
Entertainment Facilities: TV
Internet Access: internet access, wireless broadband
Swimming pool: outdoor pool, private pool on site, shared pool
Outside:parking, garden chairs, beach chairs, deck chairs, sun loungers, extensive grounds
General Property Facilities: activities guide, central heating, daily maid service on request, hair dryer, linens provided, welcome toilet paper
Suitability of the Property: children welcome, not suitable for elderly or infirm, pets, long term rentals available
Notes:
The pool furniture is in the pool room next to the pool. You can take whatever you want and place it anywhere you want to.
Tables and chairs can be placed anywhere you like within the castle walls or on the sun-deck besides the pool, if you wish to cater for yourselves and eat outside.
Please check any details that are of particular importance to you, in case I have made an error !!
Rates
700 euros/week, inc of all utilities, linens, towels (not pool towels) + final clean