Terrazza Verde
Historic Pedestrian Central Spoleto : an elegant, 2 bedrm apt with terrace + views, perfect for 1 couple + 2 children (or 2nd couple but 2nd bedrm on small side) - f/t use of private pool, 7 miles away. Car NOT necessary.10 mins walk to train station.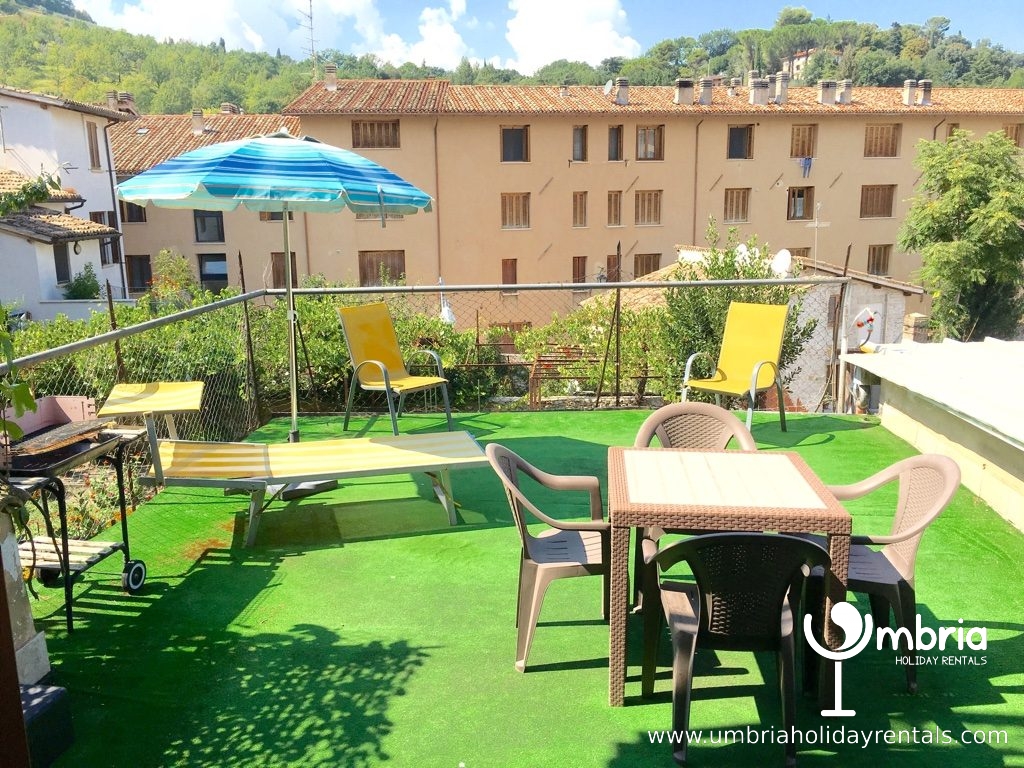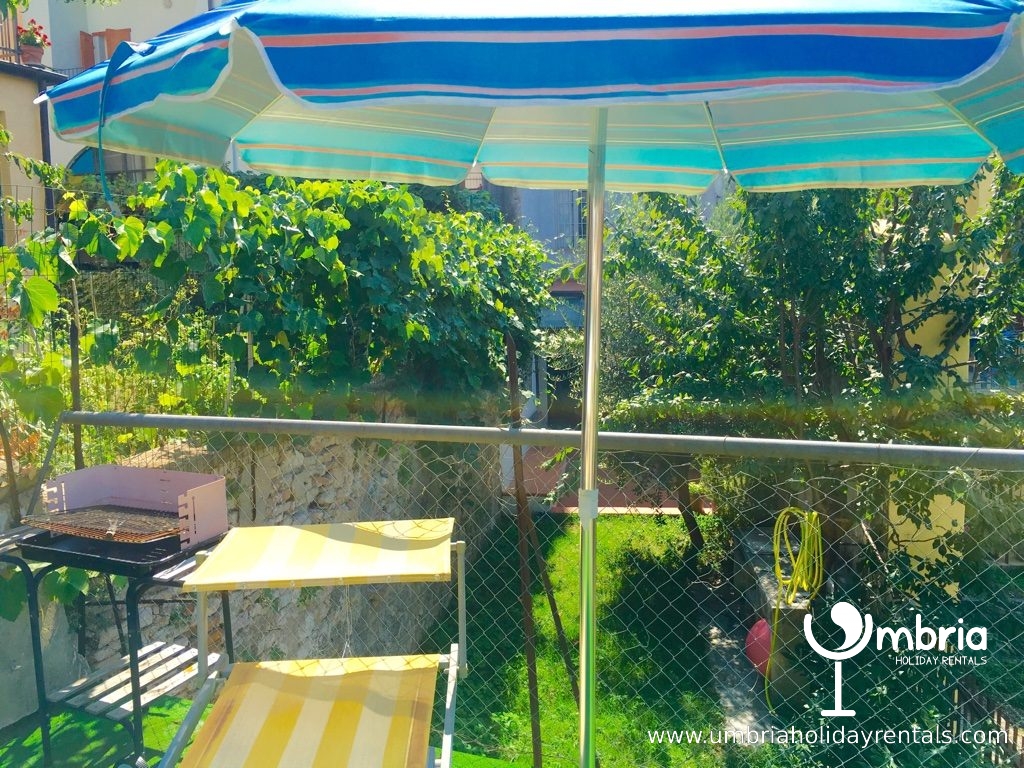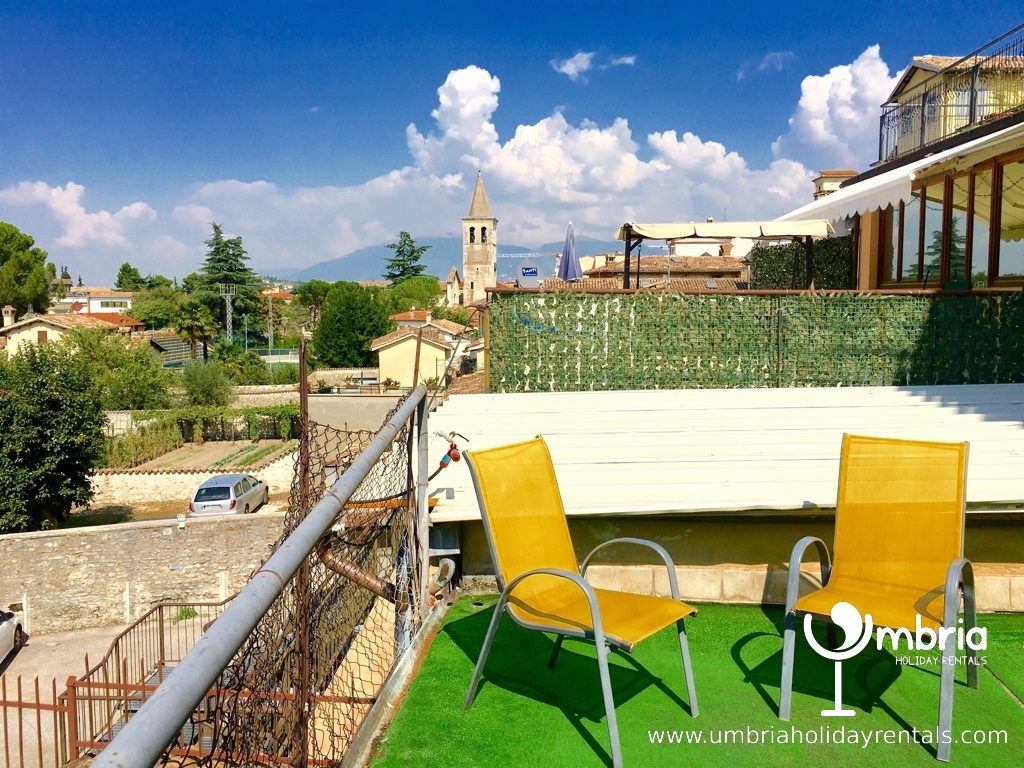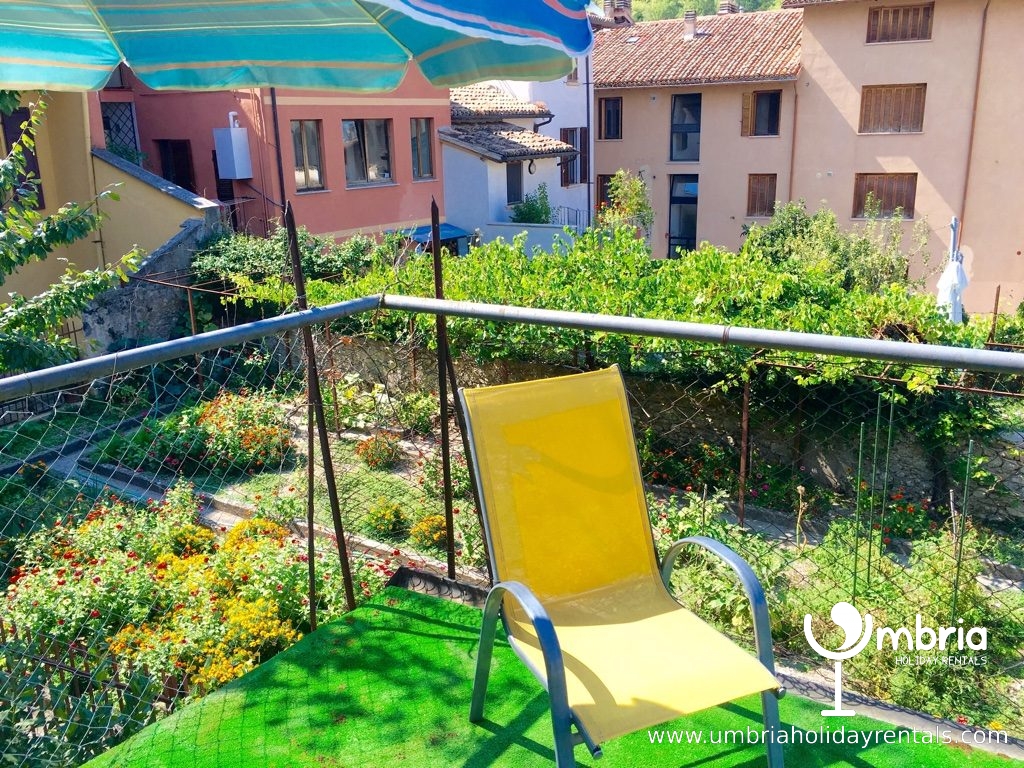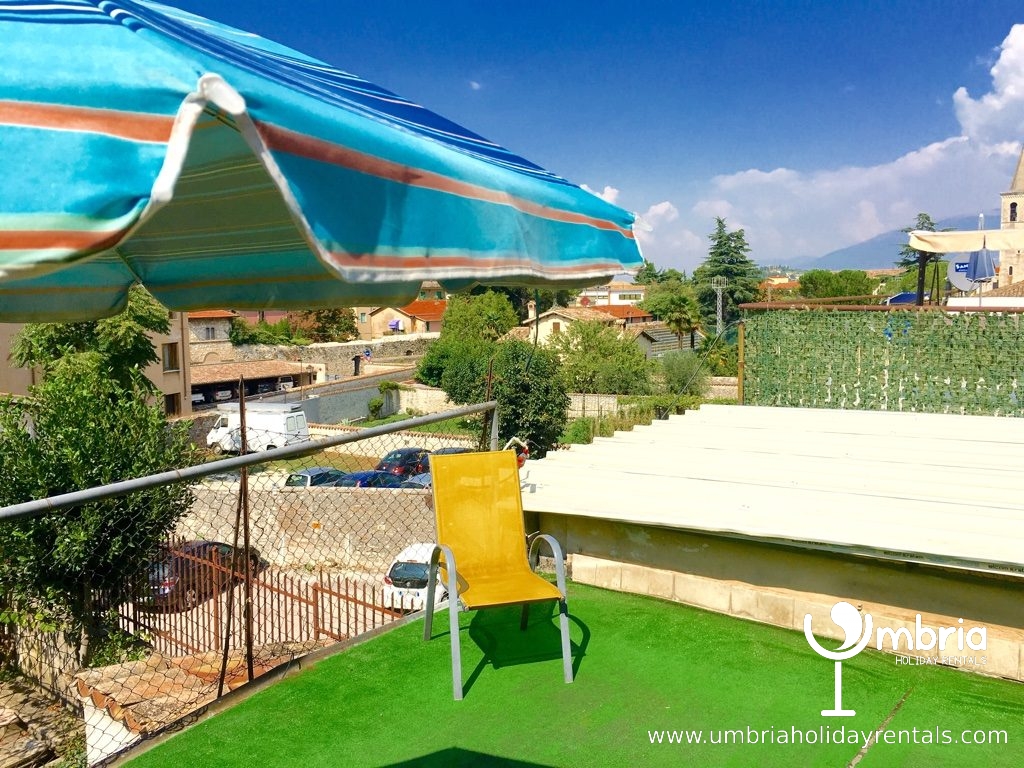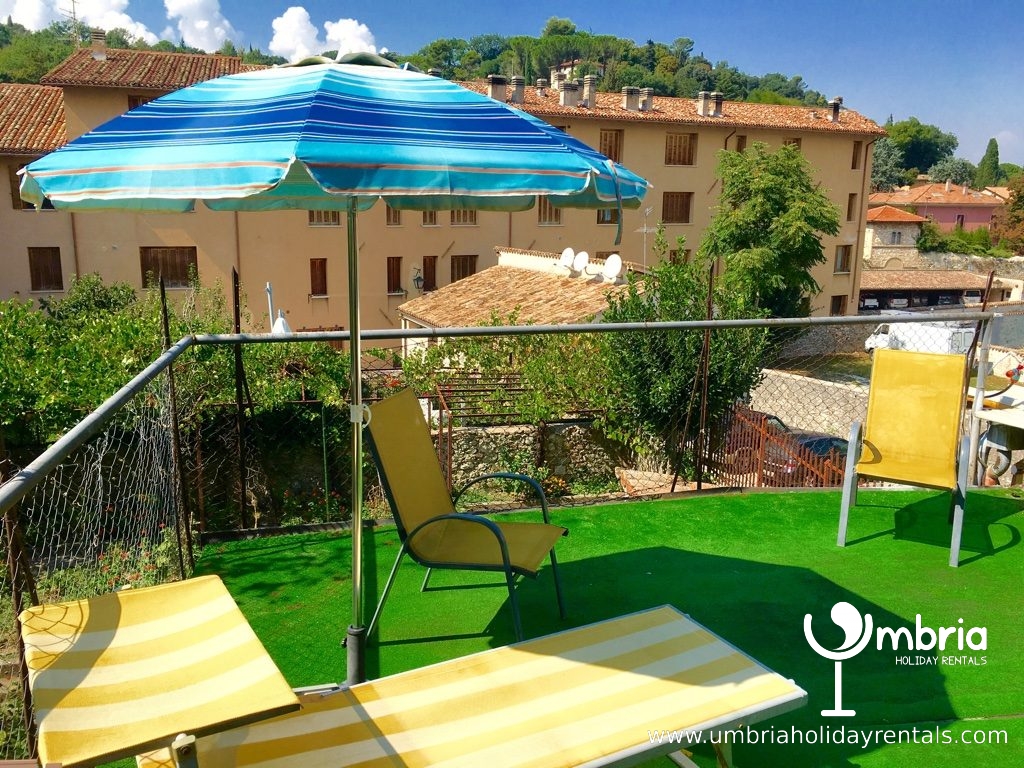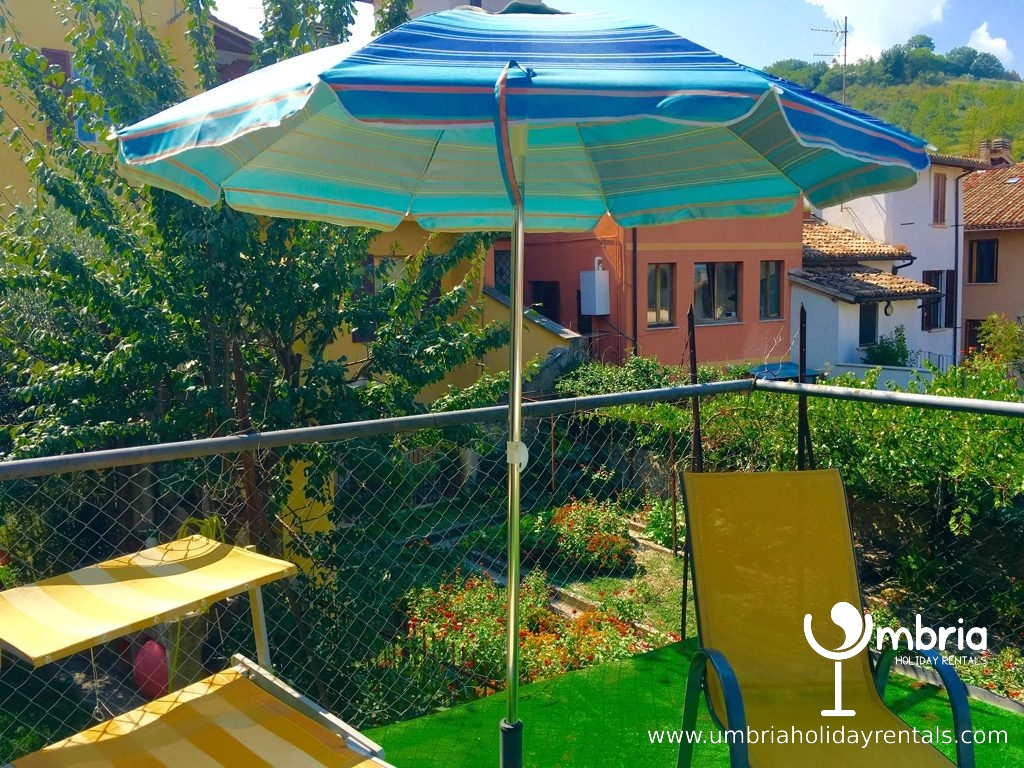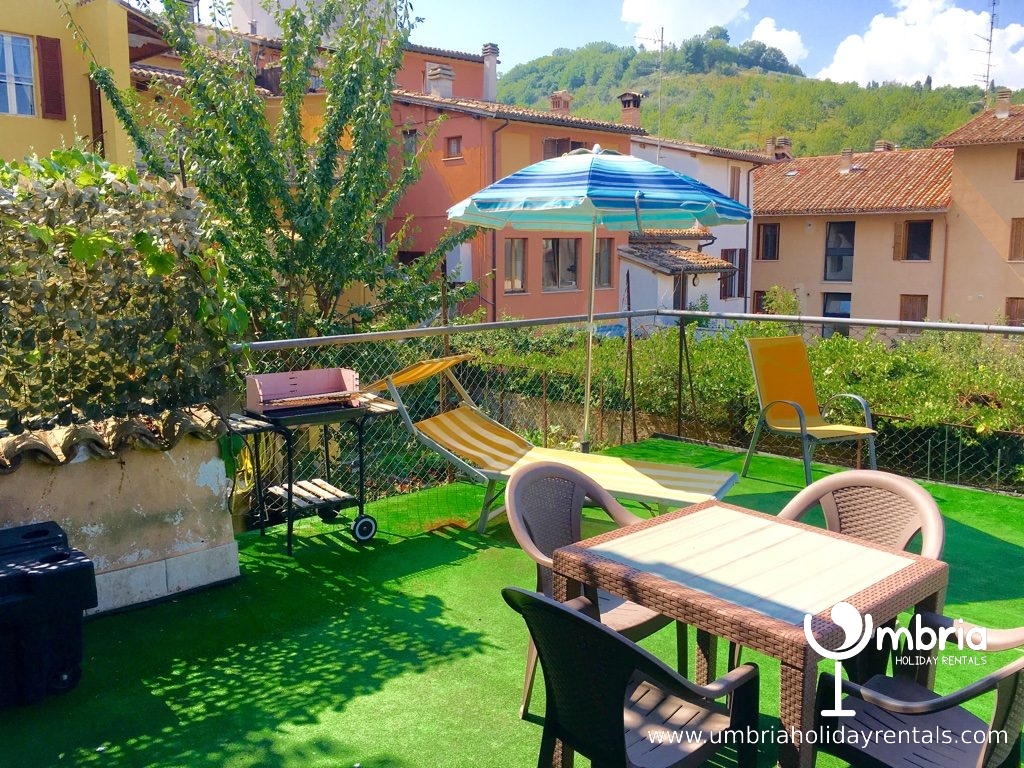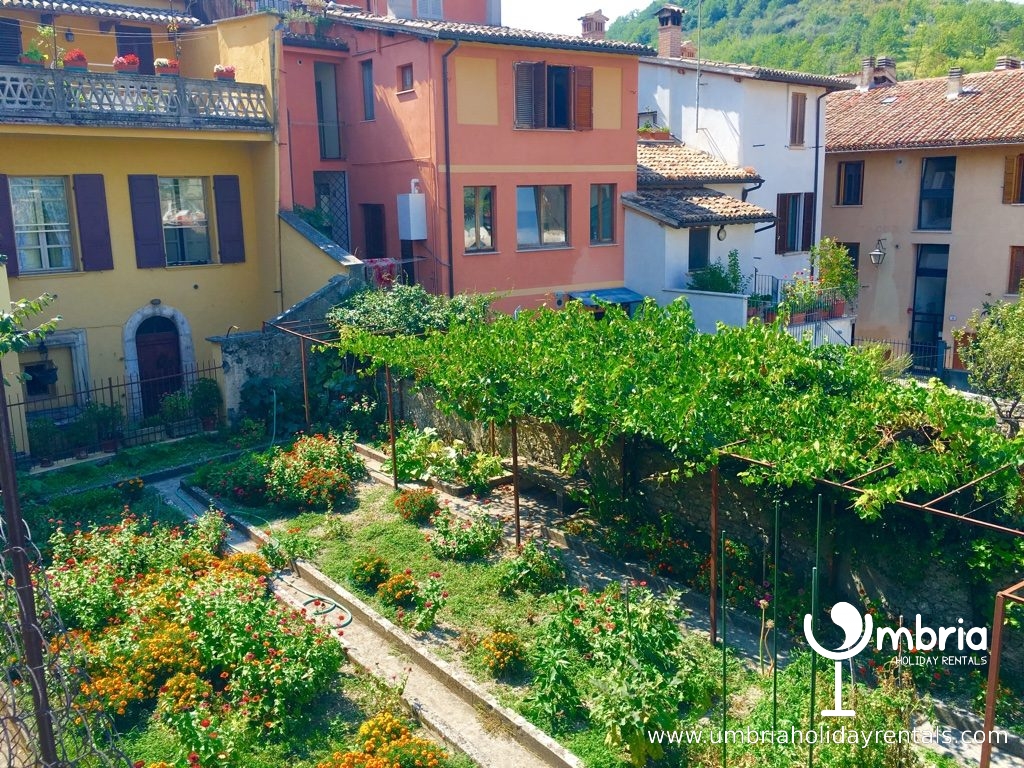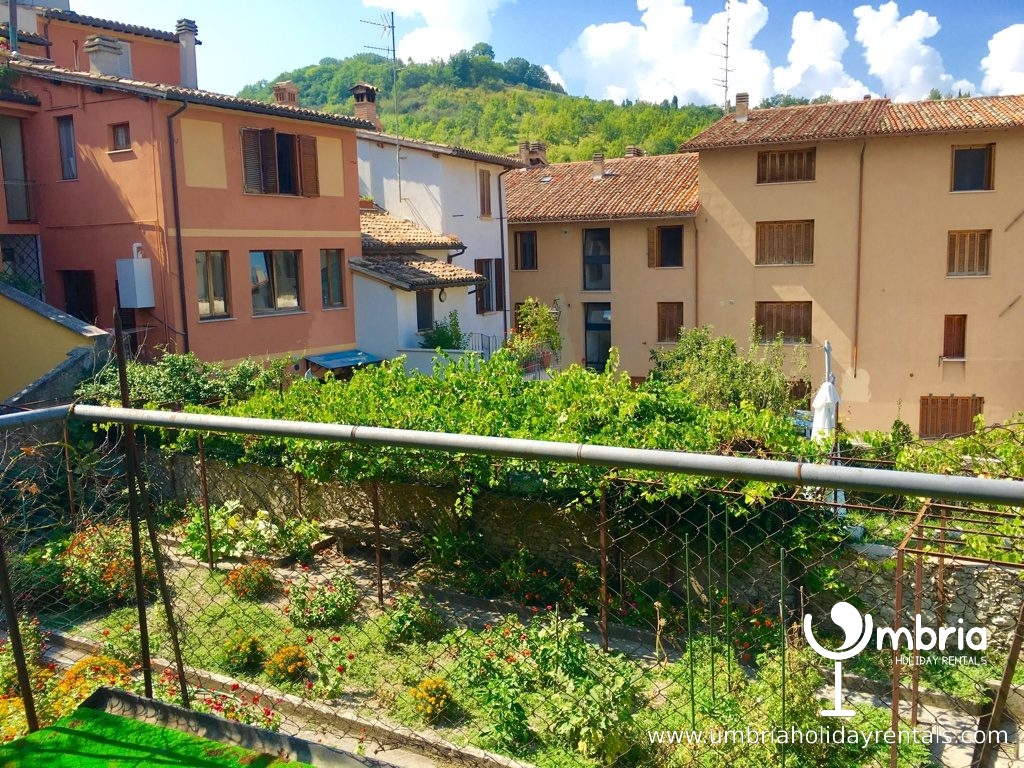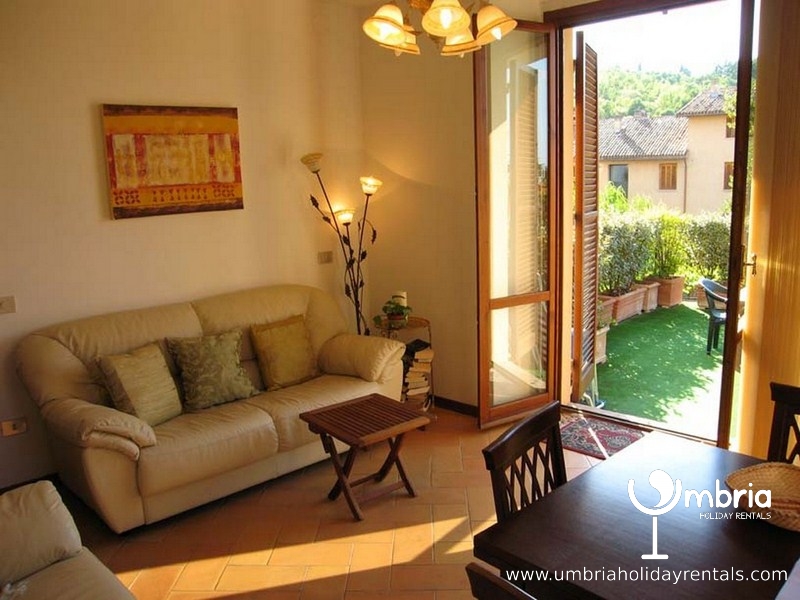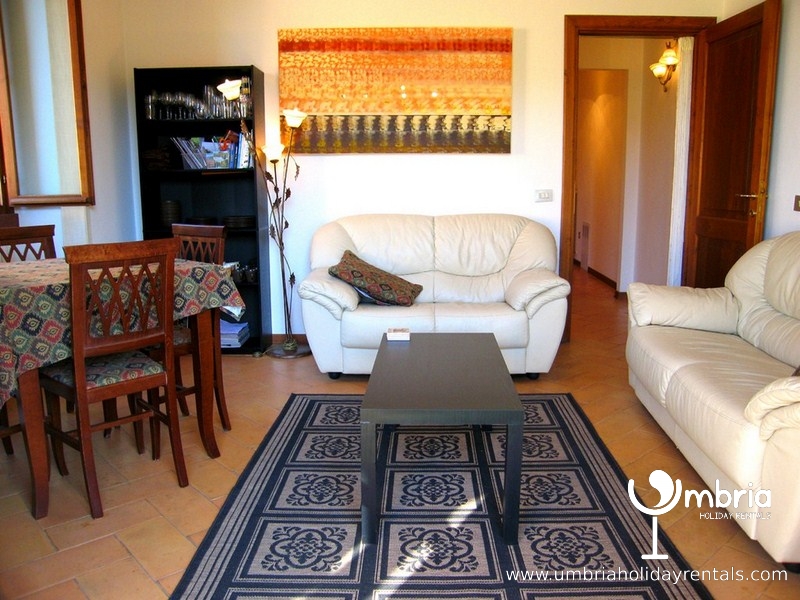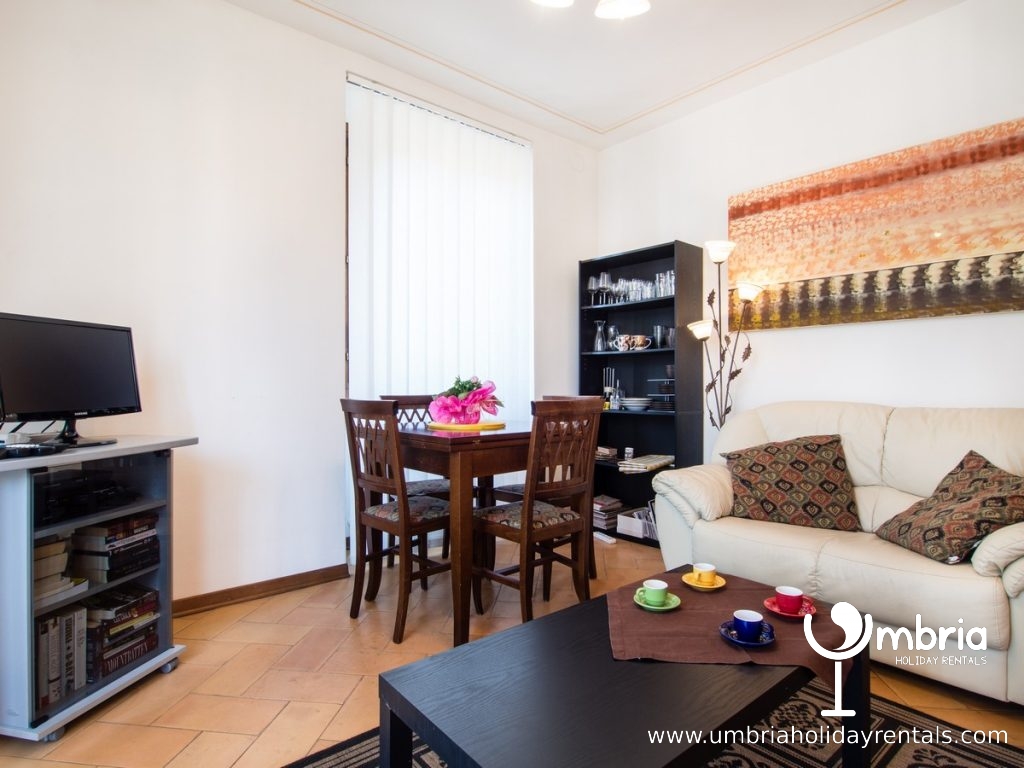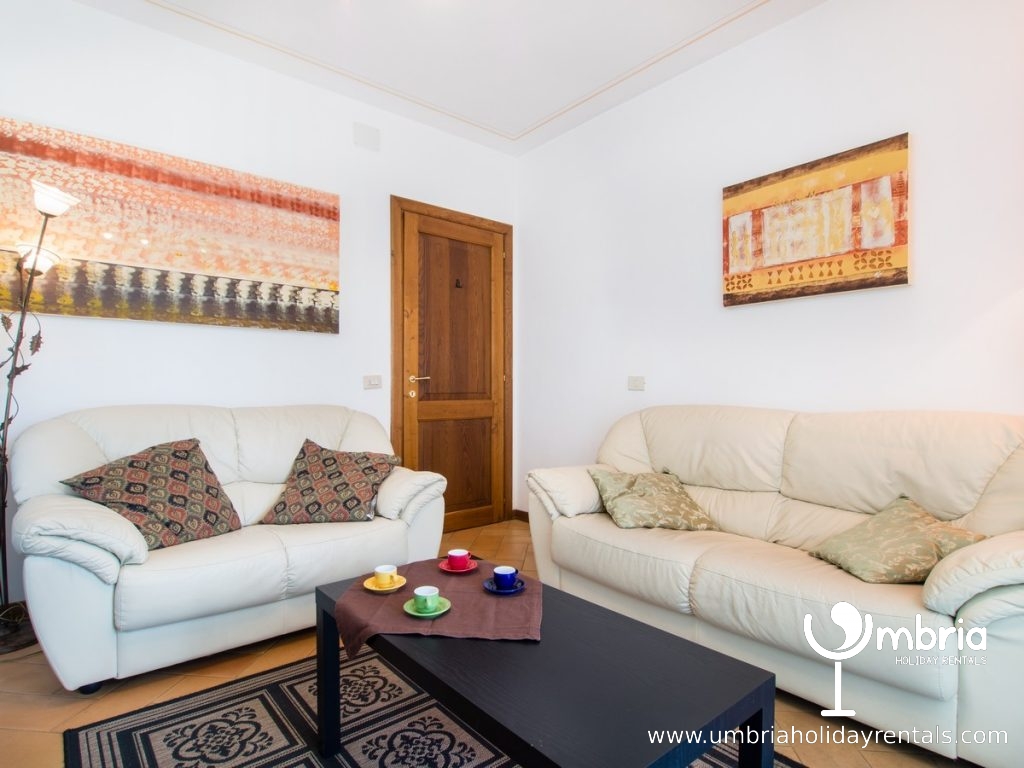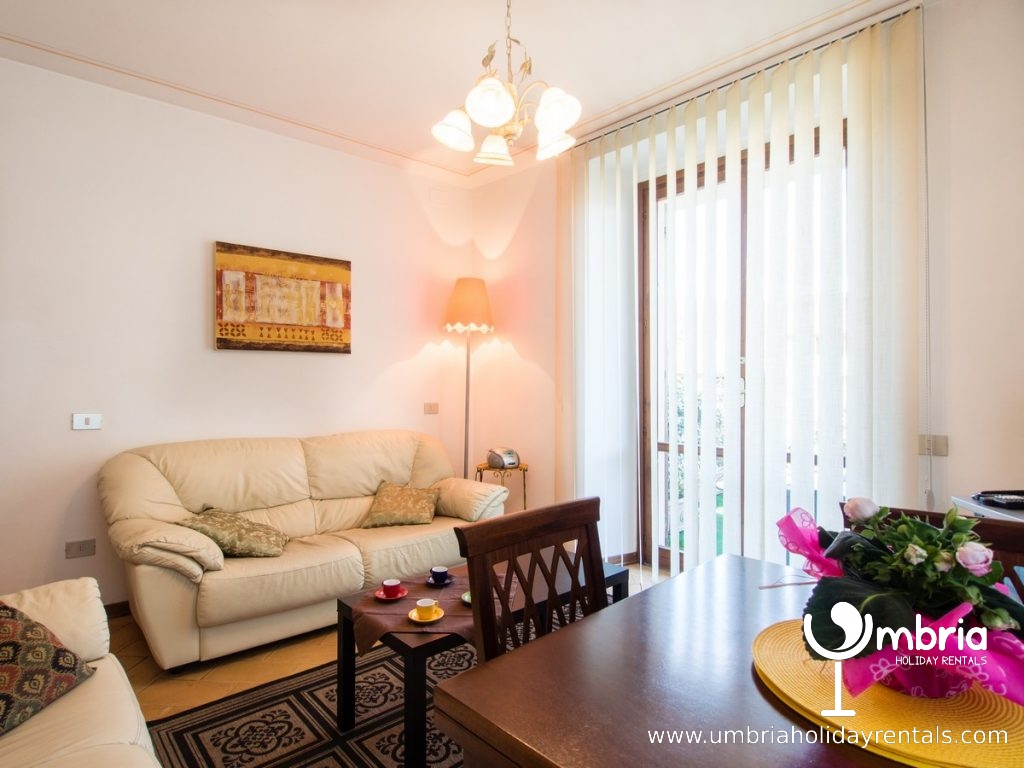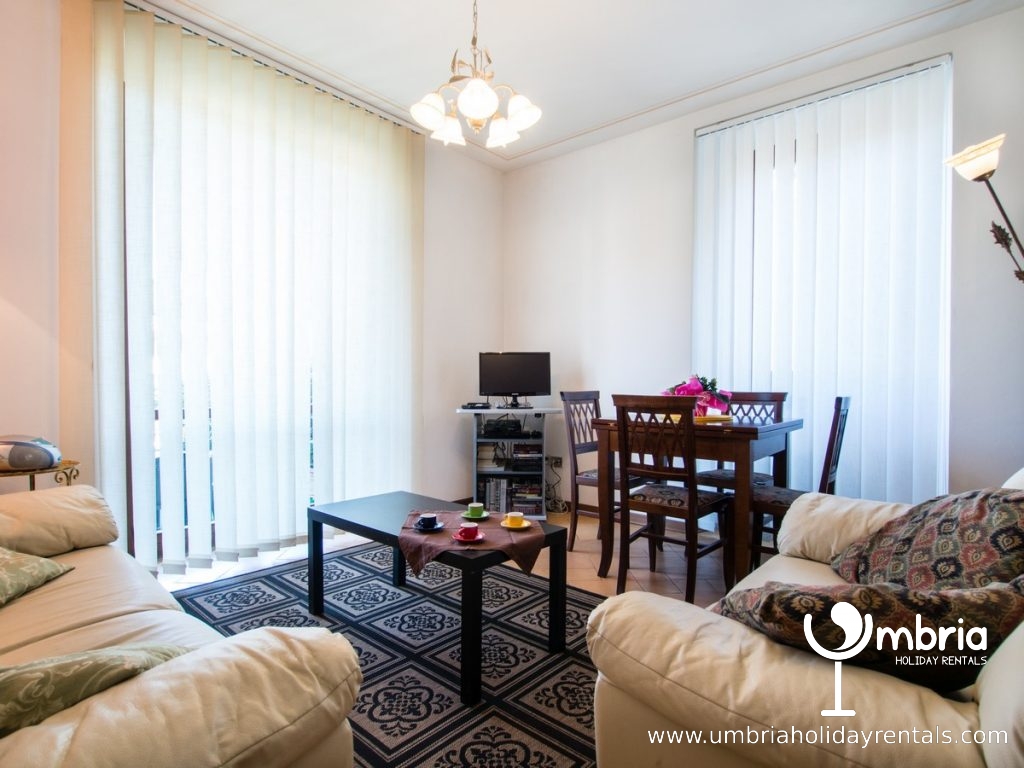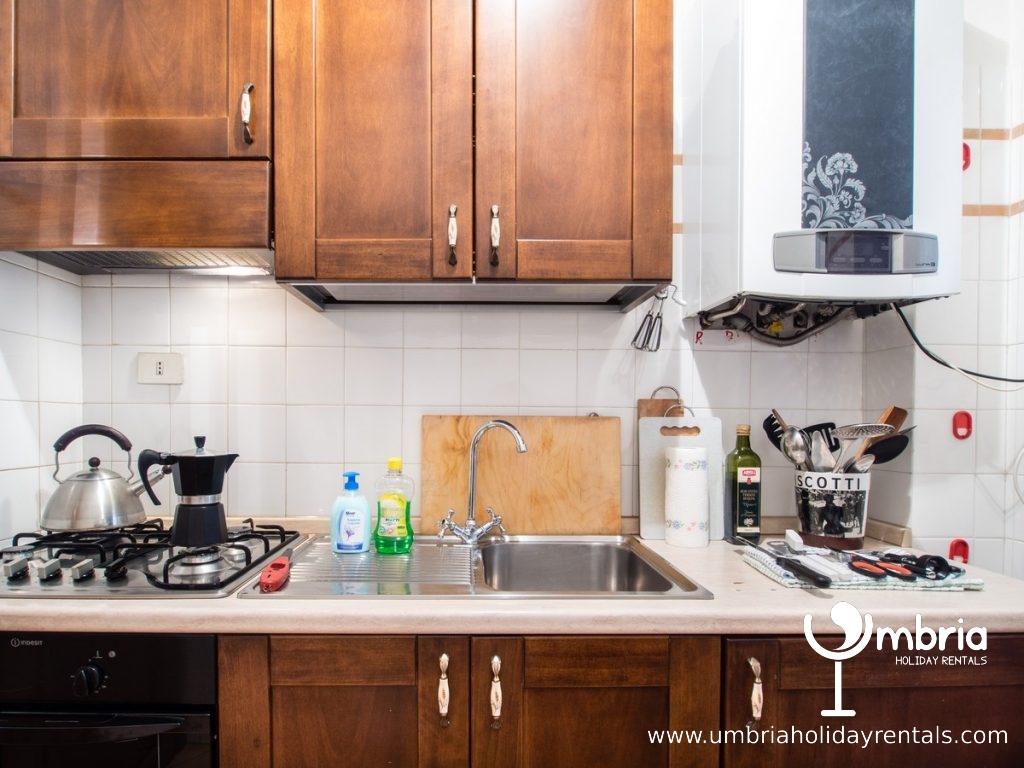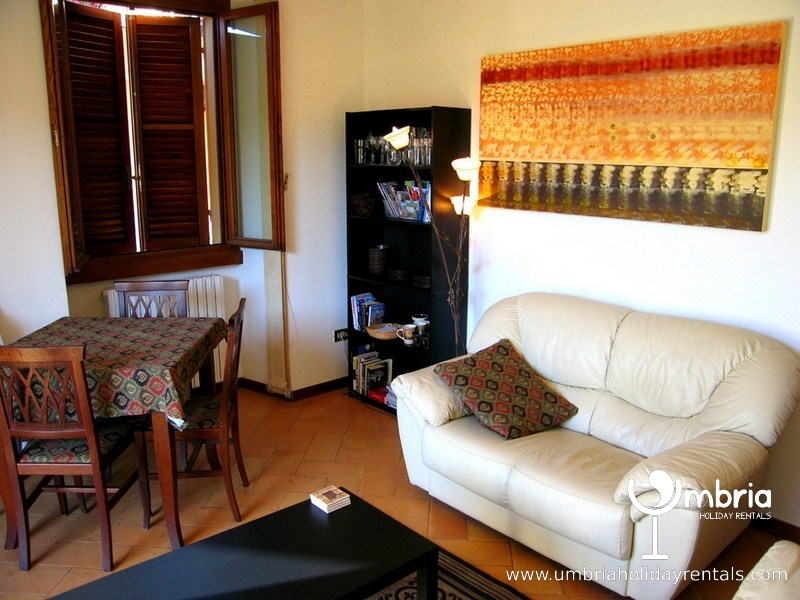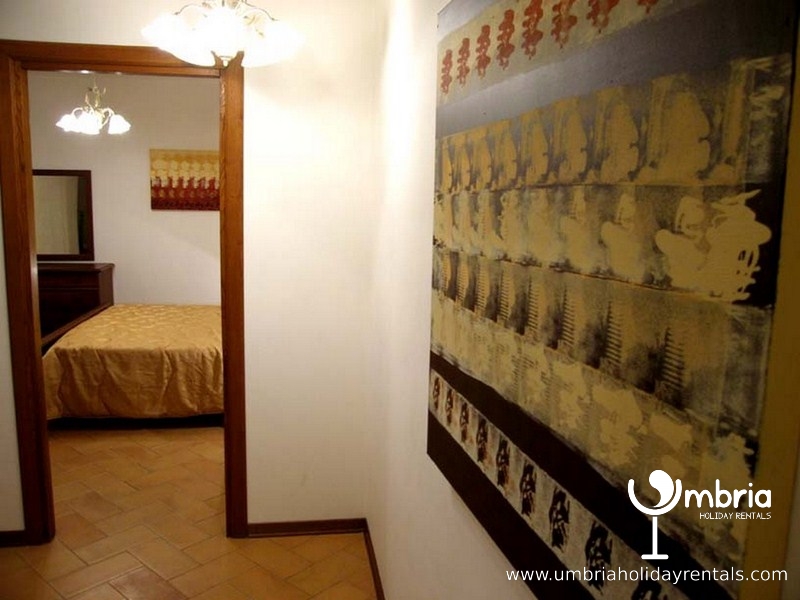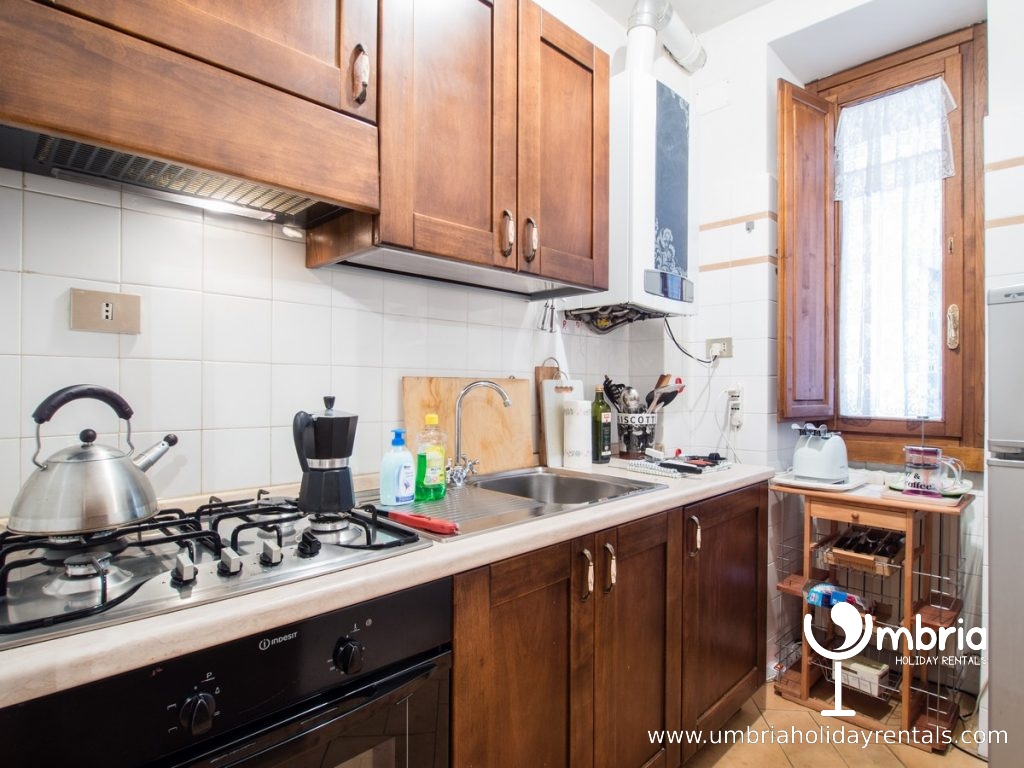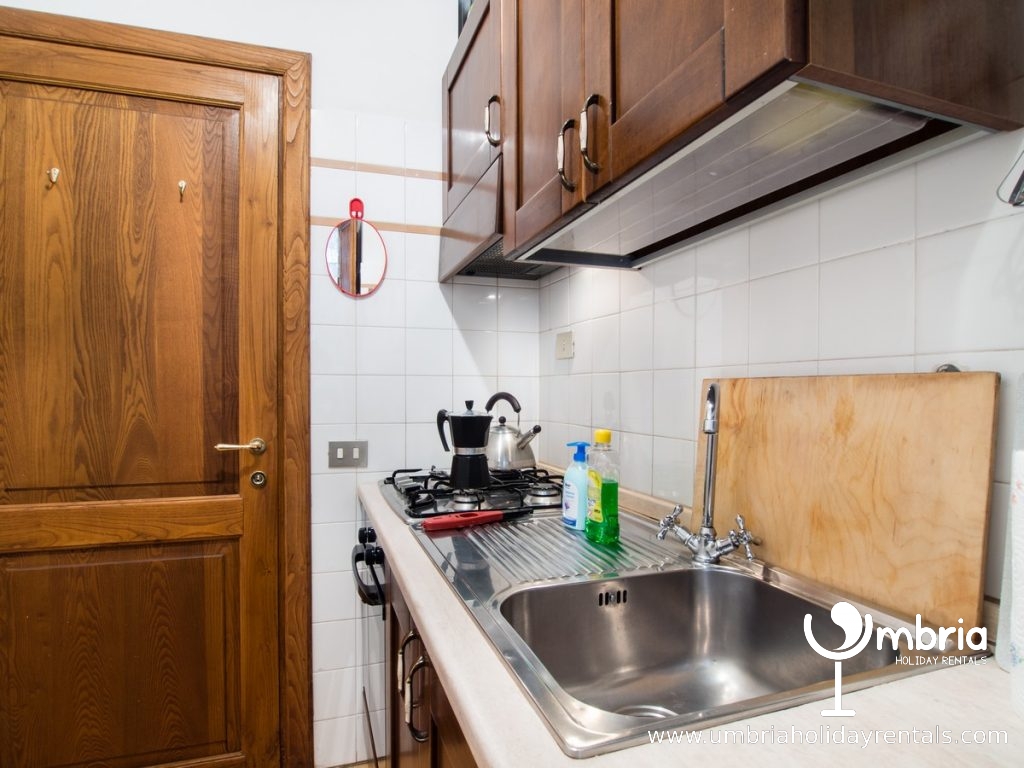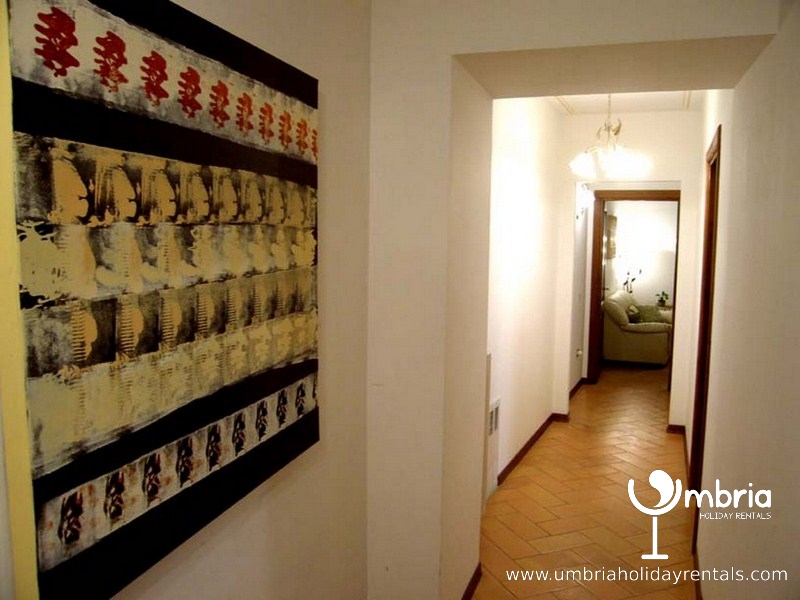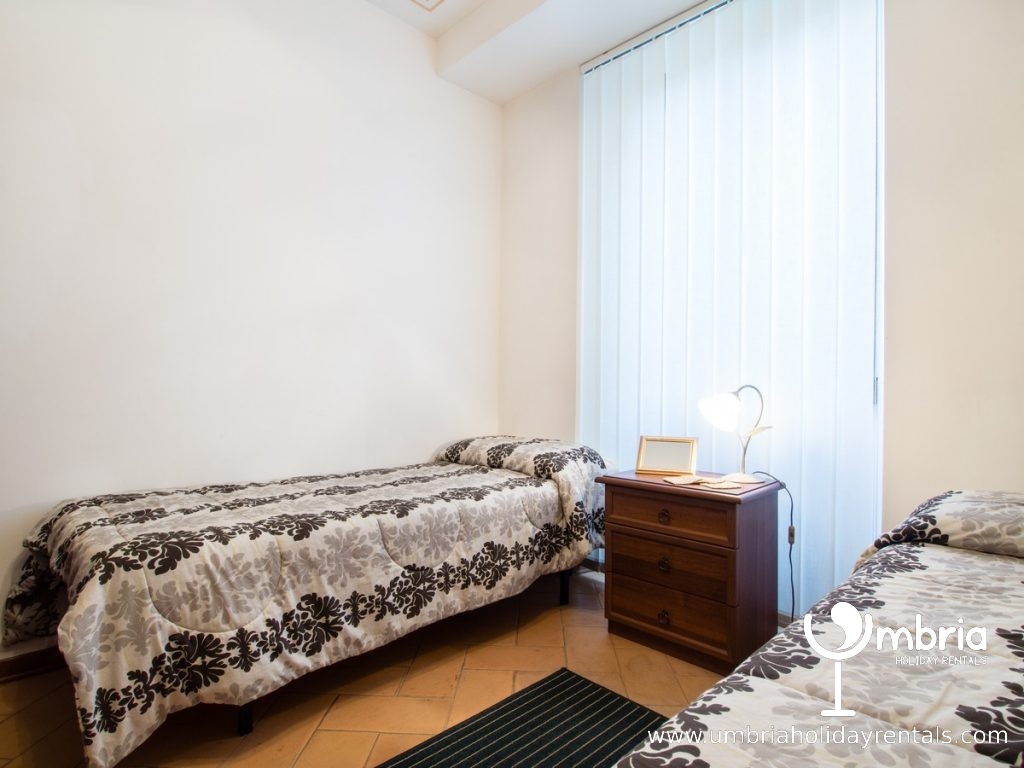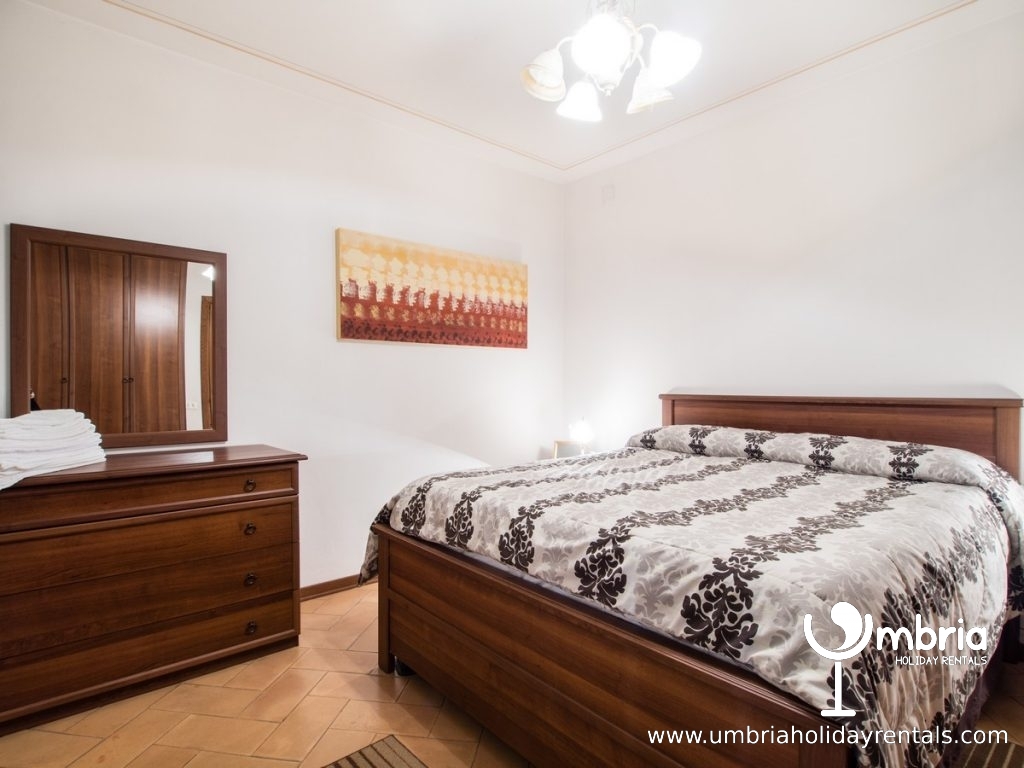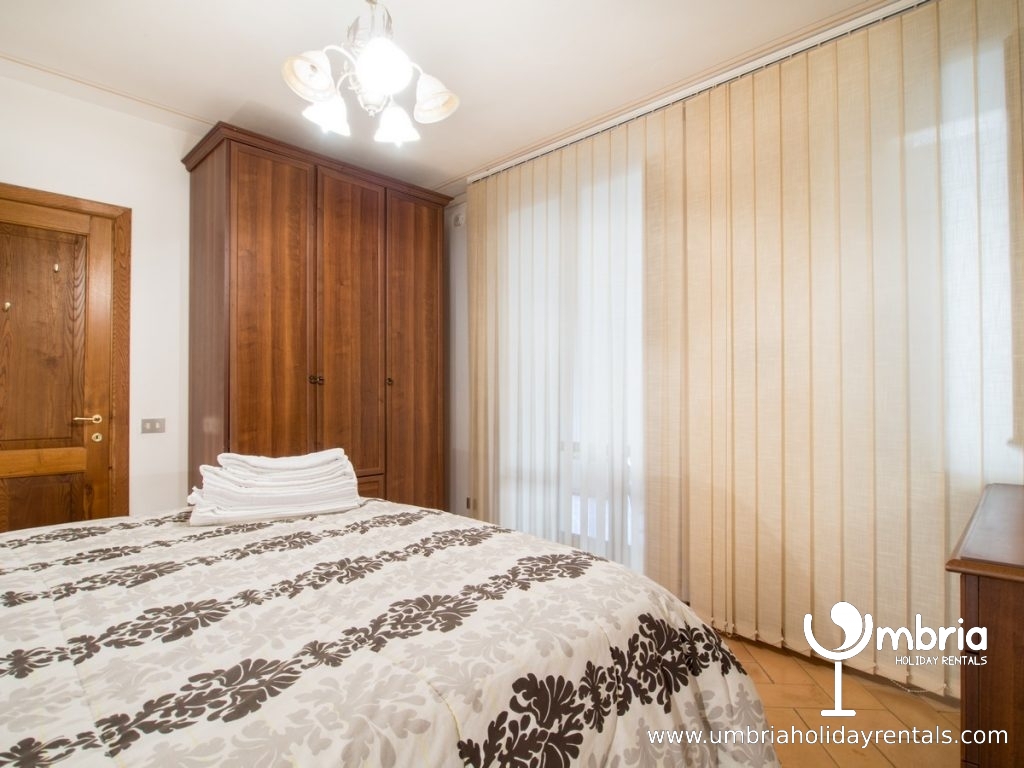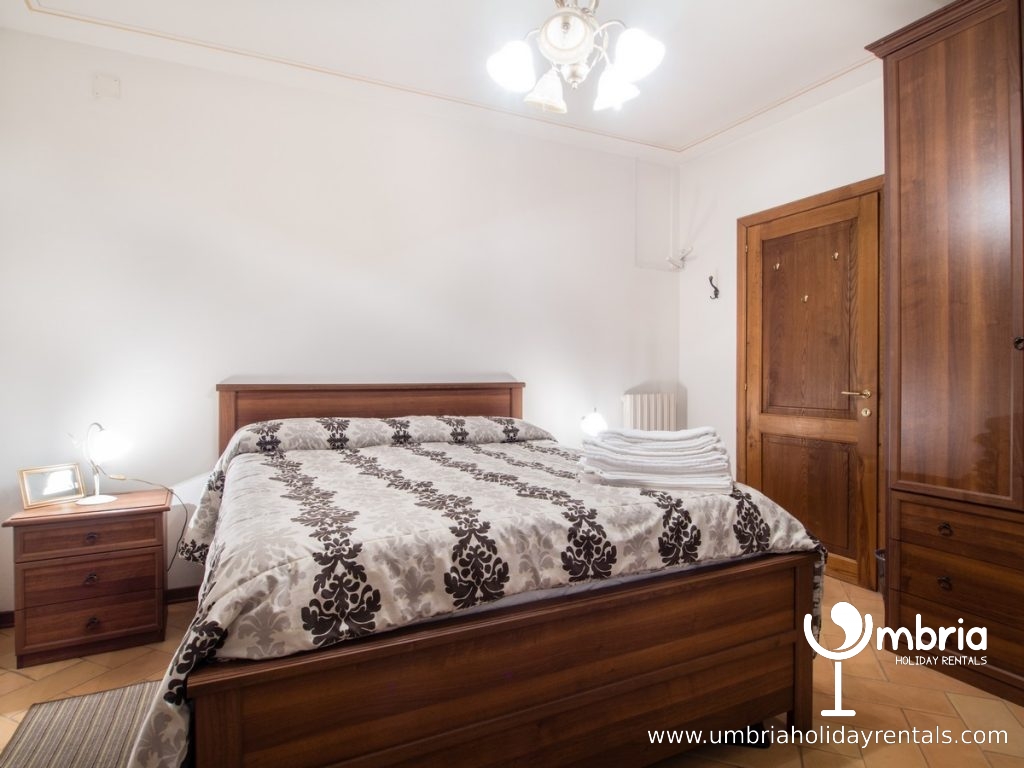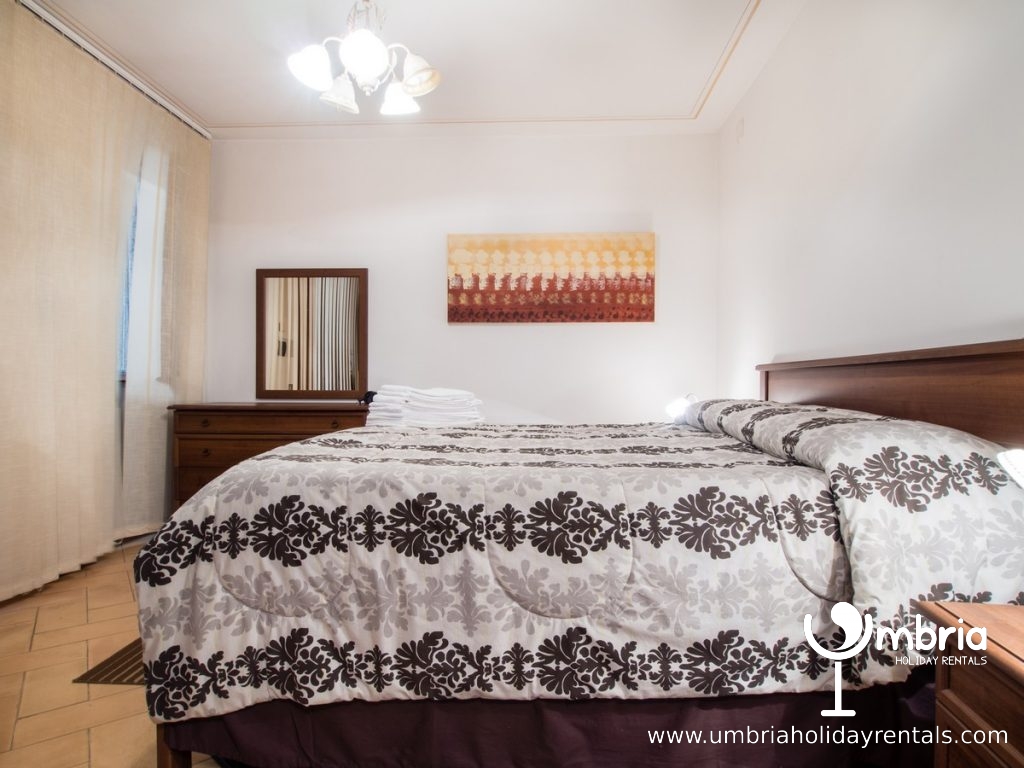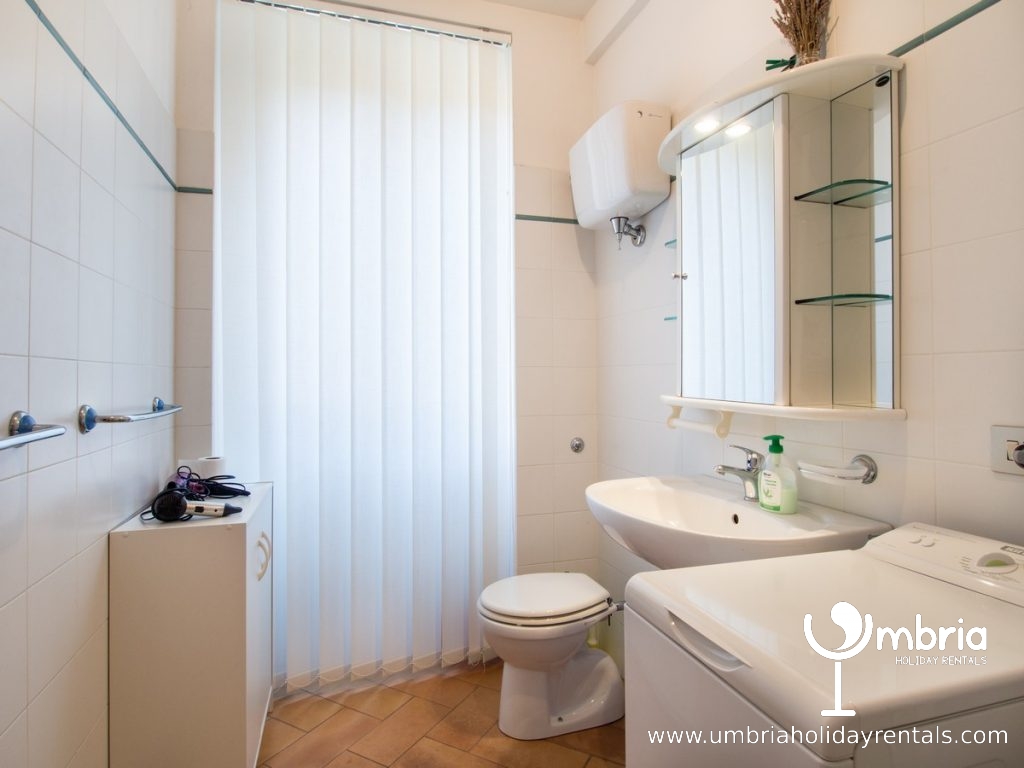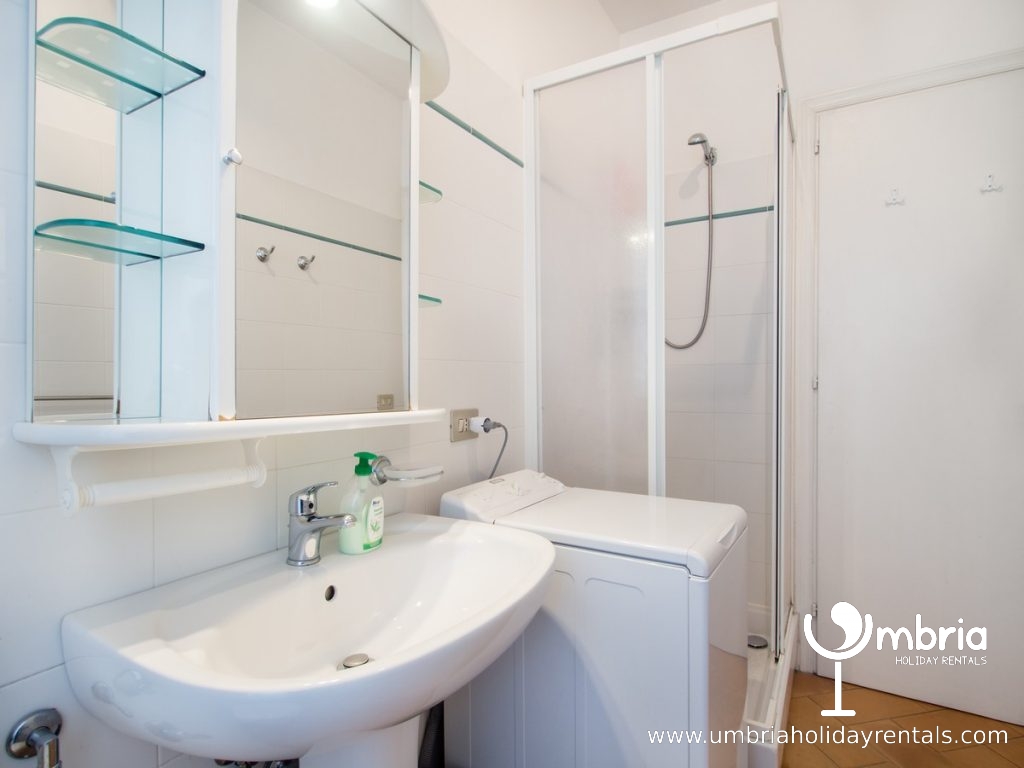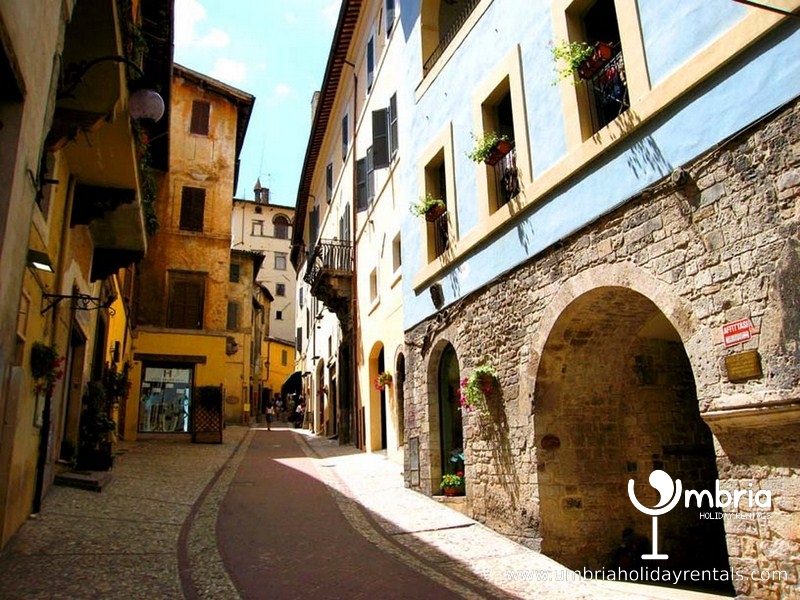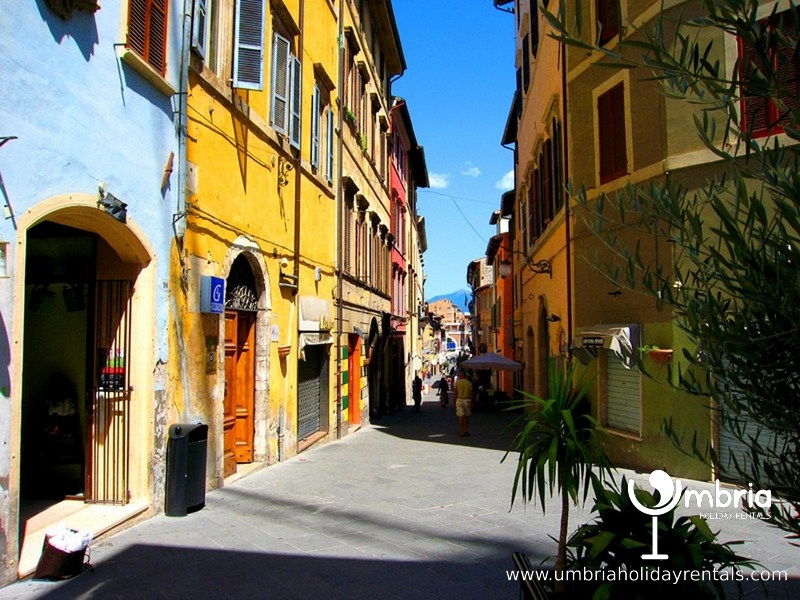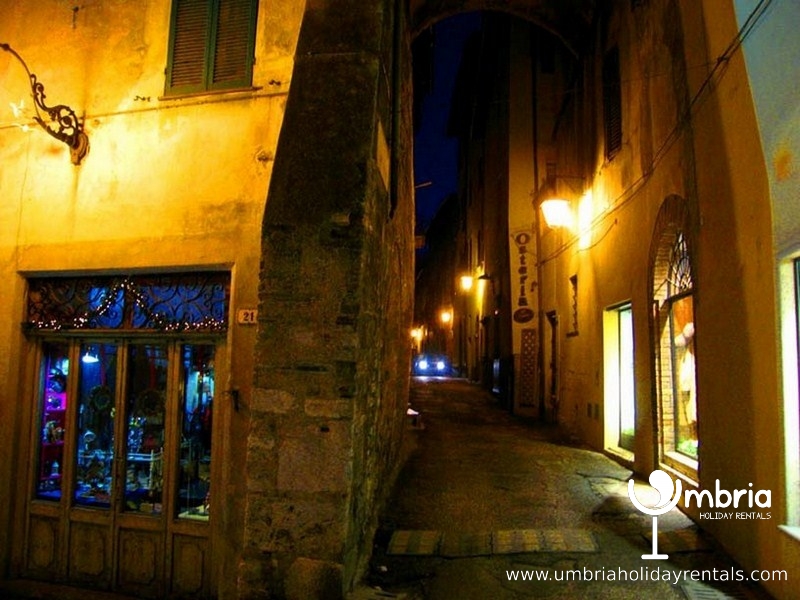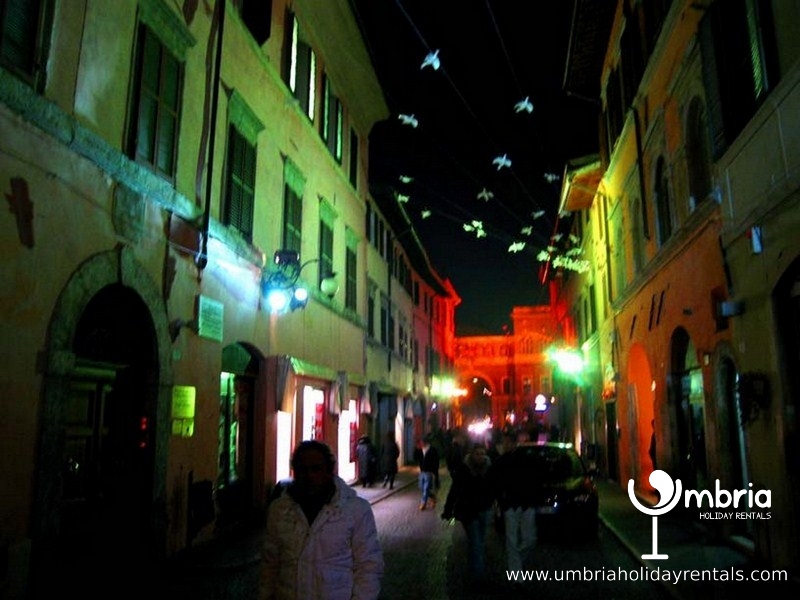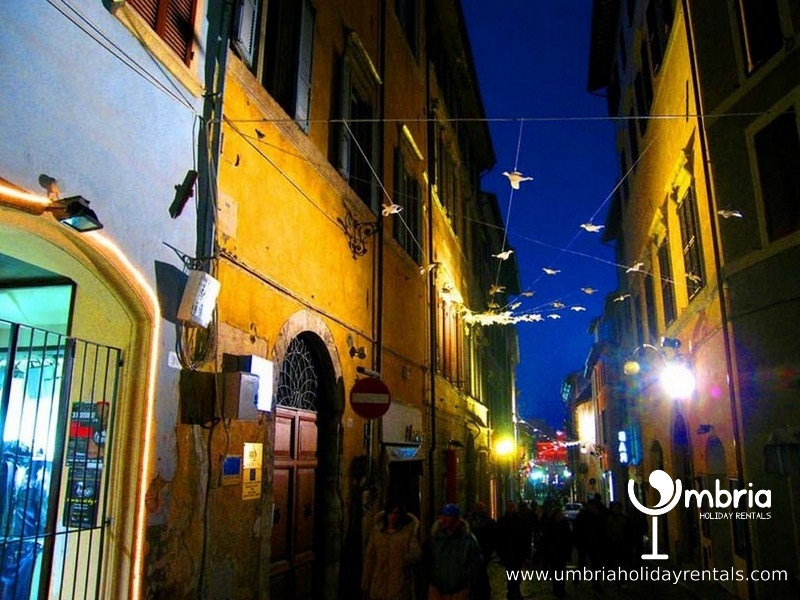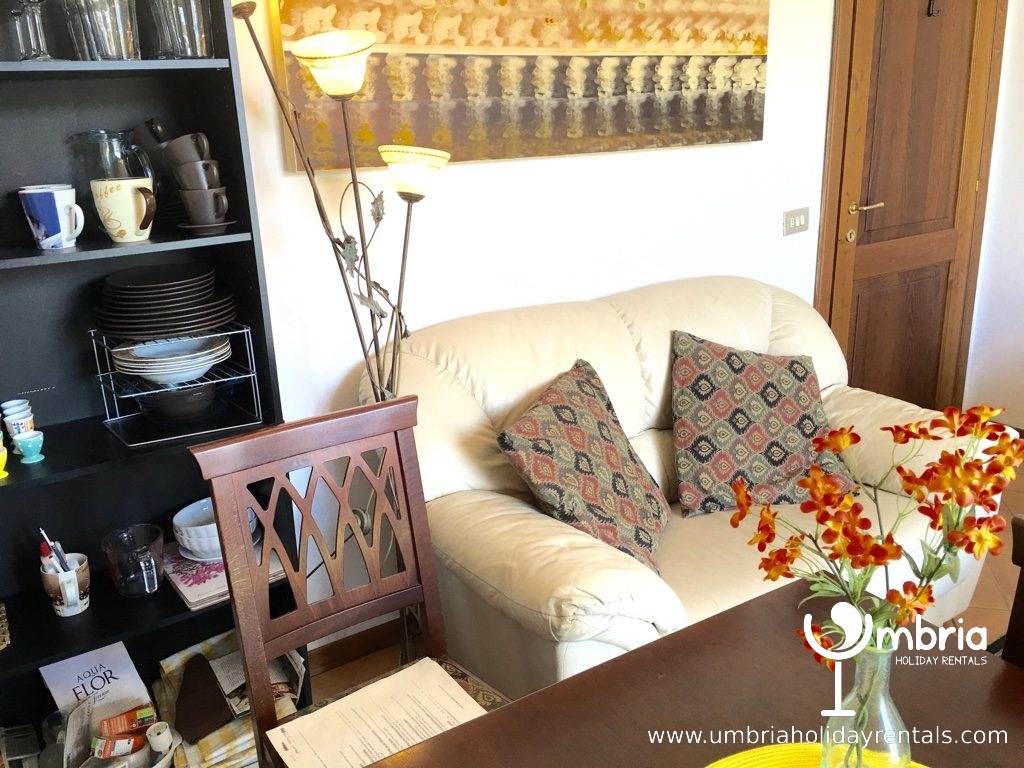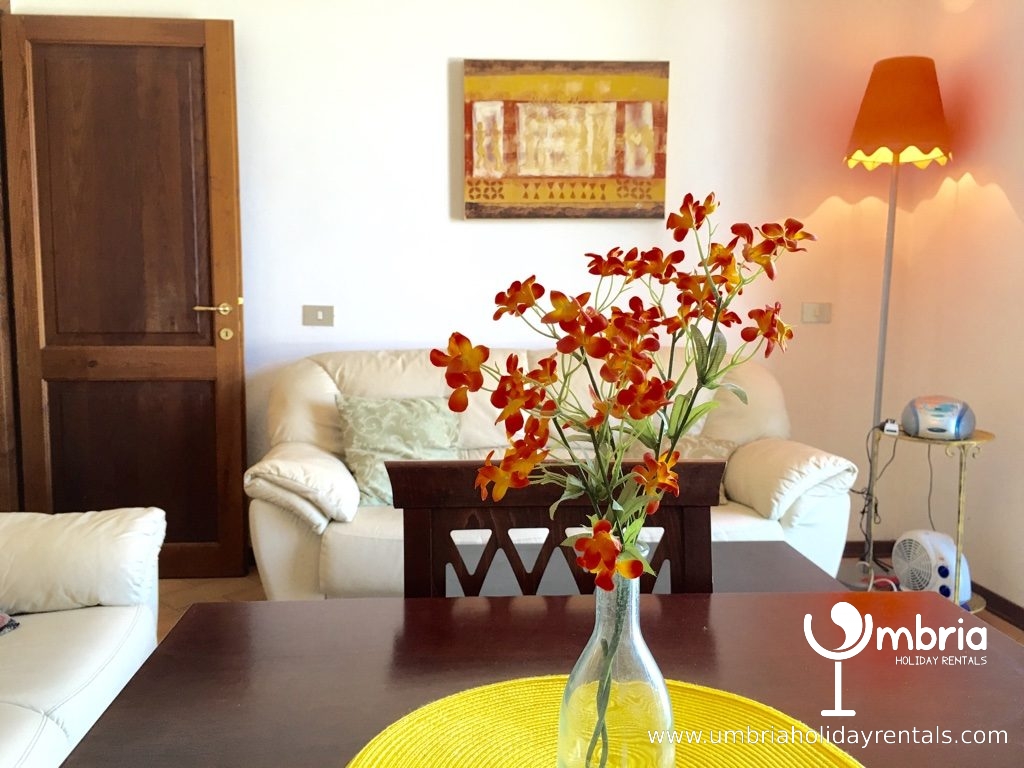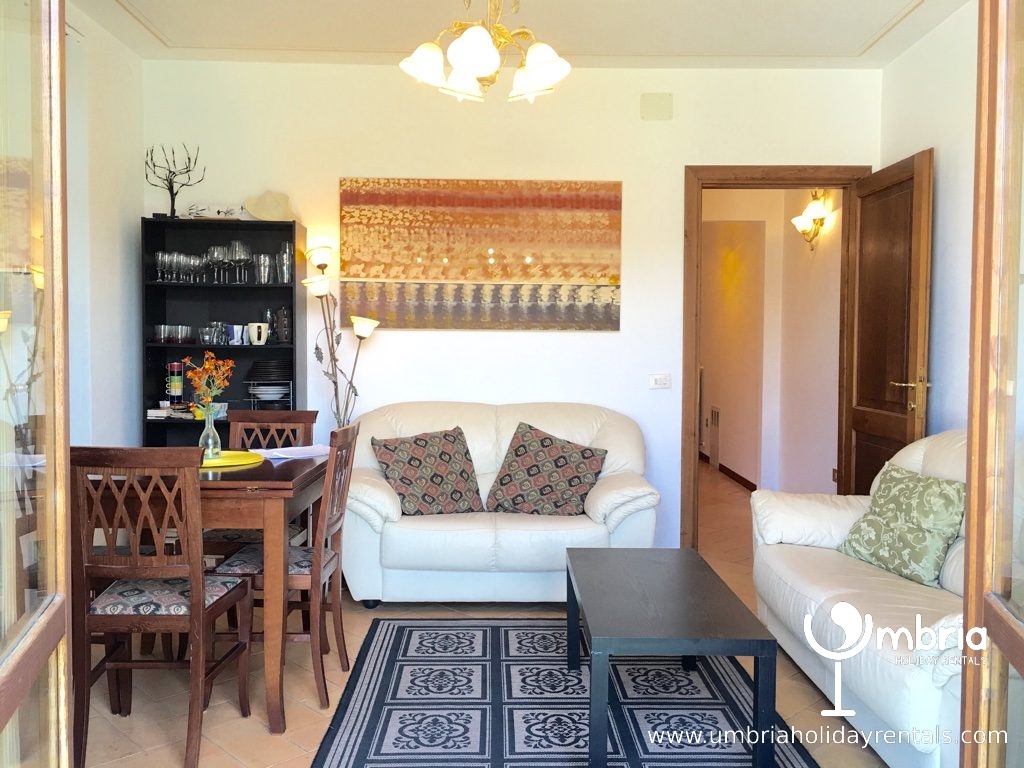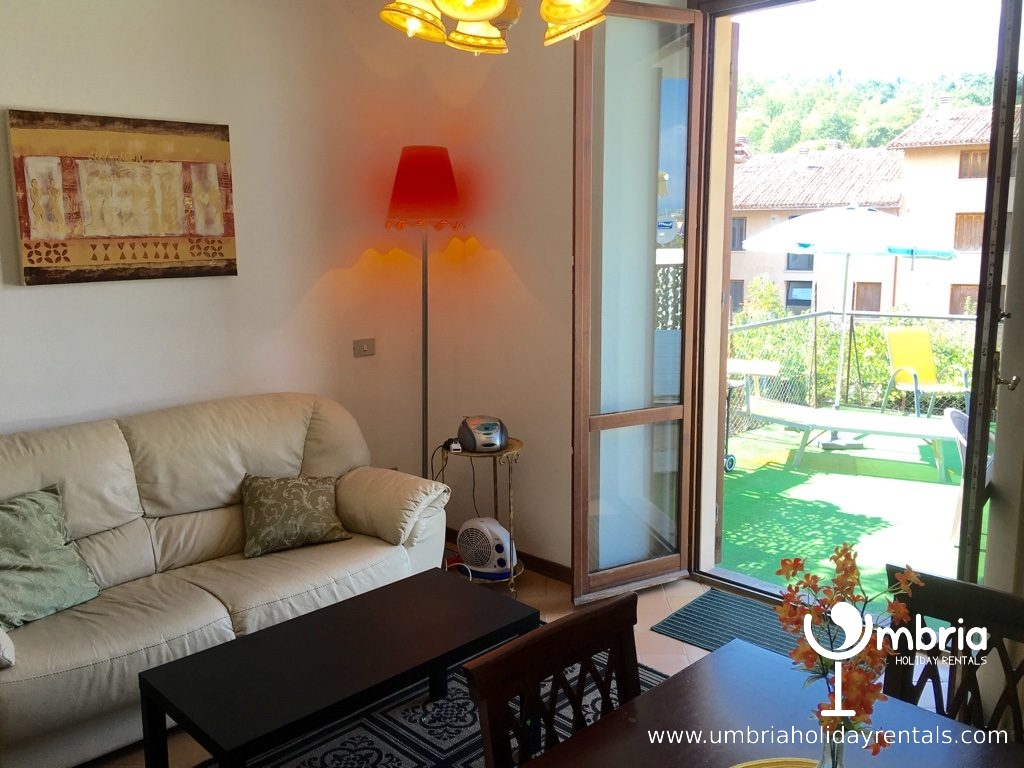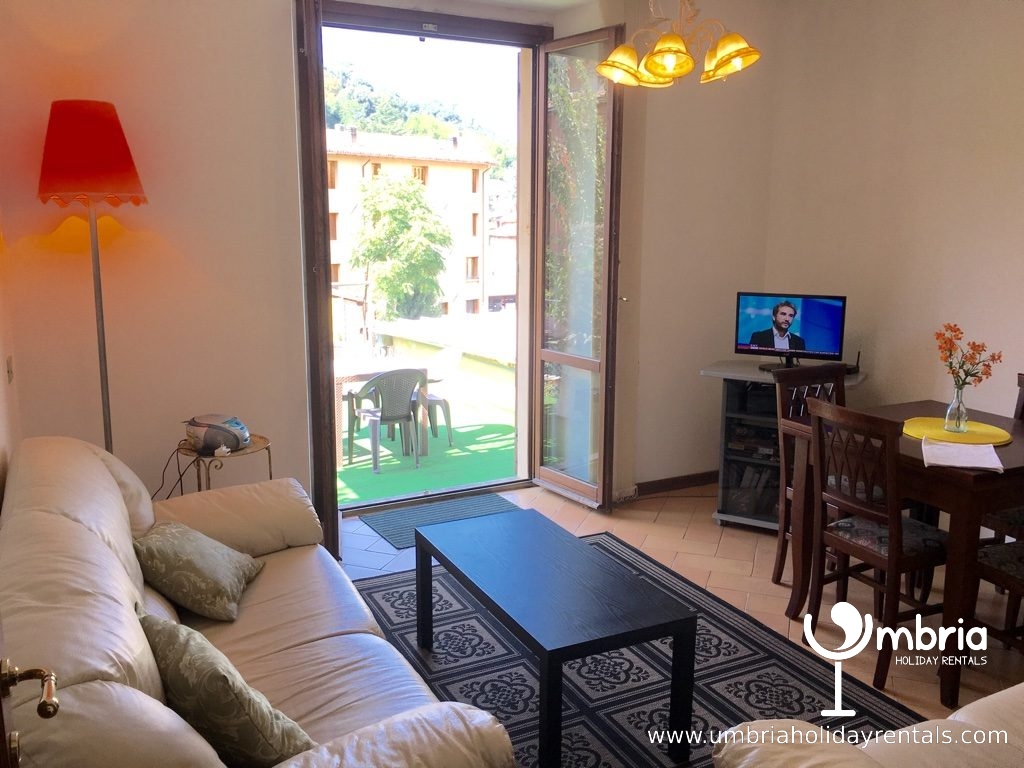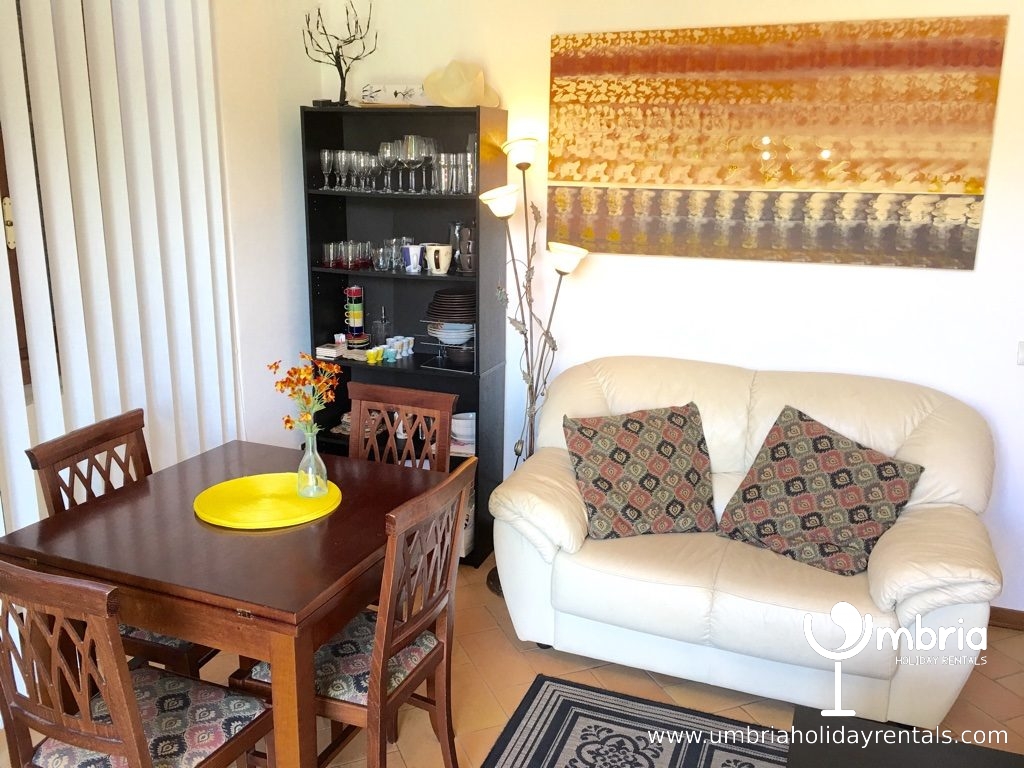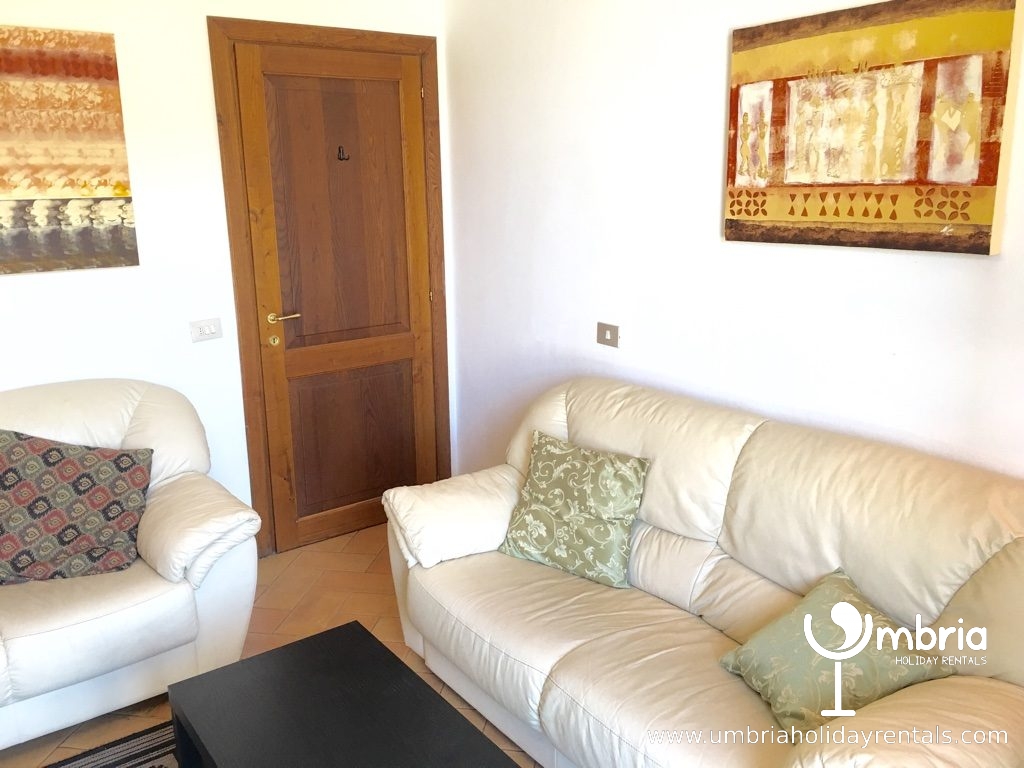 Sleeps:

4

Bedrooms

2

Bathrooms

1

Property type:

Apartment, Condo
Property Description
SUMMARY…
PLEASE NOTE THE PRIVATE POOL IS NOT ON SITE. IT IS 7 MILES AWAY AT OUR VILLA MARIANNA AND IS AVAILABLE, FREE OF CHARGE, TO THE GUESTS THAT ARE STAYING AT VILLA MARIANNA AND TO THOSE GUESTS STAYING IN OUR NON-POOL PROPERTIES. IT IS A LARGE POOL AND, TO DATE, HAS NEVER GOT BUSY. OPEN MAY TO SEPT/OCT. WiFi. Elevator.
Car not necessary – 70 sq mts – central Spoleto with terrace/very pretty views – sleeps 4 (2 double bedrooms, 1 with large double bed – no views from windows, 1 smaller room with twin beds – partial views) – 1 large shower room/WC) – spacious/pretty//lift – in very buzzy, pedestrian location. Also Broadband/WiFI internet access in apartment, where you can use your own computer. 1st floor with elevator and stairs.
Cute, elegant apartment – from 550 euros/week/includes 4 persons……
SPOLETO : PEDESTRIAN, HISTORIC CENTRE /car NOT necessary. The rate includes a lift, free of charge, to and from the station, on your arrival and departure days, if you are without a car. Arrival/Departure dates flexible, subject to availability. One of the best features of Terrazza Verde is its sunny terrace with pretty hill views. 1 double bedroom + 1 twin bedroom – beds can be joined, by request/1 shower rm/WC. Sleeps 4 max. The 2nd twin bedroom is small; but, when the twins are joined, it can be utilised for a 2nd couple. And, there is plenty of privacy for 2 couples since both bedrooms are separated by the kitchen and the entrance hall along a hall-way. Terrazza Verde is furnished with soft leather sofas and Italian-style bedroom and dining furniture. In the elegant, sitting room, there is a large window and French doors that open directly onto a terrace that is sufficiently large to accommodate 2 sun-loungers, 2 lounge chairs and a table that seats 4. While there are lovely views from the sitting room and the terrace, there are no views from the master bedroom and limited views from the twin bedroom. The master bedroom faces towards the inside of the building. And the twin bedroom faces the side terraces.
The best location ! ROCCA DEI PERUGINI !!
Terrazza Verde is in the famous Rocca Dei Perugini, a 13C palazzo of immense historic significance, complete with small gardens at every level. With free WiFi internet access, Terrazza Verde is in the historic centre of Spoleto, alive with shops, bars and restaurants and bursting with ancient monuments, churches and museums at every twist and turn of Spoleto's arched and cobbled streets. It is located in Porta Fuga, one of Spoleto's oldest mediaeval streets. The whole area is pedestrian. Very beautiful, indeed.
Advantages of this location….
10 minutes walk to the train station and the bus terminus or a very short bus-ride. The Rocca Dei Perugini is in the pedestrian area of Porta Fuga, Corso Garibaldi and a network of tiny cobbled, arched and tunnelled lanes, at the lower end of Spoleto, just 2 minutes walk from Piazza Garibaldi. Indeed, the main drag for the famous passeggiata starts in Piazza Garibaldi and continues up Corso Garibaldi, where all the shops are, then, up through Porta Fuga, where you find all the tiny specialist shops….for truffles, oil, wine, bread, fine arts and craftsware – a diversity of Italian delights. This really is a great location in which to base yourself because not only are you where all the action is in Spoleto, you are in the very heart of Umbria. From the train station, you can get to practically anywhere in Italy. From the bus station, there are a myriad of interesting journeys you can take from little local rides around the hills, visiting a diversity of hill-top villages, to places as far afield as Castelluccio and Norcia – spectacular rides ! And, by car, you can visit all the more remote places such as the Gran Piano, an amazingly, unusual area of Umbria, famous for its white truffle, its faro and its lentils! Naturally, to dine in this area is a special treat. Casteluccio is its "hot-spot", a tiny, hick town of about 6 shacks and 3 fantastic restaurants. For those with a car, well worth a visit ! Activities nearby :Tennis, Riding, Fishing, Ten-pin bowling, Wine Tasting, Olive Oil Tasting, Truffle Trails, Cooking Classes, Museums and Antique, Food + Cothes Markets….
The terrace…
From the terrace, framed by an array of pretty bushes and shrubs that provide privacy, you look onto old Spoleto, nearby roof-tops, hills and distant mountains. Many guests hardly leave the terrace, preferring to contemplate the landmarks of Italian culture all around them, read a book and sip wine than enter the world of the sight-seer ! However, you merely have to step through the Roman passage, which marks the arched entrance to the Rocca Dei Perugini, into the mediaeval, arched and cobbled lane of Porta Fuga, to be plunged back in time, on a roller-coaster of war and blood-shed. On this spot, the Rocca Dei Perugini was built as a strong hold to house the Perugini, who reigned victorious over Spoleto at the turn of the century. On this same spot, the Spoletini fought back, a battle that involved setting fire to the Perugini by dousing them in oil, dropping it on their heads from the Torre del'Olio, just a few metres up the road, burning them all to death. And, the Spoletini regained Spoleto, right here, at the archway to the Rocca Dei Perugini. Sitting on the terrace in these peaceful times, at least here in Spoleto, it feels good to relish history from a distance.
PARKING….
You can park nearby. Or, you can hire a single car secure garage space, next to the elevator, up to the apartment. The weekly rate is 50 euros, or 8 euros/day, the rate we pay the owner of the tiny car-park.
FOR THOSE WITHOUT A CAR – FREE RIDE TO AND FROM TRAIN STATION !
If you intend being without a car, then, unless my husband or the car is incapacitated (both highly unlikely), then, you will be picked up from the station on your day of arrival and taken back on the day of your departure.
Private pool included in rate, 7 miles away……
Our large private pool (120 sq mts) is available for your use at any time between May to Sept,
free of charge
, at our Villa Marianna. Villa Marianna is
7 miles
away, along a spectacularly beautiful and quiet road, occasionally used for the famous, once a year, Giro D'Italia cycling race. If you do not have a car, then, we can advise you of our local taxi service. Please click on the link to see photos of the pool:
http://www.umbriaholidayrentals.com/location/mountains/item/villa-marianna-pg-13.html
Brief description of Spoleto, to wet your appetite !!!
Spoleto is akin to a giant, fairy-tale castle. Sprinkled with bars, restaurants and shops, peppered with piazzas, Spoleto sits magestically amidst a maze of tunnelled, cobbled lanes and alley-ways, all leading skywards to the famous Rocca, the aquaduct and, some of the best views in the world. A surreal setting, a stage-set in the making, fringed by mountains, olive groves, vineyards, mediaeval monasteries, towns, cities and tiny hill-top villages – all beckoning a visit, Spoleto is truly a temptress. Succumb to her beauty and you must use all your will-power to leave, even for a short while. Quite simply, Spoleto is the most captivating city in Italy, never mind Umbria, Venice and Florence being on a par. Venice has the water. Florence has the Uffici. Spoleto has the mountains. All three have a history to be reckoned with. All three bedazzle us with their rich cultures, their European, aristocratic connections and their sheer beauty. But, Spoleto has the upper hand for the world traveller. It resists tourism with its associated inflated rates and tacky goods on sale ! You are invited to visit Spoleto, but, not as a tourist. You will be welcomed like a long lost member of the family ! Treated like a king. And, you will pay the same rates as all the locals, especially when you pay attention to all our recommended restaurants, bars and gelaterias. Subsequently, Spoleto is in demand with those in search of "the authentic Italian" experience, love beauty and who wish to base themselves in the centre of Italy because, from Spoleto, you can get to practically anywhere else in Italy easily and cheaply within minutes to a few hours. Until now, it had always been too expensive to stay in Spoleto. Holiday-makers were forced to stay outside of Spoleto and drive in. We have changed all that. We have "unlocked" Spoleto, with our range of centrally located apartments, at rates that are competitive with our "out of town" apartments, making Spoleto affordable for you, at last ! Read more about Spoleto by clicking on or pasting into your browser :
http://www.umbriaholidayrentals.com/general-information/spoleto.html
Accomodation and features
Accomodation type: self-catering
Holiday Theme: budget, historic, tourist attractions, family, romantic
Bedrooms: 1 double bedroom + 1 twin bedroom
Bathrooms: 1 large shower room
Living Room Facilities: Seats 4
Dining Facilities: Seats 4
Kitchen Facilities: 4 ring stove, freezer, fridge, grill, hob, iron+board, microwave, oven, washing machine, coffee maker, cooking utensils, toaster
Entertainment Facilities: books - fiction/non-fiction, TV, DVD player
Internet Access: wireless broadband, internet access
Swimming pool: private pool not on site
Outside:parking on street, terrace, garden chairs, sun loungers, 1 car space for hire
General Property Facilities: activities guide, ceiling fans - room fans, central heating, hair dryer, linens provided, local maps, local restaurant guide, welcome paper towels, welcome shampoo, welcome soap, welcome toilet paper, towels, beach towels by request, daily maid service on request, beach towels, elevator
Suitability of the Property: children welcome, suitable for elderly or infirm, pets not allowed, long term rentals available, non smoking only
Notes:
The large private pool available for your use, free of charge, is at our Villa Marianna, 7 miles up a quiet country road, the most beautiful road in the world and one that was used for the famous Giro D'Italia bicycle race. Click on link to see photos of the pool:
http://www.umbriaholidayrentals.com/location/mountains/item/villa-marianna-pg-13.html
Private car space, next to elevator up to apartment, 50 euros/week or 8 euros/day.
Rates
Reciprocal Links