Posto Del Sole Country House – sleeps 12, with totally private pool
8 miles to historic Spoleto, a very spacious, detached, 4 - 7 bedroom/4 bathroom country house, private, extensive grounds + woods. Sleeps 12. Car necessary.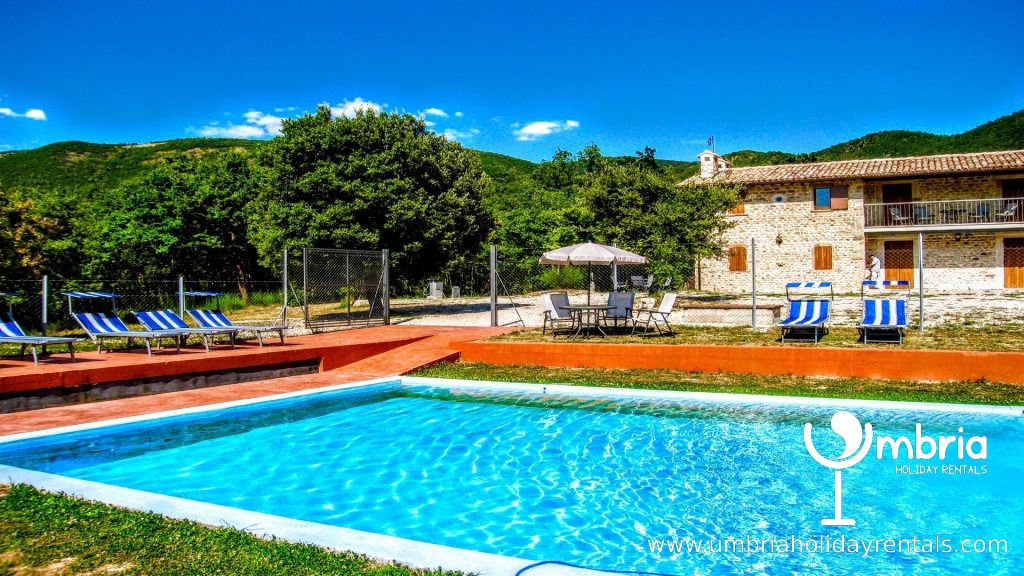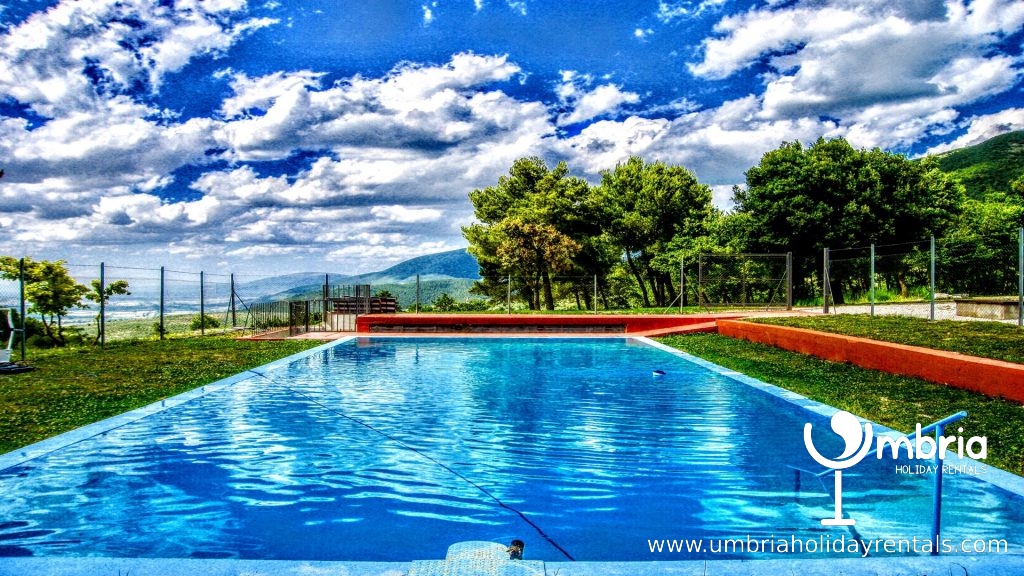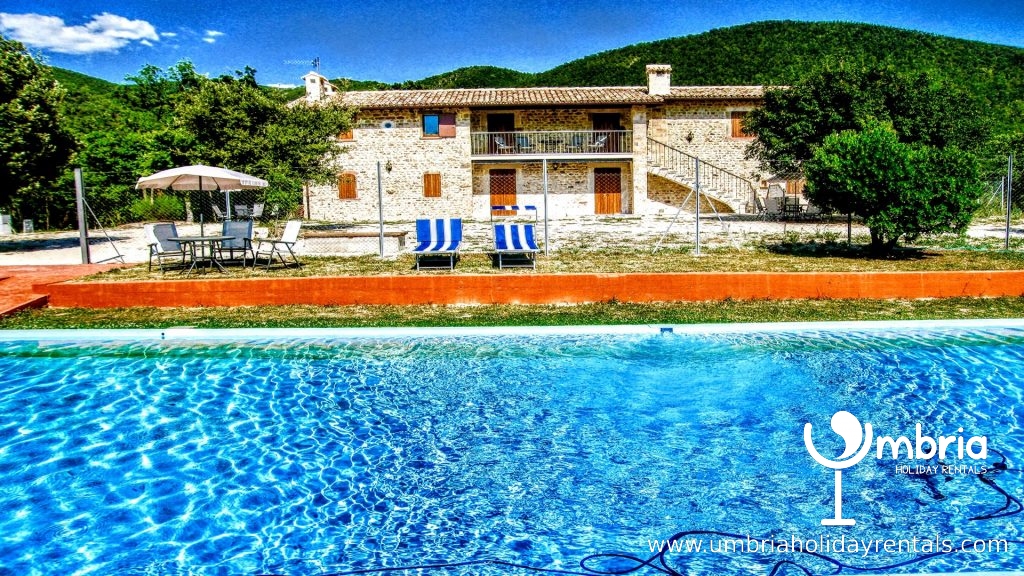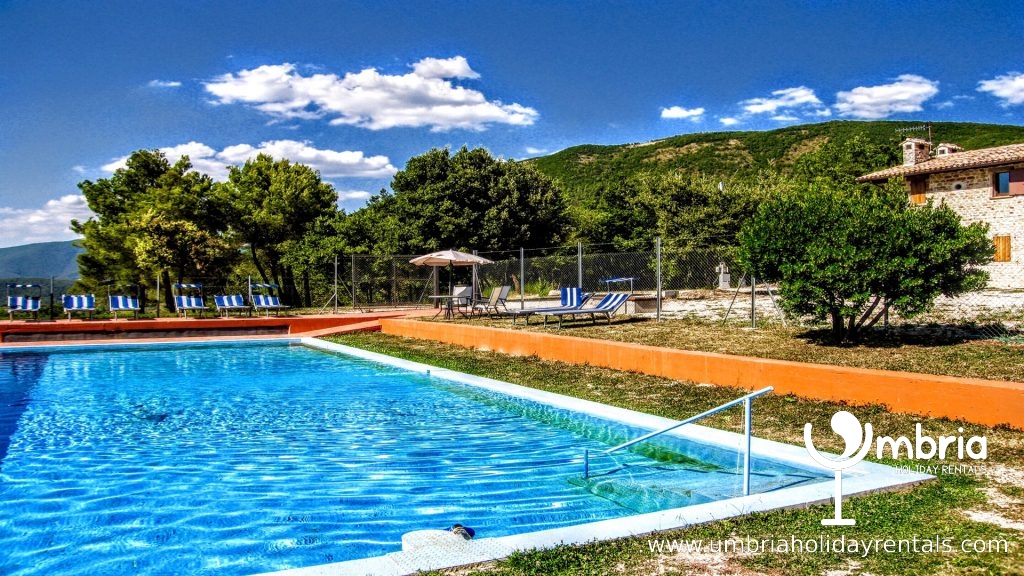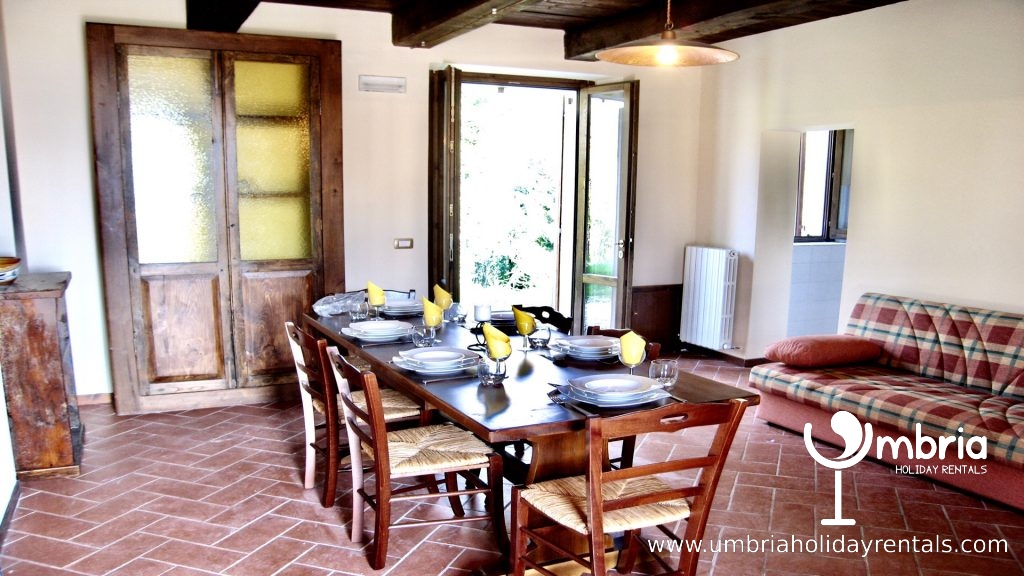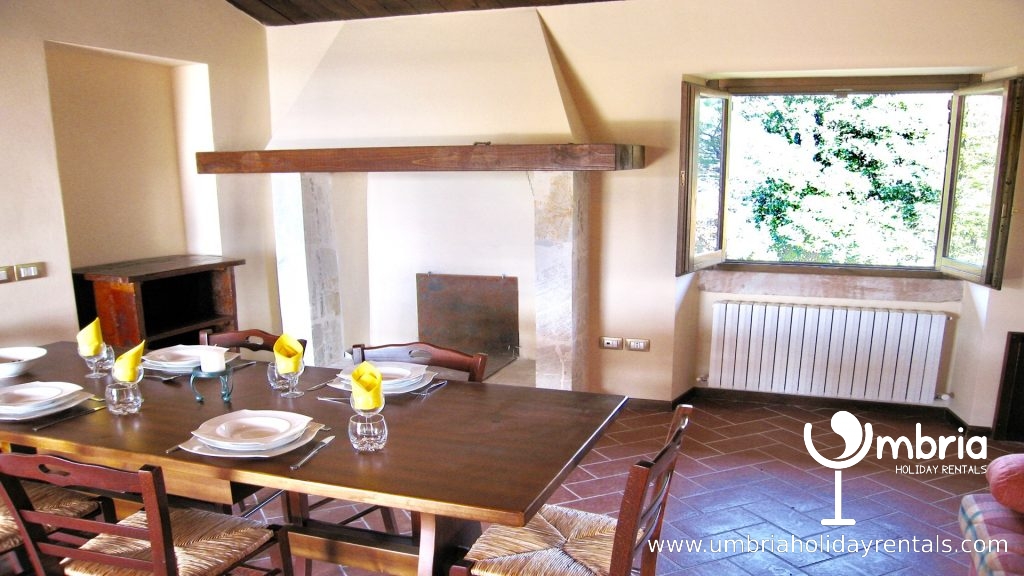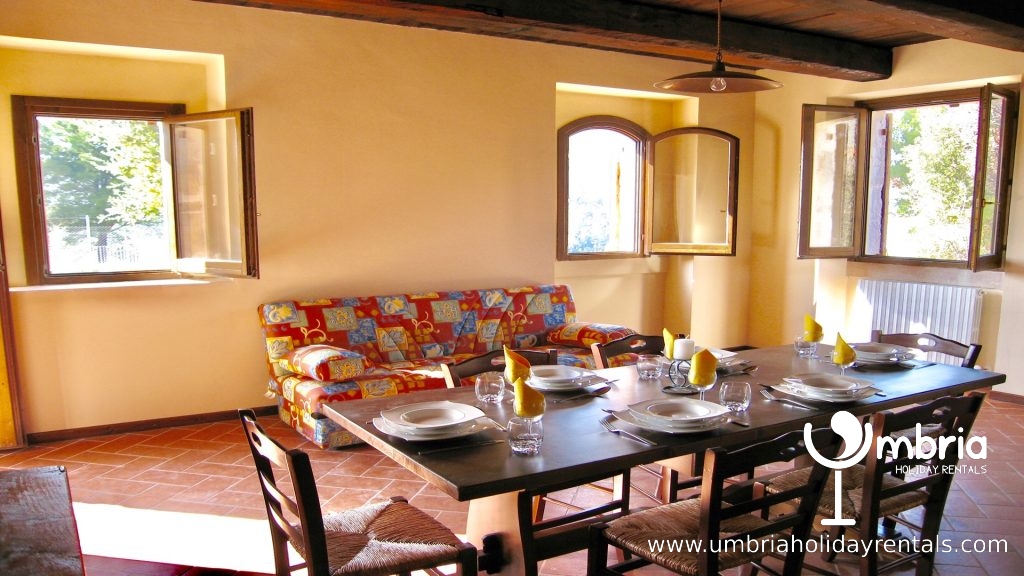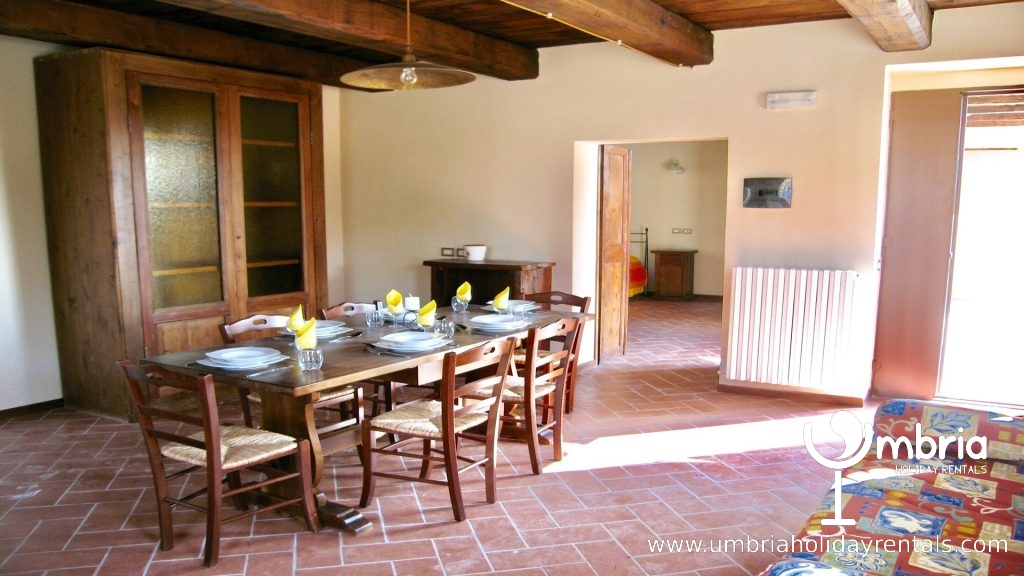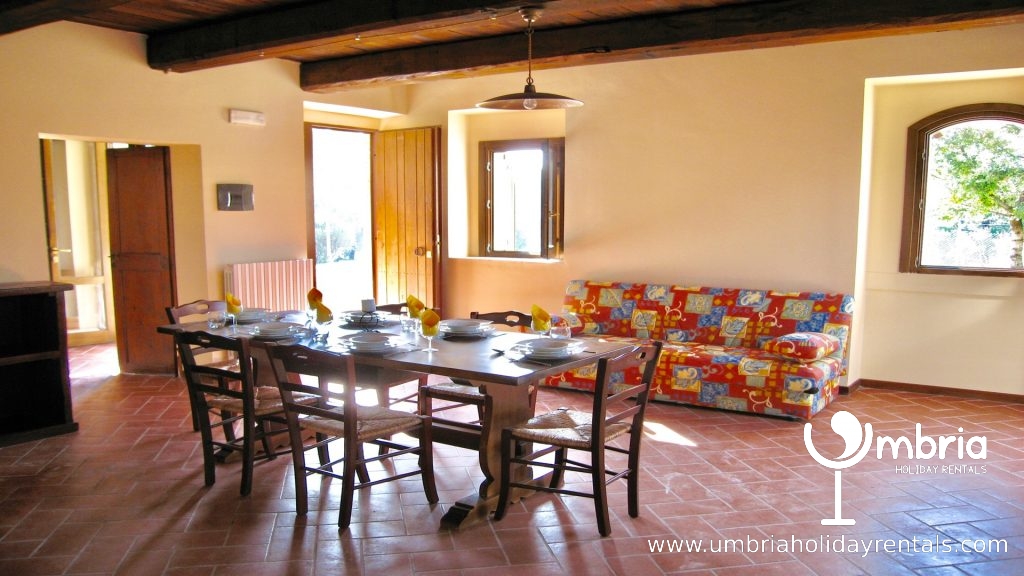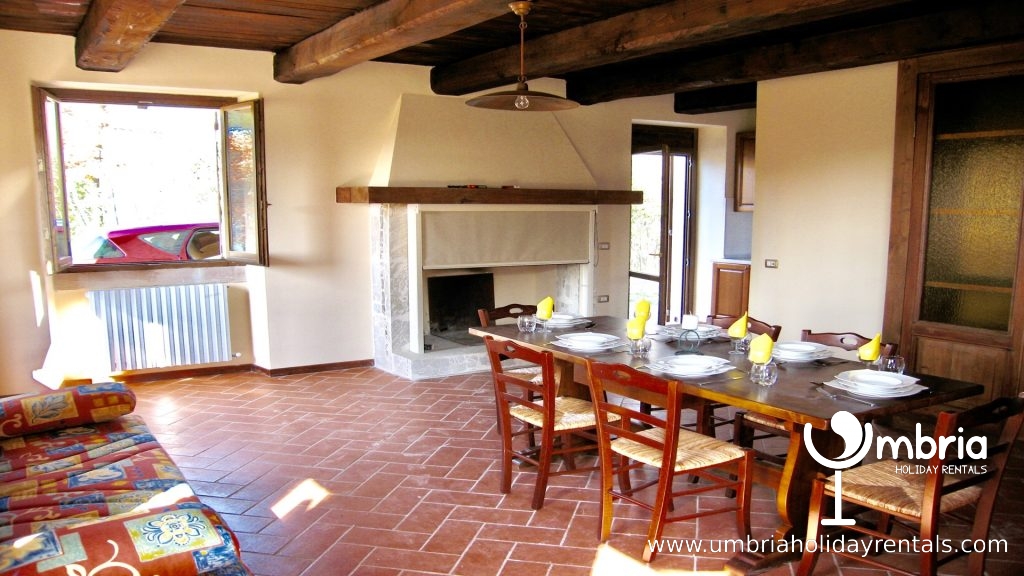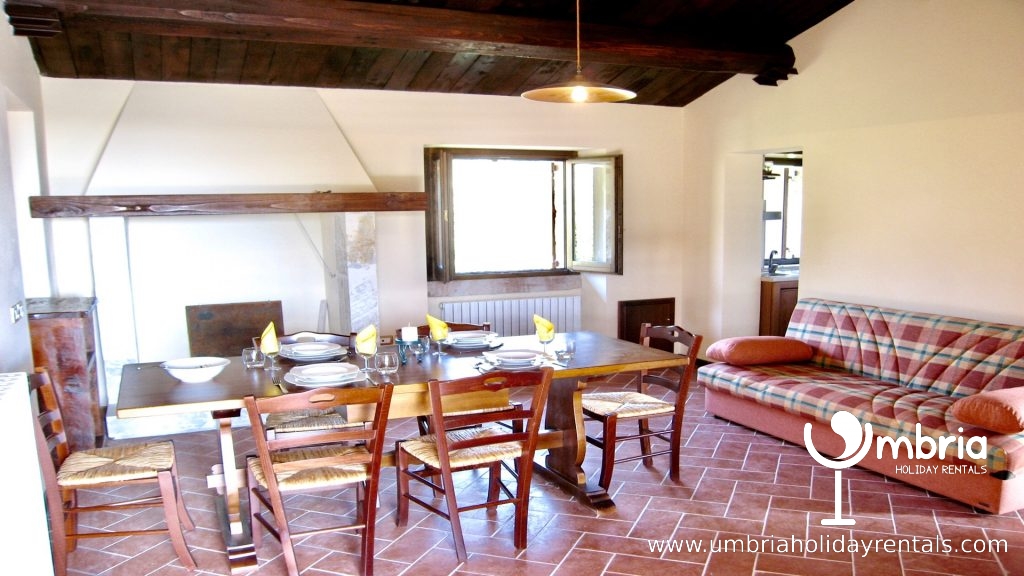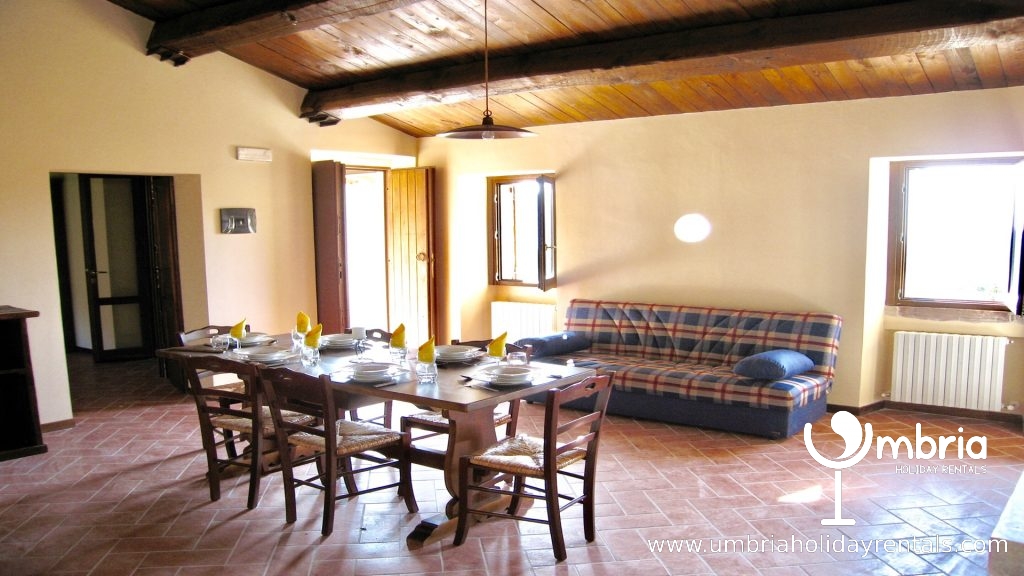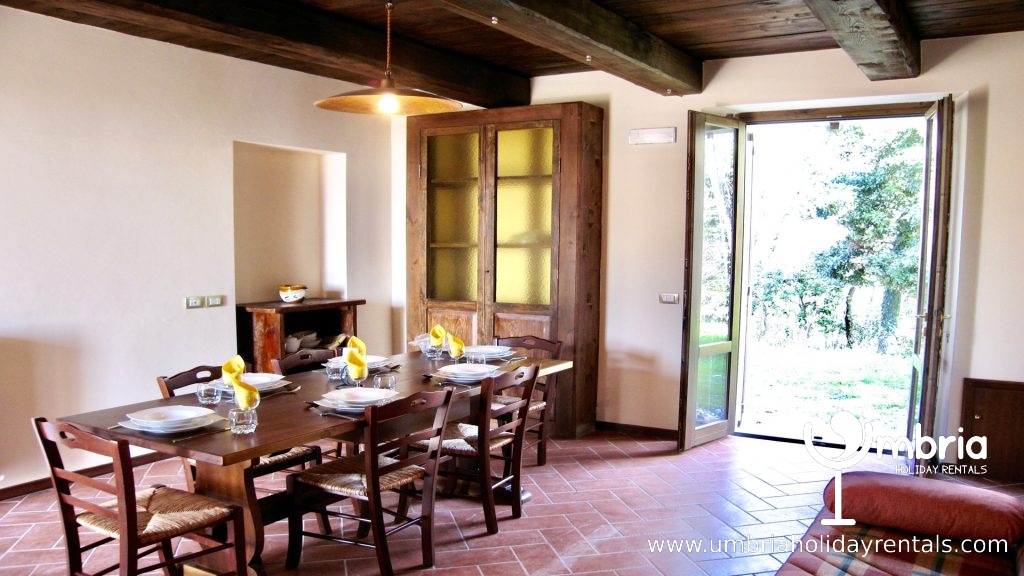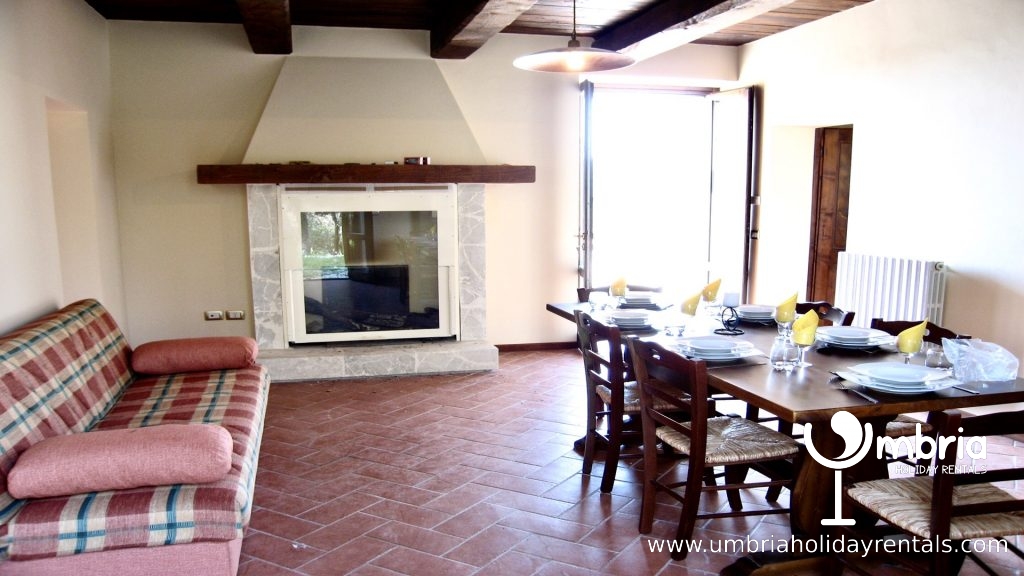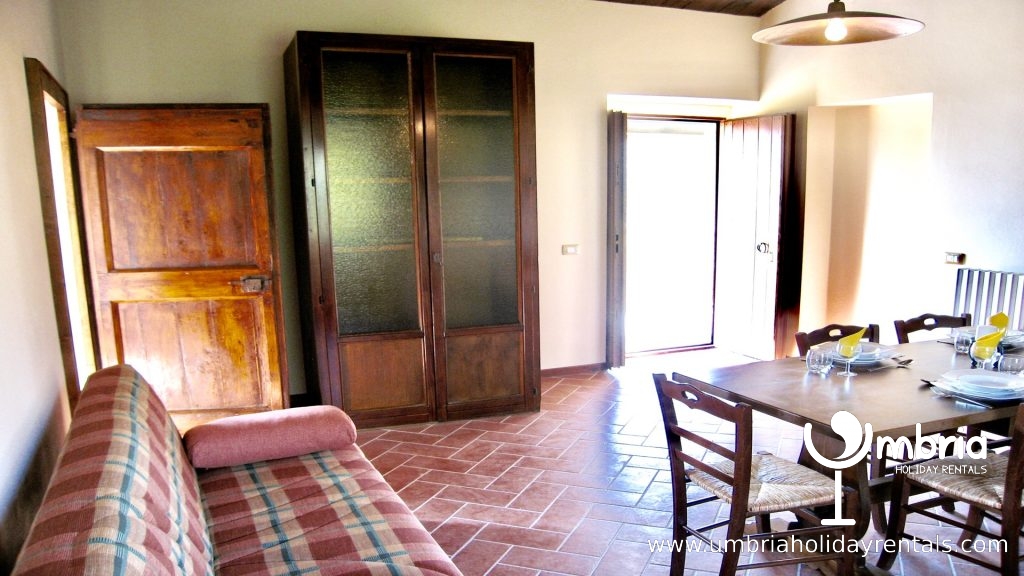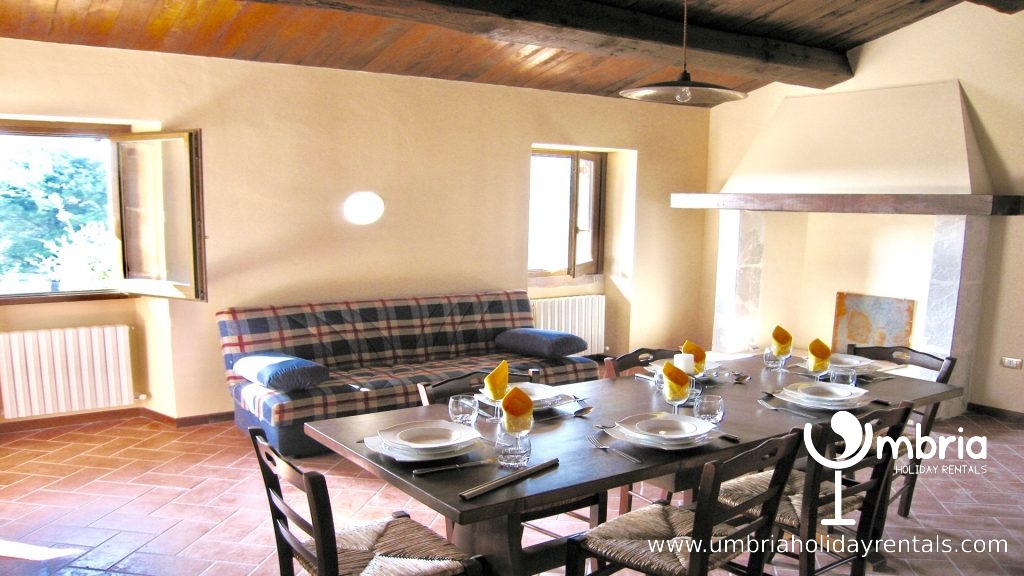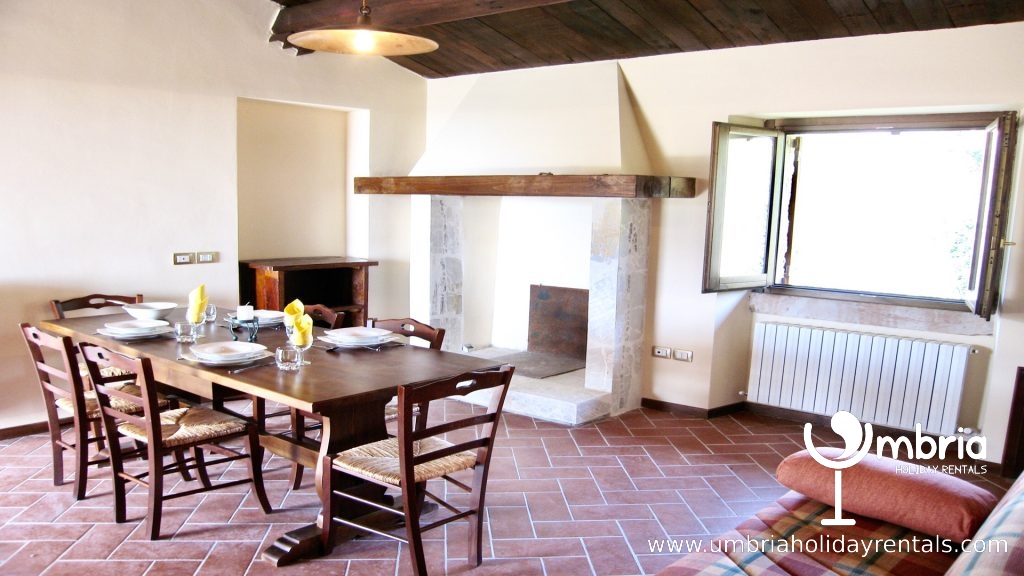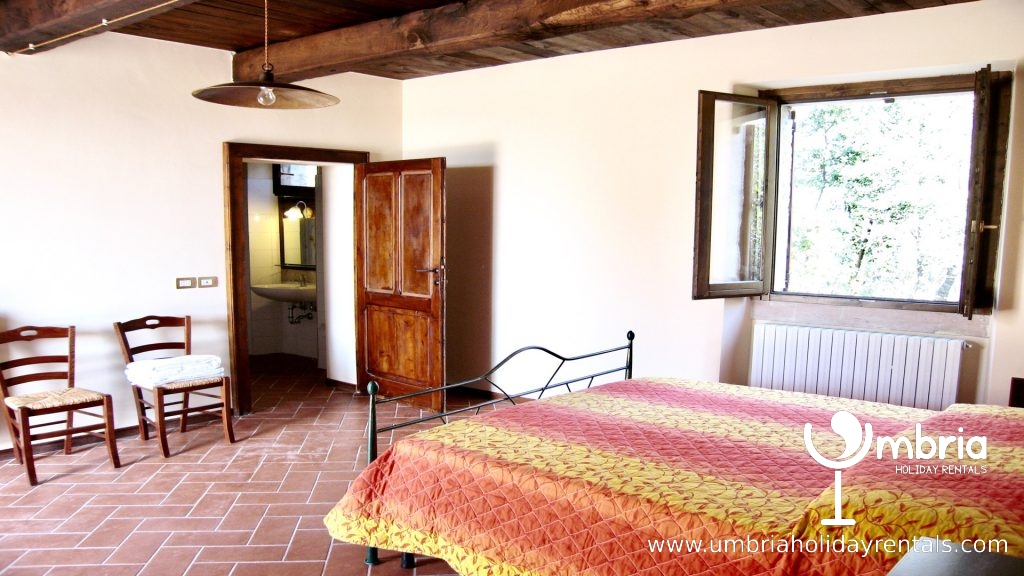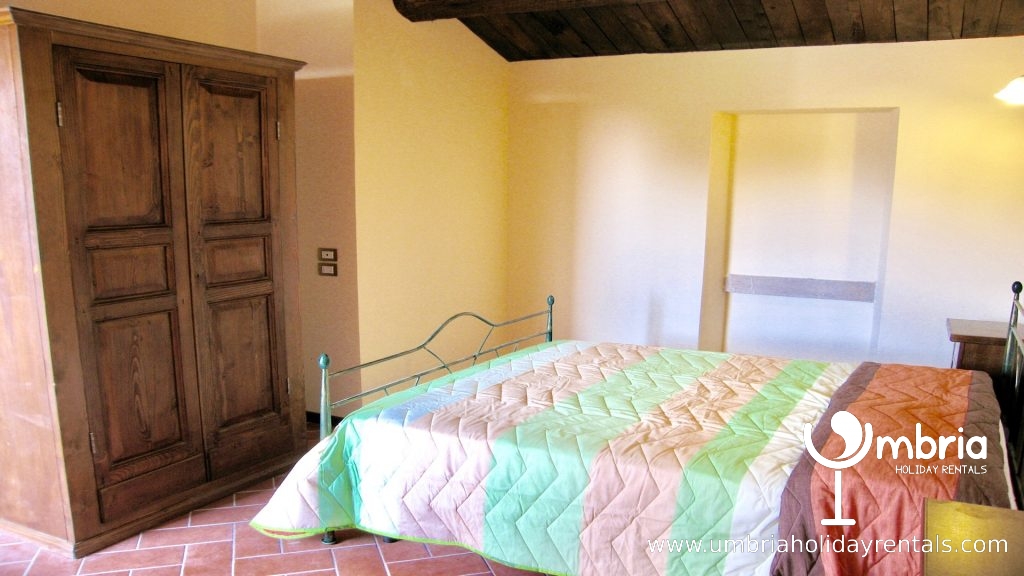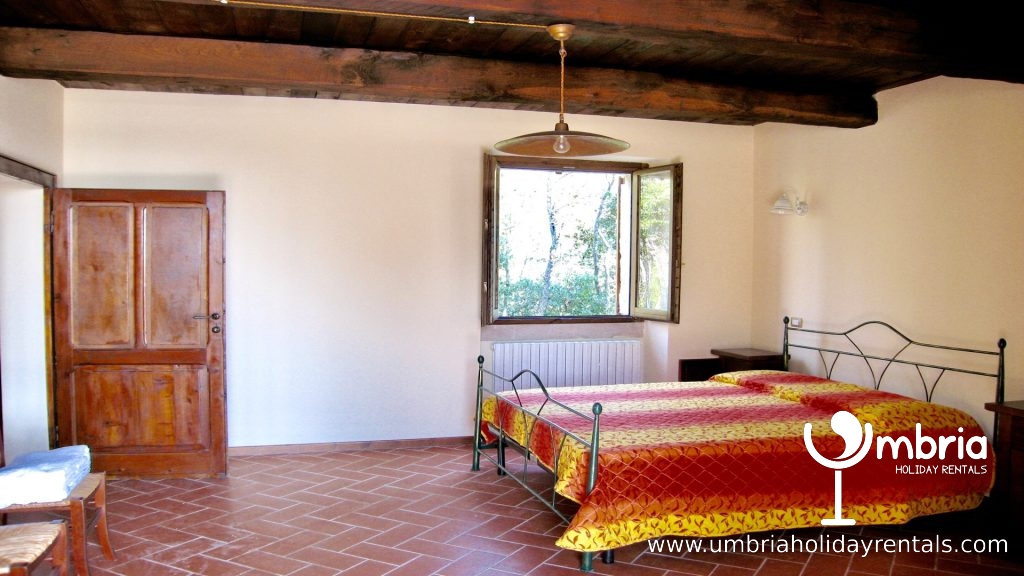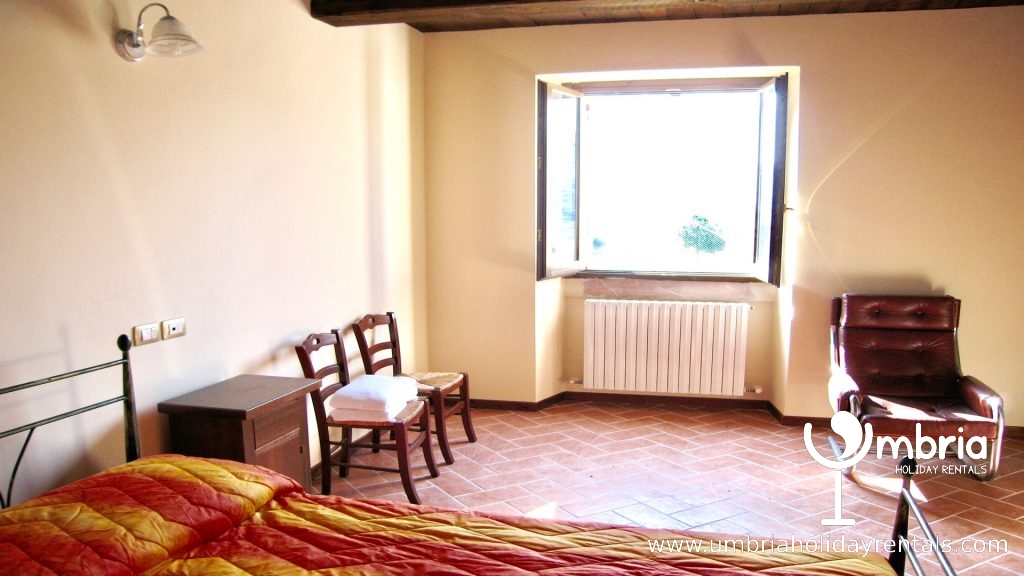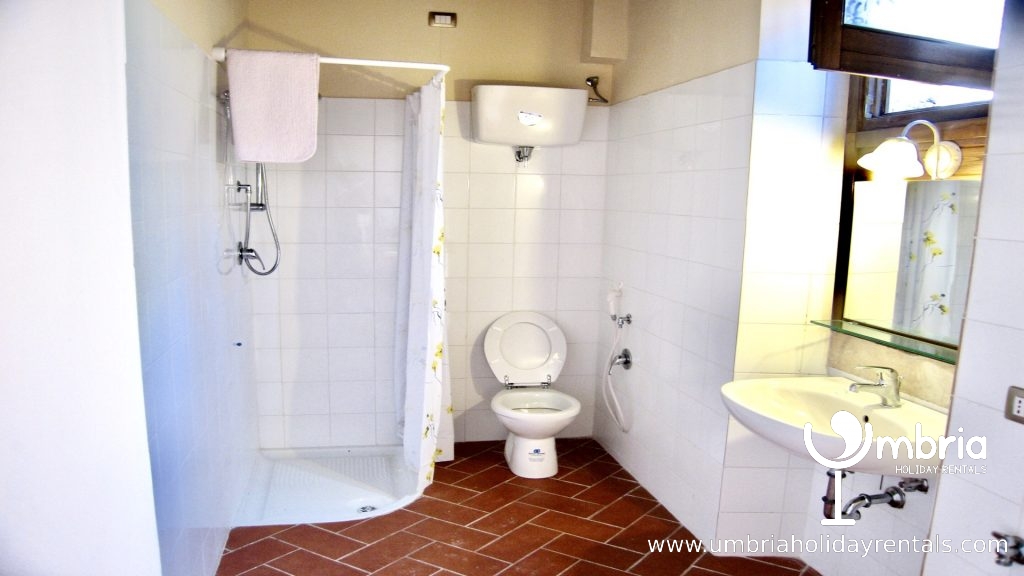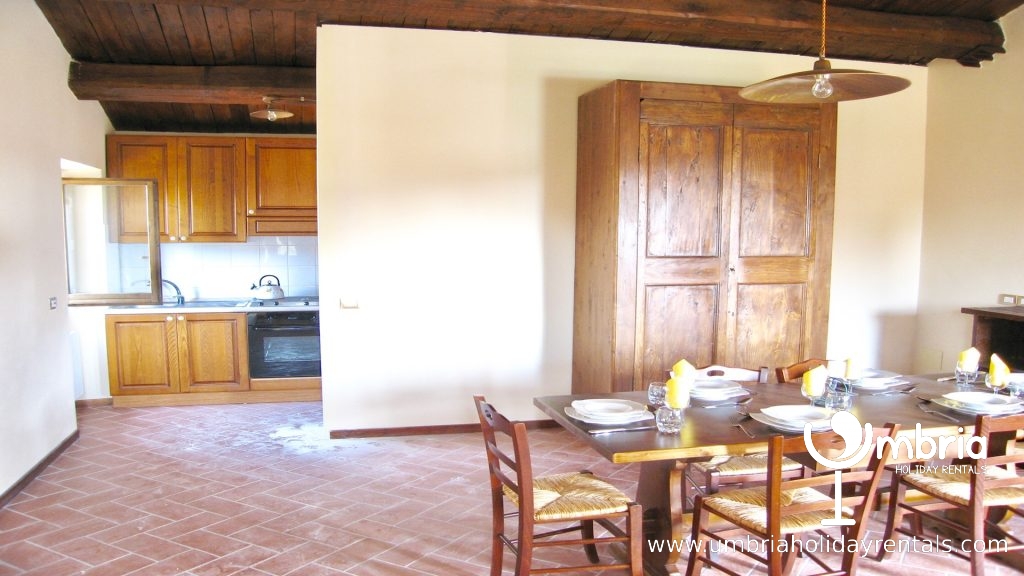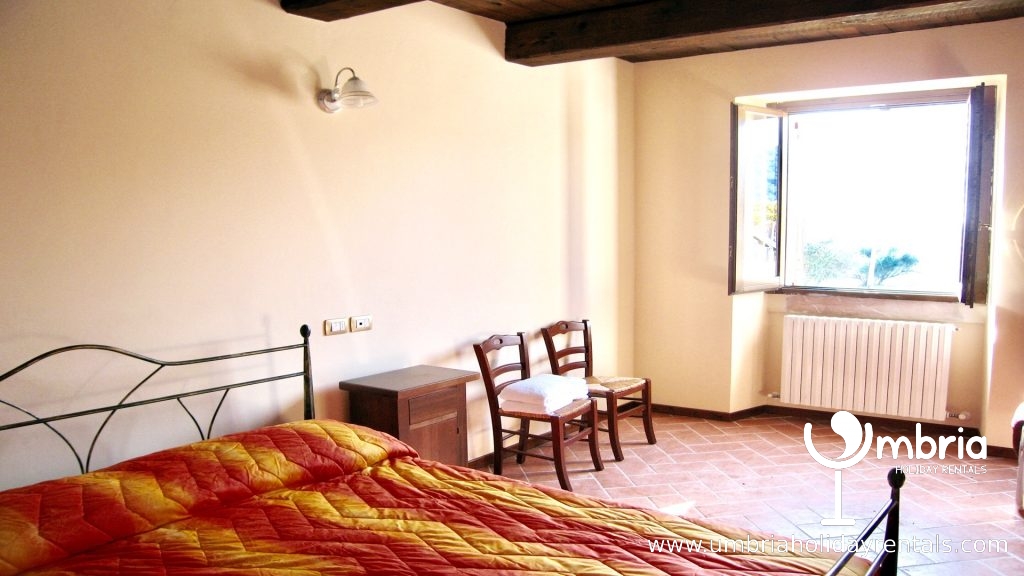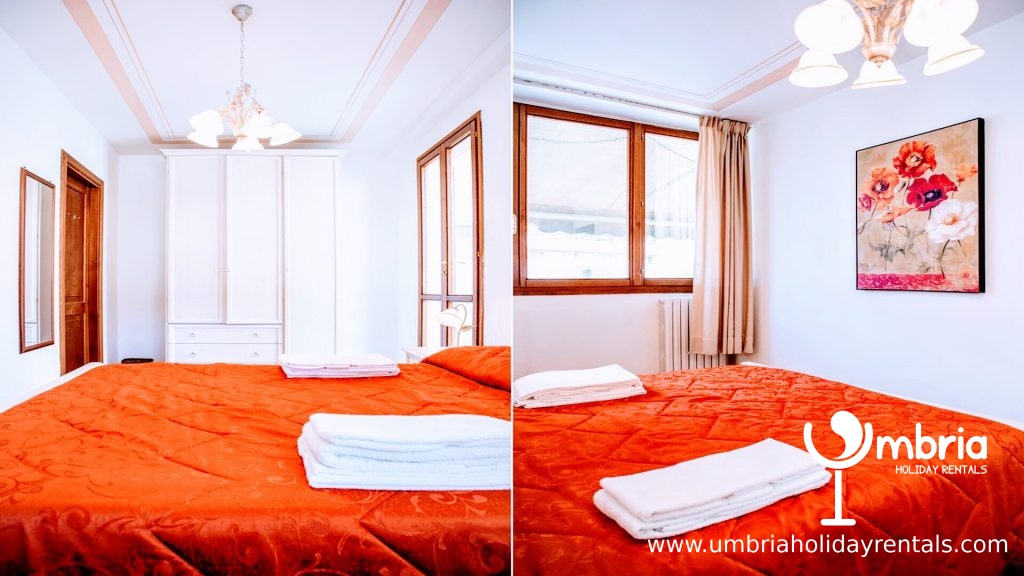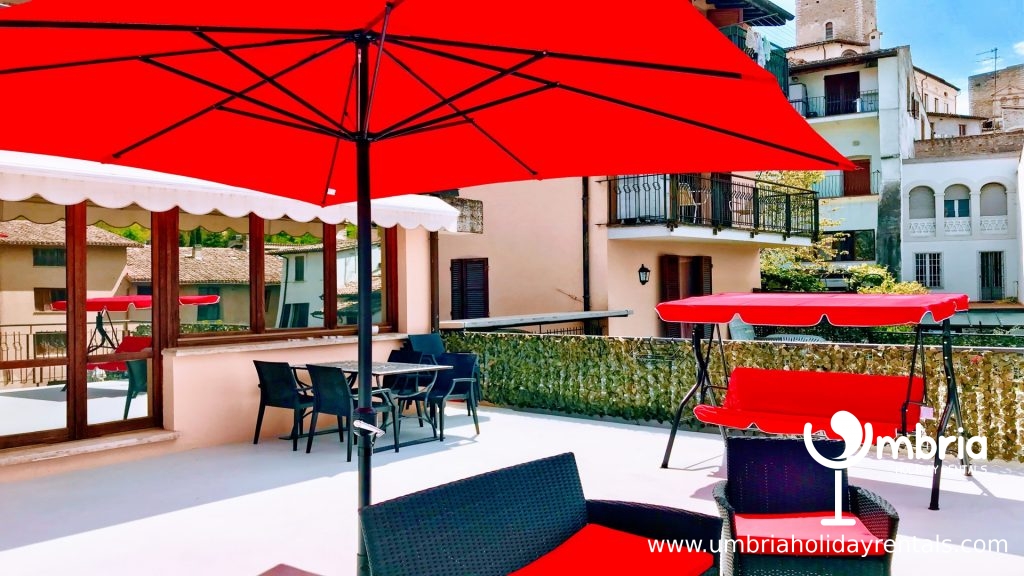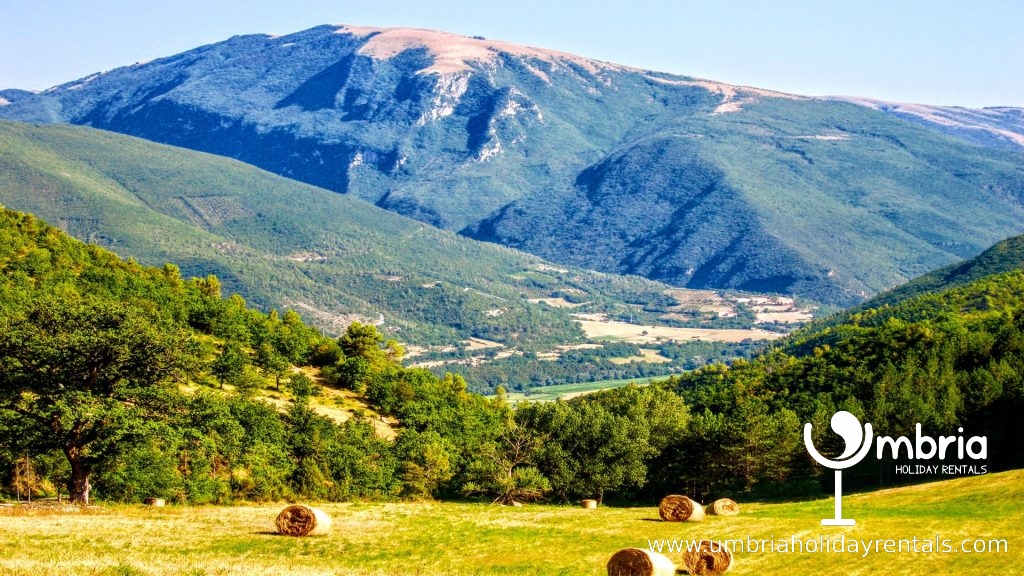 Sleeps:

12

Bedrooms

5

Bathrooms

4

Property type:

Cottage, Country house, House, Villa
Property Description
SUMMARY….. (please note that info re location, tel nos etc on Google map is unreliable – Posto Del Sole is located 1 km from Villa Marianna and Valico Dei Perugini)
See reviews at end…..
Private pool (15 mts by 7mts) EXCLUSIVELY yours!
WiFi, included in rate.
Fully fitted kitchens with dish-washer, washing machine, microwave, hob, oven etc
Large fabulous 16C stone cottage, with Wifi, consisting of 2 self-contained apartments – the upper house and the lower house/very quiet environment) – 8 miles to central Spoleto, above Bazzano, on the side of Spoleto, close to Assisi – excellent location for sight-seeing.
POSTO DEL SOLE:COUNTRY HOUSE IS ONLY EVER RENTED OUT AS ONE WHOLE HOUSE, TO ONE PARTY OF PEOPLE.
This sunny, "Hanzel and Gretel", 16C stone cottage, stands on a hillock, in an open space, deep in the woods. Its elevated position allows it to embrace sublime panoramic views of olive groves, tiny hill-top villages, mountains, orchards and vineyards. And, immediately from your front door, you step into a maze of easy paths that meander in every direction up and down the mountains as well as to the neighbouring villages.
For anyone with mobility problems, the terrain immediate to the house, is easy walking territory.
PLEASE NOTE THAT THE VILLA CAN BE ARRANGED ANY WAY YOU WISH EG WE CAN ORGANISE JUST ONE DINING ROOM, TO SEAT 12 PERSONS (OR MORE) INSIDE AND OUTSIDE.
Only 1 of 2 the ground floor kitchens is fully equipped. However, by request, we can also fully equip 1 of the 2 upstairs kitchenettes. Otherwise, the upstairs kitchenettes are only for light snacks.
Valico Dei Peregrini – 8 miles from central Spoleto /car necessary
Arrival/Departure dates flexible, subject to availability.
2 sitting/dining rms with fitted kitchens/1 large utility room/5 dble bedrs/4 shower rms/4 WCs. Sleeps 12.
1 of the 2 sitting/dining rooms + the 1 large utility room can be converted into 2 extra double bedrooms, by request.
The upper floor consists of 1 large, self-catering apartment (160 sq mts):
3 large double bedrooms
1 large living/dining rooms with a fitted kitchen for light snacks – can be used as a bedroom, by request
2 shower rooms/2 WCs
1 large verandah that most rooms open onto
The ground floor consists of 1 huge, self-catering apartment (160 sq mts):
2 large double bedrooms
1 large living/dining room, one of which has a fully fitted kitchen
2 shower rooms/2 WCs
1 large utility room, which can be used as an extra bedroom, by request.
I believe in magic !
Deep in the woods. I feel like Gretel, out of the Grimm fairy tale. Except, there is no wicked witch to get me and, Hans is busy welcoming guests in nearby Spoleto. High in the Umbrian hills. Wild. The sun pierces the misty air. Dark and sparkling lights confuse me. I do not recognise the path. Trees and bushes cast black, spiky shadows on the dappled foliage. Broken branches, stones and boulders catch the light and scatter it everywhere. Stabbing my eyes. In bright strips, I glimpse violet, yellow and purple flowers, spot-lit in the sun's sharp rays. The sky is deep blue.
At once, I come across a clearing and, before me, a vast chasm is filled to the brim with foaming white mist. Here, above the clouds, butterflies flutter through the dappled haze, young foxes screech for food, a robin watches me with his large beady eye, the air resounds with a medley of bird-song and, I am still to the core. Within seconds, I see fragments of my world below unfurl in a torch-lit golden splendour. And, out of this burning mist, appears an old stone house, shrouded and glittering in the early morning light of an Umbrian day-break.
Welcome to Posto Del Sole : Country House! This is how it revealed itself to me, many years ago.
Posto Del Sole : Country House is above a small village called Bazzano Superiore, one of the most sought after villages to live in, on the periphery of Spoleto. Now, a beautiful, restored, Umbrian farmhouse, lovingly converted into 2 self-contained apartments, 1 of them opening onto the grounds and the pool, the other opening onto a large verandah, overlooking the pool and onto the mountains beyond.
This is a house that has seen centuries of life, a house that sits amidst the dreamiest of atmospheres. Large windows in every room bear testament to the natural environment that pervades every sunbeam and shadow in the house. A fire-place in every room, this is a house to experience in winter or in summer. At any time of the year, this part of the mountain is a joy. And, Posta Del Sole stands in a clearing on a hillock and is sun-lit all the time.
Specific details of house + grounds…
Posto Del Sole: Country House is a large, stone cottage that is cool on the hottest of days, thanks to the hugely thick stone walls. IT DOES NOT REQUIRE AIR CON, EVEN IN THE HOTTEST PERIODS!
It has been immaculately restored, attention having been paid to the tiniest of details. Antique cupboards and doors, riddled with worm-holes, have been carefully and lovingly preserved, restored and polished, the ancient cupboards having been bastardised with old glass panes. Absolute works of Art. And, absolutely, no worms !
In the old days, the Umbrian kitchen centred around the fire-place. However, this house is so ancient that the original fire-places were too dilapidated to retain and the kitchen, as we know it today, was non-existent. And, we decided that you wouldn't want to cook on the fire, as was the way of the traditional Umbrian farmer ! So, we fitted new kitchens, fitted with hobs, ovens, microwaves, washing machines, dish-washers and fridges. And, we replaced the old fire-places with 4 superbly designed, super-modern fireplaces. Made of the most contemporary of local materials, a kind of white chalk, then, impregnated with a diversity of local marbles, stones and bricks, the fire-places give the effect of blocks of Montelimar, really unusual and the kind of design only the Italians could come up with, totally in keeping with the spirit of this old house, built of the same marbles, stones and bricks.
The grounds of the house open directly onto the common area of the private mountain, offering miles and miles of stunning walks, all of which are marked and signposted. Just a few metres in front of the house is a pool, part fed by mountain streams – cold ??? No-one has ever complained as such ! It is fenced in order that small children can be discouraged from wandering into the pool area, unsupervised.
FREE PARKING…
Private parking next to the villa….
Accessibility to all the Umbrian "hot spots"……
You reach this fairy tale cottage either via Bazzano Superiore or directly from central Spoleto. when you approach directly from Spoleto, it is a good road for 90% of the way. When approached via Bazzano, there is a 1 mile dirt track at the end that has been flattened to make it easily drivable. A private, 1 mile drive-way leading to Posto Del Sole is also a flattened, drivable dirt road, NOT a road full of boulders and stones. Also, easily driveable.
A tarmacked road starts at the gateway of Vista Del Mondo, a mile away from Posto Del Sole, which leads to a main road, about a half a mile away. From here, there is very easy access to Orvieto, Assisi, Perugia, Trevi, Foligno, Bevagna, Montefalco, Norcia, Castelucia and the Gran Piano. Rome is just over 1 hour by train. And, of course, the jewel in Umbria's crown, Spoleto, is less than a 20 mins drive. So, you could be driving on the Valnerina within 20 minutes, from where you can easily go to Norcia and the Gran Piano or to the Adriatic, passing a myriad of hill-top towns on the way. Or, in the opposite direction, you could be in central Spoleto in 20 minutes.
Whichever way you choose to go, Assisi, Perugia, Orvieto, Trevi, Foligno….is about a 45 minutes drive. The territory you pass through is mind-blowingly beautiful. After all, the Umbrian countryside is what dreams are made of. And, if you want a bit of the action, then, you can always try Rome, a mere 1 hour and 20 minutes by train from Spoleto.
So, for those who love to walk, this place is sublime. Or, you can hire bikes in nearby Spoleto. Great mountain biking territory. The many, many tracks, criss-crossing each other, upwards and downwards over the mountains, seem to go on forever.This is St Francis territory so you will be following in his foot-steps, reminders everywhere, with monasteries and sanctified spots scattered hither and thither in the woods, from Rieti to Assisi !
Brief description of Spoleto city centre, a mere 8 miles away…..
Spoleto is akin to a giant, fairy-tale castle. Sprinkled with bars, restaurants and shops, peppered with piazzas, Spoleto sits magestically amidst a maze of tunnelled, cobbled lanes and alley-ways, all leading skywards to the famous Rocca, the aquaduct and, some of the best views in the world. A surreal setting, a stage-set in the making, fringed by mountains, olive groves, vineyards, mediaeval monasteries, towns, cities and tiny hill-top villages – all beckoning a visit, Spoleto is truly a temptress. Succumb to her beauty and you must use all your will-power to leave. Quite simply, Spoleto is the most captivating city in Italy, never mind Umbria, Venice and Florence, being on a par.
Venice has the water. Florence has the Uffici. Spoleto has the mountains. All three have a history to be reckoned with. All three bedazzle us with their rich cultures, their European, aristocratic connections and their sheer beauty. But, Spoleto has the upper hand for the world traveller. It resists tourism with its associated inflated rates and tacky goods on sale ! You are invited to visit Spoleto, but, not as a tourist. You will be welcomed like a long lost member of the family ! Treated like a king. And, you will pay the same rates as all the locals, especially when you pay attention to all our recommended restaurants, bars and gelaterias.
Read more about Spoleto by clicking on :
http://www.umbriaholidayrentals.com/general-information/spoleto.html
REVIEWS…
From Homeaway/VRBO
| | |
| --- | --- |
| Review #15797931 "16C Posto Del Sole + 16C Vista Del Mondo, sleep 12, 7.5 miles to Spoleto Centre " | |
| | |
| --- | --- |
| Amazing views and warm welcome | |
| | |
| --- | --- |
| Excellent accomadation, the views are out of this world. Nearby to many tourist areas but away from it all. Welcome pack supplied is generous and contains every need. Communications are very good any little problem or questions is dealt with quickly. Thank you Norma Laurie and Joanna for an excellent holiday which will be remembered by all. We will definitely be back xx | |
…………………………………………………………………………………………………
FROM HOMEAWAY/VRBO
| | |
| --- | --- |
| Beautiful Country Mansion with Large Pool in the Hills of Spoleto | |
| | |
| --- | --- |
| The house is located in the beautiful mountains and forest of Spoleto with a breathtaking view over the Assisi valley approx. 20 minutes distanced from Spoleto by car following the last kilometres on a beautiful natural and adventurous road. The house is tastefully designed and furnished and the 7 bedrooms with additional 2 kitchen and 4 bathrooms offer basic equipment inside. We enjoyed the house with 6 adults and 10 children. One room stayed unused. The bathrooms offer "Italian" standards. The big swimming pool outside is maintenanced on a daily basis and children as well as adults enjoyed the sun heated water for swimming and water games every day. The huge areal around the house offers enough space for soccer and all sorts of outdoor games. Several hiking and bycikling routes including the Francis of Assisi trail are running close by the house. Rafting, climbing, fishing and others outdoor activities are available by car in 30 minutes distance. A lot of knowledgeable information for recreative, culinary and cultural touristic activities are included in the little guide provided by the landlords. Laurie, Norma and their team are very supportive with every problem that may occur: equipment that was missing for us was provided in the course of 24 hours. With car problems they guided me to a well working and low cost car mechanic. Maintenance of the house was done on a daily basis. | |
Accomodation and features
Accomodation type: self-catering
Meals provided: self-catering
Holiday Theme: away from it all, budget, family, romantic, reunions
Bedrooms: 5 triple bedrooms + 2 sitting rooms, one of which can be converted into a 6th triple bedrooms, by request.
Bathrooms: 4 shower rooms/WCs
Living Room Facilities: Can seat up to 12 adults - can arrange to seat more
Dining Facilities: Can seat up to 12 adults - can arrange to seat more
Kitchen Facilities: freezer, fridge, grill, hob, iron+board, microwave, oven, washing machine, coffee maker, cooking utensils, toaster, dish washer, ice maker, kitchenette, mini-fridge, spices
Entertainment Facilities: music library, TV, DVD player
Internet Access: internet access, wireless broadband
Swimming pool: outdoor pool, private pool on site
Outside:garden, BBQ, parking off street, patio, terrace, veranda, garden chairs, sun loungers, extensive grounds, parkland
General Property Facilities: activities guide, ceiling fans - room fans, central heating, firewood, hair dryer, linens provided, local maps, local restaurant guide, welcome paper towels, welcome shampoo, welcome soap, welcome toilet paper, towels, beach towels, daily maid service on request
Suitability of the Property: children welcome, suitable for elderly or infirm, pets considered, long term rentals available, non smoking only
Notes:
The pool is for the exclusive use of the guests at Posto Del Sole: Country House.
WiFi available, included in the rate.
There are many cooking courses available in the vicinity. And, we can recommend excellent Italian courses, also in the nearby vicinity. All at prices to match your needs and budget.
Rates
| | | |
| --- | --- | --- |
| Period | Weekly Rate | Monthly Rate |
| 1 May - 31 May | 1250 euros | 4350 euros |
| 1 June - 30 June | 1400 euros | 4900 euros |
| 1 July - 15 July | 1600 euros | 5500 euros |
| 16 July - 21 Aug | 1900 euros | 6500 euros |
| 22 Aug - 31 Aug | 1600 euros | 5500 euros |
| 1 Sept - Oct 15 | 1400 euros | 4900 euros |
The rate includes up to 12 persons, extra persons, over 2 years old, 50 euros/week.
Flexible Arrival/Departure Dates - subject to availability.
To see details of all that is included in the rate, EVERYTHING, please click on Booking Info :
http://www.umbriaholidayrentals.com/general-information/booking-information.html
A deposit of 25% is required to secure a booking.
To see the full cancellation conditions, please click on Cancellation conditions :
http://www.umbriaholidayrentals.com/general-information/cancellation-policy/
Reciprocal Links