SPOLETO VIP – the most prestigious apt in Spoleto ! Sleeps 6
THE best location in Spoleto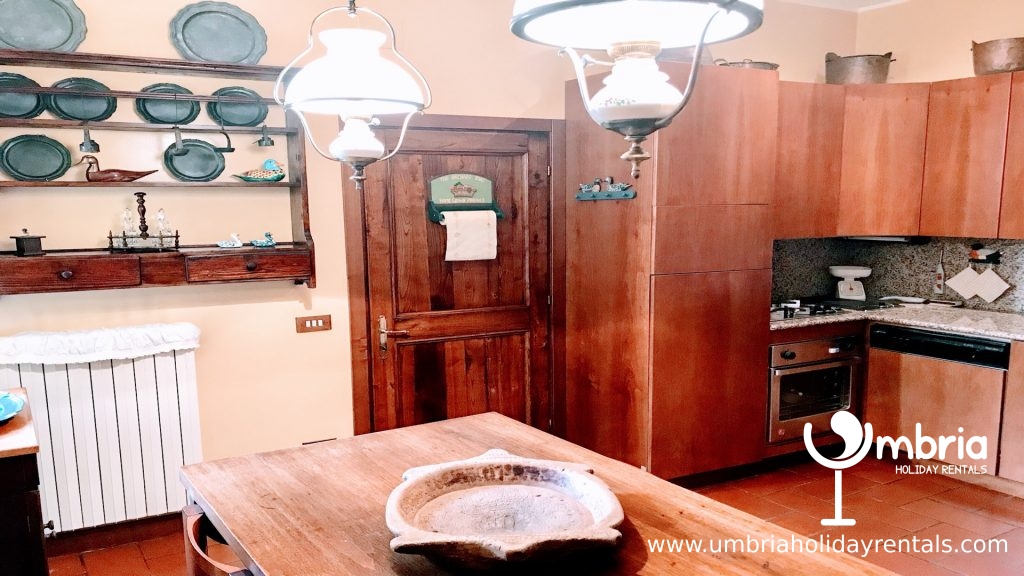 Sleeps:

6

Bedrooms

3

Bathrooms

3

Property type:

Apartment, Luxury, Villa
SUMMARY….
"Spoleto VIP" is so named because it is the most aristocratic apartment in the historic, pedestrian centre of Spoleto.
The summer home of Andy Warhole, Pavorotti and Menotti, to name just a few of the illustrious gentry to have called this luxury pad, "home" !
With a 2 car private garage, 3 bedrooms + 3 bathrooms, WiFi, a magnificent sitting/dining room + fully fitted kitchen, a garden terrace + 2nd terrace, leading directly onto Corso Mazzini, the very heart of Spoleto, this is perfection !
DETAILED DESCRIPTION…..
The apartment occupies the whole of one building within the gated secure Palazzo Rosari-Spada. It consists of a simple nanny/chauffeur ensuite twin bedroom in a separate area besides the 2 car secure garage on the ground floor plus a very large apartment with 2 more bedrooms + 2 more bathrooms on the 1st floor.
In total, this large splendid palazzo consists of 3 double bedrooms, one of which can be used as a 2nd sitting room because the beds in this room are convertible from luxury lounges to single beds, which can be joined. These "beds" were designed to be either beds or sofas – not your usual sofabeds ! Of course, you wouldn't expect "the usual" in a place like this !
Both the master bedroom and the 2nd bedroom open directly onto a secluded, large, private patio area, a sun terrace, where you can sunbathe in private. Next door to the master bedroom is a very large bathroom with tub and 2 showers. And, this bathroom also opens onto the same large patio area.
The 2nd bathroom is close to the 2nd bedroom and is also large with a kidney shaped tub and hand held shower.
The sitting/dining room is enormous, about 50 sq metres, and is adorned with antiques and 2 huge very squashy sofas.
There is a separate kitchen/diner, which, while fully equipped is rather modest and simple. In bygone days, this kitchen would be mainly used by the private chef as "his" kitchen rather than by the family or residing dignitaries. Further, the "starry" restaurant is just across the lane, 2 seconds away, in Hotel Clitunno. And, this is where the occupants of this abode would usually take their meals if their private chef was not cooking for them.
Then, there is a beautifully kept garden terrace (plenty of cushions available for the terrace furniture), where you can entertain your friends in splendour, looking onto the huge courtyard in the centre of this famous palazzo, encircled by arches and balconies, all thousands of years old !
Further, although you are in the very heart of Spoleto, just a few steps from shops, bars and restaurants, staying in Spoleto VIP, you will experience only tranquility and bird song.
ABOUT THE OWNERS….
The owners of this luxury pad, set in its own "house", within Palazzo Rosari-Spada, have ancestors going way back, as far as the very birth of Spoleto, a fairy tale walled, pedestrian city that predates Rome.
Indeed, in the 2 car secure garage, within a gated, secure palazzo, there is a tunnel leading to a place where noble members of their family hid during the uprisings against the Italian royalty. This tunnel enabled their survival. But like all ex Italian nobility, they dare not use their titles.
However, always active in the arts and theatre, this royal family amassed world famous opera singers, actors and painters as part of their "in group".
Now, only the 3 children of this noble family are still living, one of them, a chief fashion consultant for Prada, Stella McCartney and Bulgari.
This was their summer family home, where these 3 children grew up cheek by jowl with famous names around them all the time. The family were huge patrons of the Italian Art, Fashion and Theatre worlds. And, so they would invite their famous friends to stay in their Spoleto home, while they were in one of their other homes, usually Milan.
This beautiful and grand apartment has been closed for several years while the children tried to decide its future. They cannot bring themselves to sell such a family heirloom, a place that has seen war, love and glamour. So, finally, this sensational jewel of Spoleto royalty has emerged once more. Refreshed and refurbished, it is now available as a holiday rental home, for those of you who wish to taste what it was like to live like royalty in a bygone era.
THE LOCATION….
The Palazzo Rosari-Spada is gated and secure. Inside is a courtyard. There are 2 entrances, one from Corso Giuseppe Mazzini, where you find many shops, bars and restaurants, the other opposite Hotel Clitunno, with its very popular restaurant, San Lorenzo, home to the stars and locals alike.
From Corso Giuseppe Mazzini, it is a 2 minutes walk to Piazza Mercato (where you must have a drink at Cafe Degli Artisti), 1 min walk to Piazza Liberta, where the famous Roman Forum is. And, 5 minutes walk (or you can take the travellator) to La Rocca, the castle at the top of Spoleto, where you find Il Ponte, a sensational acquaduct. And, here you can stop for refreshments at La Portella, a bar with the best views in the world !
Or, you can walk for 3 mins downhill (or take the travellator), through Porta Fuga, where Hannibal was apprehended on his way to invade Rome so preventing the fall of Rome, to Corso Garibaldi, a street that throbs with youth and excitement during the passeggiata, bustling with yet more shops, bars and restaurants.
Indeed, while Spoleto is bursting at its seams with monuments, churches, museums and art galleries, there are also 130 restaurants and at least as many bars. Together with the cutting edge fashion and shoe shops, who needs to go anywhere else in Italy.
As so many of our guests have observed, Spoleto is big enough not to be boring and it's small enough for you to feel an intimate part of the community, even within a day of being here !
DAMAGE DEPOSIT…
There is a refundable cash damage deposit of 300 euros. However, please be aware that this deposit is NOT for minor breakages such as glasses or crockery. It is for the smashing of a large statue, the vandalizing of furniture or the ripping off of a washing machine door……. things of that nature. It's in case of serious damage. However, fro the type of person renting this unique property, we do not expect such behaviour – but, there may always be an exception !
Accomodation and features
Bedrooms: 3 bedrooms
Bathrooms: 2 bathrooms in apt + 1 shower room ensuite to 3rd bedroom above garage
Living Room Facilities: 2 three seater, very squashy sofas + arm chairs
Dining Facilities: large dining table to seat 6
Kitchen Facilities: 4 ring stove, dish washer, freezer, fridge, grill, hob, ice maker, iron+board, microwave, oven, washing machine, coffee maker, cooking utensils
Entertainment Facilities: satellite or cable TV, TV
Internet Access: internet access, wireless broadband
Swimming pool: private pool not on site
Outside:garage, garden, parking off street, patio, terrace, garden chairs, sun loungers
General Property Facilities: central heating, chauffeur, daily maid service on request, hair dryer, jacuzzi inside, linens provided, welcome paper towels, welcome shampoo, welcome soap, welcome toilet paper, towels, beach towels by request
Suitability of the Property: children welcome, suitable for elderly or infirm, long term rentals available, non smoking only
Rates
1450 EUROS/WEEK - INC OF ALL UTILITIES, LINENS, TOWELS, TAXES + FINAL CLEAN PLUS A WELCOME PACK : WINE, OLIVE OIL, PASTA, PASTA SAUCE, TEA. COFFEE, SUGAR, MILK + TOILETRIES TO START YOU OFF
INCLUDES 2 CAR GARAGE
LARGE PRIVATE POOL, 7 KMS AWAY AT OUR VILLA MARIANNA
ALL UTILITIES, LINENS, TOWELS, TAXES + FINAL CLEAN
IF YOU WISH FOR MAID SERVICE, THIS CAN BE ARRANGED FOR A SMALL EXTRA CHARGE.
YOU CAN ALSO BOOK A CHAUFFEUR.