Spoleto Contessa – sleeps 6/7 – car unnecessary
central Spoleto/10 mins walk to train station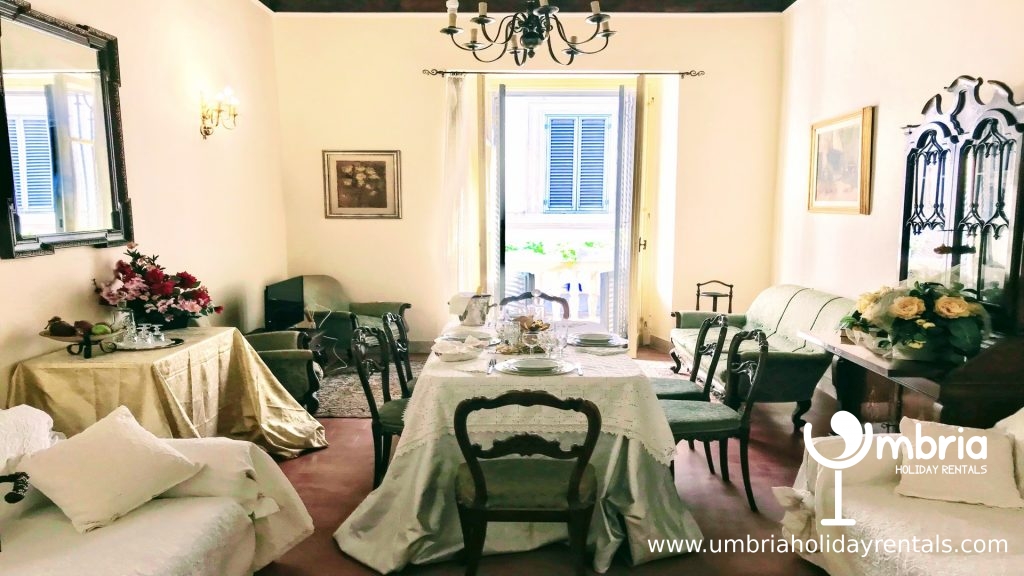 Sleeps:

9

Bedrooms

3

Bathrooms

2

Property type:

Apartment
Summary
Aristocratic's 16C ex home in Corso Garibaldi, old haunt of Andy Warhole.
WiFi, dishwasher, terrace, 2 TRIPLE bedrooms, 1 DOUBLE bedroom + 2 bathrooms + 1 sofabed. Sleeps up to 9
Car unnecessary, 10 mins walk to train station, 4 mins walk to travellator, which takes you anywhere in Spoleto, free of charge.
Buzzy, pedestrian Spoleto, 10 mins walk to train station, car unnecessary and parking available.
CAR SPACE  3 MINS WALK AT 50 EUROS/WEEK OR PARK FOR FREE OUTSIDE THE WALLS.
This spacious, rustic, elegant apt has 3 triple bedrooms (2 with double beds + 1 single bed, 1 with 2 single beds that cannot be joined), 2 bathrooms, (both with walk in shower units), 1 large sitting/dining room (with double sofabed), 1 sitting room, 1 fully fitted kitchen with dish-washer, fridge freezer + washing machine, a small balcony overlooking the pedestrian Corso Garibaldi + a large terrace in the central atrium of this 16C palazzo (the terrace is totally private – no neighbours next door or opposite).
Once upon a time, an illustrious Spoleto family of noble birth, ruled Spoleto, alongside a handful of other aristrocratic families. And, amongst the many palaces they owned, they also occupied the whole of this magnificent palazzo, which bears their coat of arms. It is this same family who will host you!
During a period of change, when Italy became a republic,  the aristocrats were legally banned from using their titles.  Possessions were seized and many aristocrats fled the country, slowly to return to pick up what remained of their historic and glorious past.
Now, Contessa Gabriela, with her husband, the Conte, resides once more in her beloved Spoleto, the fairy tale city, where she was born and raised. And, she lives on the top floor of this 16C palazzo, her ancestral home, in a tower.
The Contessa is a beautiful blonde, who reminds me of the legendary Rapunzel, who, from her tower, would let down her long golden hair to allow suitors to climb into her boudoir. No need for Contessa Gabriela to use her locks for such a purpose. Her tower has steps !
Contrary to the image that an Italian aristocrat may conjure up, this aristocratic family is totally down to earth ! Indeed, the Contessa will teach you to cook and/or will prepare a dinner for you on the ground floor of this Palazzo, in her sumptuous gardens, under a large pergola, at a modest cost.
Nowadays, the nobility needs to work for a living ! And, this noble family is far from work shy ! I have even witnessed the Conte up a ladder, changing a bulb in a street light, rather than wait for the Spoleto Comune to arrive.
When you arrive here, you will receive a very warm welcome. The Contessa Gabriela is keen to please and will do all in her power to make your stay a memorable one !
General Info
There is a State of the Art gym called "Unique". it is 1.5 miles and it accepts day memberships. Here there are weight rooms, many classes, a large pool and a huge sauna. Further, there is a tennis club. It is 2 miles away and it also accepts day memberships. And, 5 miles away, in the hills, are fantastic riding stables, where you can practice in the paddock or trek in the mountains under the sun or the stars.
Accomodation and features
Accomodation type: self-catering
Holiday Theme: activity, budget, family, historic, romantic, tourist attractions, reunions
Bedrooms: 3 triple bedrooms : 2 double beds + 1 single (beds cannot be joined) - double sofabed in sitting room area
Bathrooms: 2 bathrooms with showers
Living Room Facilities: sitting/dining room/seats 6 + reception room
Dining Facilities: kitchen/dining room - seats 6
Kitchen Facilities: 4 ring stove, dish washer, freezer, fridge, grill, hob, ice maker, iron+board, microwave, oven, washing machine, coffee maker, cooking utensils
Entertainment Facilities: TV
Internet Access: internet access, wireless broadband
Swimming pool: private pool not on site
Outside:terrace, garden chairs, 1 car space for hire
General Property Facilities: central heating, daily maid service on request, hair dryer, linens provided, welcome paper towels, welcome shampoo, welcome soap, welcome toilet paper, towels, beach towels by request
Suitability of the Property: children welcome, long term rentals available, non smoking only
Rates
850 euros/week -
PROMOTIONAL RATE…
Rate includes all utilities, linens, towels, taxes, final clean + Welcome Pack
Bookings of 2 weeks or more attract a 10% discount