Eco-Borgo Luxury – with exclusive pool – sleeps 19
close to Lake Trasimeno and Perugia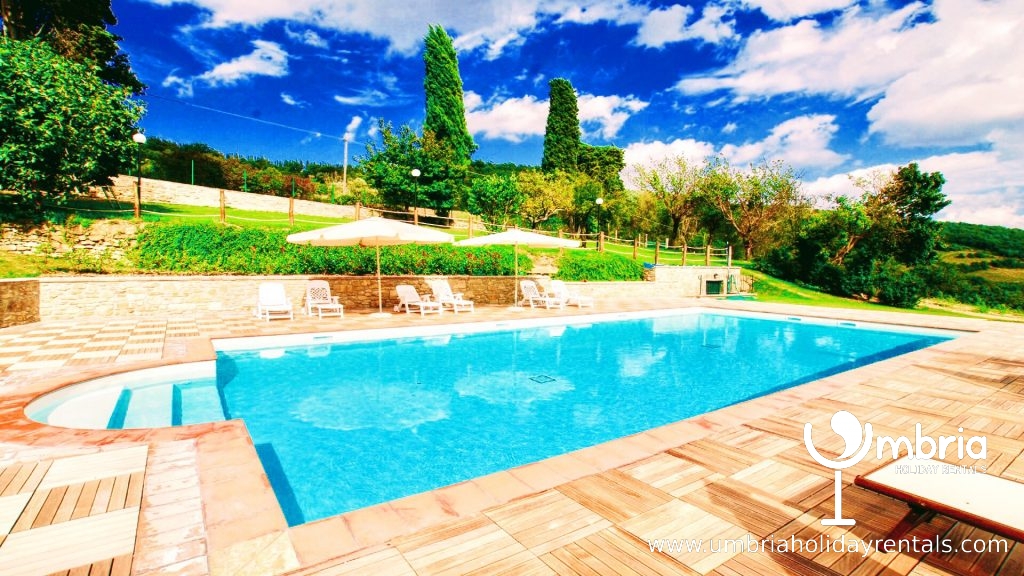 Sleeps:

19

Bedrooms

9

Bathrooms

10

Property type:

Apartment, Cottage, Country house, House, Luxury, Suite, Villa
Eco Borgo Luxury : SUMMARY
5 elegant cottages + separate RISTORO + exclusive pool. Nr to Perugia and Sienna.
9.5 bedrm/7 kitchen-dining rms (inc extra large kitchen-dining rom for communal eating/wedding receptions/events etc in Ristoro)/11 bthrms (inc 1 in Ristoro)/1 exclusive pool/fishing pond/orchards.
FIENILE AND STALLA ARE ON AN ADJOINING PLOT OF LAND
QUERCE AND CERRO/CASTAGNA ARE IN THE SAME LARGE FARMHOUSE
MULINO IS IN THE MIDDLE OF THE VILLAGE BETWEEN QUERCE AND STALLA
ESSICATOIO IS TO THE SIDE OF MULINO, BETWEEN QUERCE AND STALLA
FIENILE :
1 BEDROOM WITH DOUBLE BED + 2 BATHROOMS
1 SINGLE BED ON MEZZANINE (OUTSIDE THE BEDROOM, ABOVE THE SITTING ROOM)
LARGE PRIVATE GARDEN
STALLA :
1 BEDROOM WITH DOUBLE BED + 1 BATHROOM
LARGE PRIVATE GARDEN
QUERCIA :
2 DOUBLE BEDROOMS + 2 BATHROOMS
COVERED BALCONY – SEATS 4
 CERRO/CASTAGNA :
2 DOUBLE BEDROOMS + 2 BATHROOMS
LONG WIDE BALCONY – SEATS 4
MULINO :
2 DOUBLE BEDROOMS + 2 BATHROOMS
SINGLE BED ON MEZZANINE (IN ONE OF THE BEDROOMS)
LARGE PRIVATE GARDEN
ESSICATOIO (1ST FLOOR):
1 DOUBLE BEDROOM + 1 BATHROOM
SITUATED IN EXTENSIVE GROUNDS OF VILLAGE
Querce Cottage…sleeps 4
………is one of two dwellings in a large cottage, overlooking the village, the hills, dales, olive groves and vineyards as the vista spirals into a haze of greens, dotted with colours, an infinity of brightly coloured patchwork, against a deep azzure skyscape. This place is beyond heavenly.
Querce Cottage is on the upper ground floor, to the side of the suite above. It has 2 double bedrooms, 2 bathrooms, a fully fitted kitchen/diner and a separate sitting room with a single sofabed. And, it has a large balcony that seats 4/5 persons with sensational views.
Mulino Cottage….sleeps 4/5
…..is a detached  cottage, set on its own private plot, in the middle of the village. It has a large garden at the back of the cottage, with fantastic views overlooking the hills and the dales, the meadows, the vineyards, the olive groves, peppered with every different colour of wild flower, honey bees feasting greedily before returning to their Queens, the Monarchs of this magnificent universe – all yours for the taking at Eco-Borgo Luxury. It has 2 double bedrooms, one of which has a mezzanine floor with a single bed, a sitting/dining room with a fully fitted kitchen + 2 bathrooms.
Fienile Cottage…sleeps 3
…is a cute detached cottage, situated in its own private garden, with sensational views of olive groves, vineyards, meadows full of sunflowers, poppies and purple cornflowers, spiralling infinitely into the valleys below. It has 1 double bedroom + 1 single bedroom (the latter is on a mezzanine floor and privately positioned) + 2 bathrooms. This cottage is simply a dream place – ideal for a couple in search of romance or to rekindle their love batteries ! Or a family – there is a double sofabed in the sitting room.
Stalla Cottage….. sleeps 2
An incredibly romantic, detached cottage with one bedroom + 1 bathroom. It opens onto a private garden with ecstatically beautiful views across the valleys that undulate into a depthless abyss of olive groves, orchards, honey fields of yellows, reds and orange and vineyards, rising up to a clear, deep blue sky, swallows swooping and flitting to the song of nightingales. Perfect for a couple seeking a romantic setting or to rekindle the flames of passion !
Essicatoio Cottage/upper…..sleeps 2
…..is on the upper floor of a 2 storey detached cottage. Outstanding views across dales, valleys, olive groves and vineyards, pastures and valleys unfolding with every blink. Excellent value for 1 couple, who wish to experience life on a luxury, organic farm, where you can fish, cycle and pick fruit and veg in the allotments to your heart's content ! Beautiful gardens all around.
Cerro + Castagna Cottage….sleeps 4
…..once upon a time, these were 2 self contained apartments. Now, we only ever rent them as one extremely large apartment with a covered terrace/verandah – seats 4/6. Subsequently, not only are there 2 double bedrooms + 2 bathrooms, there are also 2 sitting/dining rooms, one of which is very large with a fireplace and contains a double sofabed. From the terrace/verandah, there are wondrous panoramic views of fields, meadows, woods and forests, undulating downwards into an infinity of mesmorising colours and textures. This large suite of rooms is perfect for a family or 2 couples, who wish to be private from each other at times. This is a large apartment ! Masses of room for everyone.
THE VINEYARDS at Eco-Borgo Luxury..
While you are here, learn the process of wine-making on the farm, from the harvesting of the organic grapes to the tasting of the finest of red and white organic wines. Ask for details on arrival.
OIL REFINERY at Eco-Borgo Luxury..
While you are here, learn how the oil is extracted from the olives and taste the farm's organic Extra Virgin Olive oil. Ask for details on arrival.
LOCATION
Eco-Borgo Luxury is a tiny 17C borgo, in the frazione of Morra, in the Perugia area, converted into 5 holiday cottage suites, 4 of which are detached and standing in their own grounds, 2 of which are at different levels from each other in the same building.
Along a windy country road, snaking higher and higher, the world tumbling below you in a whorl of pastures, valleys, sunflower fields, poppies, hill top mediaeval towns and villages, sweeping towards Cortona, you arrive at Eco-Borgo Luxury.
450/500 mts above sea level and below the snow line.
GENERAL DESCRIPTION
Set in a 230 hectare, organic farm, Eco-Borgo Luxury is a heavenly place. You can wander on foot to your hearts content, along a sign posted lane, all round the private estate.
Eco-Borgo Luxury is a beautiful hill top village transformed into 5 luxury eco-cottages, each with its own garden, terrace and/or balcony,  draped in a beautiful confusion of olive groves, vineyards, chestnut trees and tangled woodlands, overlooking a south facing valley, whose green planes and undulating hills fade into a heavenly infinity.
Ahead is a tree-lined country lane that leads into the heart of the village and the large pool beyond.  You pass the Fienile Cottage (large 1.5 bedroom/sleeps 3/5) first, then, the Stalla Cottage (1 bedroom/sleeps 2). Curving round a grove of chestnut trees, you come upon the Mulino Cottage (2.5 bedrooms/sleeps 5). Across a courtyard, is the Quercia suite (2 bedrooms/sleeps 4/5) and Essicatoio (upper floor – 1 bedroom/sleeps 2). Below, and to the side of, the Quercia suite, in the same beautiful, large, stone house, is the Cerro-Castagna Suite (2 bedrooms/sleeps 4/6).
In the middle of the village is the laundry room with washing machines and ironing facilities.
A little further through the village, passing what used to be the Prince's house, the grand house of the village, as yet, unrestored, you arrive at the path down to the large pool, with wide paved areas, easily enough space for each guest to have lots of privacy.
Beyond the pool, are the huge, organic vegetable gardens and orchards, where you can go each day and pick your own fresh fruit and vegetables. In this area is also the fish pond, which is always full of fish and never artificially stocked ! Bring your own fishing rod, if you wish to while away an afternoon in this heavenly place, breathing in the pure air of this deliriously beautiful environment.
TOTALLY ECO-SUSTAINABLE
The entire village has been reconstructed using ONLY sustainable ecological methods and is dependent totally on recyclability and solar energy. Nonetheless, having spared no expense, the whole system works in a away that you would not suspect its 100% ecological worthiness. Furthermore, in keeping with its ecological pedigree, it produces its own eco wines and olive oil. Both these plants are within the village and anyone can go and see how they function, to produce some of the finest wines and olive oil, exported all over the world.
Here, everything is pure and sustainable…..energy, water, fish pond, crops, wine and olive oil. However, to live here, you would not suspect that it is any different from any other luxury accommodation, except that the air you breathe, the fruit and veg you pick from the organic land, the fish you catch, the wine you drink (if you buy the farm wine) and the olive oil you drizzle over your organic salads (if you buy the farm olive oil), is all free of pollutants.
GENERAL INFORMATION
A bank transfer of 20% of the total value of the reservation is required to secure a booking.
Bakery, grocery, supermarket, chemistry, newspaper agent and any other store are only a few minutes drive in the town of Morra.
THE RATE INCLUDES…..
heating, utilities, household linen and towels, weekly change of linen, welcome eco-friendly bathroom toiletries and welcome eco products  for kitchen and bathroom, pick-your-own seasonal vegetables and fruits from the garden, access to the pond + fish you catch, final clean plus use of the "ristoro" for communal get-togethers and events.
ADDITIONAL COSTS
Cleaning and change of bed linen and towels MORE THAN ONCE A WEEK, by arrangement on your arrival.
DISCOUNT OFFERS for bookings of more than 2 weeks !
Ask for a quote….
IMPORTANT…….CHECK IN/OUT TIMES
Check in between 15.00 – 20.00 hrs. If you are going to be late or to arrive after 20.00, please inform us in advance.
Check out by 10.00 am.
Accomodation and features
Bedrooms: 9 + bed on mezzanine
Bathrooms: 10
Living Room Facilities: 9 living/dining rooms + Large living/dinng room in independent cottage, to seat up to 50
Kitchen Facilities: 4 ring stove, dish washer, freezer, fridge, grill, hob, ice maker, iron+board, microwave, oven, washing machine, coffee maker, cooking utensils
Entertainment Facilities: TV
Internet Access: internet access, wireless broadband
Swimming pool: outdoor pool, private pool on site
Outside:balcony, bike, garden, BBQ, parking off street, patio, porch, terrace, veranda, wooden decking, garden chairs, beach chairs, bicycles, deck chairs, sun loungers, extensive grounds, parkland
General Property Facilities: ceiling fans - room fans, central heating, firewood, hair dryer, linens provided, welcome paper towels, welcome shampoo, welcome soap, welcome toilet paper, towels, beach towels by request
Suitability of the Property: children welcome, suitable for elderly or infirm, pets, long term rentals available
Rates
JULY + AUGUST : 5500 EUROS/WEEK OR 10500 EUROS/2 WEEKS
MAY + JUNE + SEPT : 4000 EUROS/WEEK OR 7700 EUROS/2 WEEKS
15% DISCOUNT FOR MAY AND JUNE, 2018 !
The rate is inc of linens, towels, utilities, taxes + final clean.
Also inc is fishing + picking your own fresh fruit and veg.