Vista Del Mondo Country House – sleeps 12
7 miles to historic Spoleto : beautiful, detached ex hermitage, 6 bedrooms/4 bathrooms. Sleeps 12. F/t use of private pool - 5 mins walk. Car necessary.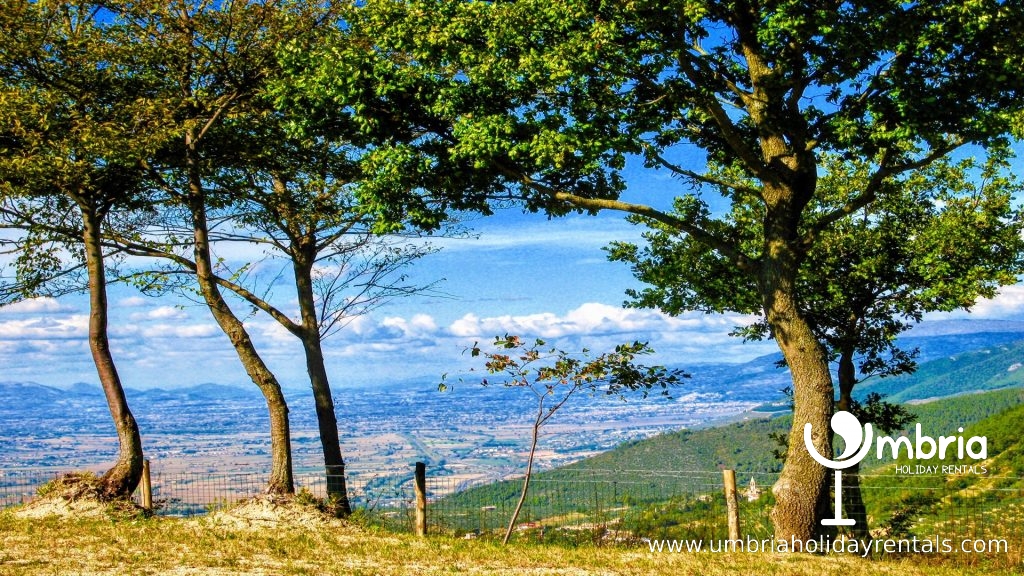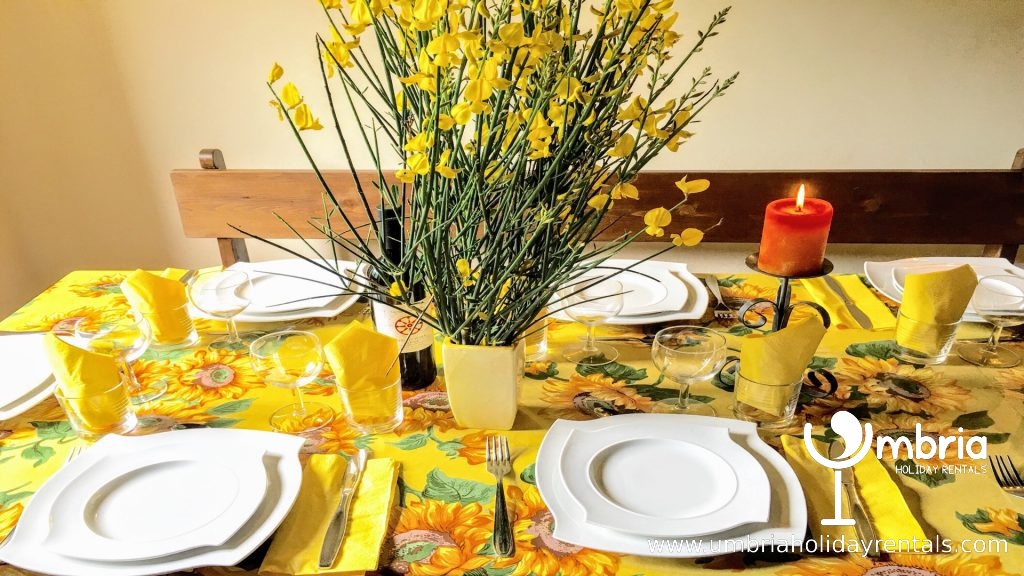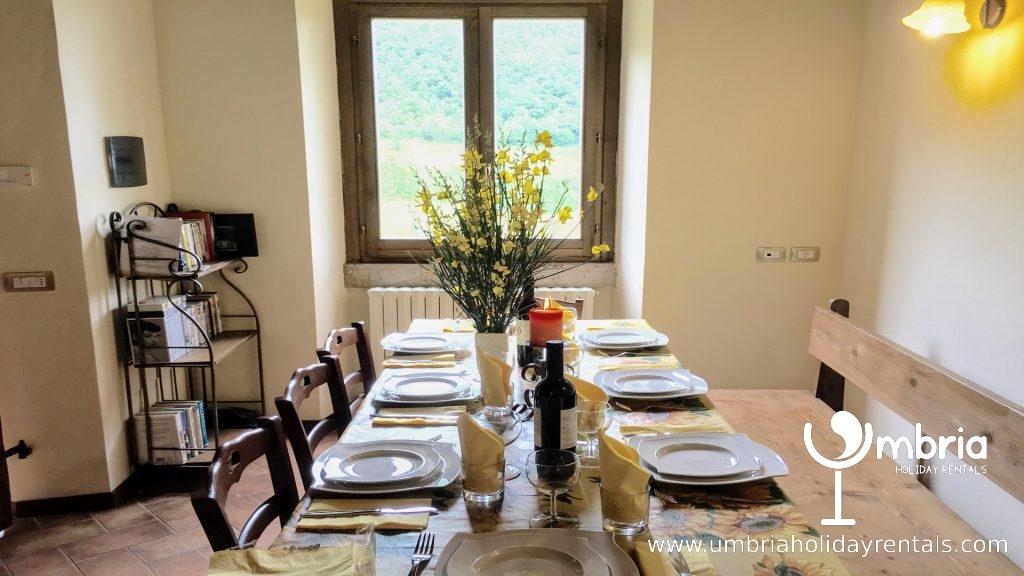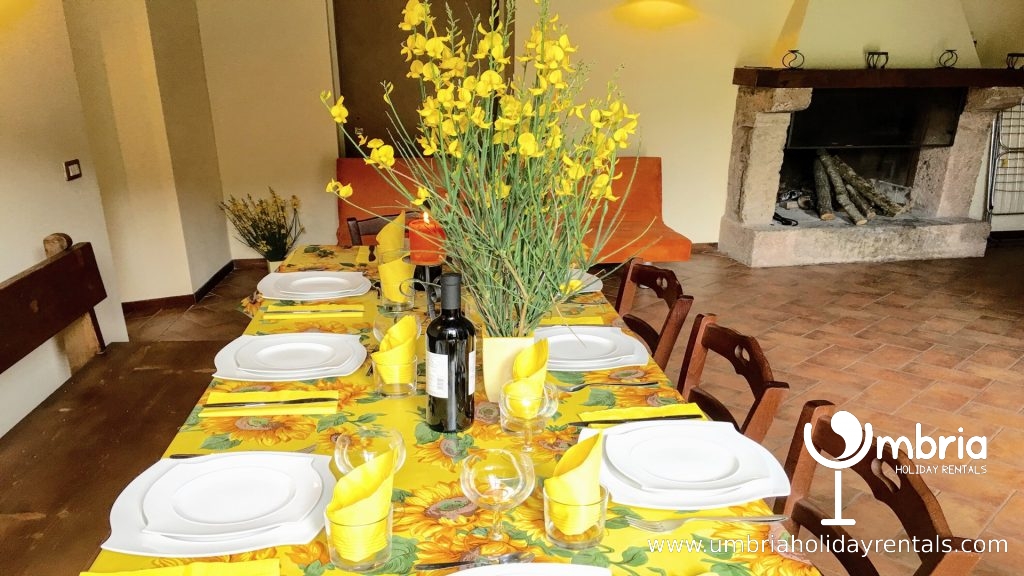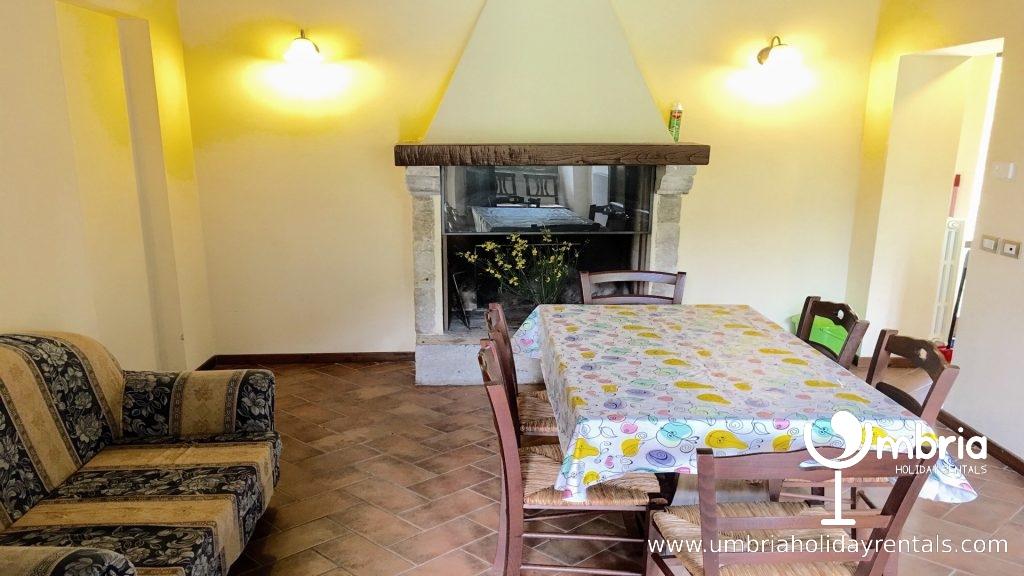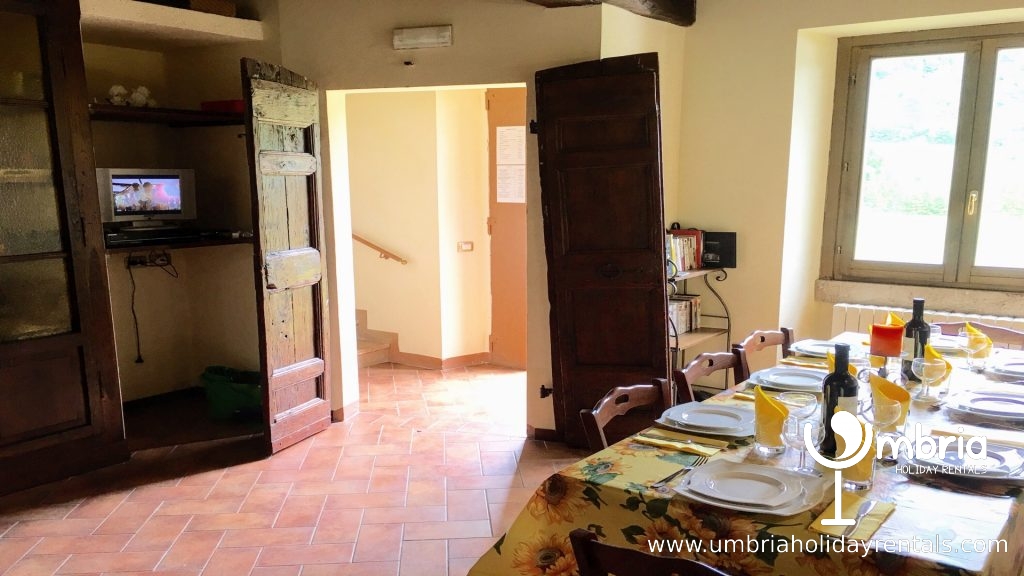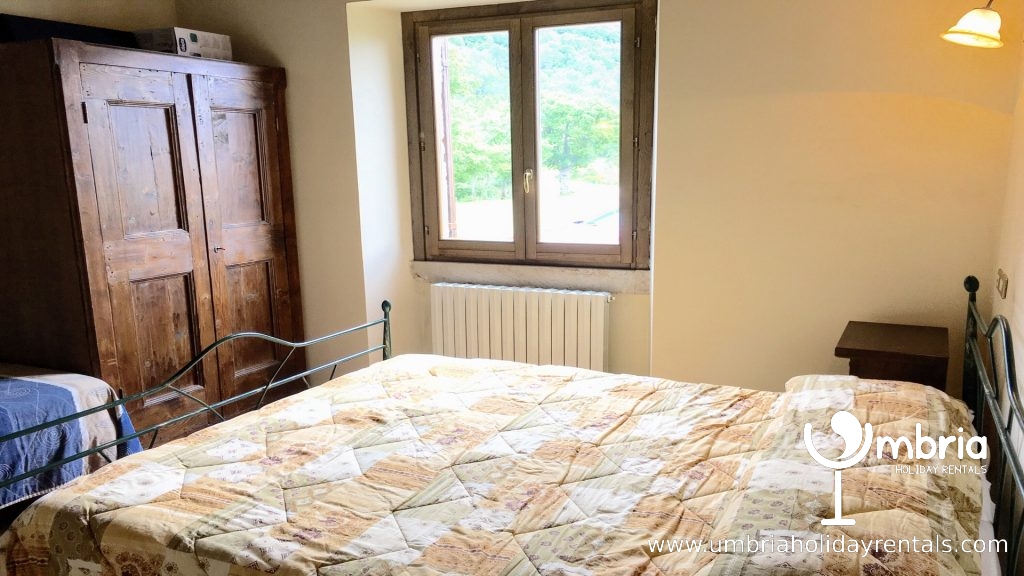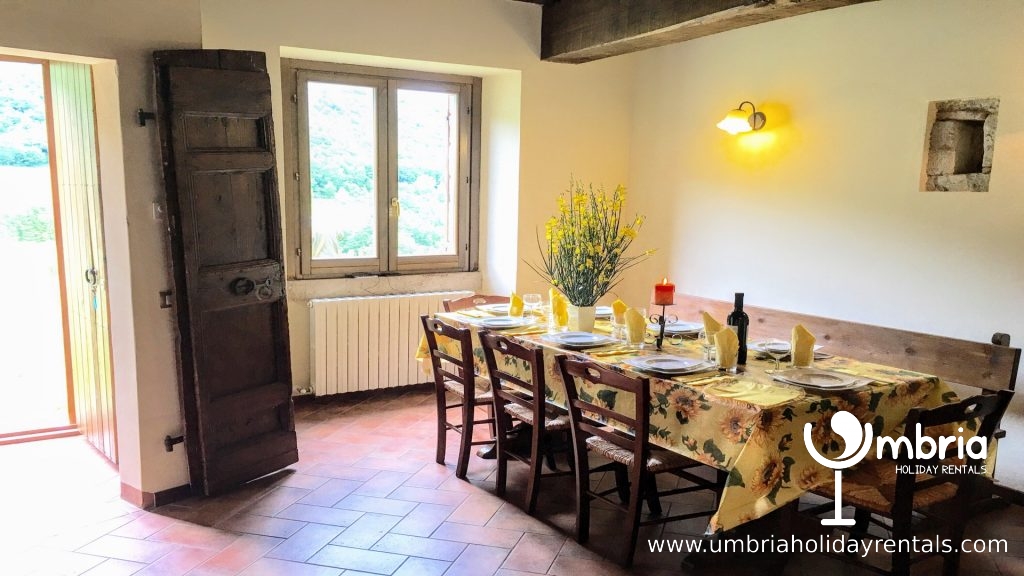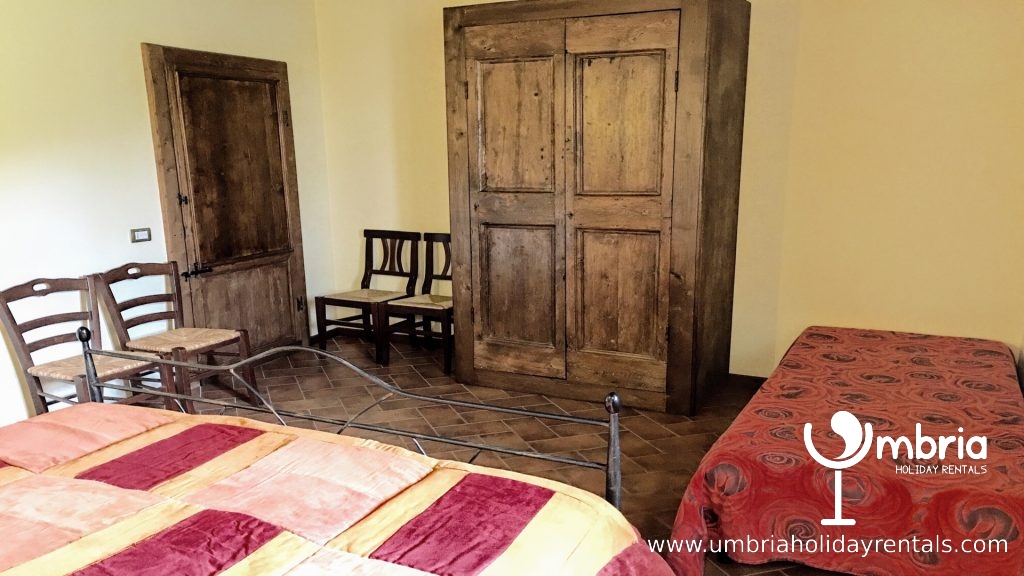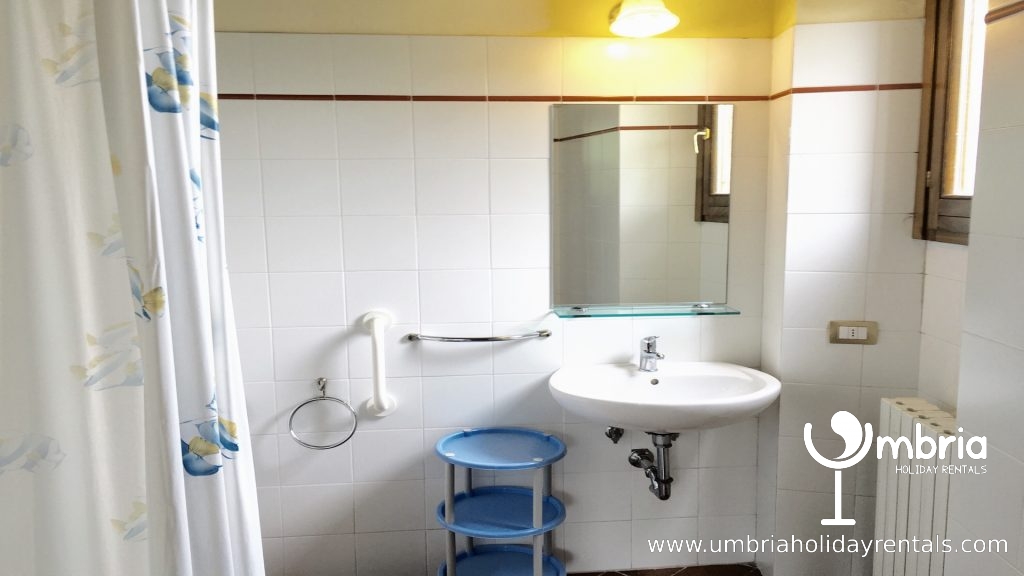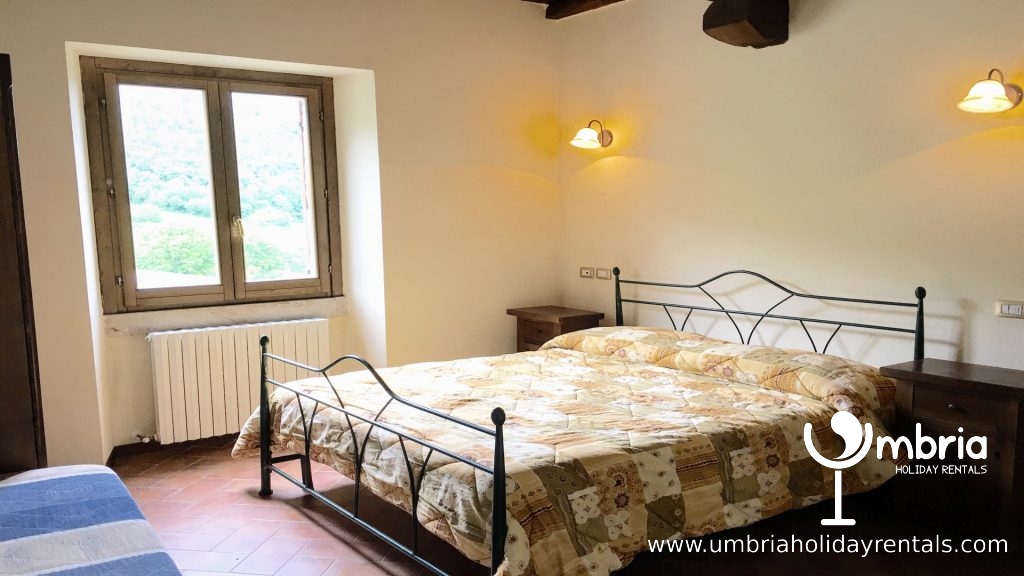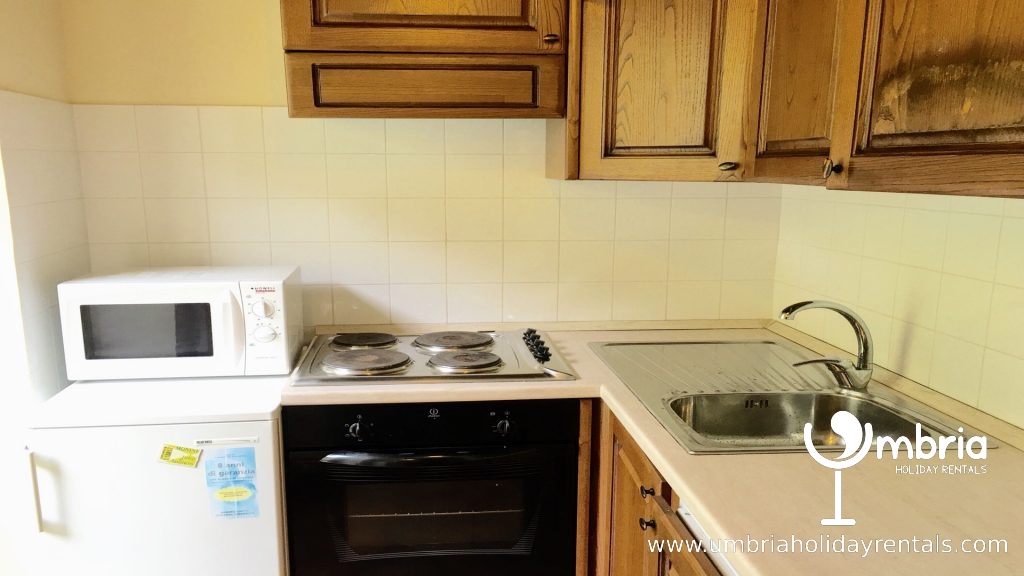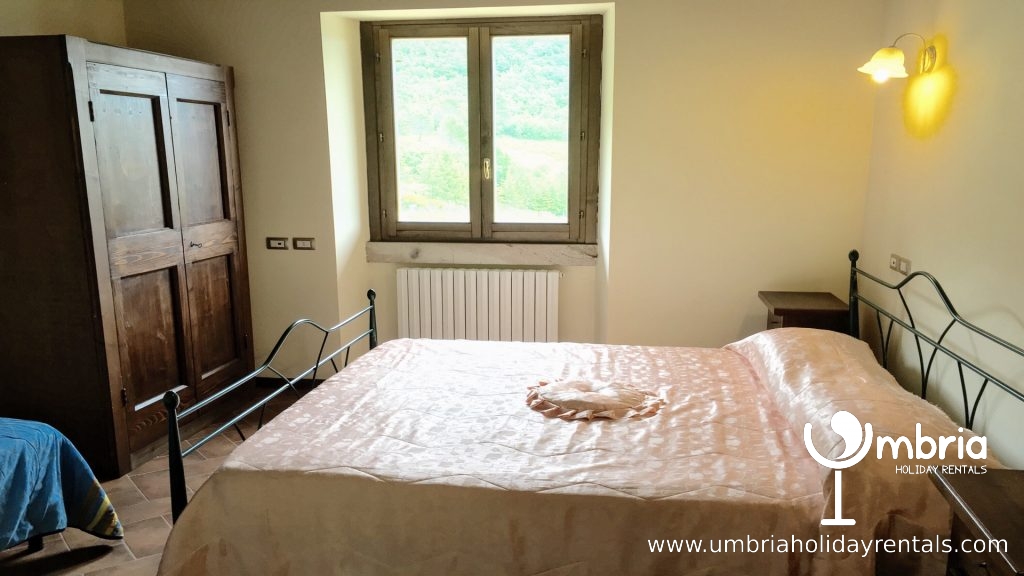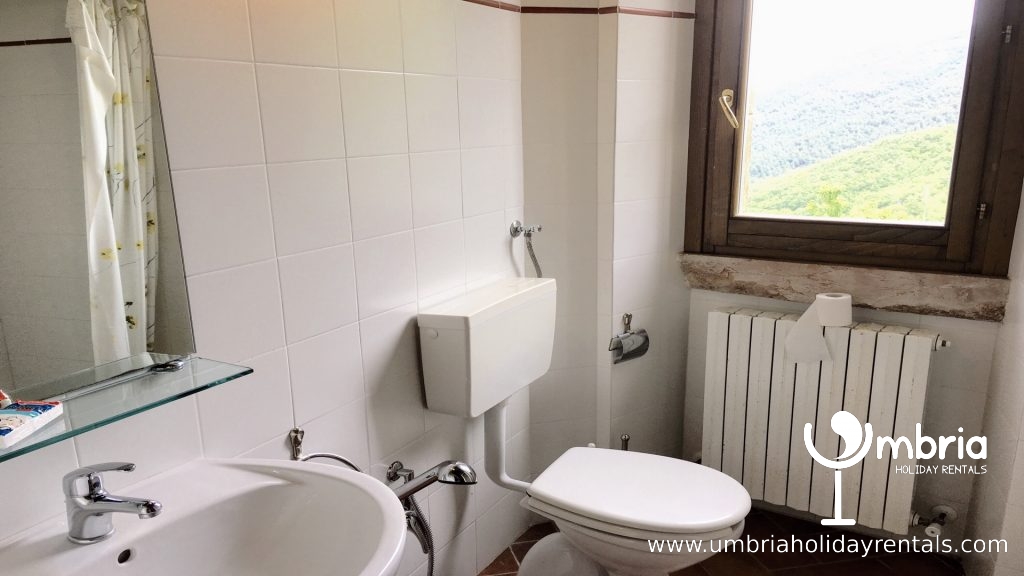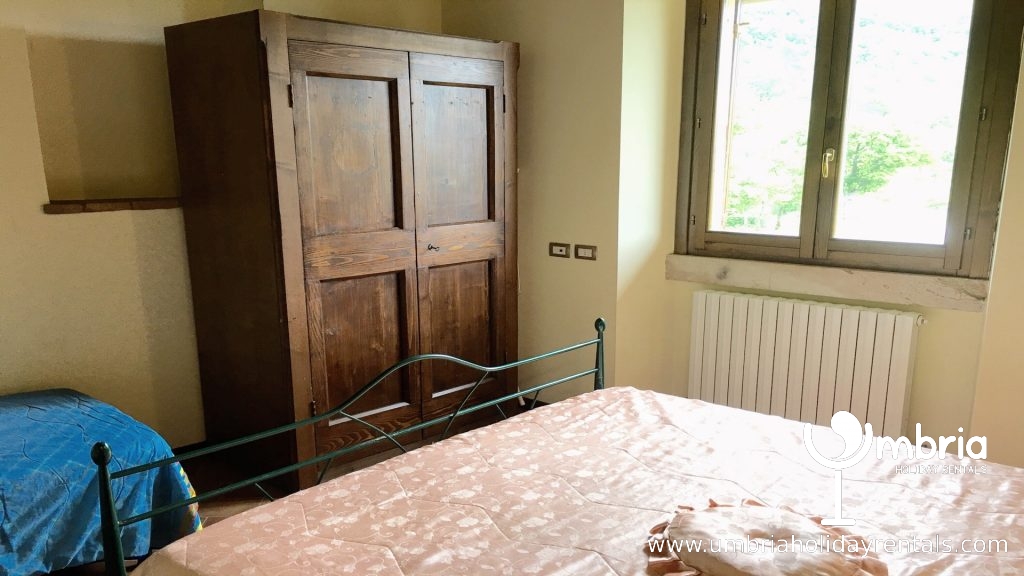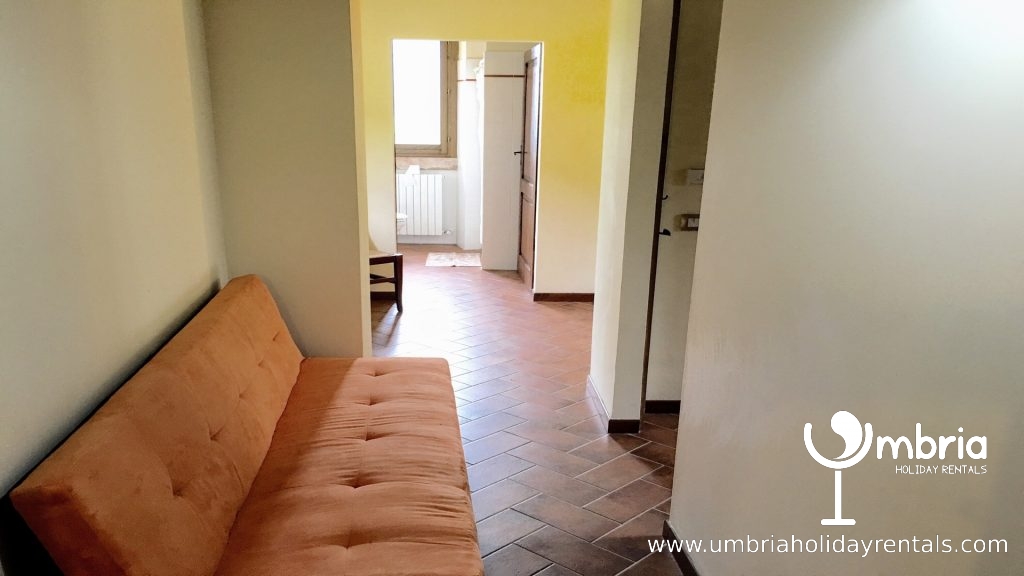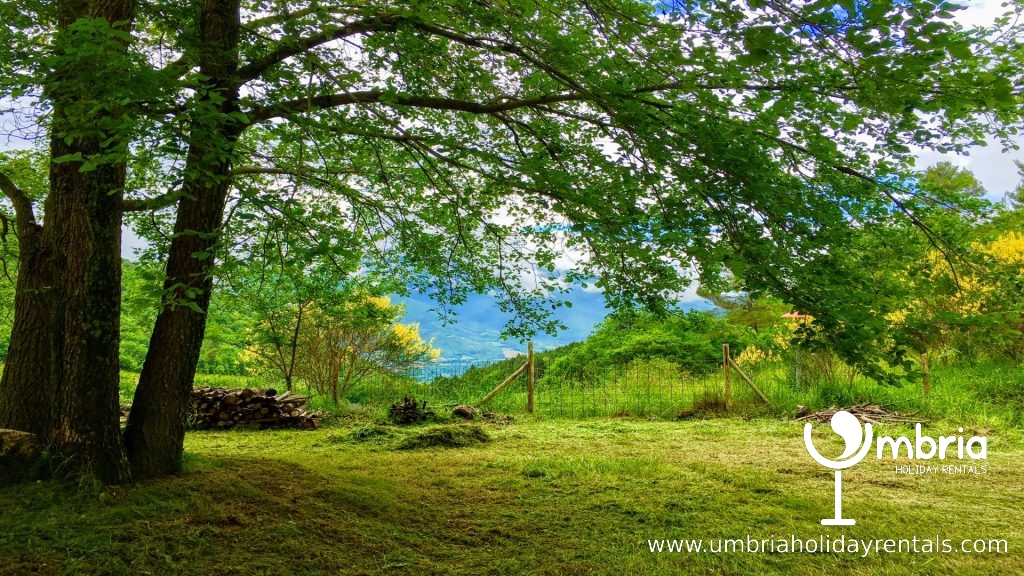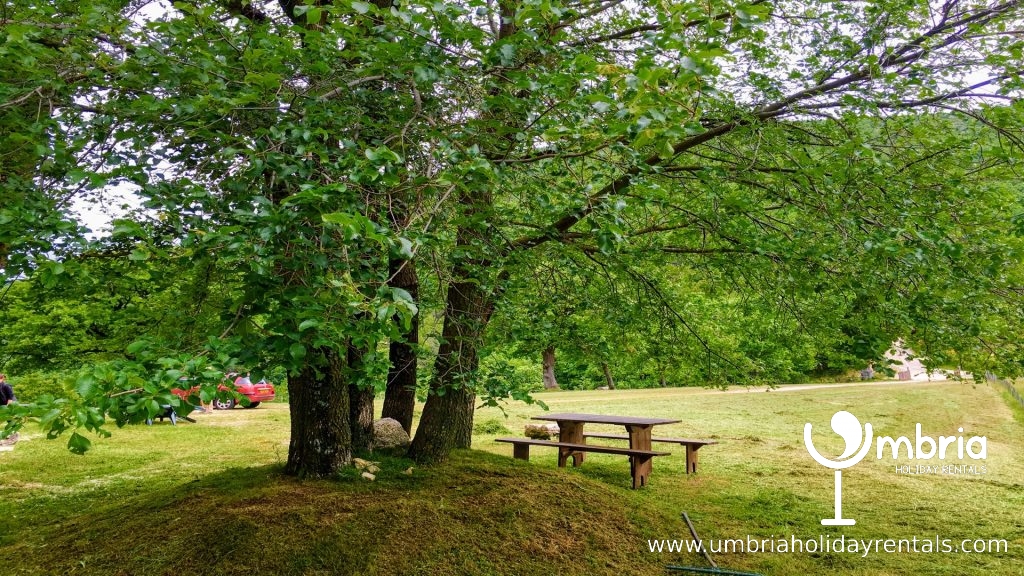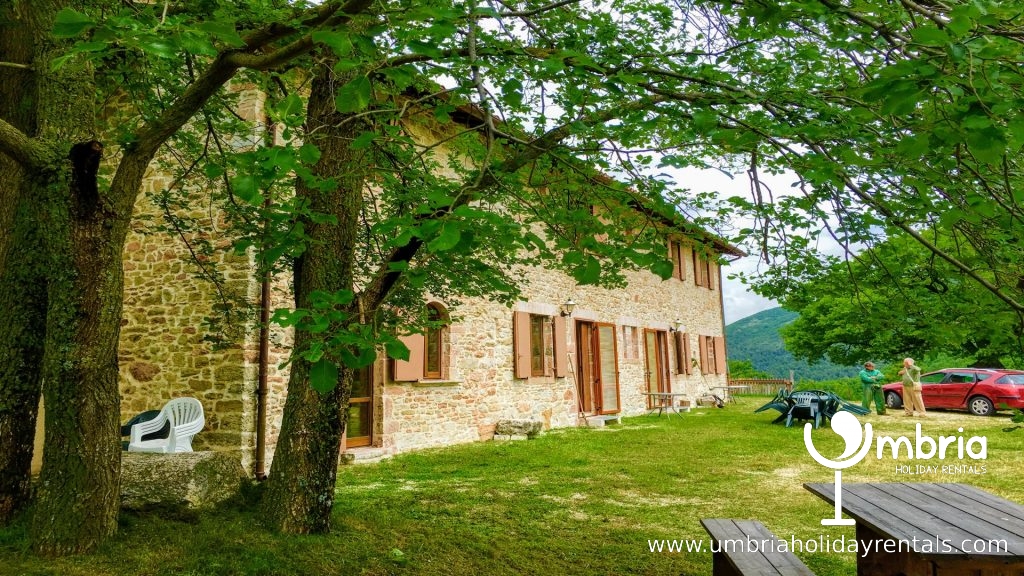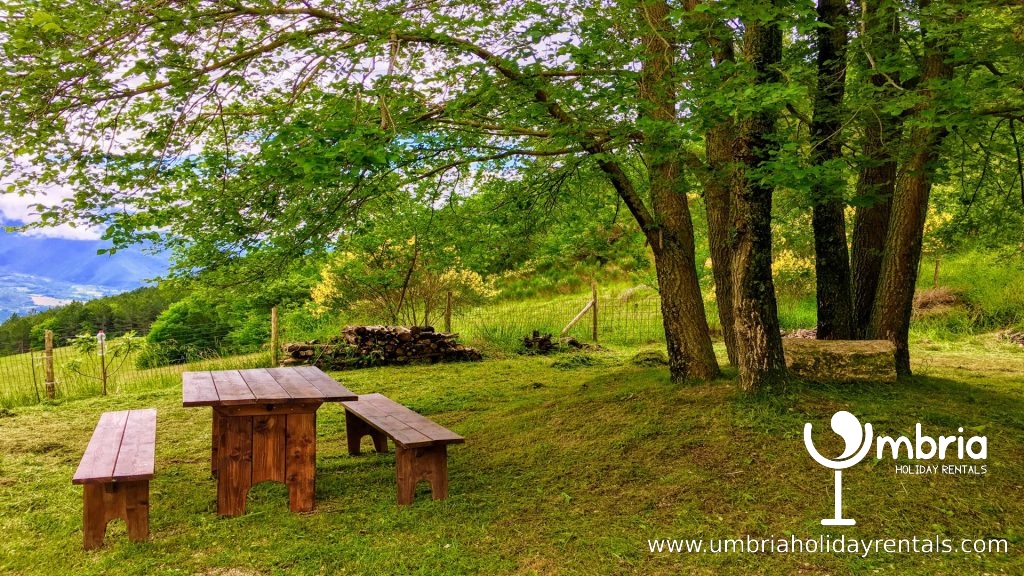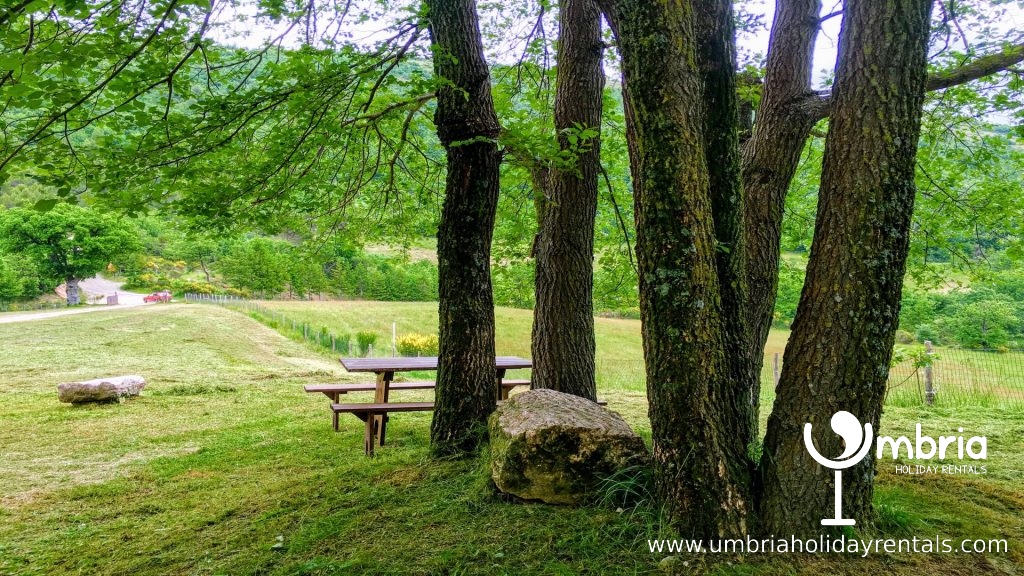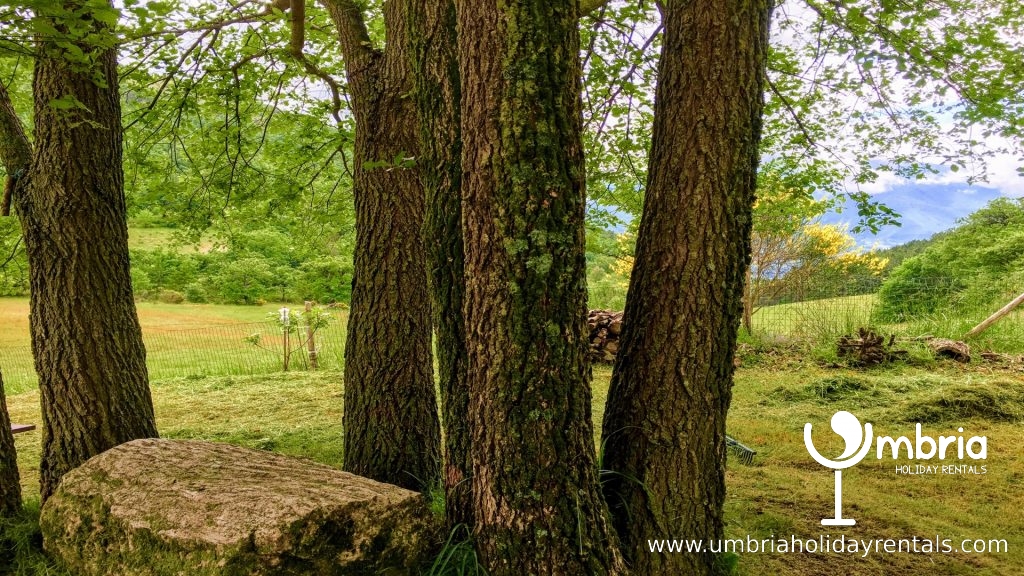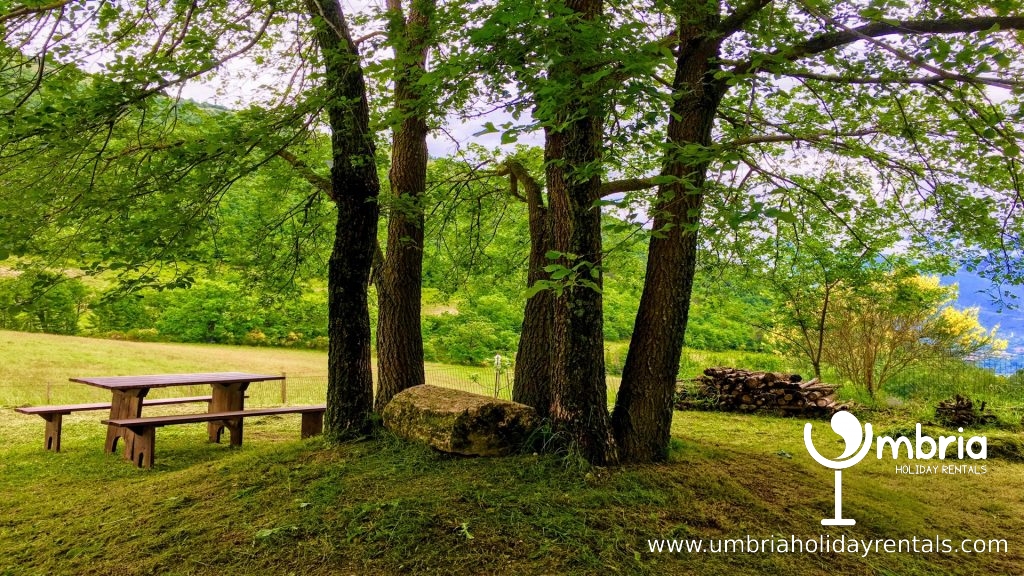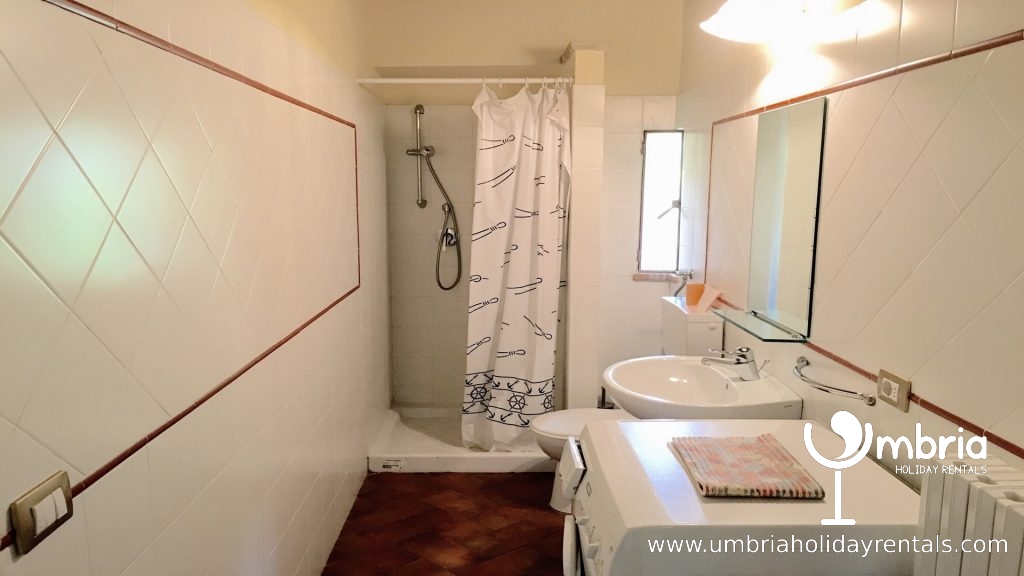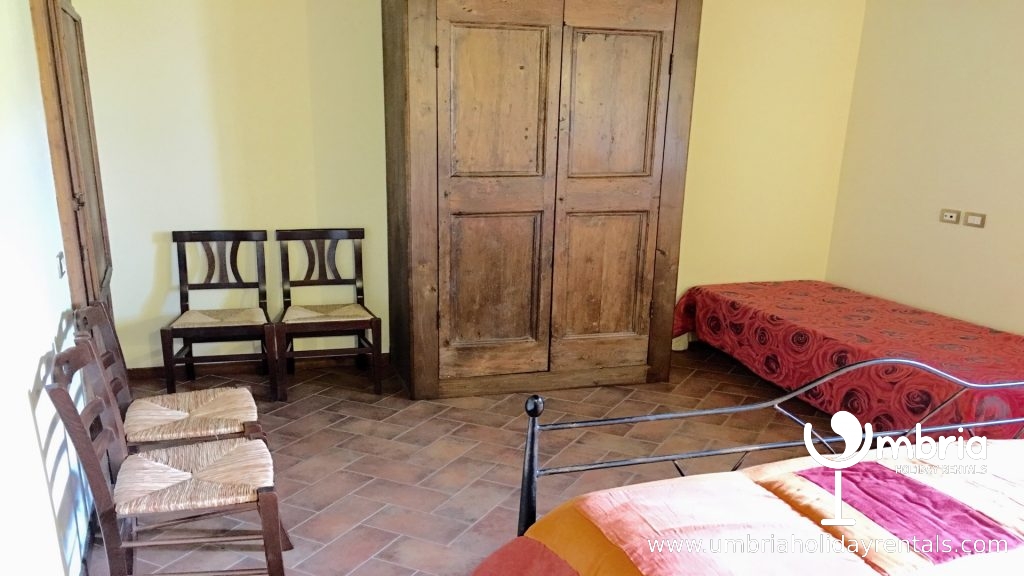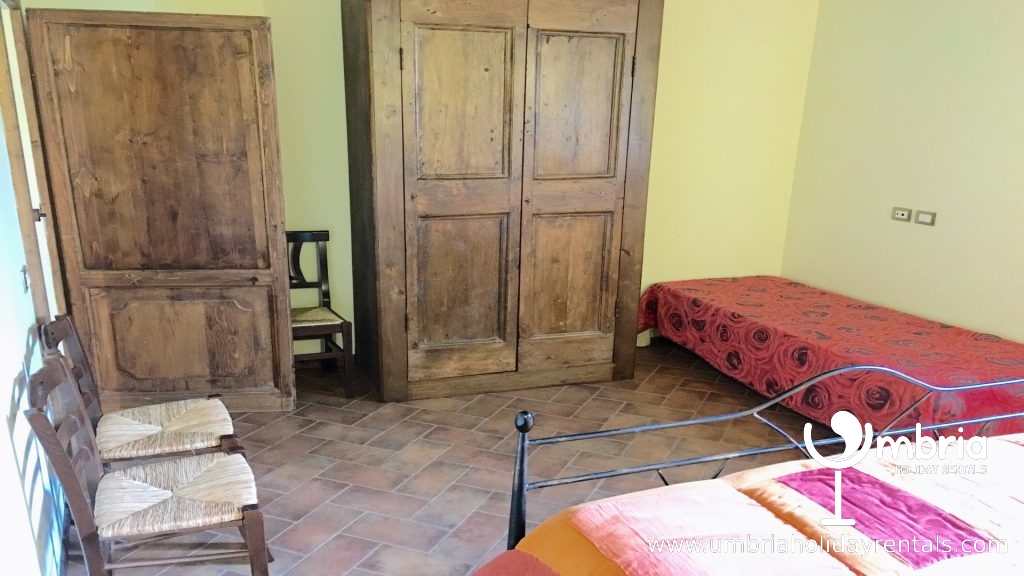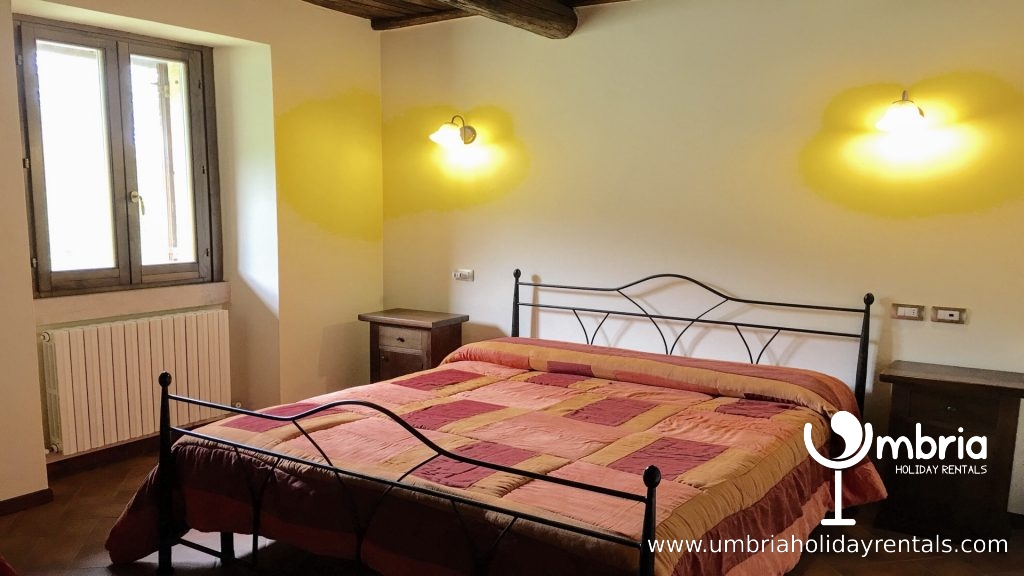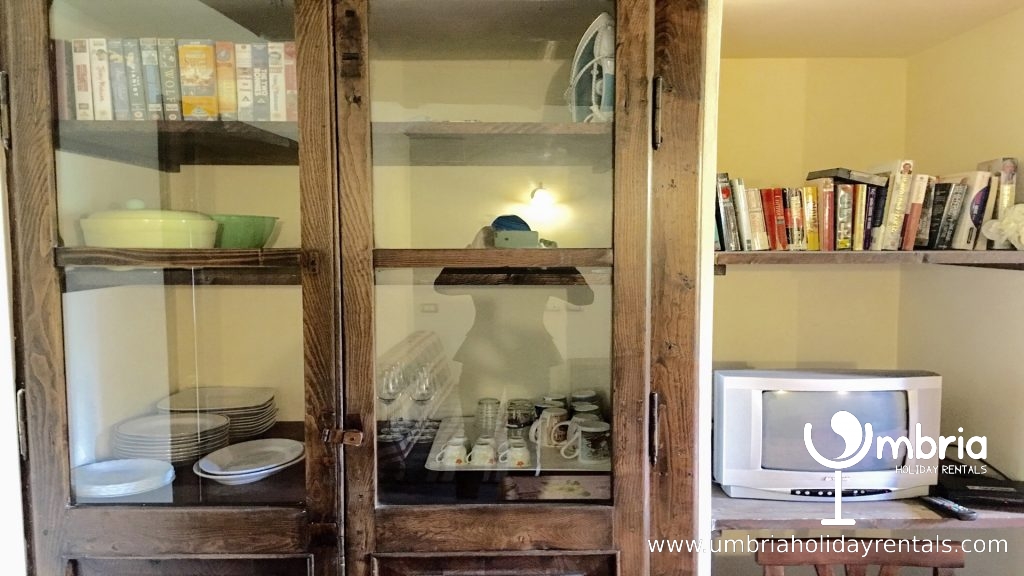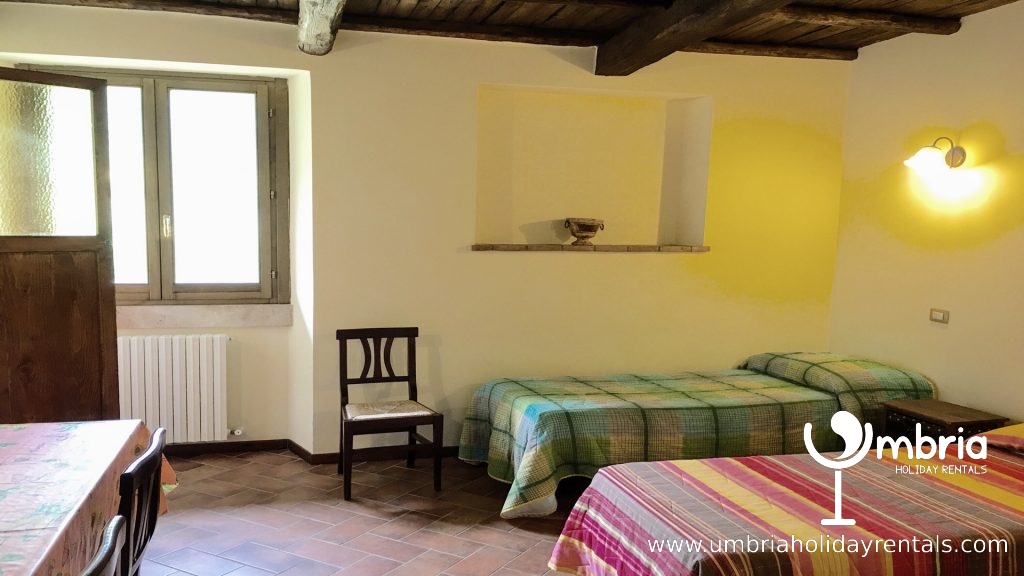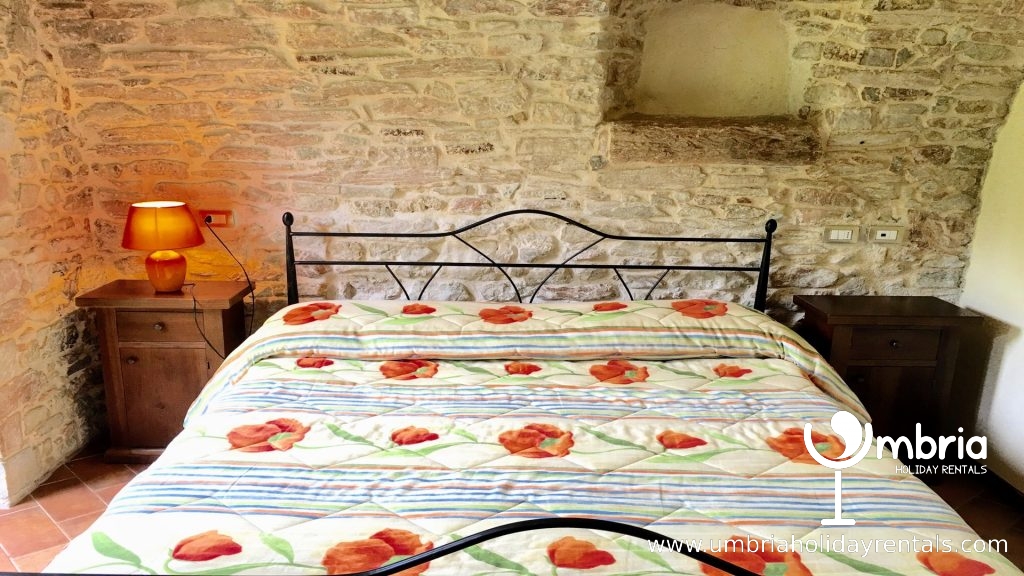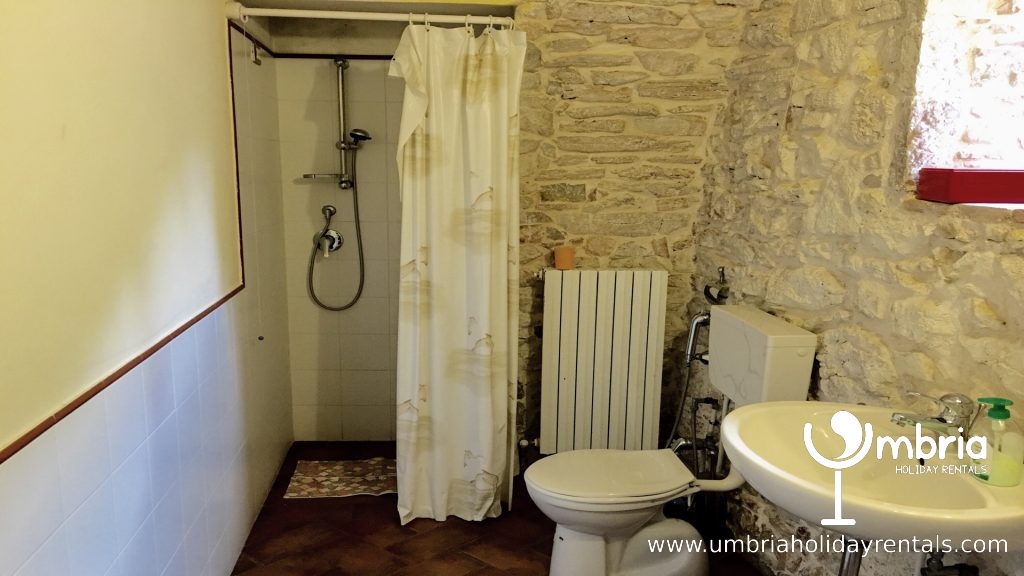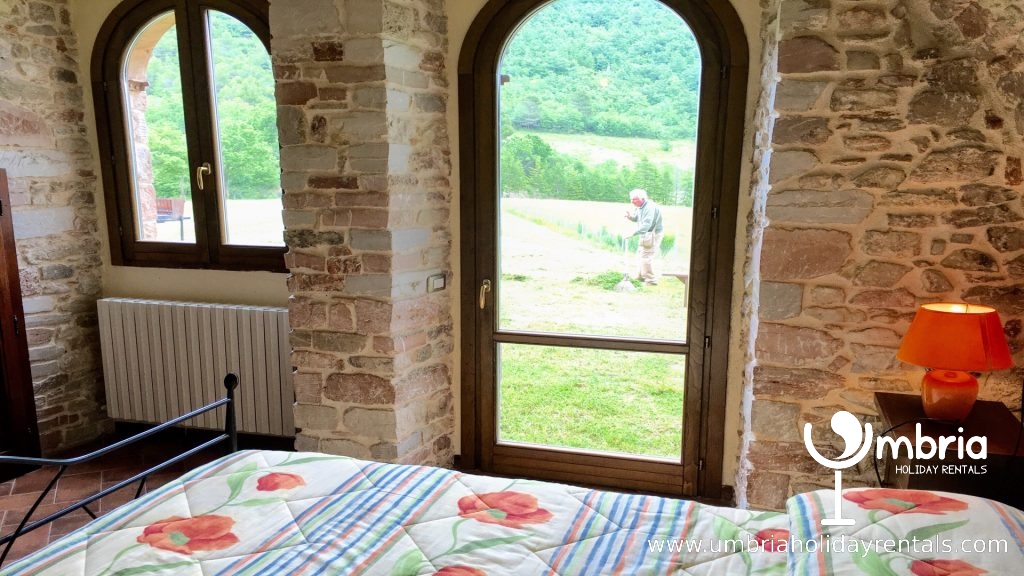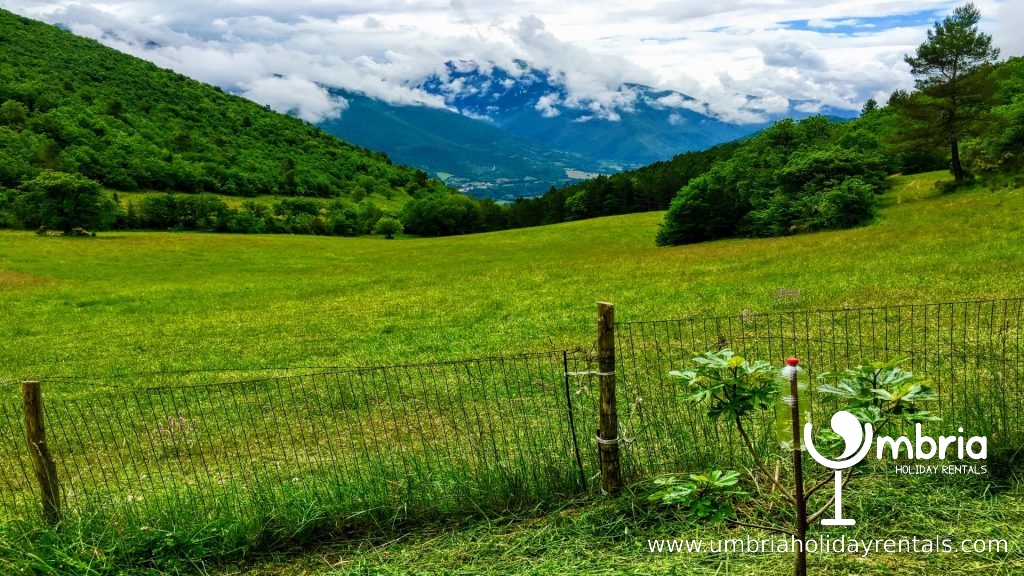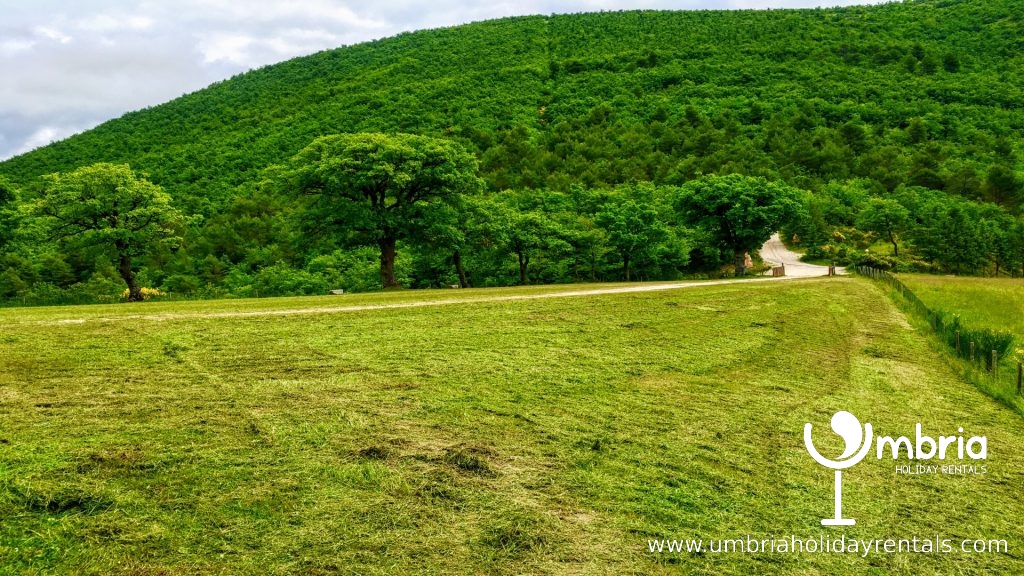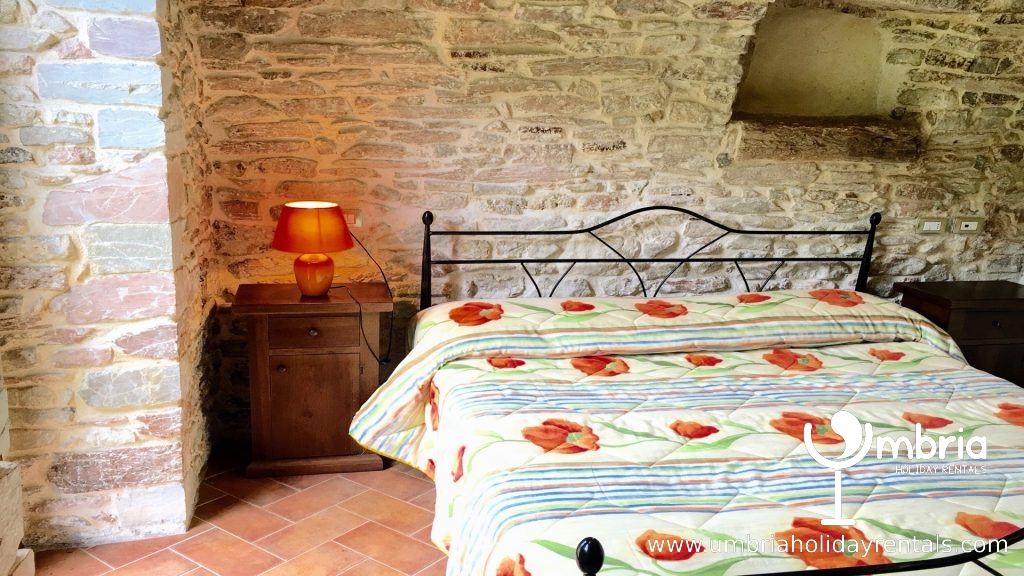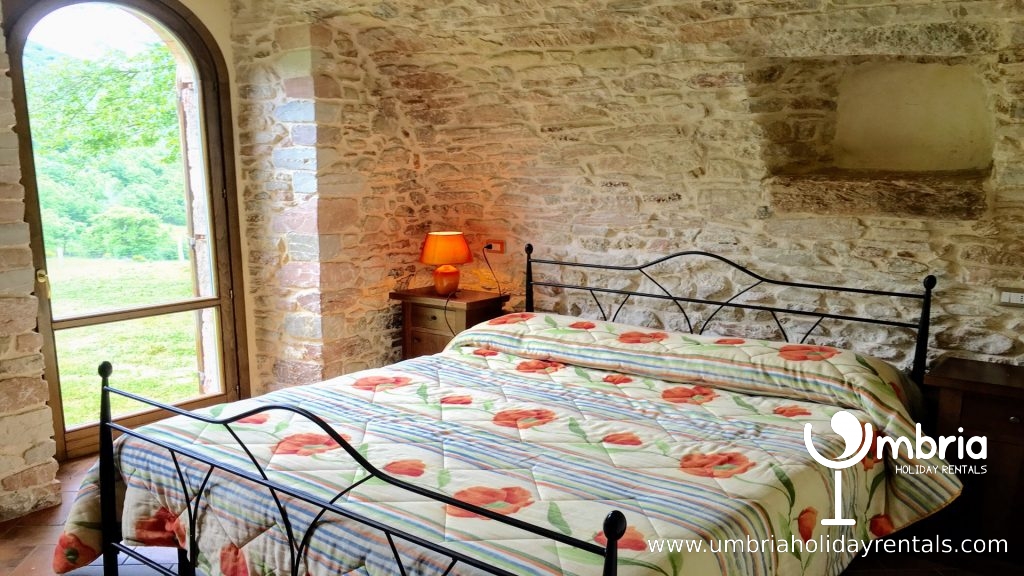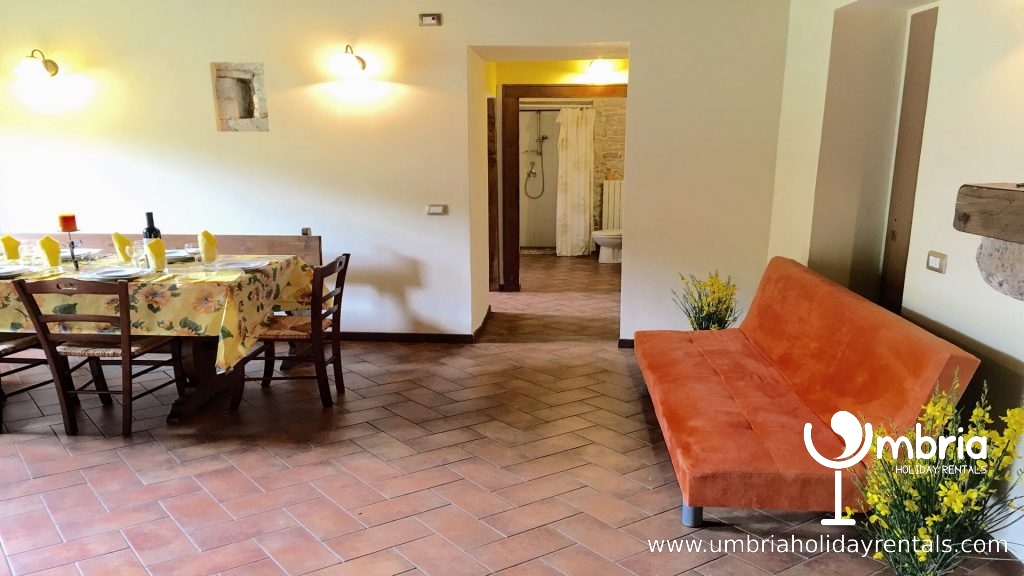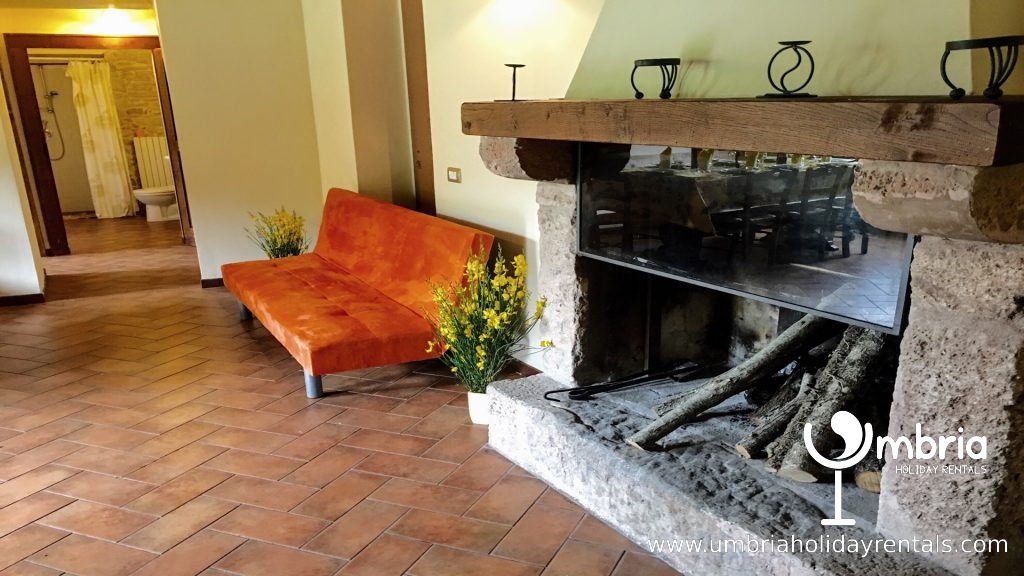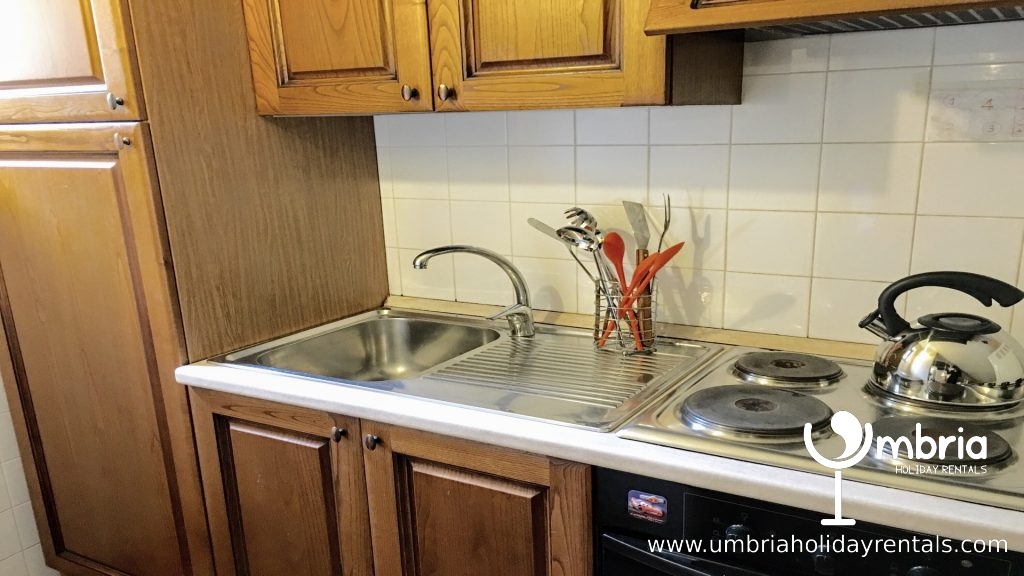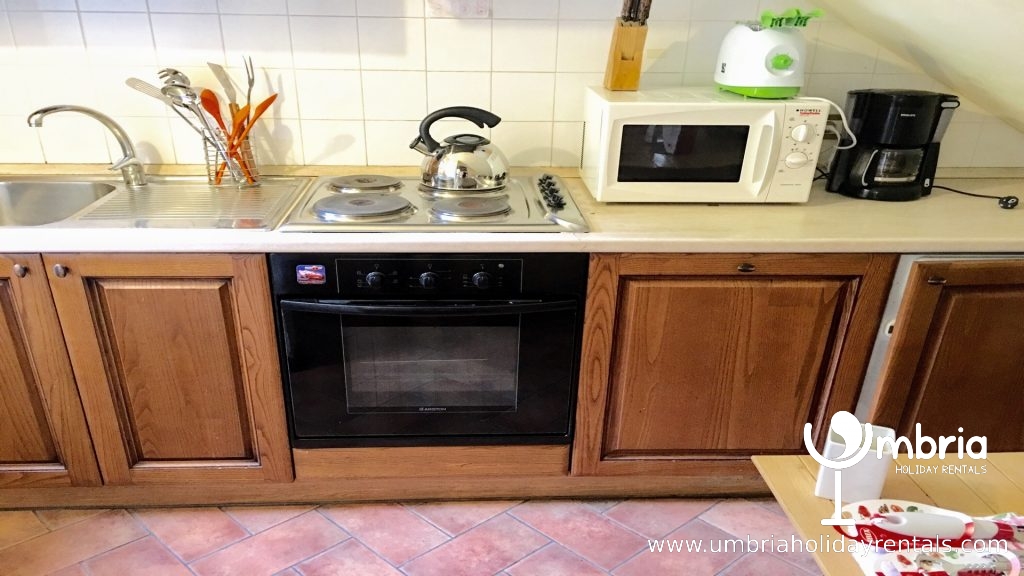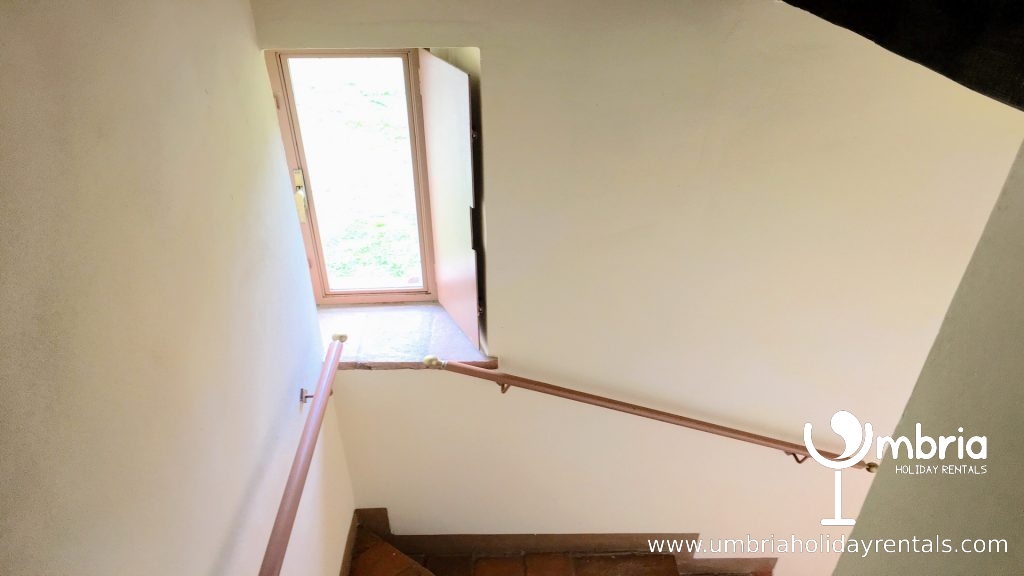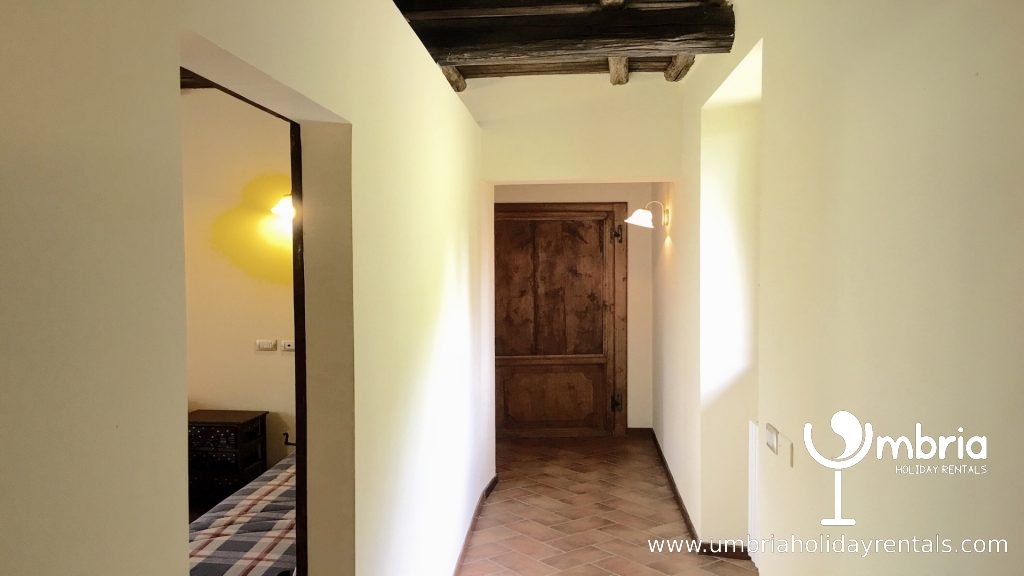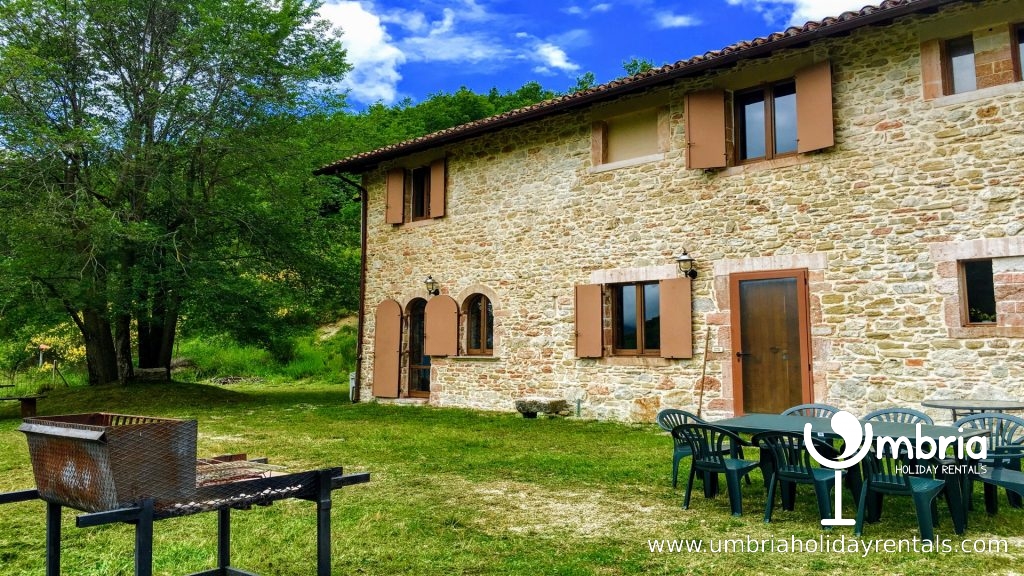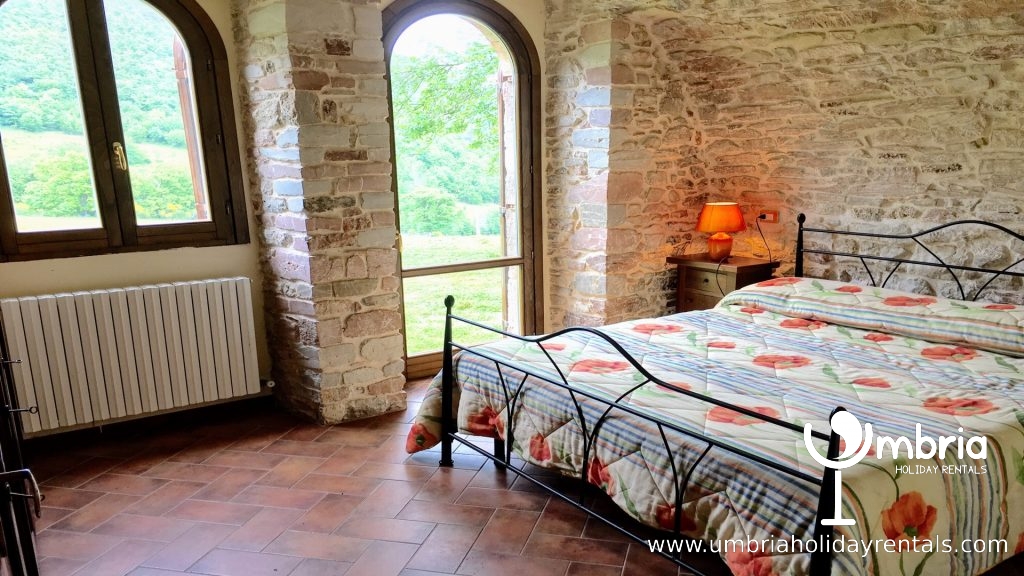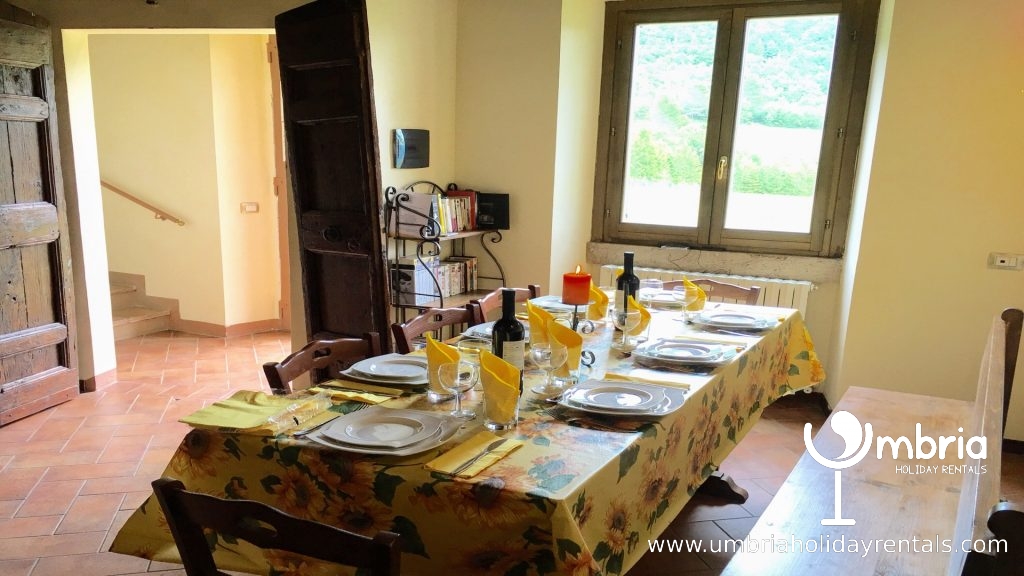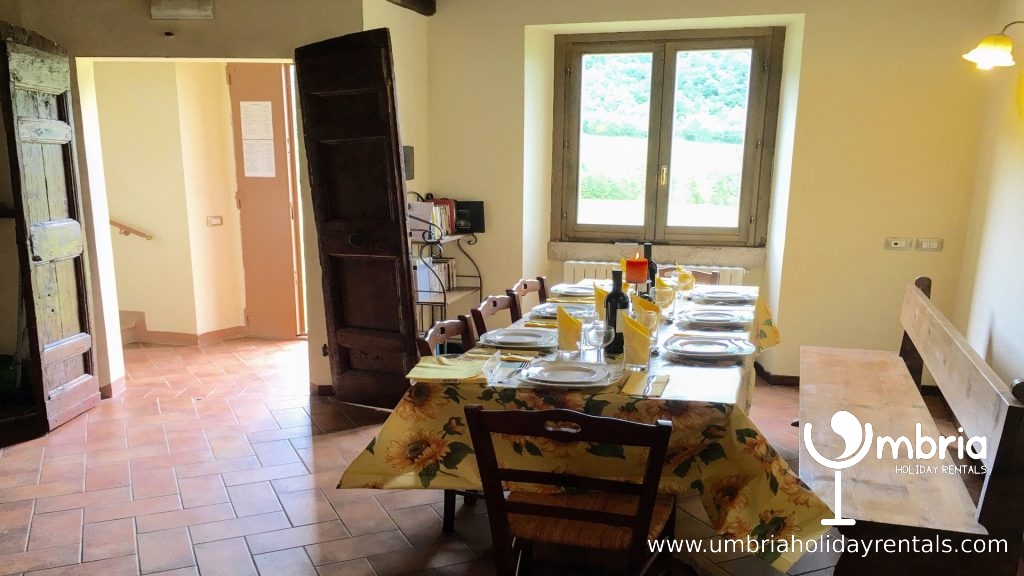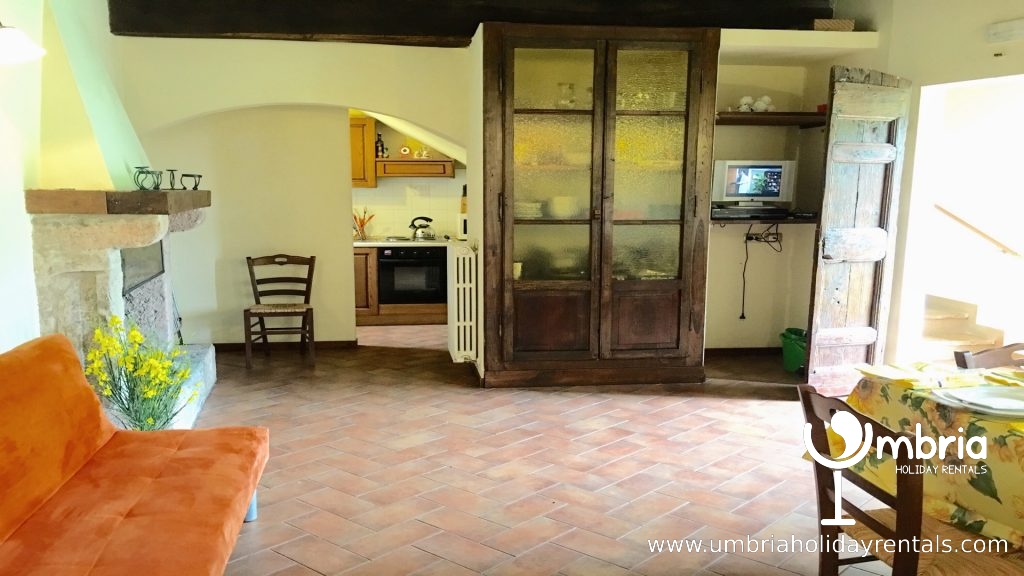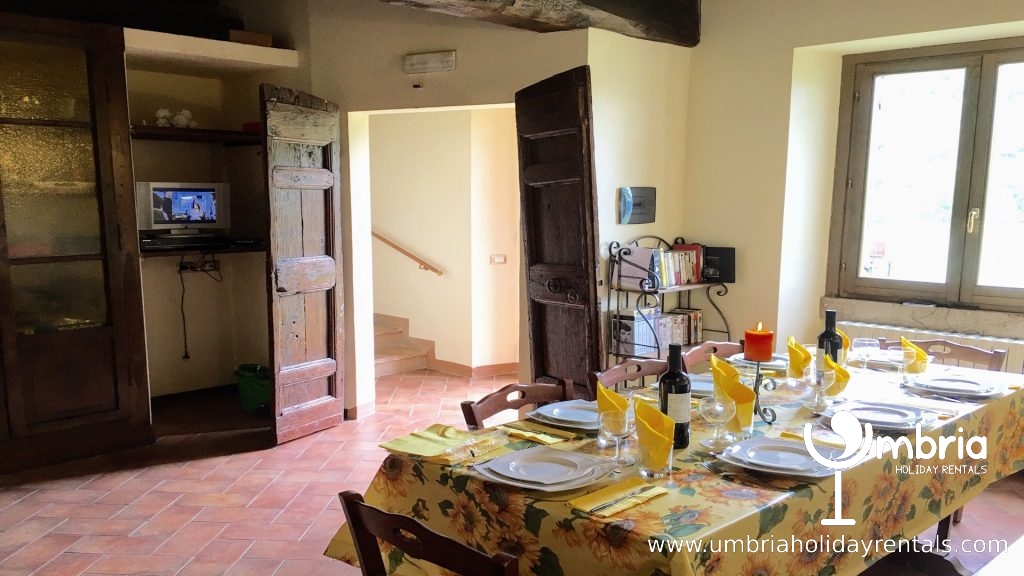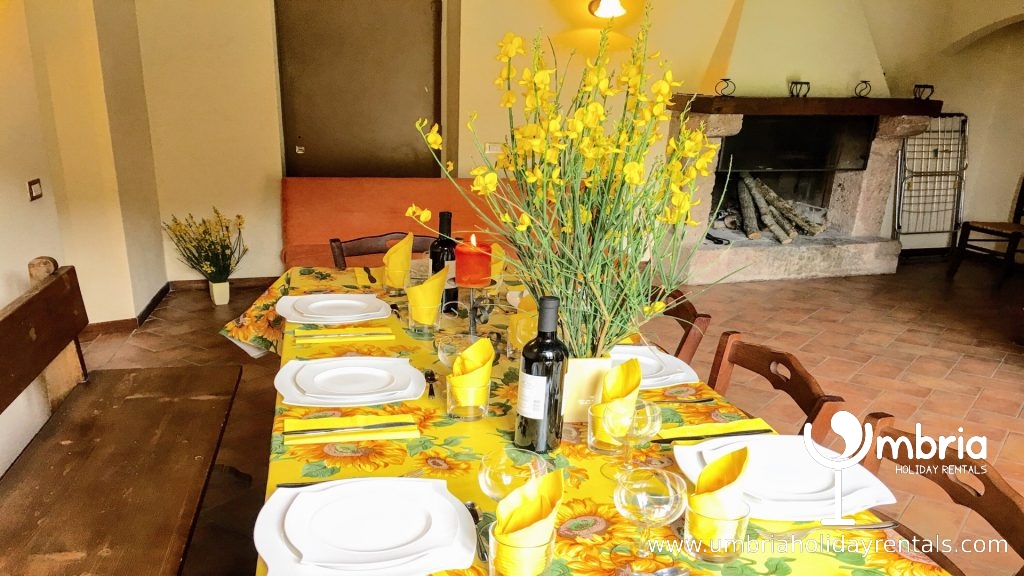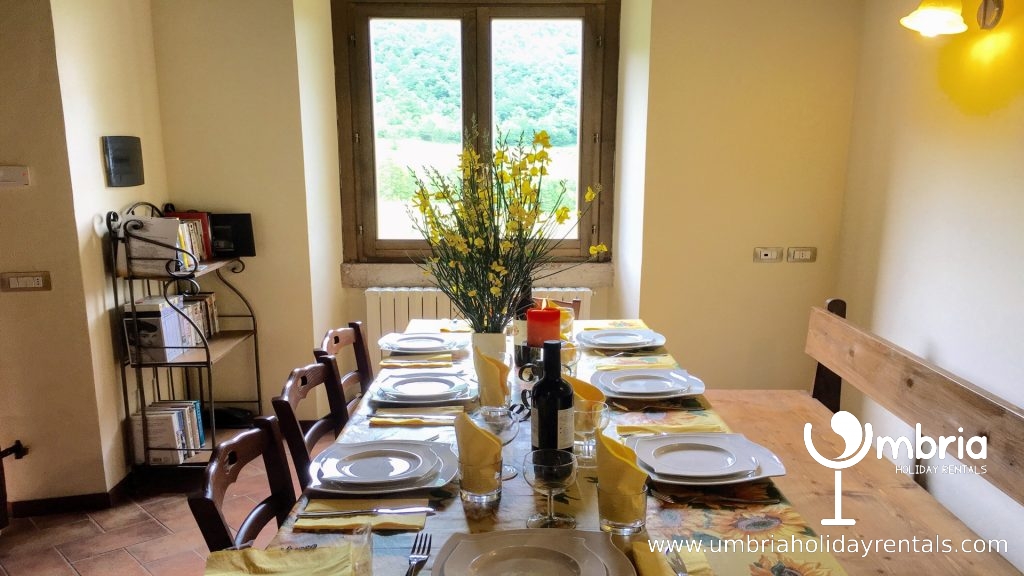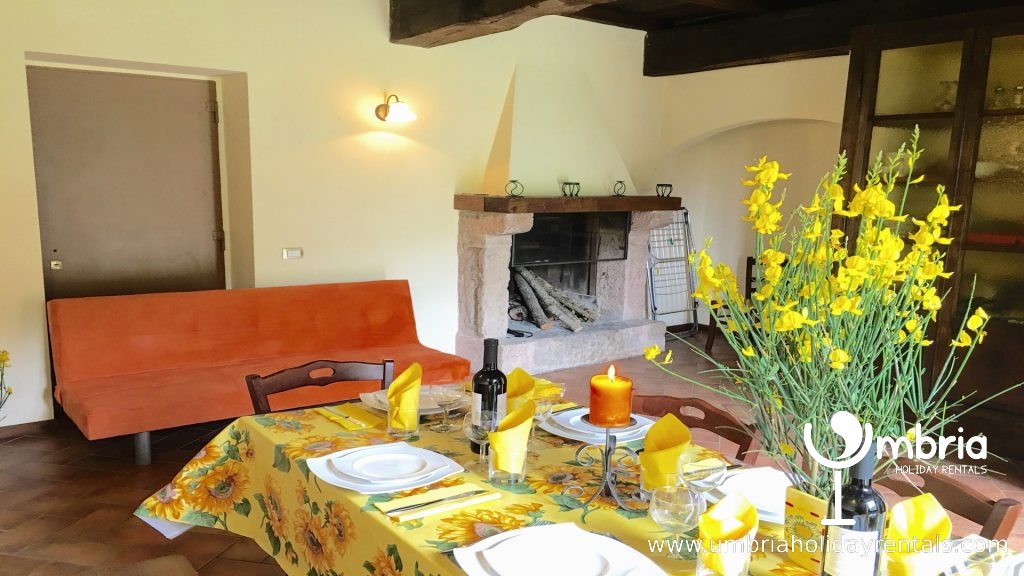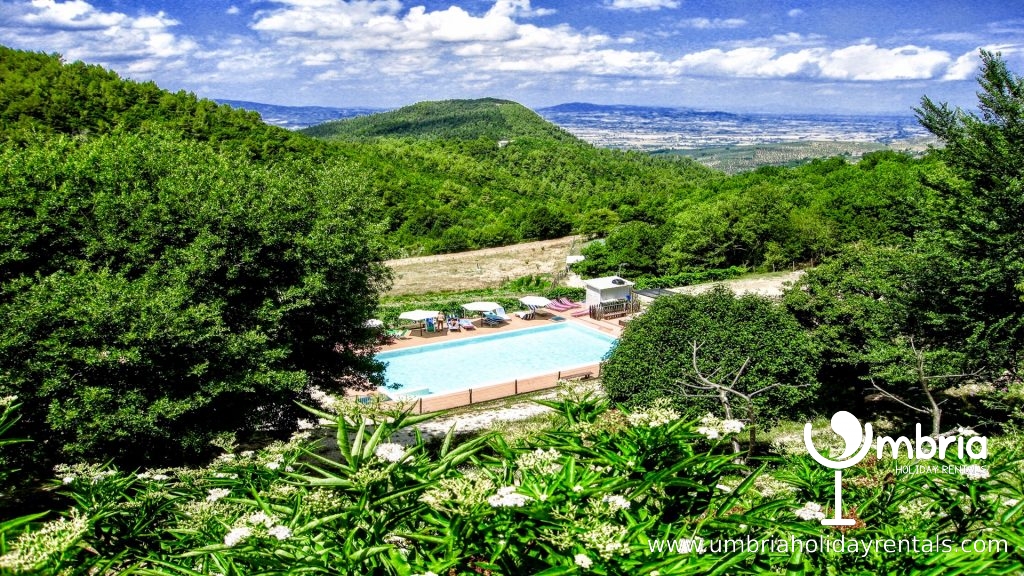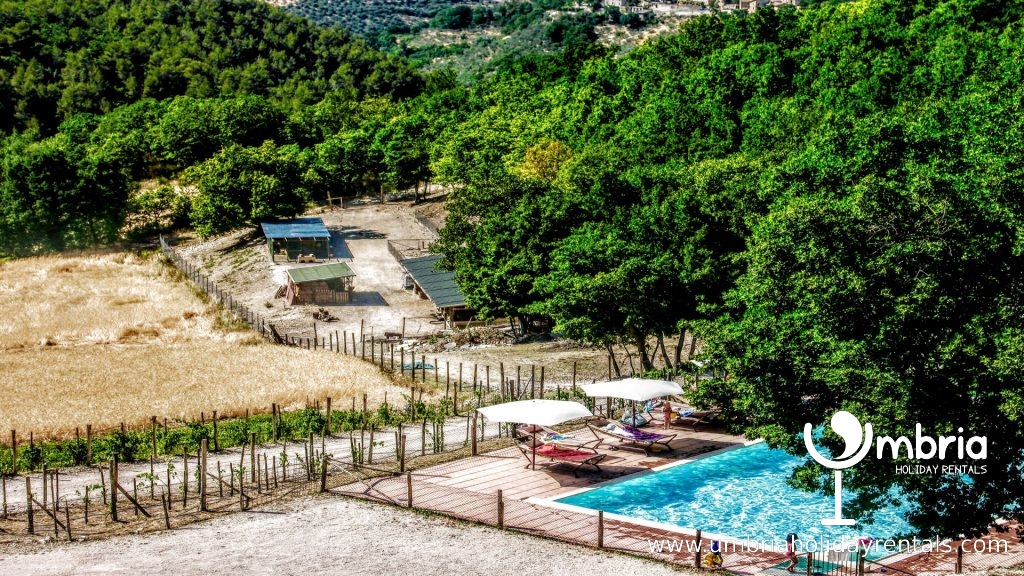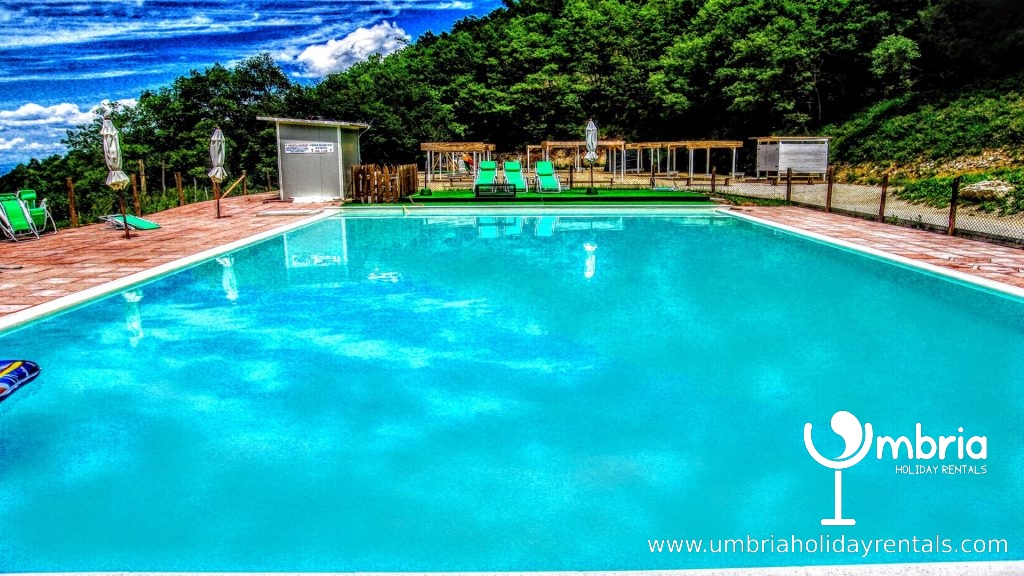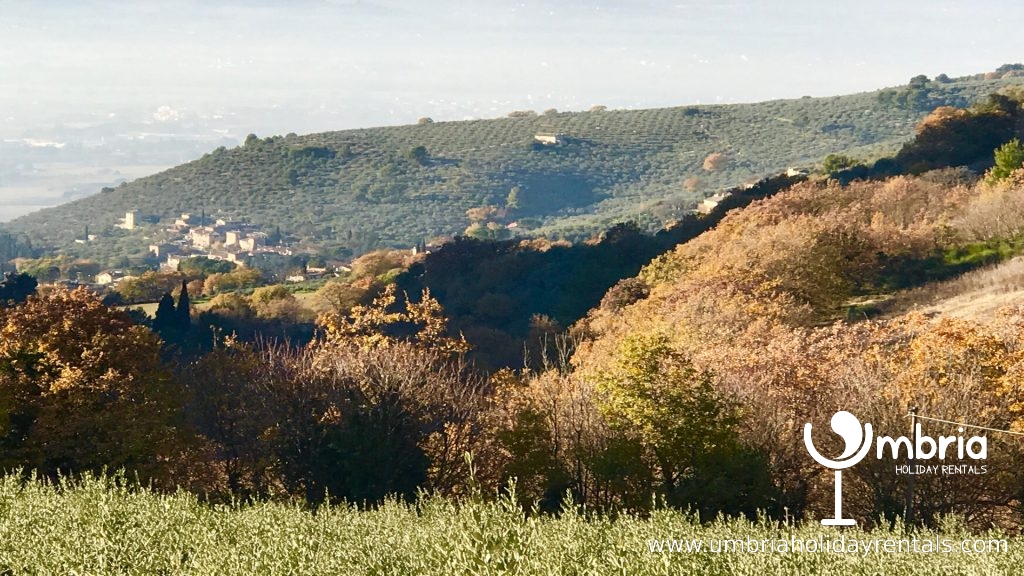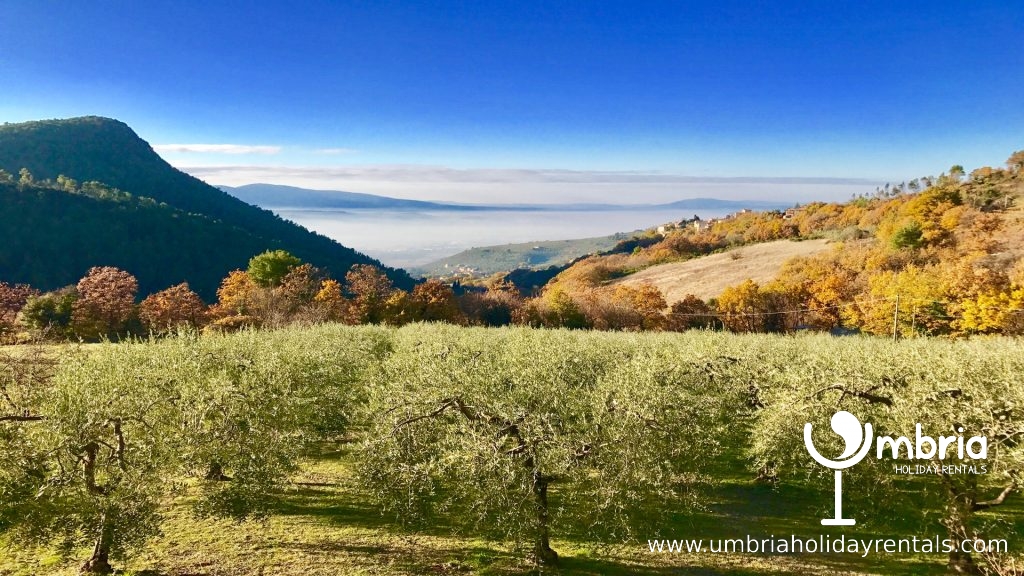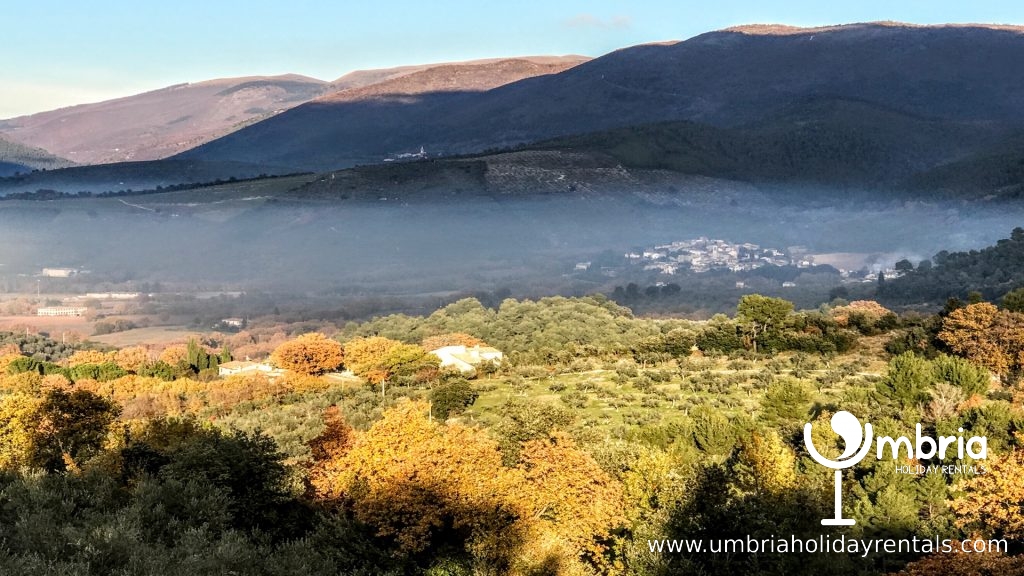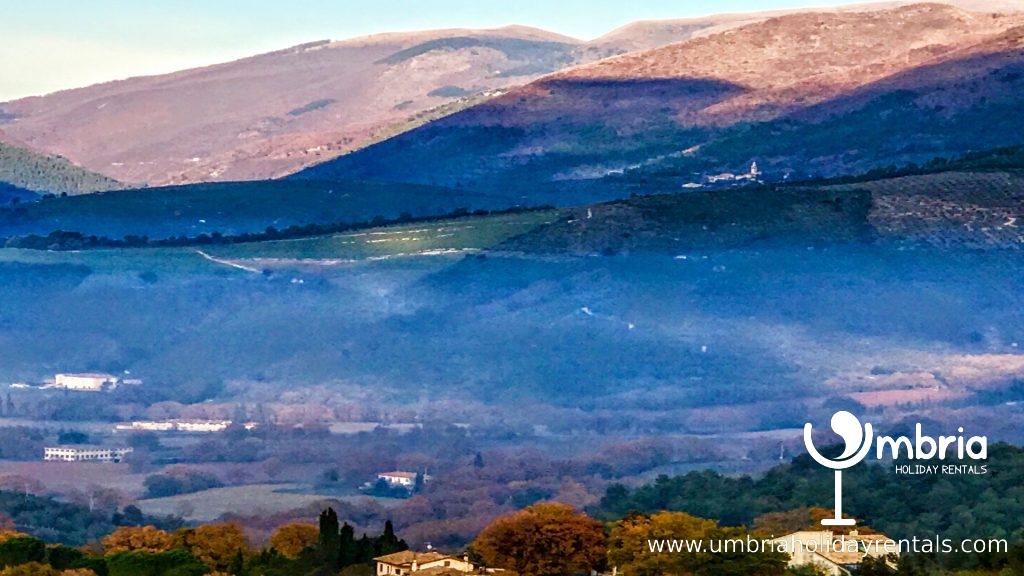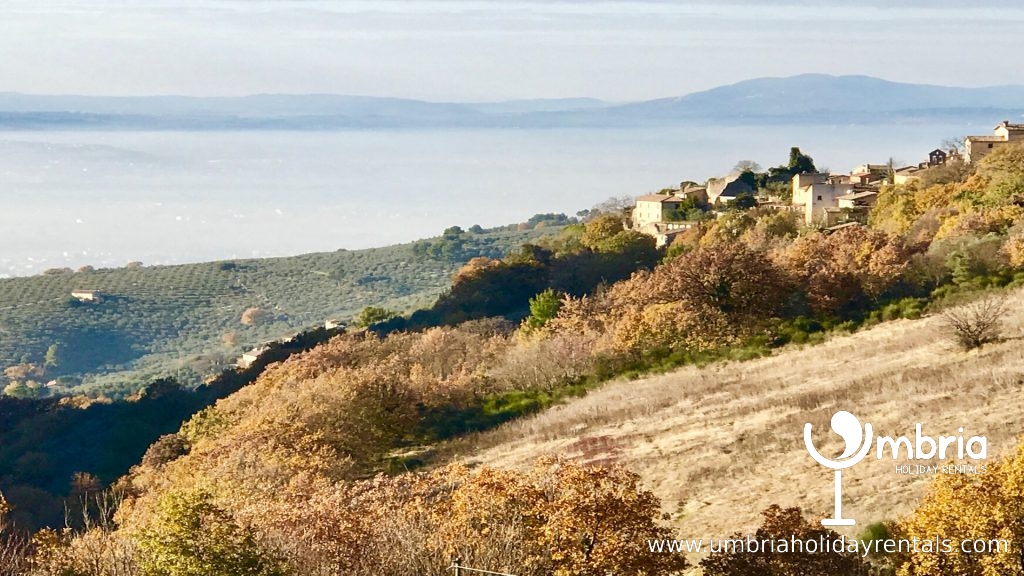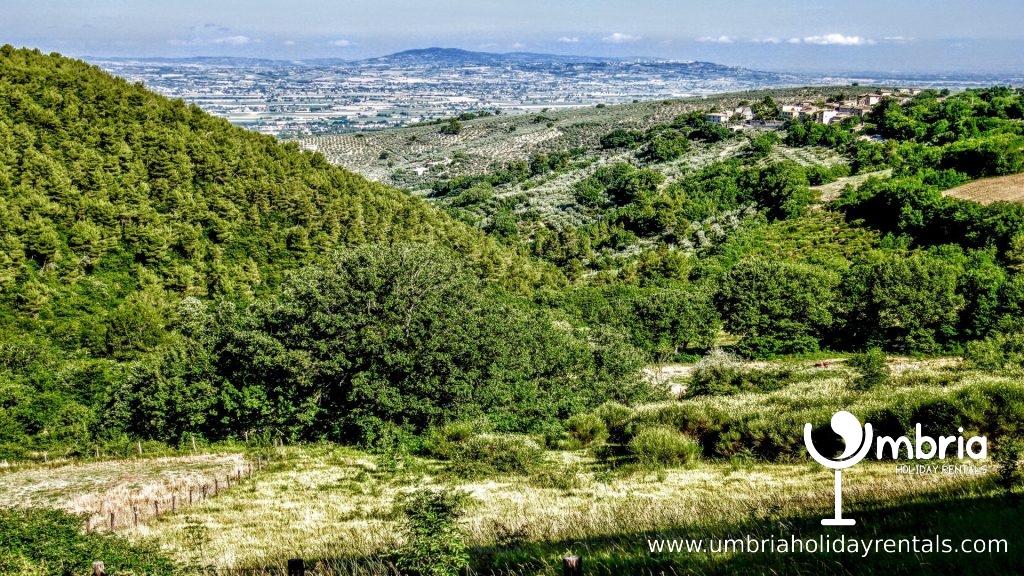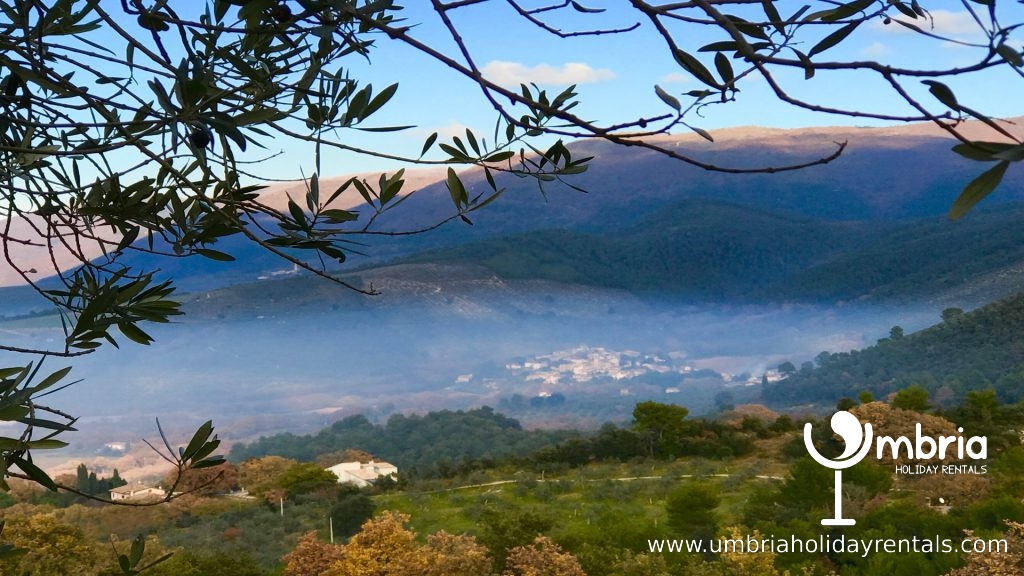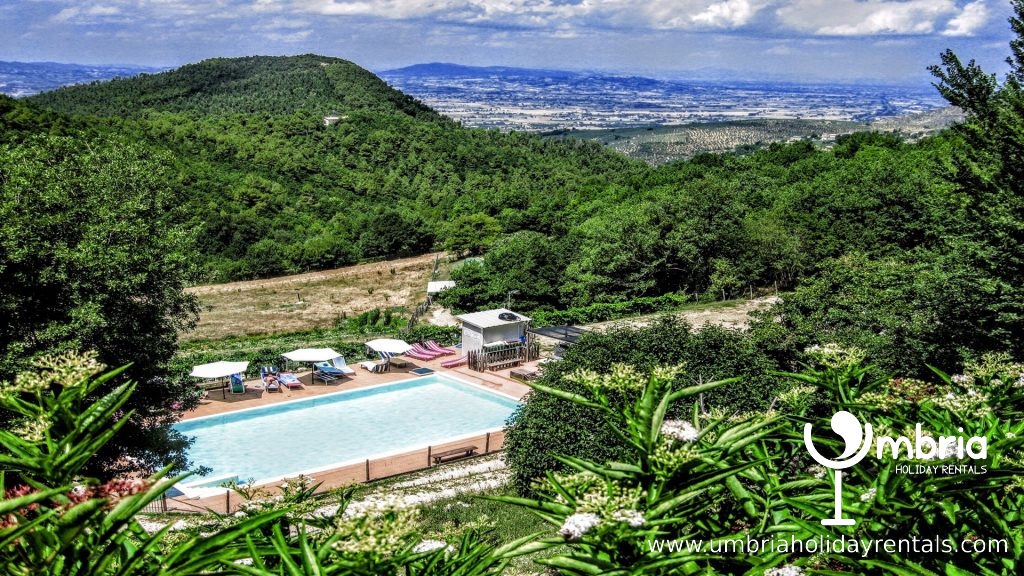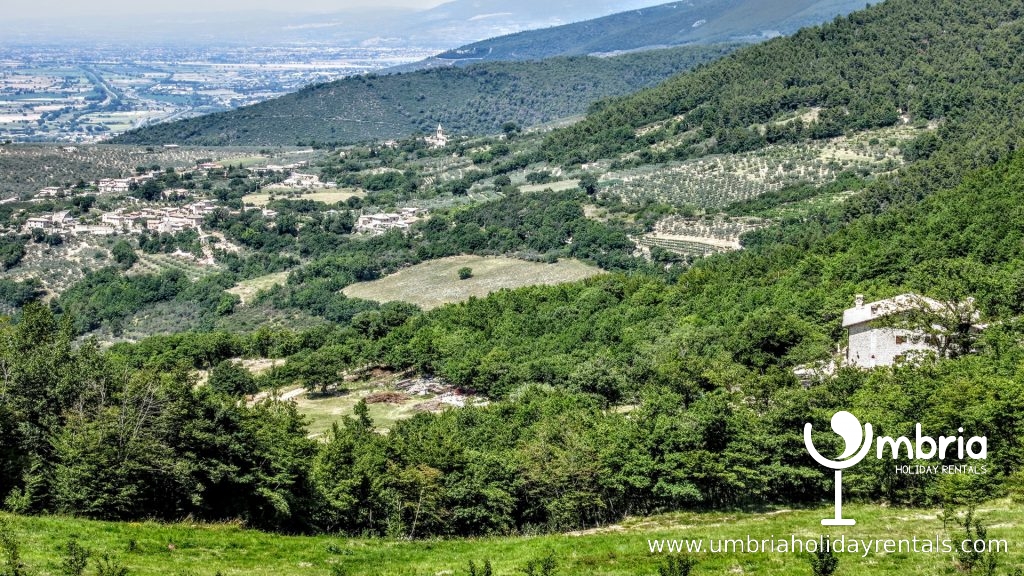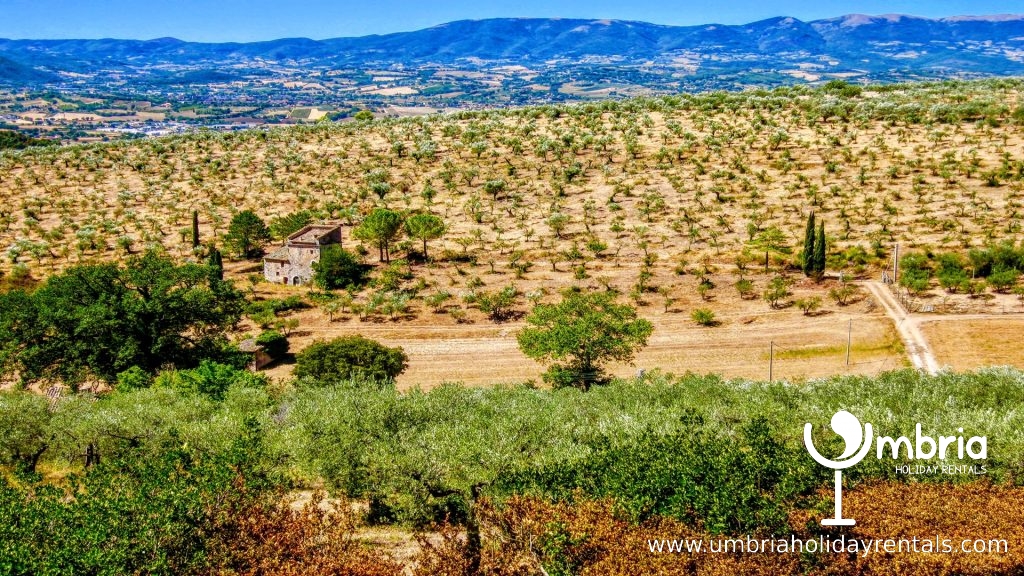 Sleeps:

12

Bedrooms

6

Bathrooms

4

Property type:

Cottage, Country house, House, Villa
Property Description
SUMMARY (note that Vista Del Mondo is wrongly marked on Google – it should be located where the Valico Dei Pellegrini is marked)…..
See reviews at end……
Dish-washer, washing machine, fully fitted kitchen with hob, oven, fridge-freezer etc. WiFi.
SLEEPS 12 PERSONS (can sleep up to 15 persons, if there are several children who can sleep dormitory style – 50 euros/person extra in excess of 12 persons)
Full-time access to 120 sq mt pool, a few minutes walk down the lane – large fabulous 15C stone cottage divided into 2 self-contained, semi-detached halves, each with its own private entrance + staircase – smart/mountain location with stunningly beautiful views.
In total, there are :
6 double/triple bedrooms (4 on the upper floor and 2 on the ground floor),
4 shower rooms (2 on the upper floor – 1 on each side of the house, and, 2 on the ground floor, 1 on each side of the house),
1 fully fitted kitchen + 3 kitchenettes : 2 kitchenettes attached to each of the 2 bedrooms on either side of the upper house, 1 kitchenette in the sitting room, which seats 12, on the ground floor, plus a fully fitted galley kitchen,directly off the dining room, which seats 12, on the ground floor. Note that the photos show small tables, but, for larger parties, we extend the tables,
1 sitting room – seats 12,
1 dining room – seats 12.
NOTE :
We regularly "refresh" our properties and Vista Del Mondo has just been freshly painted. At this point, we often replace furniture. Currently, we are awaiting the delivery of the new sitting room furniture. Hence, there are no photos of it. But, the sitting room is an identical space to the dining room and both have galley kitchens. However, the kitchen attached to the sitting room is only set up for snacks and drinks, whereas the kitchen attached to the dining room is fully equipped to service a group of up to 15 persons. And, the sitting room has lounge furniture, to seat 10 persons.
Both the sitting room and the dining room have a fire-place – wood is included in the rate.
In the summer evenings, our guests often make "camp fires" at the front of the house !
Very tranquil environment
7 miles from central Spoleto, above Bazzano, on the side of Spoleto towards Assisi, so, an excellent location for sight-seeing.
Detached ex hermitage – rate includes 12 persons..
LOCATION : Valico Dei Pellegrini – 7 miles from central Spoleto/car necessary.
Flexible arrival and departure dates.
Vista Del Mondo: Country House consists of 2 self-contained sides, each with an upper floor and a lower floor (each side of house has own staircase joining the upper floor to the lower floor). THE VILLA IS ONLY EVER RENTED AS A WHOLE.
One of the villas's most impressive features is the spectacular location, with sweeping views on either side of its ridge, plus acres of private land. Huge fenced private garden, exclusively for your use.
Just a few minutes down the lane, is our Villa Marianna, where there is Wifi, free of charge, as well as the large pool.
Interior features…
Each side of the house has its own main entrance lobby, opening onto the front gardens. And, each side has its own private stair-case that runs between the upper and the lower floor. This works particularly well for larger groups with children because the children can be safely put to bed on the upper floors, while the parents can continue to "party" downstairs.
Except for 1 of the bedrooms that has curved stone walls and French windows, both sides of the villa are very similar in terms of their interiors and decor and, have beautiful, polished beamed ceilings throughout, fabulously paved floors, immaculately restored, stone walls and large windows to embrace the stunning scenery all around.
On one side of the villa is the kitchen/diner – seats 12, with a fully fitted galley kitchen.
On the other side of the villa is a sitting/dining room – seats 12. Here there is a kitchenette, equipped or light snacks only. Each of the 2 upper floors has a kitchenette, equipped for light snacks only.
A resting place of St Francis…
Vista Del Mondo was originally a hermitage, where it is believed St Francis stayed on his regular pilgrimages between Assisi and Rieti. Centuries later, it was a ruin ! Now, it is an immaculately restored, large, stone cottage, attention having been paid to the tiniest of details. Antique cupboards and doors, riddled with worm-holes, have been carefully and lovingly preserved, restored and polished, the ancient cupboards having been "bastardised" with old glass panes – absolute works of Art. And, absolutely, no worms!
The original old doors seem to hang drunkenly from their frames. At the same time, everything is in perfect working order. You will be amazed at the standards that the excellent crafts men have achieved with these apartments, skills gained after years and years of restoring, churches, monasteries and honed to perfection.
Private pool included in rate, a few minutes walk down the lane……
Just 2 minutes walk down the lane, at Villa Marianna, our large private pool (120 sq mts) is available for your use at any time, free of charge, from May to Sept:
http://www.umbriaholidayrentals.com/site/mountains/item/villa-marianna-pg-13.html
FREE CAR PARKING
Private car-parking in the grounds, next to the villa….
All mod cons, where it matters….
The only concession to modernity with respect to the furniture are the kitchens – all streamlined and fitted with hobs, ovens, microwaves, washing machines and fridges.
Further, the Umbrian kitchen tends to centre around the fire-place. However, non-Italians do not tend to use the fire for cooking anymore! Nonetheless, should the urge to cook on the fire take you, you can use either of the 2 beautifully restored stone fire-places, which are on the ground floor!
Vista Del Mondo marks the highest point of St Francis's journey from Rieti to Assisi..
The grounds open directly onto the common area of the private mountain, offering miles and miles of stunning walks. And, what better place to start with than La Forca, which passes the side of the house and is the oldest pilgrim track in Umbria, ending in one direction in Rieti and in the other in Assisi.
Indeed, Vista Del Mondo, an ex hermitage, marks one of the most ancient religious sites in Umbria. A plaque, erected to signify this spot and tell a little of its history, was presented by the Mayor of Spoleto and, at the same time, a holy stone, placed at the spot, was blessed by the Bishop of Spoleto in a commemoration ceremony in October, 2008, attended also by the Mayor of Spoleto, all the dignitaries, the Press….and us.
Spectacular location !
The soft breezes, the rustle of trees and bird-song make up the music of this mountain top retreat.
On top of its own private mountain, above the clouds, immersed in deep blue skies, mountains above and below, rolling pastures all around and the most stunning walks that go on for ever and ever?
It is for this reason that film-makers flock here for inspiration. However, Vista Del Mondo differs from most other rental properties in similar locations insofar as it sits atop its own private mountain, at the end of a good road. So, no struggling on stony roads strewn with boulders, in constant fear of a punctured tyre and insufficient lingo to summon the local mechanic for help, should the worst occur!
For those with mobility problems, the immediate terrain around Vista Del Mondo, and the pool at Villa Marianna, is flat. However, venture further afield and the terrain is rugged.
In search of a spiritual experience?
Staying in Vista Del Mondo is to stay in a magical, mystical place, absolutely teeming with memories and stories of love and devotion to God. Whether or not you are a believer, you cannot fail to be moved by the atmosphere of this most wondrous of places that is, seemingly, on top of the world.
Surrounded by the most spectacular of landscapes, steeped in history, you will follow in the footsteps of the pilgrims, who have trodden these paths since time began as they journeyed from 1 holy city to the next, stopping to pray at every shrine along the way.
At at the gate-way of Vista Del Mondo, marked by a huge, holy stone, is the famous point of Valico dei Pellegrini ie the highest point that St Francis and the pilgrims reached on their journey between Assisi and Rieti. This "St Francis" trail is 70 miles long and is the most ancient religious trail in Umbria. Indeed, there are many, many marked pilgrim tracks that lead for miles, criss-crossing each other over the mountains that seem to go on forever. Fantastic, if you enjoy rambling or hiking!
Easy access to all the Umbrian "hot spots"…
Vista Del Mondo is above a small village called Bazzano Superiore, one of the most sought after villages to live in outside of Spoleto. Paradoxically, however, although Vista Del Mondo is much higher than Bazzano Superiore, it is quicker to get everywhere from Vista Del Mondo, simply because of the good road that comes to the gateway of the long drive that leads to your front door.
Furthermore, this same road leads directly to all the Umbrian "hot-spots". You could be driving on the Valnerina within 20 minutes, from where you can easily go to Norcia and the Gran Piano or to the Adriatic, passing a myriad of hill-top towns on the way. Or, in the opposite direction, you could be in central Spoleto in 20 minutes. Rome is a mere 1 hour and 20 minutes by train from Spoleto. Further, it is a mere hop, skip and a jump to Assisi, Perugia, Orvieto, Spello, Gubbio, Todi, Trevi, Montefalco and Bevagna.
Whichever way you choose to go, Assisi, Perugia, Orvieto, Trevi, Foligno…. are all well within a 45 minutes drive. And, the territory that you pass through is mind-blowingly beautiful. After all, the Umbrian countryside is what dreams are made of.
Brief description of Spoleto, 7 miles away….
A 20 minutes drive from Spoleto historic centre, on a good road that winds its way up through the most heavenly scenery, leaving the tiny fairy-tale city sprawled below, fringed by its mountains and a scattering of olive groves and ends up as a private road, ensuring the utmost privacy.
Spoleto is akin to a giant, fairy-tale castle. Sprinkled with bars, restaurants and shops, peppered with piazzas, Spoleto sits magestically amidst a maze of tunnelled, cobbled lanes and alley-ways, all leading skywards to the famous Rocca, the aquaduct and, some of the best views in the world. A surreal setting, a stage-set in the making, fringed by mountains, olive groves, vineyards, mediaeval monasteries, towns, cities and tiny hill-top villages – all beckoning a visit, Spoleto is truly a temptress. Succumb to her beauty and you must use all your will-power to leave. Quite simply, Spoleto is the most captivating city in Italy, never mind Umbria, Venice and Florence, being on a par.
Venice has the water. Florence has the Uffici. Spoleto has the mountains. All three have a history to be reckoned with. All three bedazzle us with their rich cultures, their European, aristocratic connections and their sheer beauty. But, Spoleto has the upper hand for the world traveller. It resists tourism with its associated inflated rates and tacky goods on sale ! You are invited to visit Spoleto, but, not as a tourist. You will be welcomed like a long lost member of the family ! Treated like a king. And, you will pay the same rates as all the locals, especially when you pay attention to all our recommended restaurants, bars and gelaterias.
Read more about Spoleto by clicking on or pasting into your browser :
http://www.umbriaholidayrentals.com/general-information/spoleto.html

REVIEWS…..
From Homeaway/VRBO
| | |
| --- | --- |
| Review #15797931 "16C Posto Del Sole + 16C Vista Del Mondo, sleep 12, 7.5 miles to Spoleto Centre " | |
| | |
| --- | --- |
| Amazing views and warm welcome | |
| | |
| --- | --- |
| Excellent accomadation, the views are out of this world. Nearby to many tourist areas but away from it all. Welcome pack supplied is generous and contains every need. Communications are very good any little problem or questions is dealt with quickly. Thank you Norma Laurie and Joanna for an excellent holiday which will be remembered by all. We will definitely be back xx | |
………………………………………………………………………………..
| | |
| --- | --- |
| Review #16C Vista Del Mondo, sleep 12, 7.5 miles to Spoleto Centre " | |
| | |
| --- | --- |
| We booked Vista del Mondo for a 12 day Umbrian getaway with 4 of our married children and their families of teenagers. It was perfect. Plenty of room and much flexibility for cousins to change sleeping arrangements every night in order to better "hang out" with their cousins. We cooked breakfast and supper in most nights…well equipped kitchen, plenty of dishes AND DISHWASHER!!!! washing machines kept us in clean clothes and light luggage. Spoleto is wonderful and is also the perfect base for visiting Assisi, Norcia, Cascia, Gubbip, Montefalco, Spello, Lake Trasimeno, Orvieto,Perugia and many other magical places in Umbria.We have stayed at Norma and Lauries properties several other times so were not surprised at a the warm welcome (including wine,pasta,and a big bag of supplies to get us going). They can answer any question or request, within minutes. If you are considering an Umbrian holiday with family or a group of friends, consider this property. It was a bargain considering number of guests it can accommodate and the meal and laundry facilities. Can't wait to return. Next time with a group of adults…love teenagers, but now I need a vacation from my vacation. | |
HOMEAWAY/VRBO
……………………………………………………………………………………………………………………………….
09/20/16 at 10:33 PM
Dear Norma and Laurie,
I would like thank all of your team for the warm hospitality and the good arrangement for all the rooms fully compliant with my request and expectance.
Just some minor remark to improve the home suitability:
There is a warm water shortage in the washbasin at the first floor (left side)
There is a lack of saucepans
Any clothes stand available in the house
Nevertheless we appreciated our stay in Bazzano and I hope to come back to you before Christmas to book again for next year.
Finally you find here attached a photo regarding the little damage occurred to the kitchen top due to the hot coffee machine leant foolishly on it.
Sorry for this fault.
Looking forward to meet you again I wish you a nice fall and a good stay in Umbria.
Gianni
………………………………………………………………..
FROM : hugh@aquaviewab.com
Why would ANYONE go to NYC in July when they can be in Umbria!
Here's the review I posted on TA and I think I posted on HomeAway (but not sure if I succeeded!!).
Ciao, Hugh
35 people for 1-week rental – A Complete success, starring Leonardo, Norma, Ioana, and Laurie
I was hunting for the right place to host 35 people from around the world for 60th birthday gathering for my wife and I. We've been to Italy dozens of times but had only been to Umbria once or twice before. I found Villa Marianna, Vista Del Mondo and Norma on internet and got in contact about 8 months before the planned event.
Norma and Laurie were extremely easy to deal with. Rates are far below the sometimes extremely high rates offered by other properties. To be honest, the Villas are not polished, Disneyland-type properties, but instead much more genuine and real. Also, Ioana, who does the housekeeping for the managers, was lovely and took care of all practical details and little questions that came up.
The absolute highlight for all of us was Chef Leonardo, the gentle giant who arranged superb dinners on 6 of our 7 evenings at very good value, including the wine. He took lots of time to speak with anyone who was interested in discussing the cuisine and the preparations that evening. He also arranged a truffle hunt and wine tasting. We were all enchanted with his cooking and passion for food, as well as his totally-relaxed and flexible manner in dealing with this group that was sometimes moving in many different directions at the same time.
Overall, we can warmly recommend the Villa Marianna and Vista del Mondo for anyone seeking the real Italian way of doing things.
Accomodation and features
Accomodation type: self-catering
Meals provided: meals not included, self-catering
Holiday Theme: away from it all, budget, family, romantic
Bedrooms: 6 double/triples
Bathrooms: 4 shower rooms/WCs
Living Room Facilities: 1 sitting room - seats 10 persons
Dining Facilities: 1 dining room with fully fitted galley kitchen - seats 12/15
Kitchen Facilities: 4 ring stove, freezer, fridge, grill, hob, iron+board, microwave, oven, washing machine, coffee maker, cooking utensils, toaster, dish washer
Entertainment Facilities: music library, TV, DVD player
Internet Access: wireless broadband, internet access
Swimming pool: private pool not on site
Outside:garden, BBQ, parking off street, terrace, garden chairs, sun loungers, extensive grounds, parkland
General Property Facilities: activities guide, ceiling fans - room fans, central heating, firewood, hair dryer, linens provided, local maps, local restaurant guide, welcome paper towels, welcome shampoo, welcome soap, welcome toilet paper, towels, beach towels, daily maid service on request
Suitability of the Property: children welcome, suitable for elderly or infirm, pets considered, long term rentals available, non smoking only
Notes:
The large private pool available for your use, free of charge, is at our Villa Marianna, a few minutes walk down the lane, or, a short car ride to the side of the pool.
Rates
| Period/2015/16/17 | Weekly Rate | Monthly Rate |
| --- | --- | --- |
| 1 May - 31 May | 1000 euros | 3600 euros |
| 1 June - 30 June | 1250 euros | 4500 euros |
| 1 July - 15 July | 1350 euros | 4860 euros |
| 16 July - 21 Aug | 1550 euros | 5425 euros |
| 22 Aug - 31 Aug | 1350 euros | 4860 euros |
| 1 Sept - Oct 31 | 1000 euros | 3600 euros |
| REST OF YEAR | 1550 euros | 5080 euros |
The rate includes up to 12 persons, extra persons 50 euros/week.
Flexible Arrival/Departure Dates - subject to availability. No arrival on Christmas Day or New Years Eve.
To see details of all that is included in the rate, EVERYTHING, please click on Booking Info :
http://www.umbriaholidayrentals.com/general-information/booking-information.html
A deposit of 25% is required to secure a booking.
To see the full cancellation conditions, please click on Cancellation conditions :
http://www.umbriaholidayrentals.com/general-information/cancellation-policy.html
Reciprocal Links