Terrazza Tetto – sleeps 4
Historic Pedestrian Central Spoleto : elegant, spacious, 2 bedroom/2 bathroom apartment. Sleeps 4/5 persons. F/t use of private pool, 7 miles away. Car NOT necessary. 10 mins walk to train station.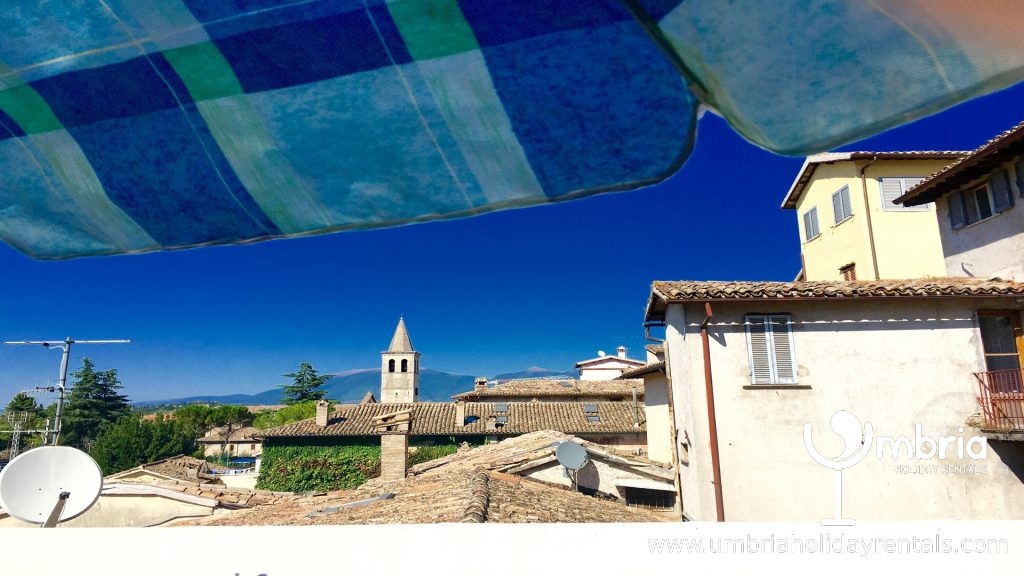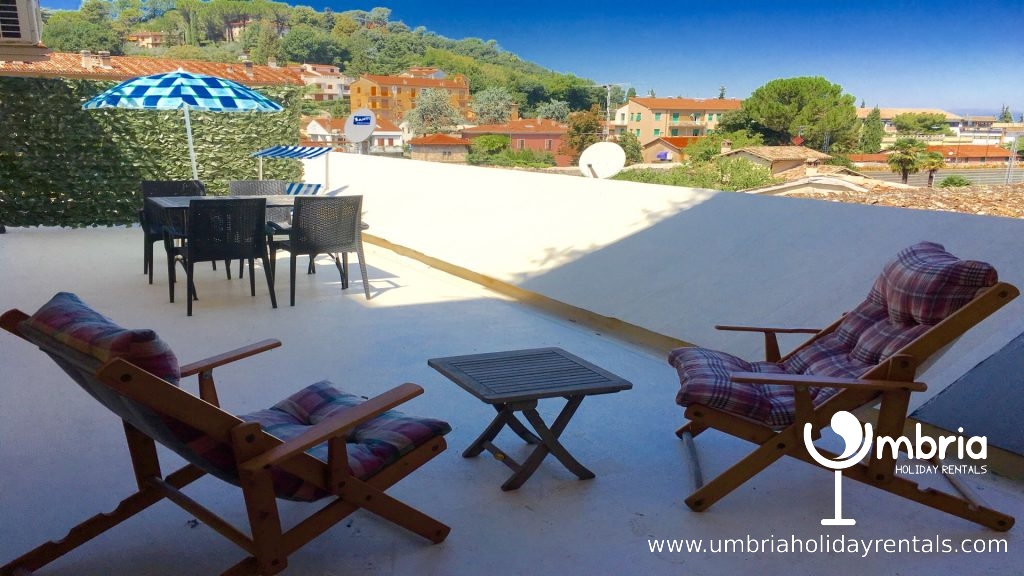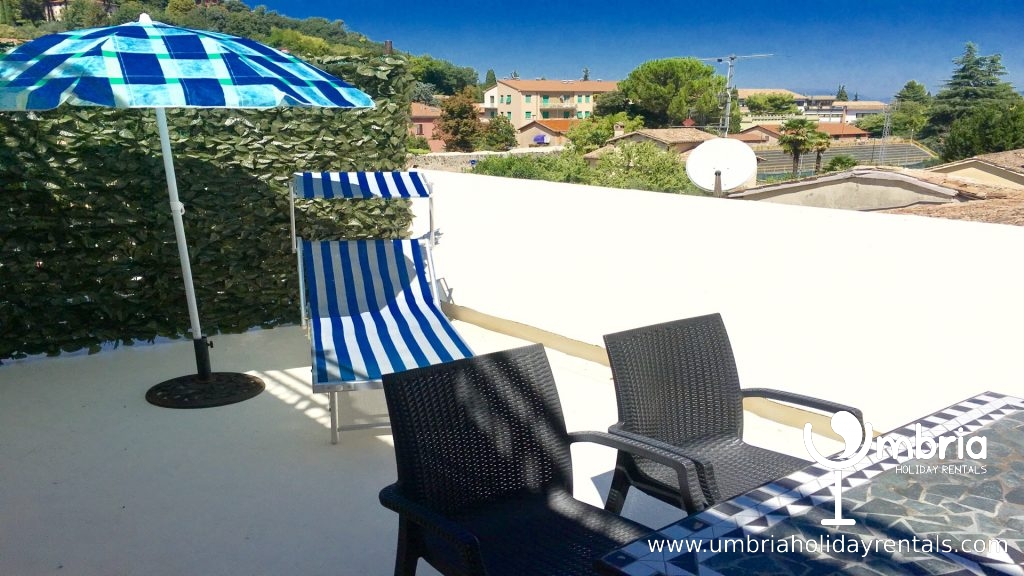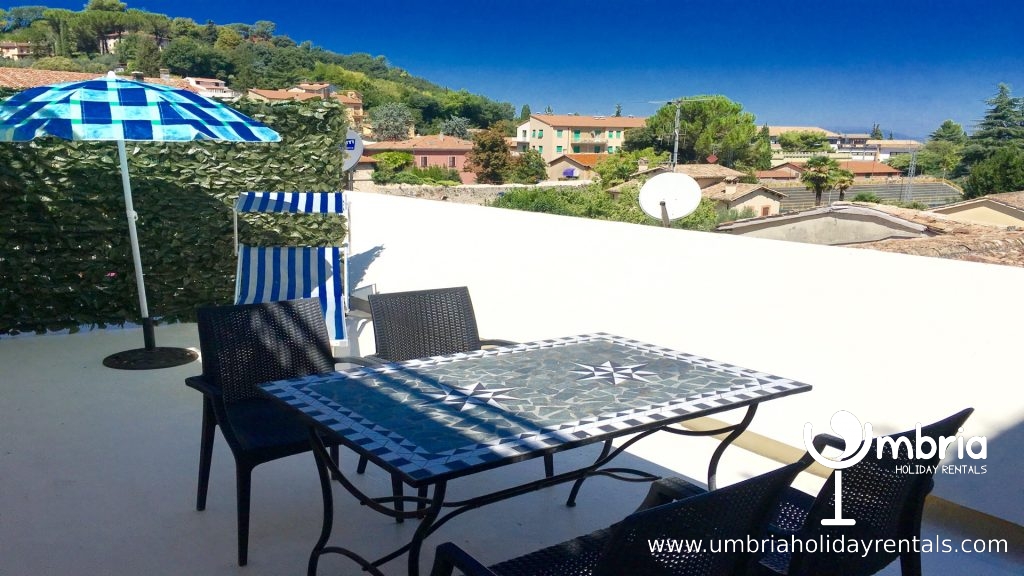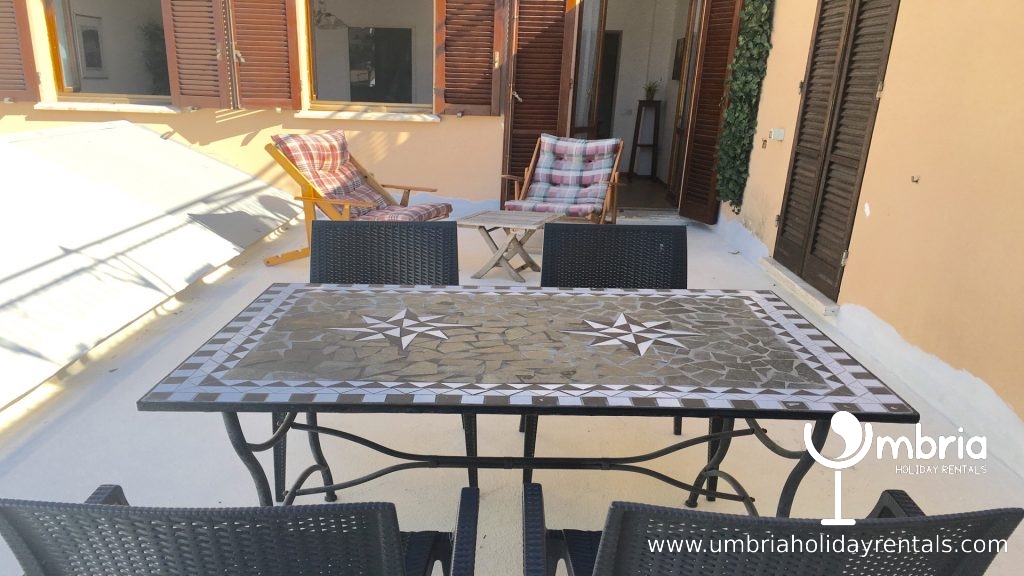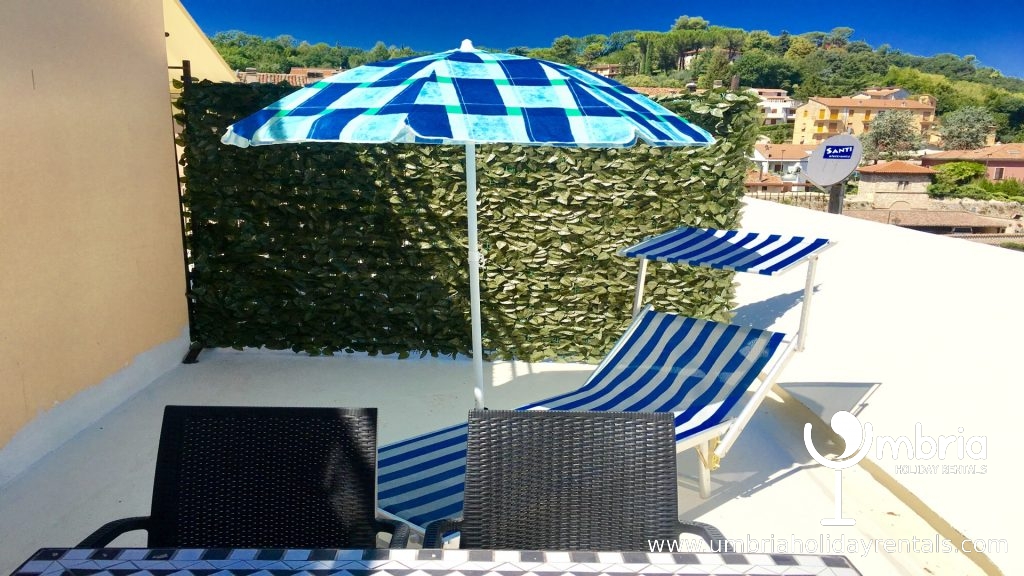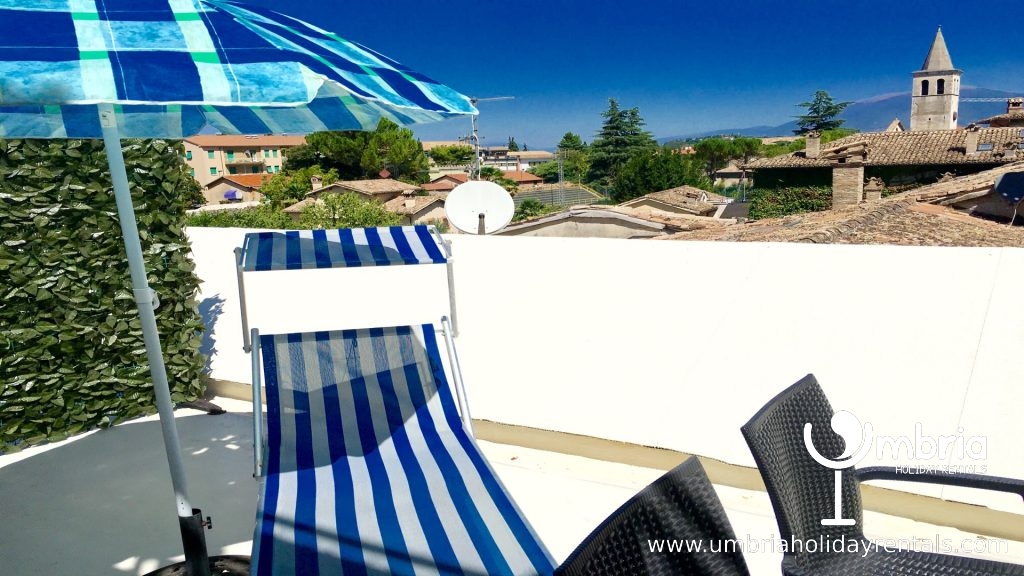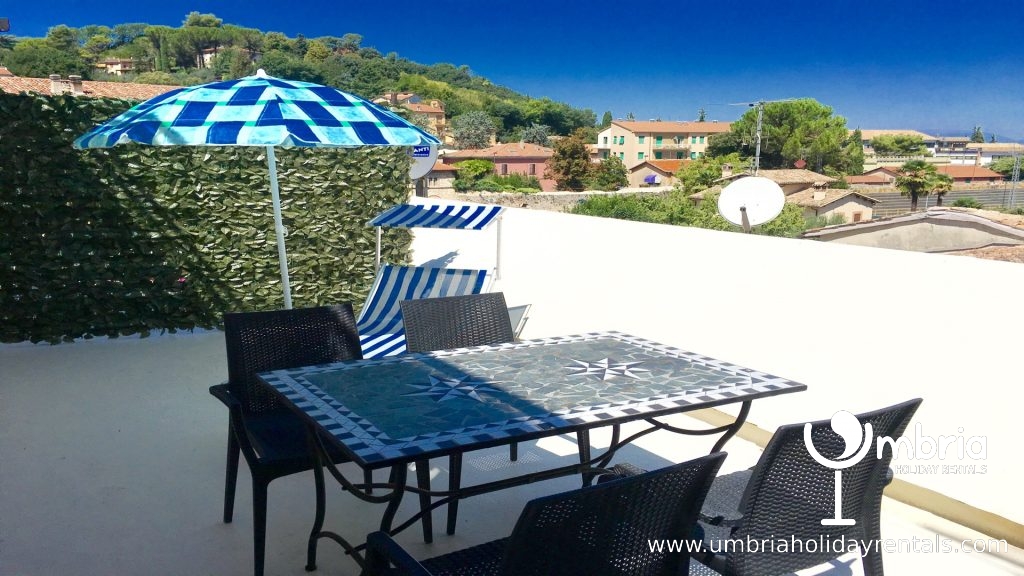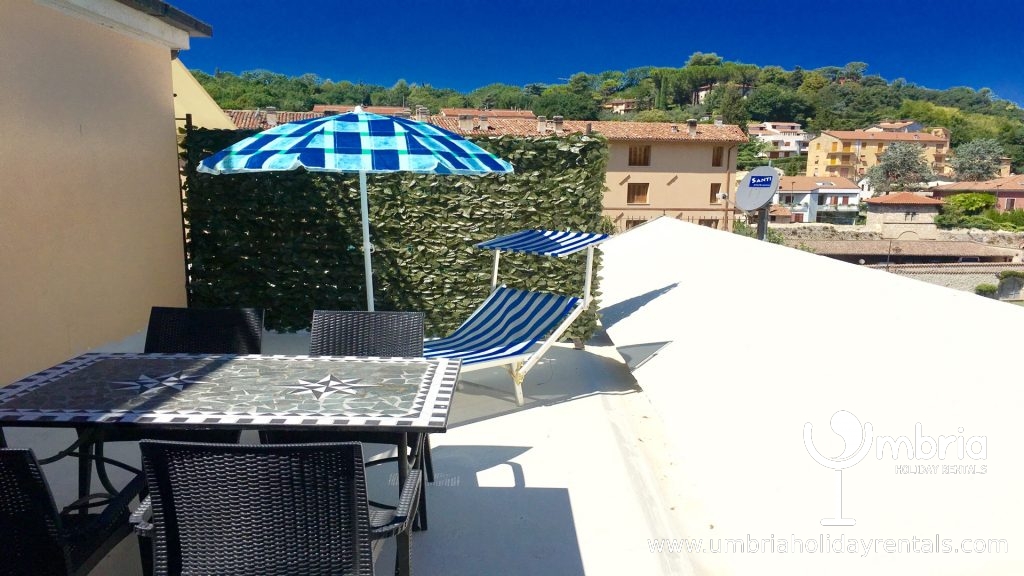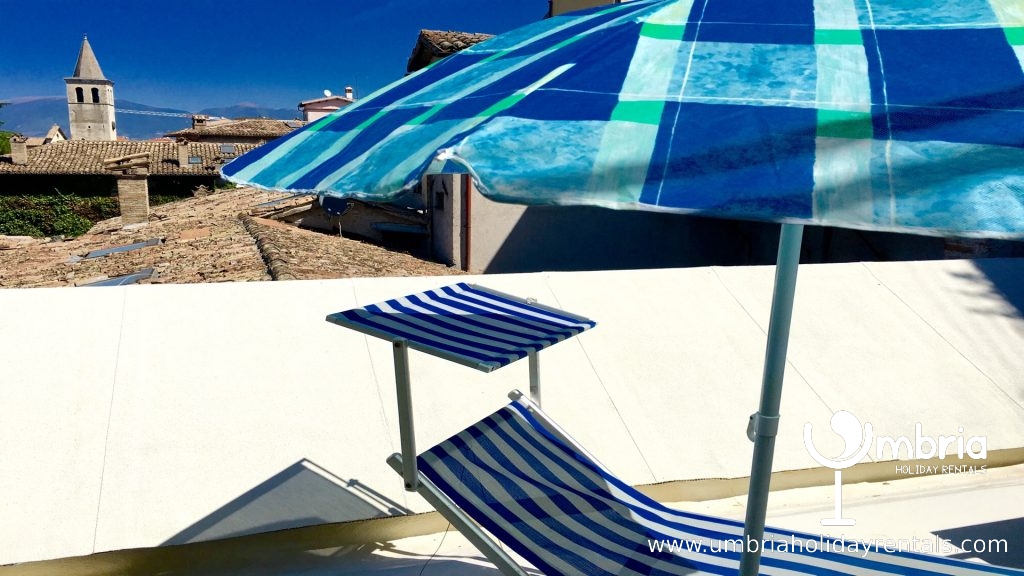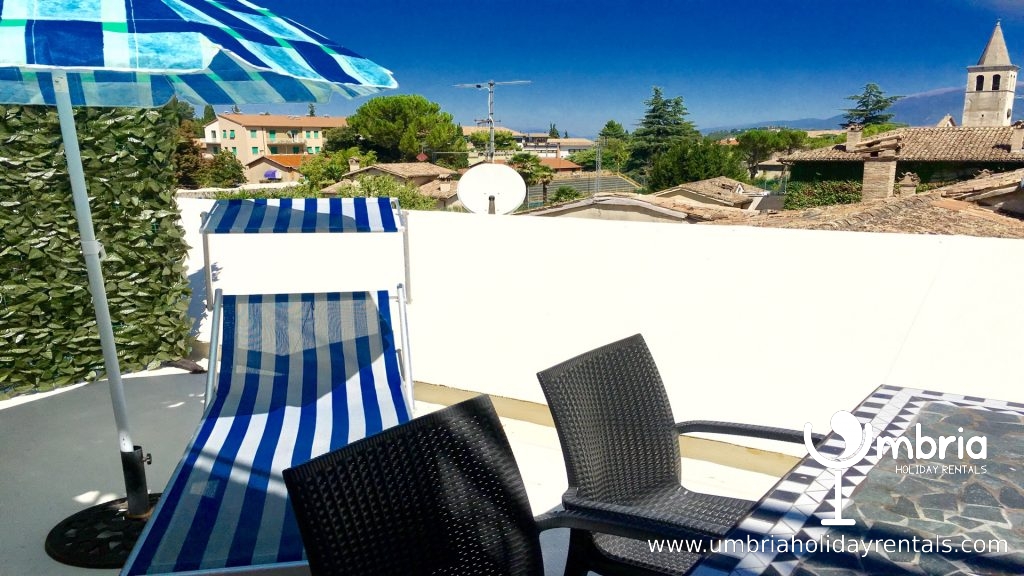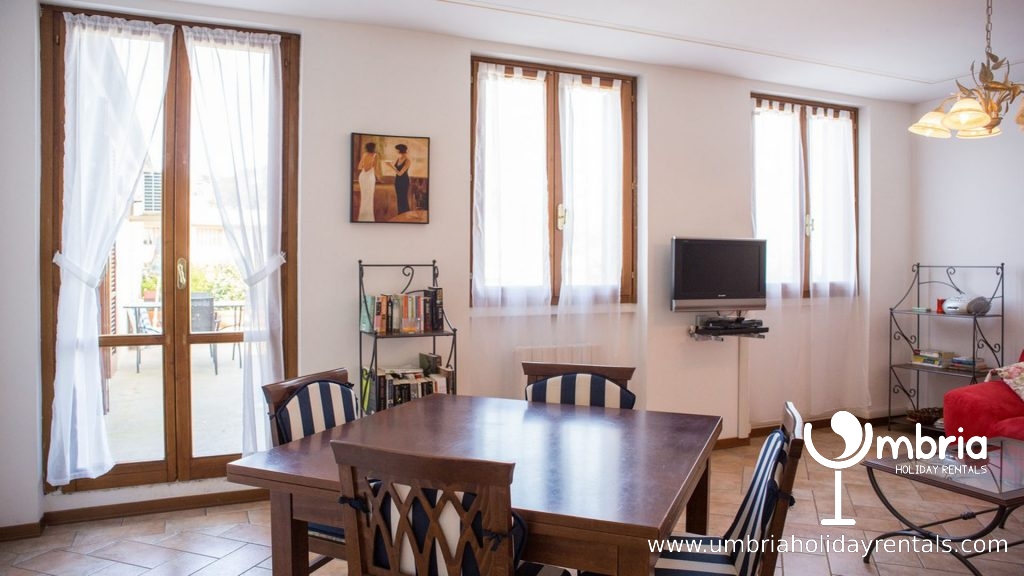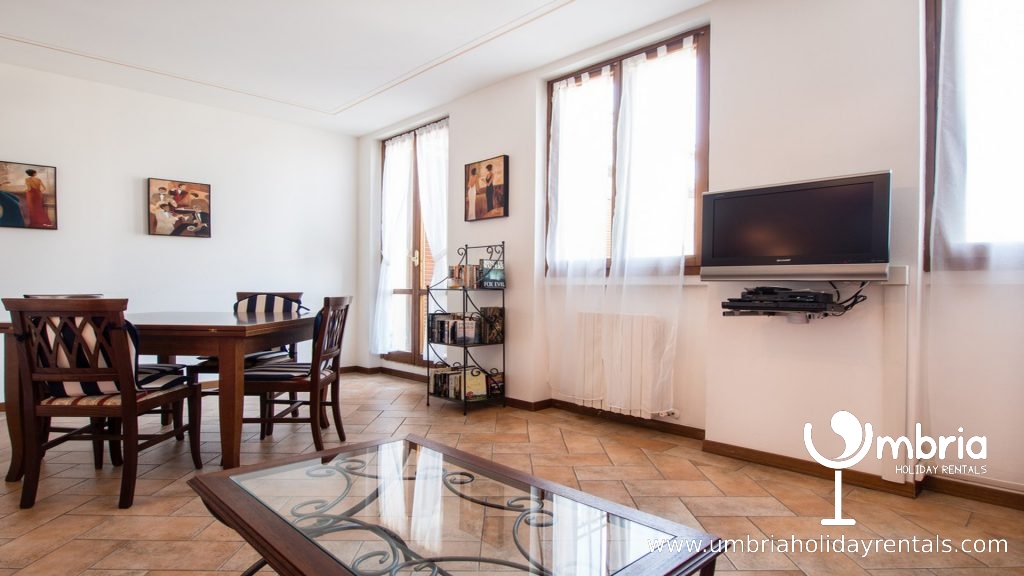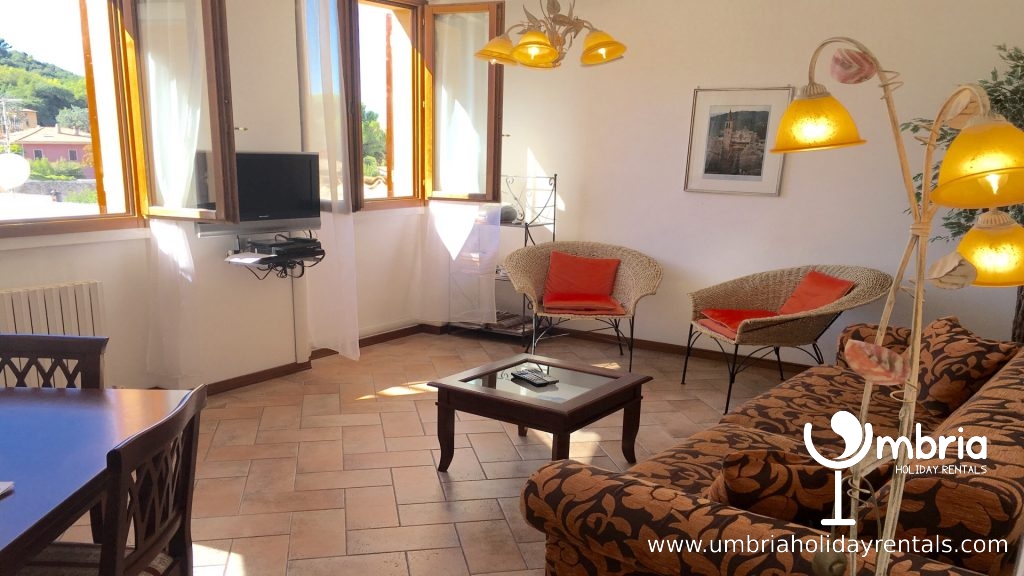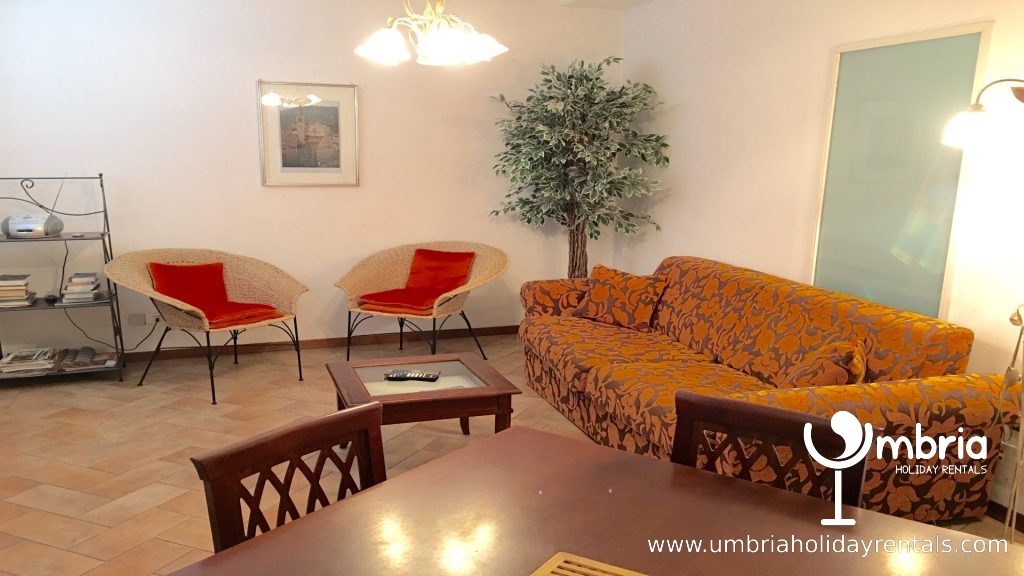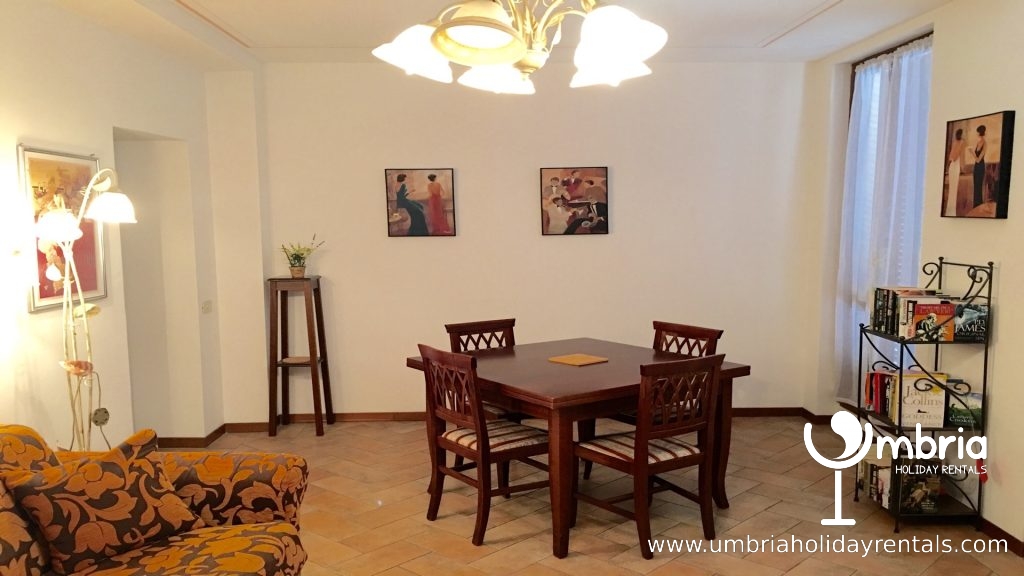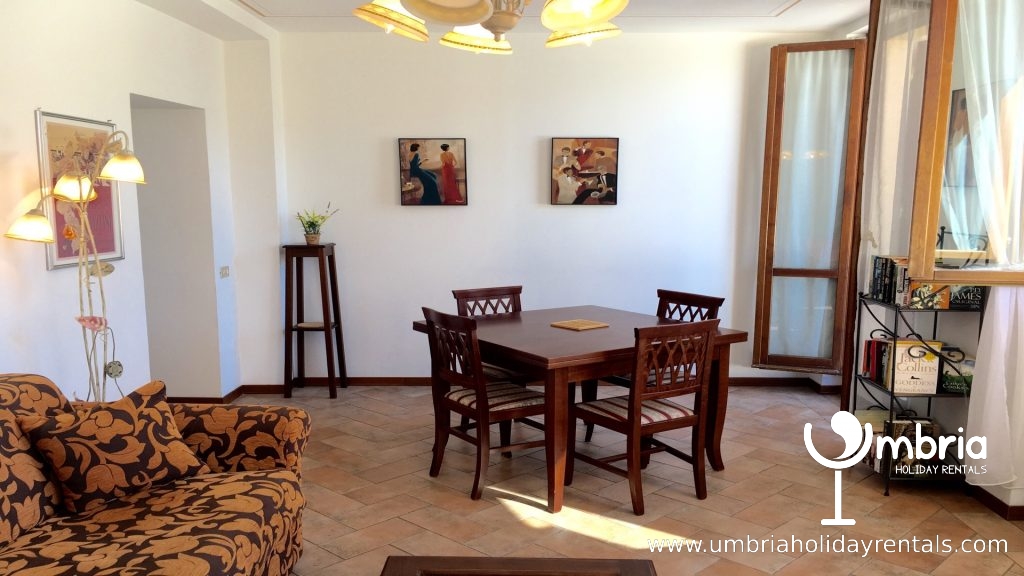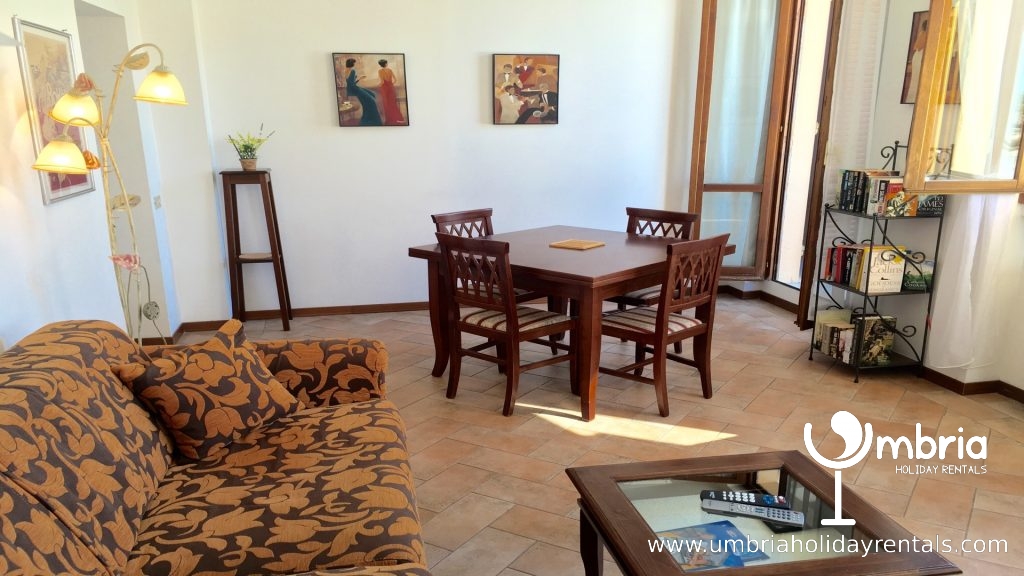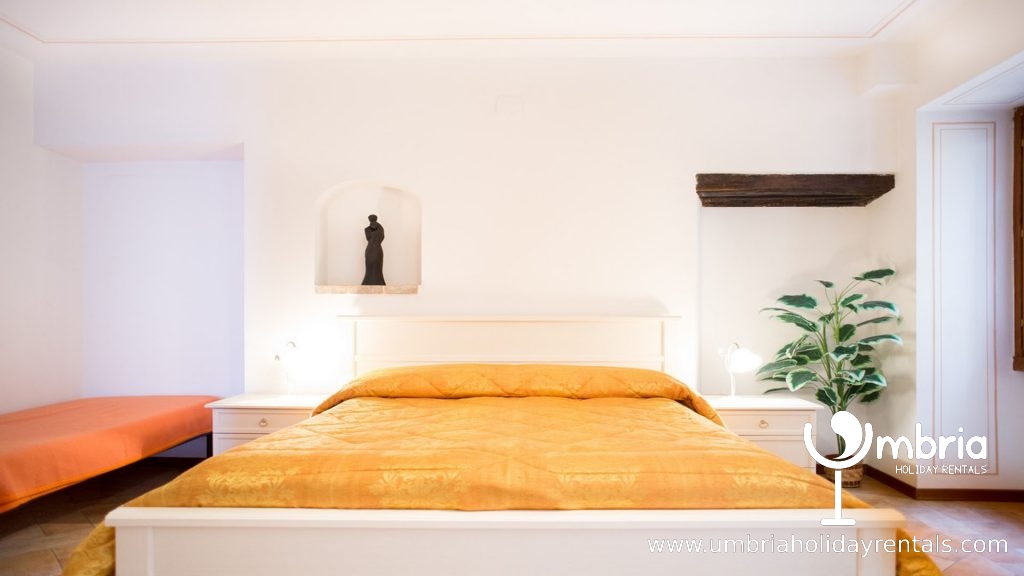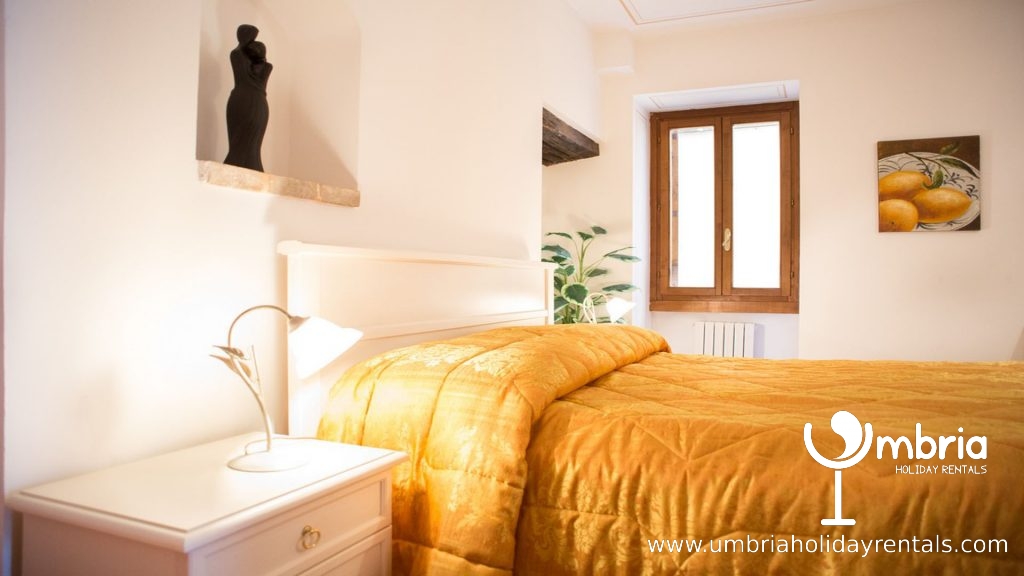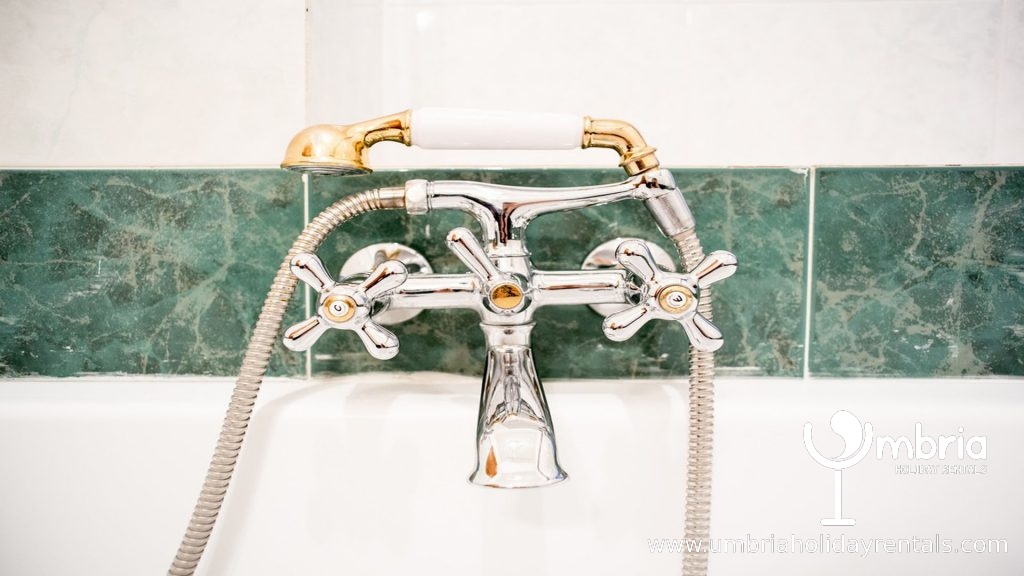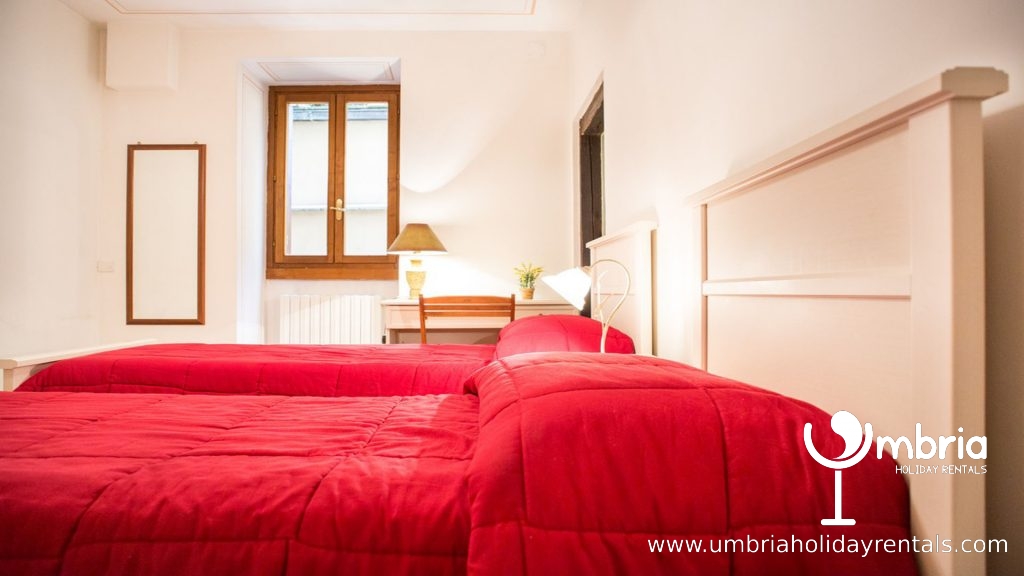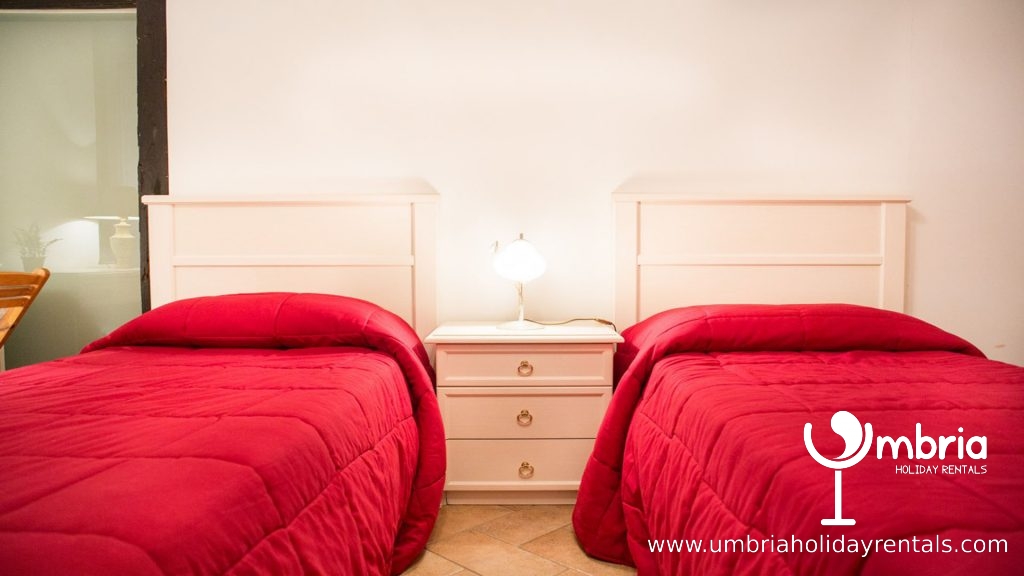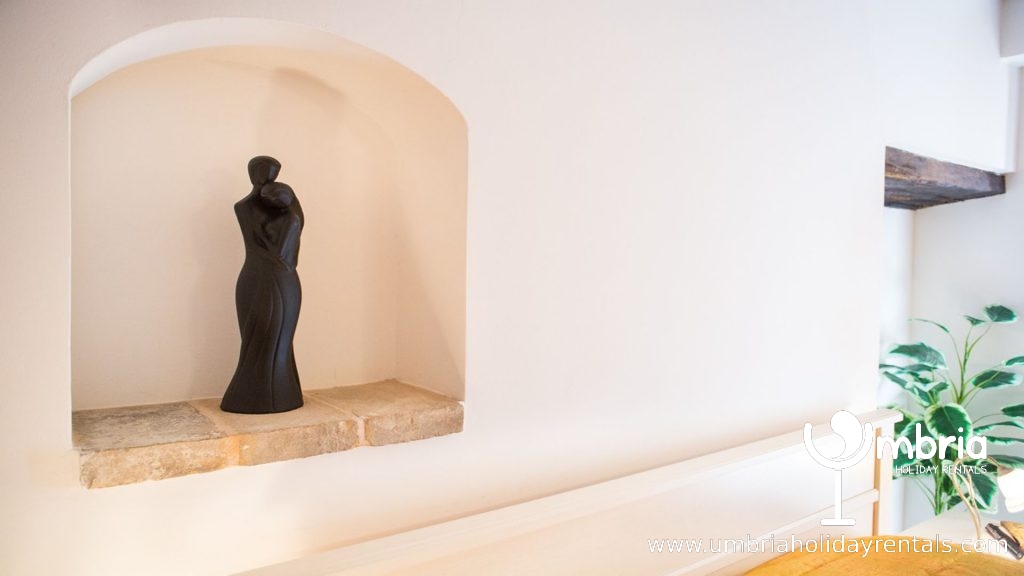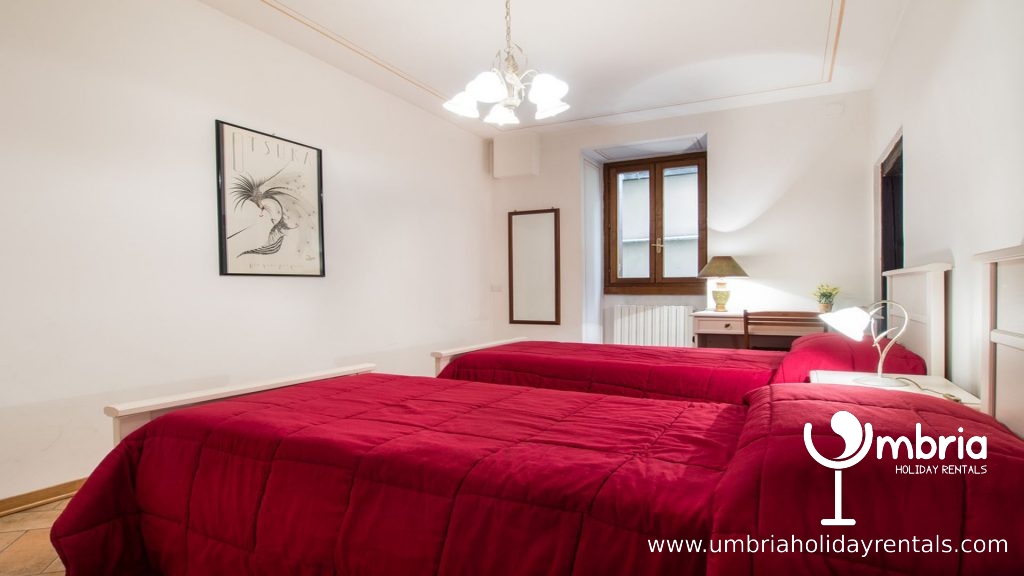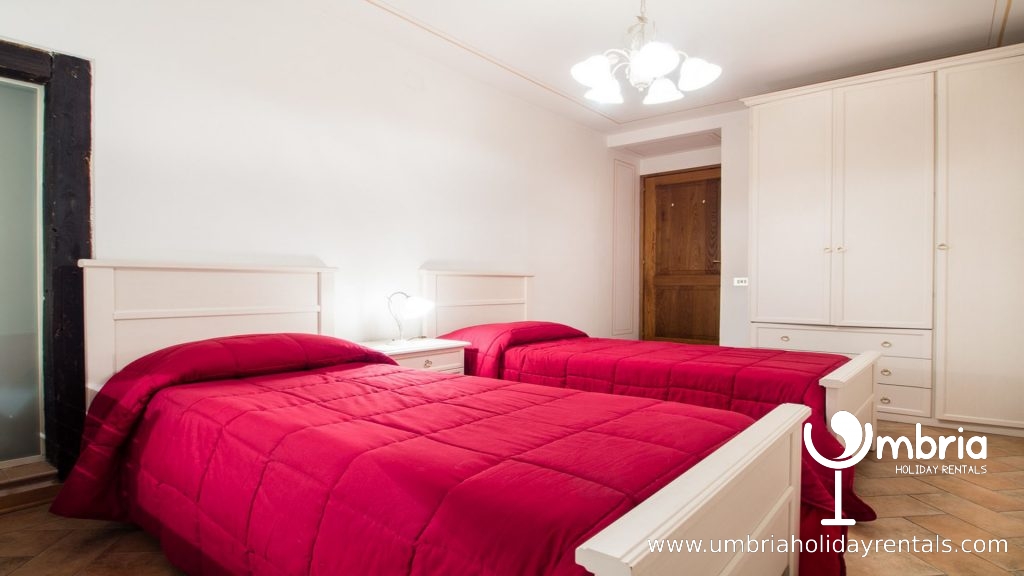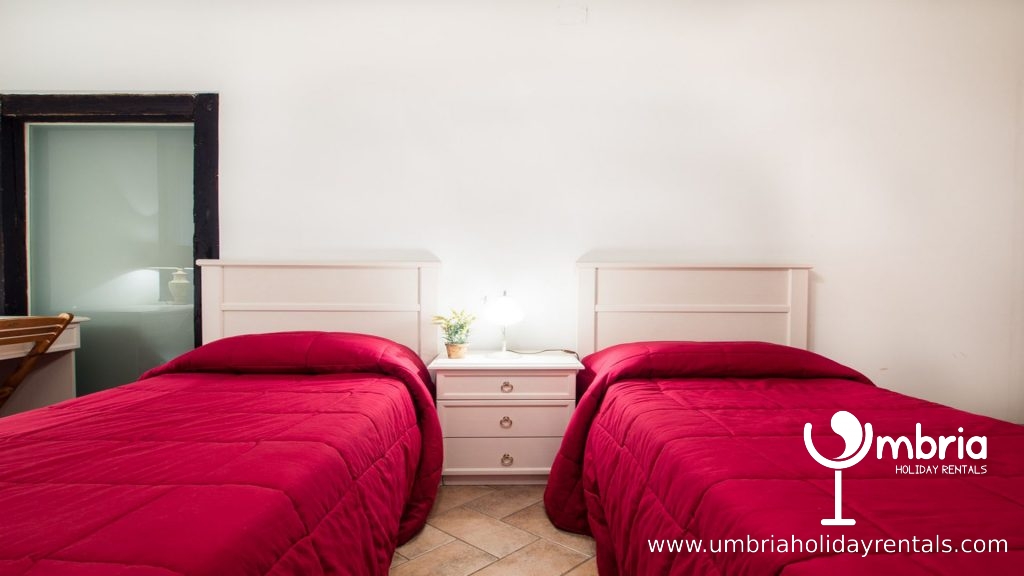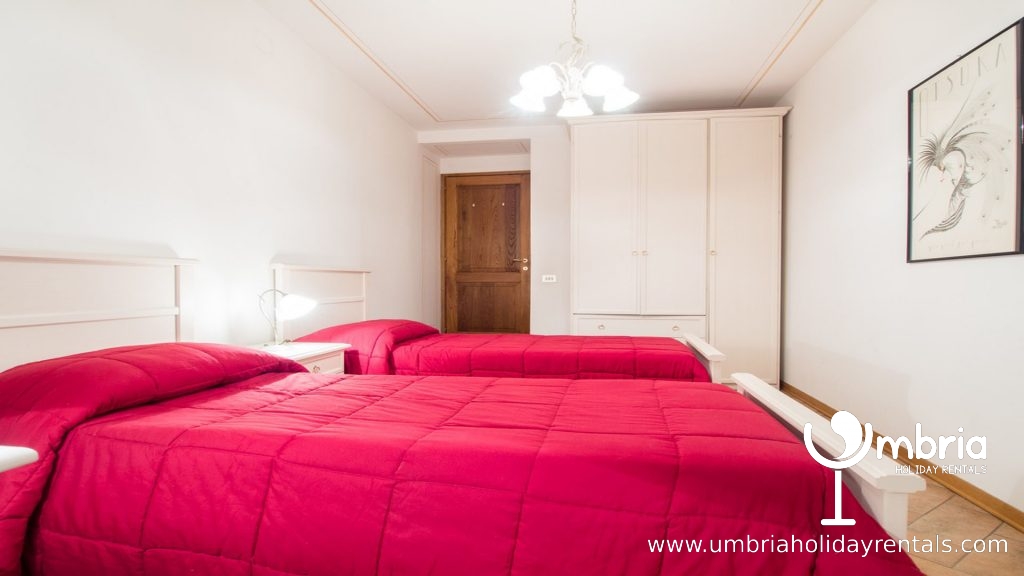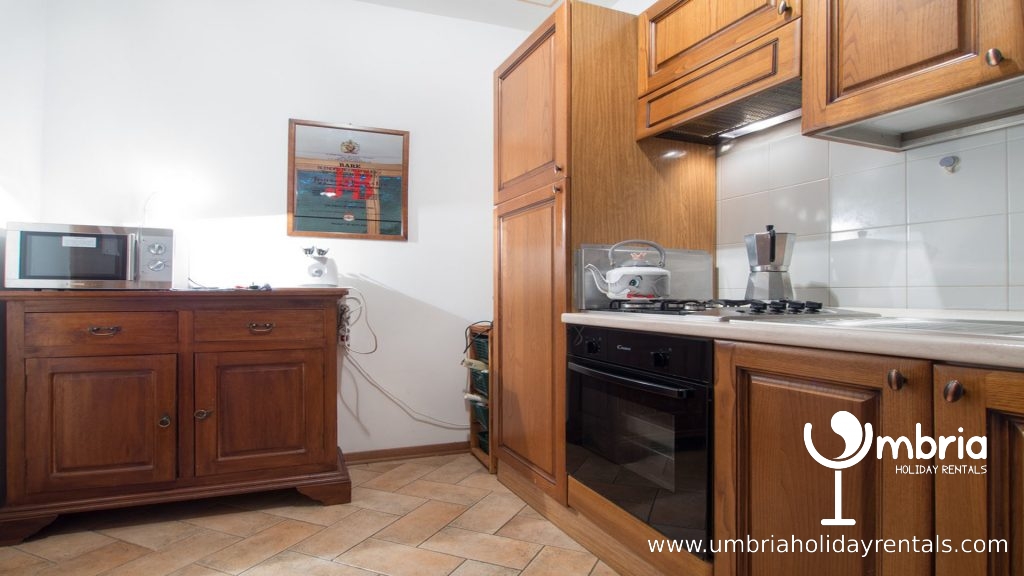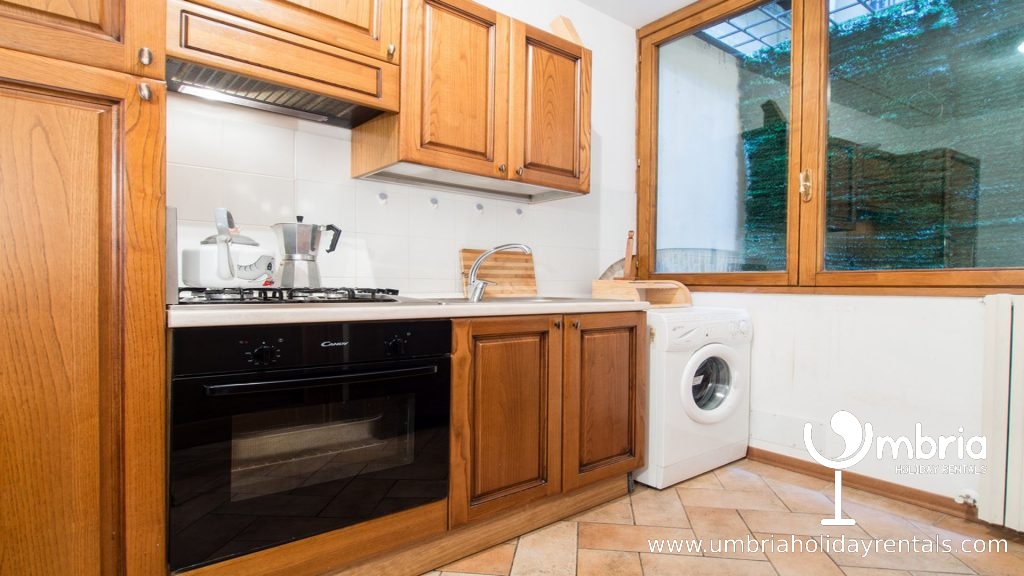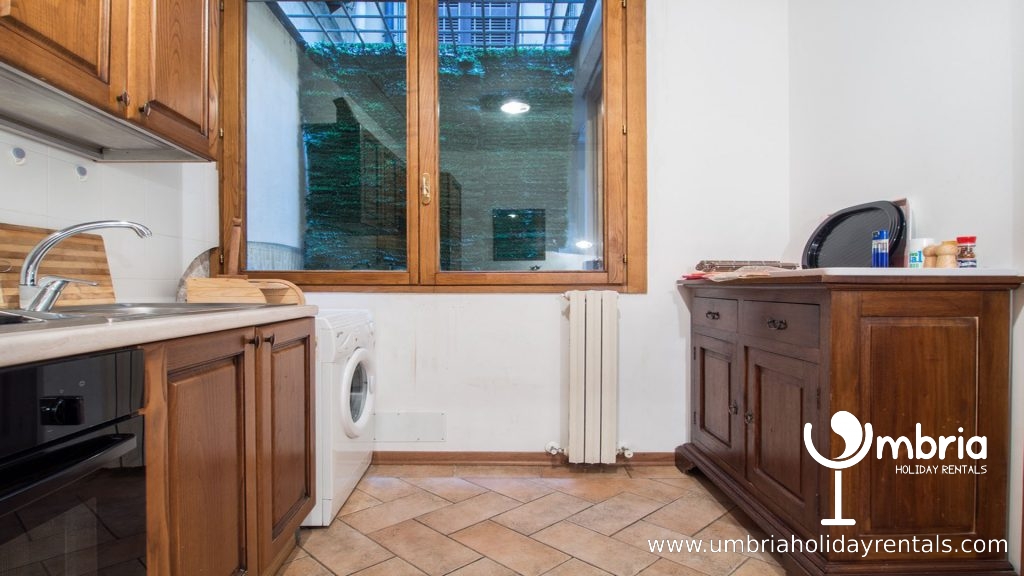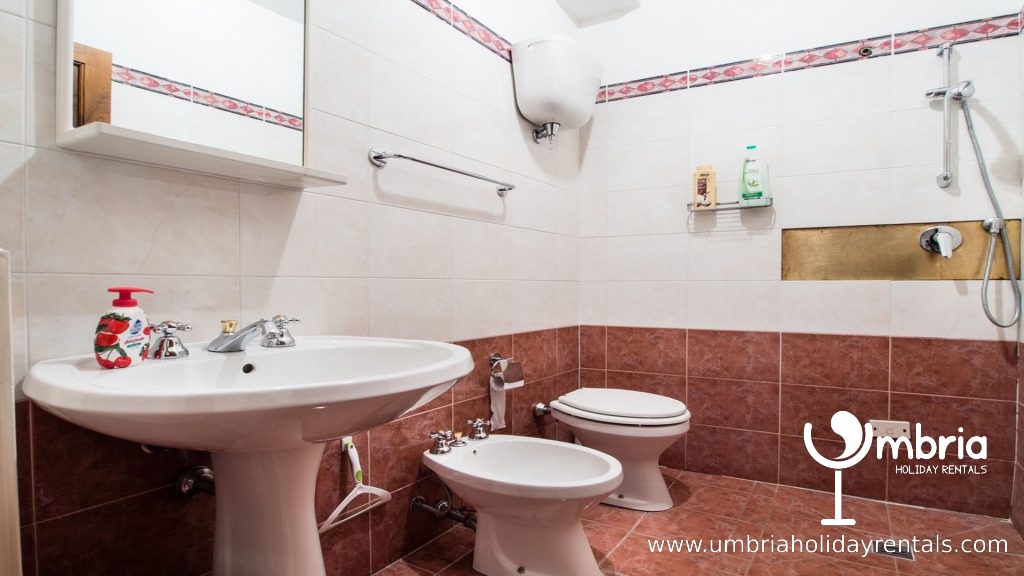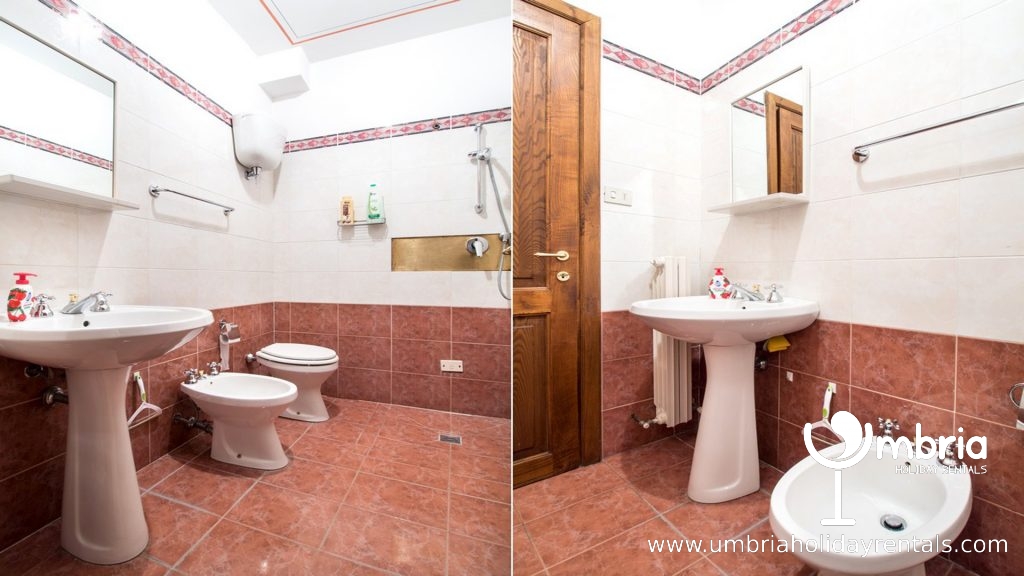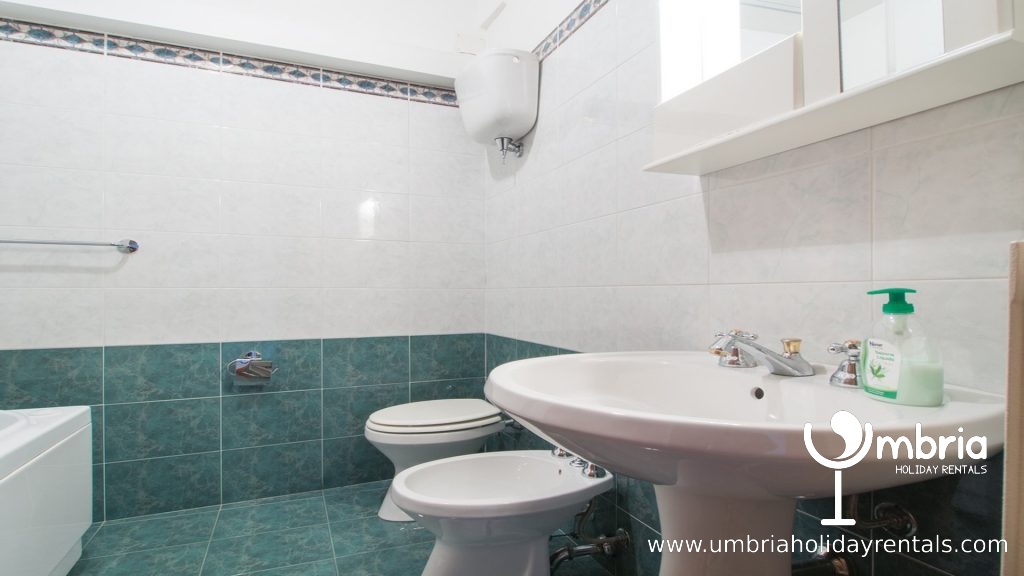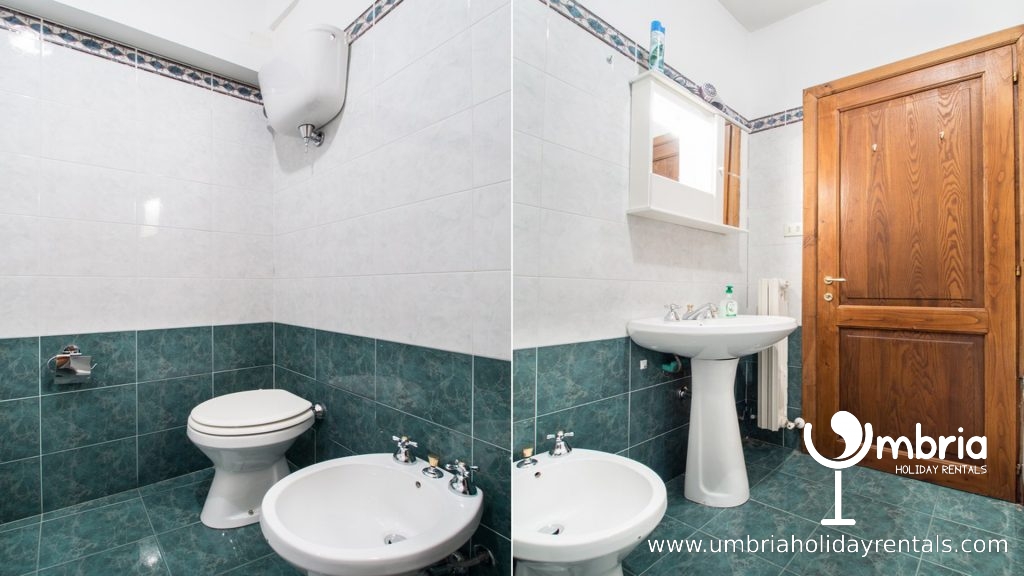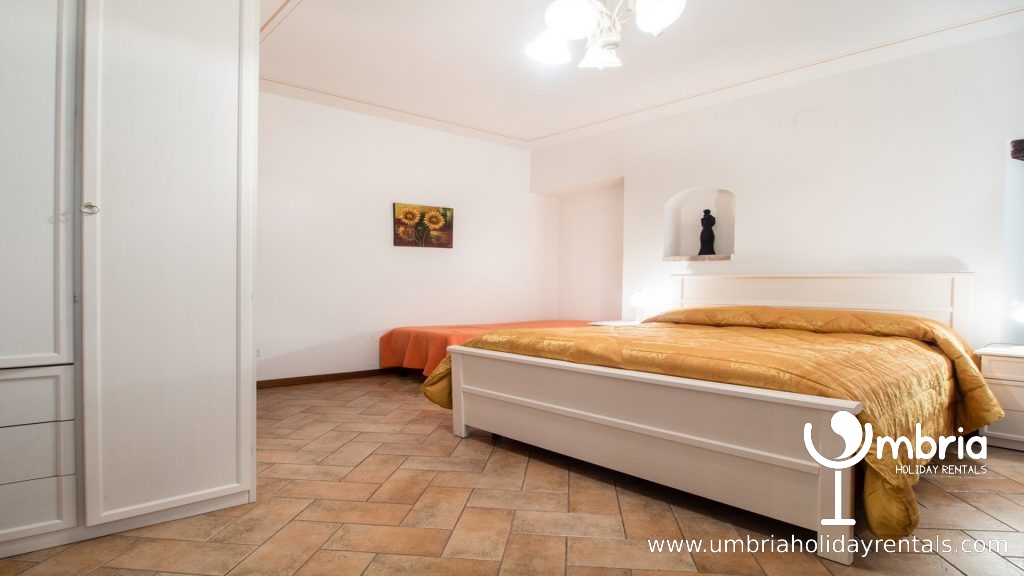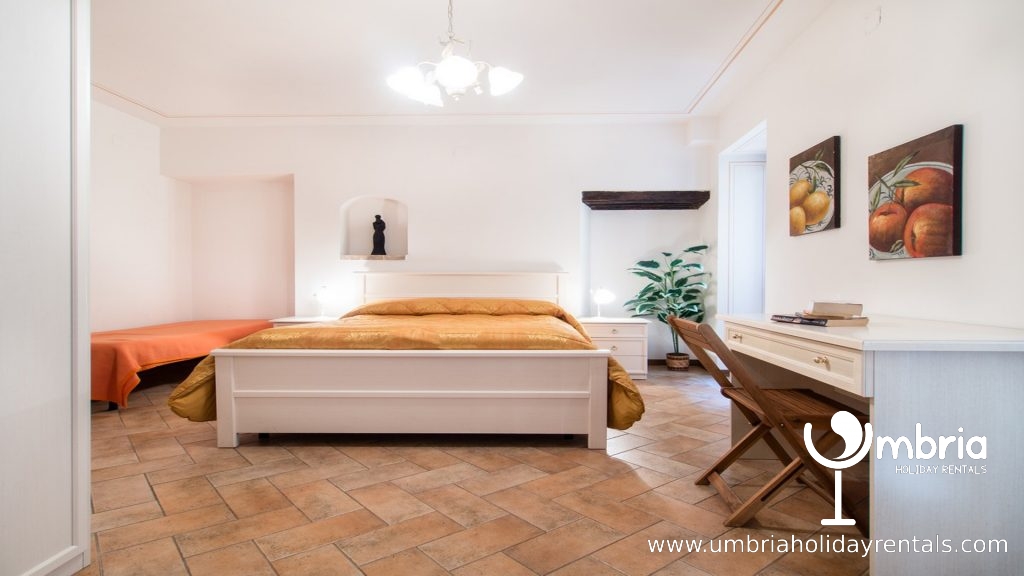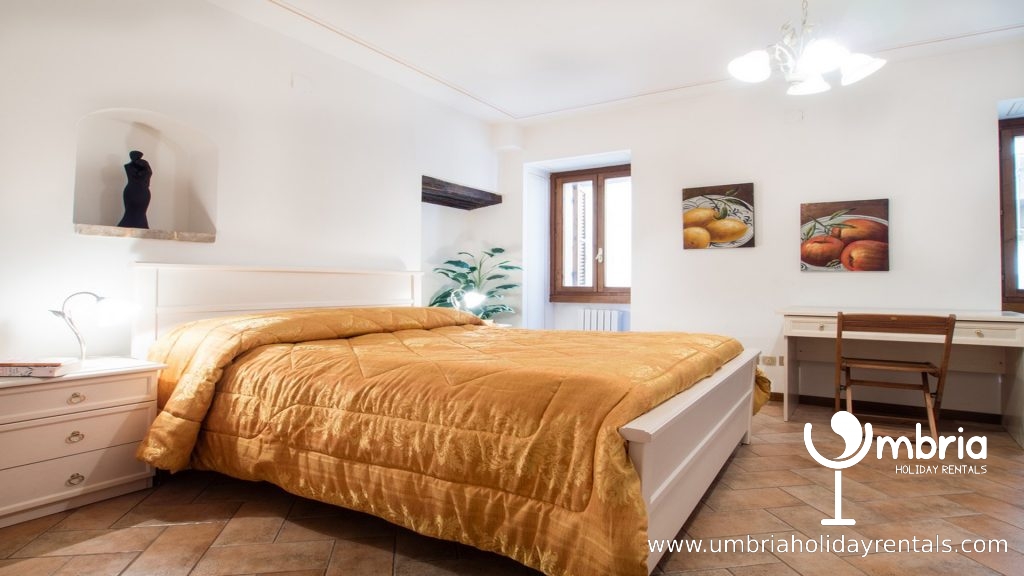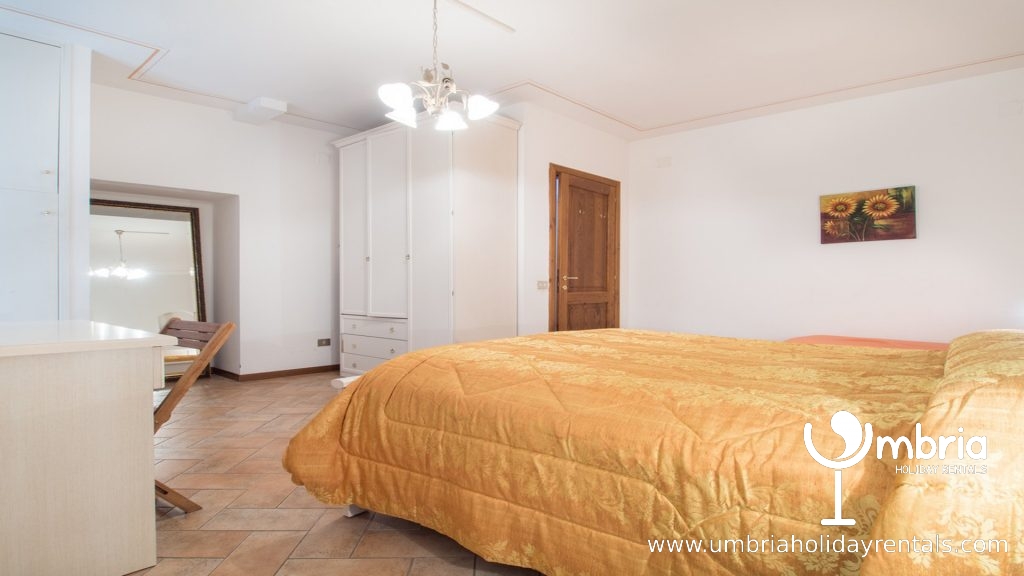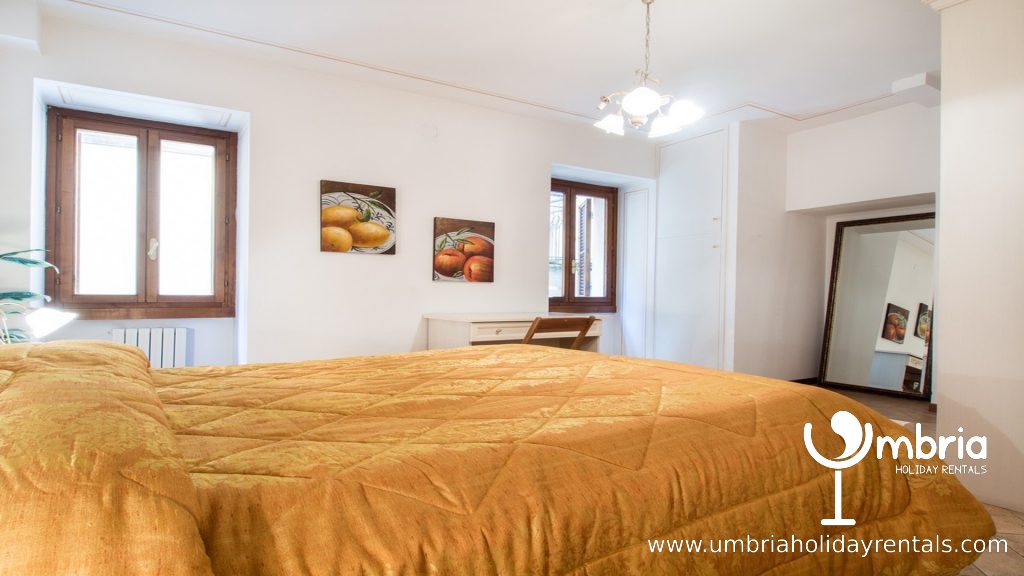 Sleeps:

5

Bedrooms

2

Bathrooms

2

Property type:

Apartment, Condo
Property Description
REVIEW…
STAY IN BELLA DUE AND TERRAZZA TETTO
Hi Laurie and Norma,
We just made it home from our trip to Europe on Friday and I wanted to thank you for all your help in arranging the shuttle to Florence, the truffle hunting and taking us to and from the train station. We really appreciate all your help! It really made our stay more enjoyable! We will think fondly of Spoleto for years to come.
Thank you again!
Ben
SUMMARY….
PLEASE NOTE THE PRIVATE POOL IS NOT ON SITE. IT IS 7 MILES AWAY AT OUR VILLA MARIANNA AND IS AVAILABLE, FREE OF CHARGE, TO THE GUESTS THAT ARE STAYING AT VILLA MARIANNA AND TO THOSE GUESTS STAYING IN OUR NON-POOL PROPERTIES. IT IS A LARGE POOL AND, TO DATE, HAS NEVER GOT BUSY. OPEN MAY TO SEPT/OCT.
WiFi.
Elevator.
Car not necessary – 120 sq mts – central Spoleto with long terrace/pretty views – sleeps 4/5 (2 double bedrooms, 1 with large double bed, 1 with twin beds/sofa-bed in sitting room) – 2 shower rooms (1 with full-sized tub, the other with a walk in shower unit)/2 WCs) – spacious/elegant/pretty//lift – in very buzzy, pedestrian location. Also Broadband/WiFI internet access in apartment, where you can use your own computer. 1st floor with elevator and stairs.
Spacious, elegant apartment/includes 4 persons…..
SPOLETO : PEDESTRIAN, HISTORIC CENTRE /car NOT necessary.
The rate includes a lift, free of charge, to and from the station, on arrival and departure days, if you are without a car.
Arrival/Departure dates flexible, subject to availability.
1 triple bedroom + 1 twin bedroom – beds can be joined, by request/2 shower rooms, 1 with full size tub/2 WCs. Sleeps 4.
It is possible to sleep up to 2 extra persons ie 3 in each bedroom OR 4 in the triple bedroom with an extra single bed, at 50 euros/per person/per week.
With free WiFi internet access, Terrazza Tetto, a stylishly furnished apartment, is in the historic centre of Spoleto, buzzing with shops, bars and restaurants as well as ancient monuments, churches and museums at every twist and turn of Spoleto's arched and cobbled streets. It is located in Porta Fuga, one of Spoleto's oldest mediaeval streets. The whole area is pedestrian. Really beautiful. Prime location !
A car is NOT necessary as you are just 10 minutes walk from the train station and the bus terminus or a very short bus-ride. From the train station, you can get to practically anywhere in Italy. And, from the bus station, there are myriad of really interesting journeys you can take from little local rides around the hills, visiting a diversity of hill-top villages, to places as far afield as Castelluccio and Norcia – spectacular rides !
Interior….
The sitting/dining room is a wide room with 2 large windows and French windows that open onto the long terrace.
The furniture consists of bleached blonde, wooden bedroom furniture, Italiana lighting throughout, a three seater comfy sofa, 2 rattan arm chairs and wooden dining furniture for 4 with padded chairs.
The high quality fixtures + fittings, include a 27″ flat screen Plasma High Definition SKY TV fixed to the wall. This means you can access all the documentary and news channels in English as well as a host of other programmes eg National Geographic, Animal Planet etc etc.
And, there is a separate, fully fitted kitchen.
Shady terrace…
Terrazza Tetto is so-called because the pretty views from the front and all along the side of its long terrace are mainly of roof-tops, a few dwellings opposite that are not close, fringed by the hills and mountains beyond.
The pretty terrace runs the entire length of the sitting/dining/kitchen room of next door, Terrazza Splendida, but, it is not overlooked by this next door apartment as there are no windows on this wall, just a shuttered, slatted, glass door that is always kept locked and shuttered. This door allows the 2 apartments to be "joined up" for parties of 8 persons.
The terrace of Terrazza Tetto is exclusively yours. However, it is wide-open to its right and to the front and thus allows you to see a huge expanse of old Spoleto, roof-tops, hills and the mountains beyond. And, obviously, the terrace can be seen by others, if they wished to see it eg from above. But, really, in this country, when you have a city terrace, it is a luxury, something to be shown off by any self-respecting Italian !!
There are garden chairs + dining furniture, to seat 4. And, there are sun-loungers to snooze on. However, we ask you to request the sun-loungers, as many as you wish, for no extra charge, since, generally, our guests don't tend to use them and they just take up space.
I would not recommended this terrace to those who wish to spend their entire holiday sunbathing on the terrace because the terrace is on the shady side and does not catch the sun, all day long ! However, it is perfect for those who love the sun, while not being directly in it !
PARKING….
You can park nearby. Or, you can hire a single car secure garage space, next to the elevator, up to the apartment.
The weekly rate is 50 euros, or 8 euros/day, the rate we pay the owner of the tiny car-park.
FOR THOSE WITHOUT A CAR – FREE RIDE TO AND FROM TRAIN STATION !
If you intend being without a car, then, you will be picked up from the station on your day of arrival and taken back on the day of your departure.
Private pool included in rate, 7 miles away……
Our large private pool (120 sq mts) is available for your use at any time between May to Sept, free of charge, at our Villa Marianna.
Villa Marianna is 7 miles away, along a spectacularly beautiful and quiet road, occasionally used for the famous, once a year, Giro D'Italia cycling race.
If you do not have a car, then, we can advise re a taxi service with the local trusty Carlo !
Please click on the link to see photos of the pool:
http://www.umbriaholidayrentals.com/location/mountains/item/villa-marianna-pg-13.html
Brief description of Spoleto, to wet your appetite !!!
Spoleto is akin to a giant, fairy-tale castle. Sprinkled with bars, restaurants and shops, peppered with piazzas, Spoleto sits magestically amidst a maze of tunnelled, cobbled lanes and alley-ways, all leading skywards to the famous Rocca, the aquaduct and, some of the best views in the world. A surreal setting, a stage-set in the making, fringed by mountains, olive groves, vineyards, mediaeval monasteries, towns, cities and tiny hill-top villages – all beckoning a visit, Spoleto is truly a temptress. Succumb to her beauty and you must use all your will-power to leave. Quite simply, Spoleto is the most captivating city in Italy, never mind Umbria, Venice and Florence, being on a par.
Venice has the water. Florence has the Uffici. Spoleto has the mountains. All three have a history to be reckoned with. All three bedazzle us with their rich cultures, their European, aristocratic connections and their sheer beauty. But, Spoleto has the upper hand for the world traveller. It resists tourism with its associated inflated rates and tacky goods on sale ! You are invited to visit Spoleto, but, not as a tourist. You will be welcomed like a long lost member of the family ! Treated like a king. And, you will pay the same rates as all the locals, especially when you pay attention to all our recommended restaurants, bars and gelaterias.
Subsequently, Spoleto is in demand with those in search of "the authentic Italian" experience, love beauty and who wish to base themselves in the centre of Italy because, from Spoleto, you can get to practically anywhere else in Italy easily and cheaply within minutes to a few hours.
Until now, it had always been too expensive to stay in Spoleto. Holiday-makers were forced to stay outside of Spoleto and drive in. We have changed all that. We have "unlocked" Spoleto, with our range of centrally located apartments, at rates that are competitive with our "out of town" apartments, making Spoleto affordable for you, at last !
Read more about Spoleto by clicking on or pasting into your browser :
http://www.umbriaholidayrentals.com/general-information/spoleto.html
Please see more info re the surrounding areas and the weather :
http://www.umbriaholidayrentals.com/general-information/umbrian-areas-around-spoleto–weather.html
Accomodation and features
Accomodation type: self-catering
Meals provided: meals not included, self-catering
Holiday Theme: family, historic, tourist attractions
Bedrooms: 2 : 2 twin beds (can be joined) + 1 family room with 1 double + 1 or 2 singles
Bathrooms: 2 : 1 shower room + 1 with full size tub + hand held shower, the other with a walk in shower unit
Living Room Facilities: Seats 6
Dining Facilities: Seats 6
Kitchen Facilities: 4 ring stove, freezer, fridge, grill, hob, iron+board, microwave, oven, washing machine, coffee maker, cooking utensils, toaster
Entertainment Facilities: books - fiction/non-fiction, TV, DVD player
Internet Access: wireless broadband, internet access
Swimming pool: private pool not on site
Outside:BBQ, parking on street, terrace, garden chairs, deck chairs, sun loungers, 1 car garage for hire
General Property Facilities: activities guide, ceiling fans - room fans, central heating, hair dryer, linens provided, local maps, local restaurant guide, welcome paper towels, welcome shampoo, welcome soap, welcome toilet paper, towels, elevator, beach towels
Suitability of the Property: children welcome, suitable for elderly or infirm, long term rentals available, non smoking only, pets considered
Notes:
The large private pool available for your use, free of charge, is at our Villa Marianna, 7 miles up a quiet country road, the most beautiful road in the world and one that was used for the famous Giro D'Italia bicycle race. Click on link to see photos of the pool:
http://www.umbriaholidayrentals.com/location/mountains/item/villa-marianna-pg-13.html
If you are not intending to have a car, there is a taxi service - ask for details.
There are many cooking courses available – prices vary according to your requirements. All the courses are within walking distance.
And, we can recommend excellent Italian courses, also in the nearby vicinity. All at prices to match your needs and budget.
Rates
Reciprocal Links