Spoleto Pool Luxury – sleeps 6 to 8
exclusive leisure pool, 10 kms/Spoleto central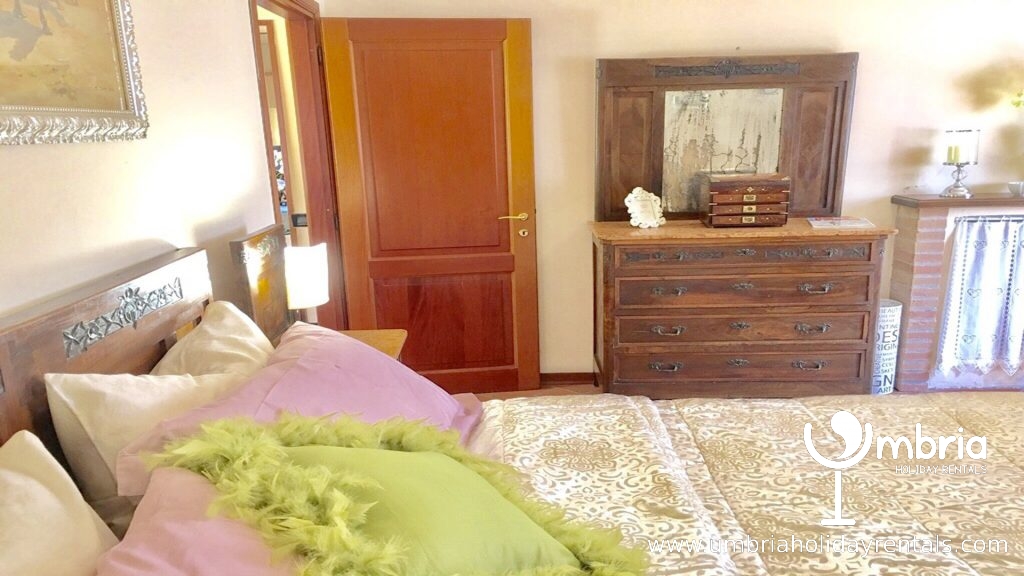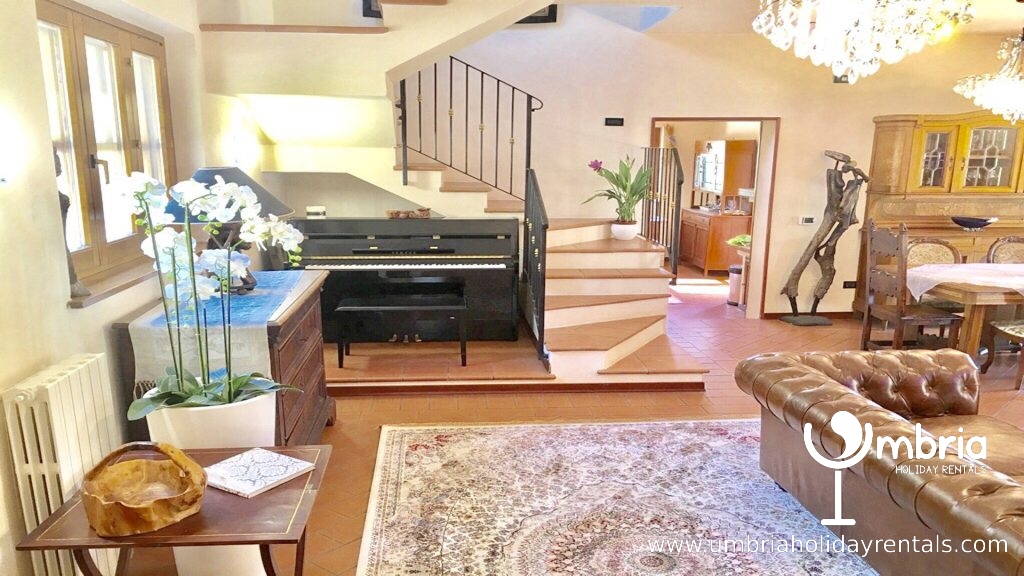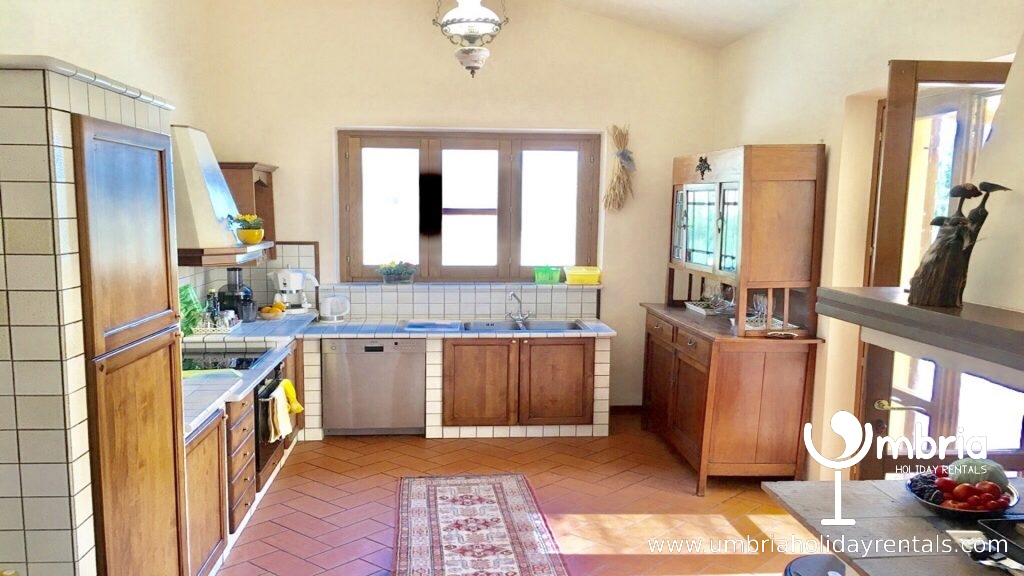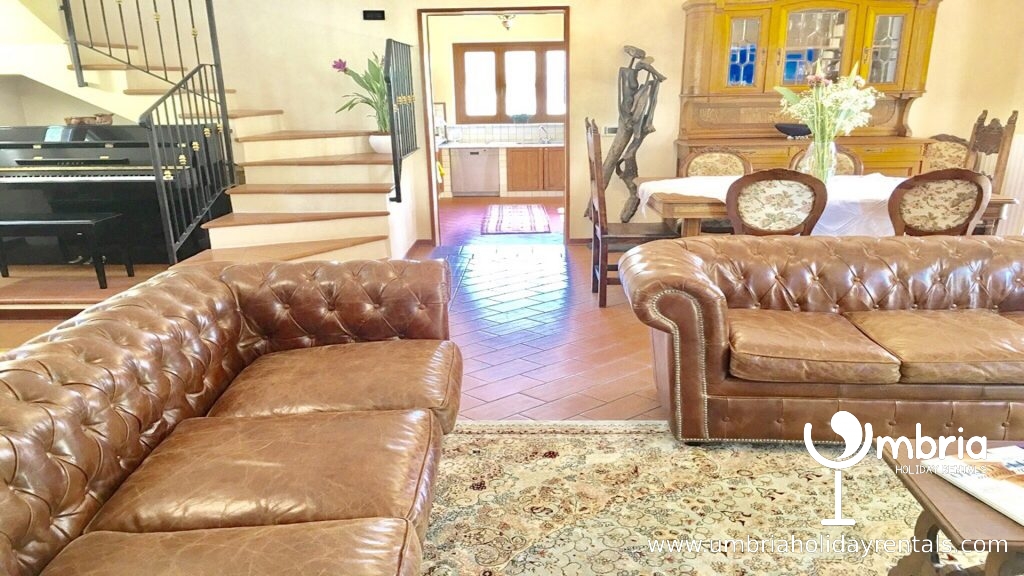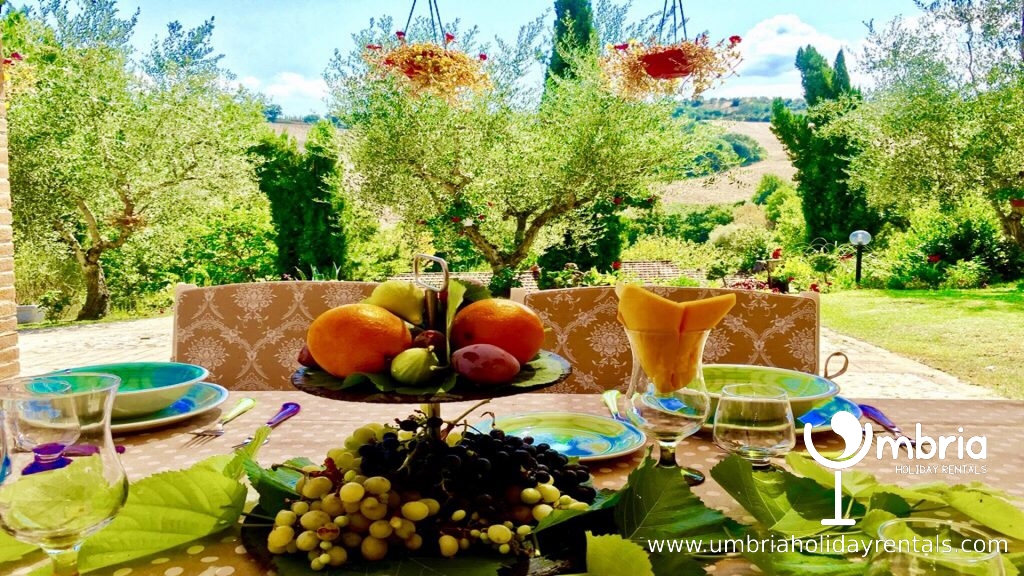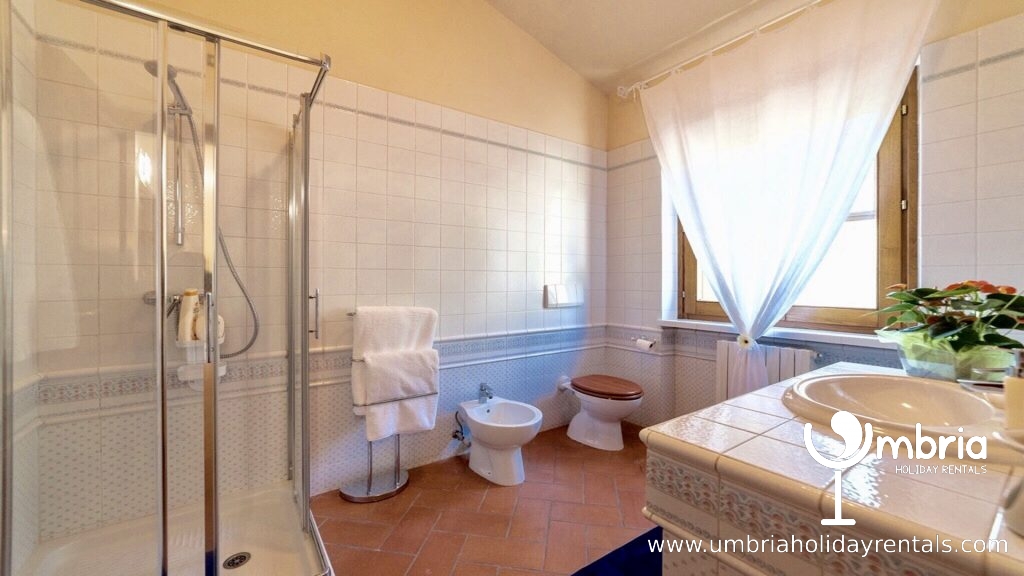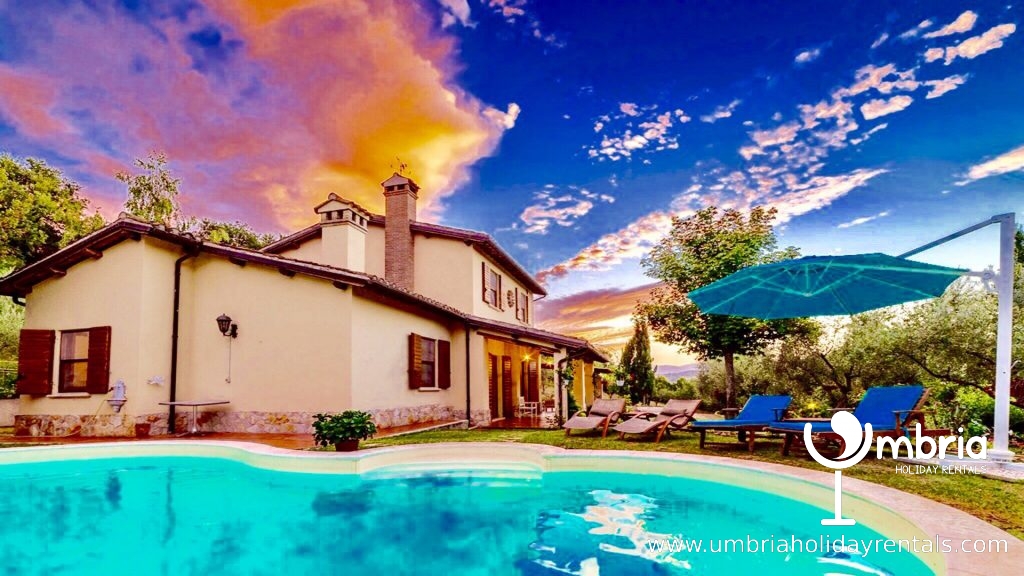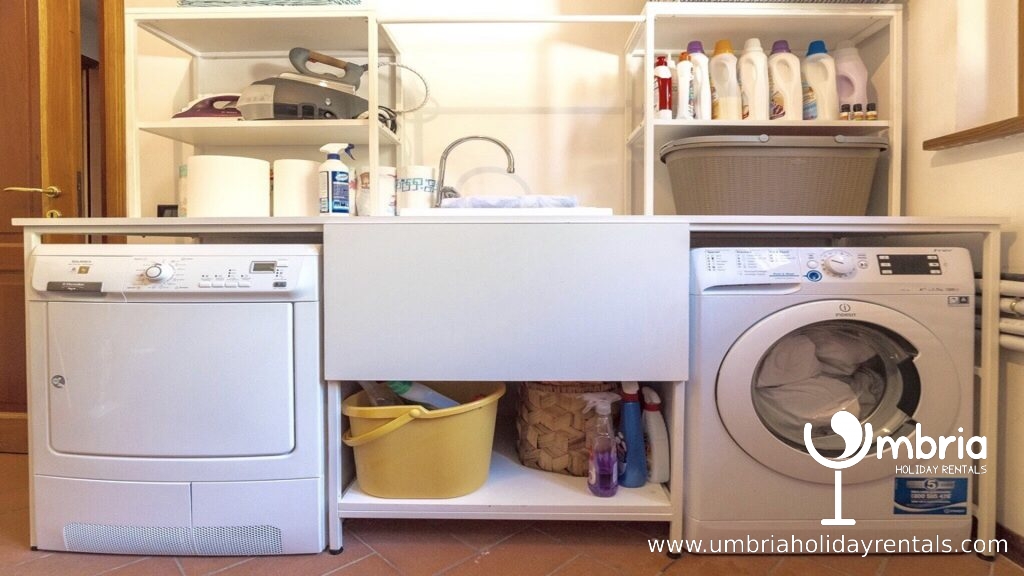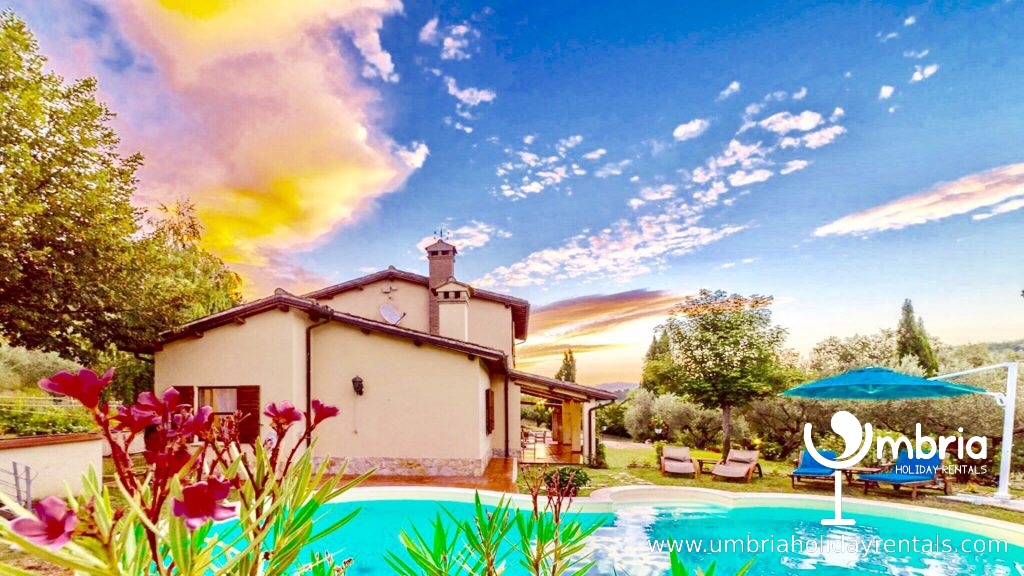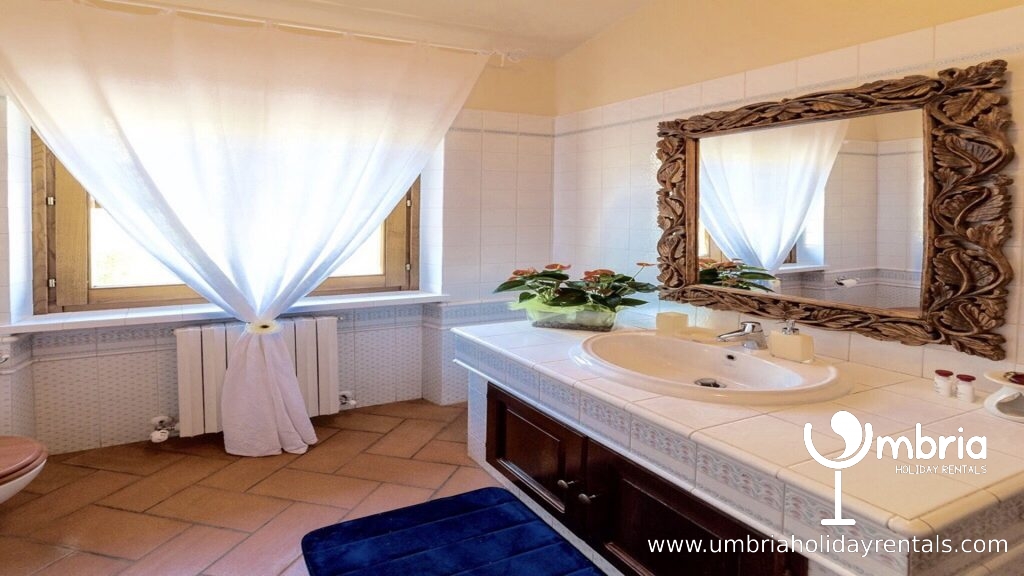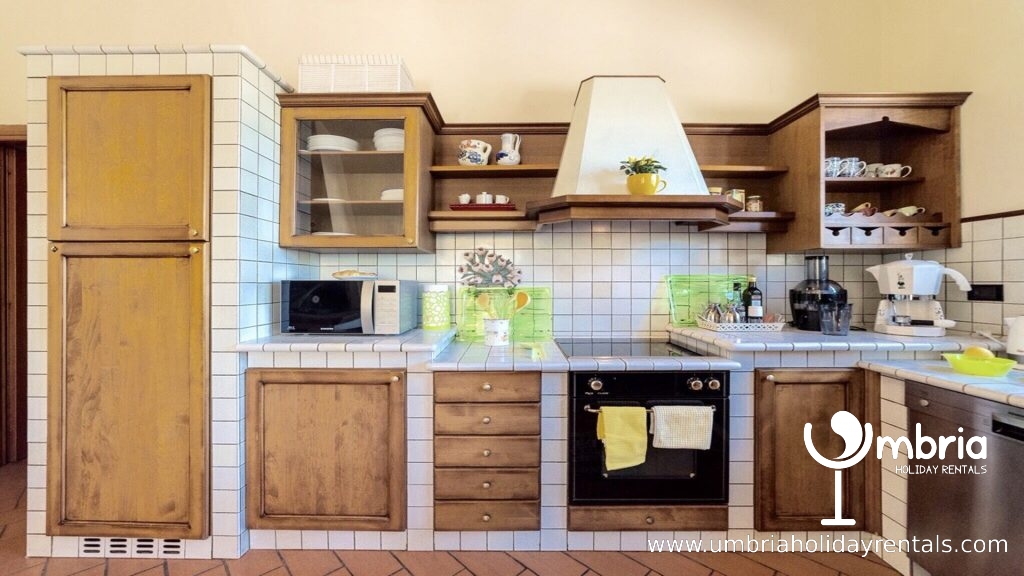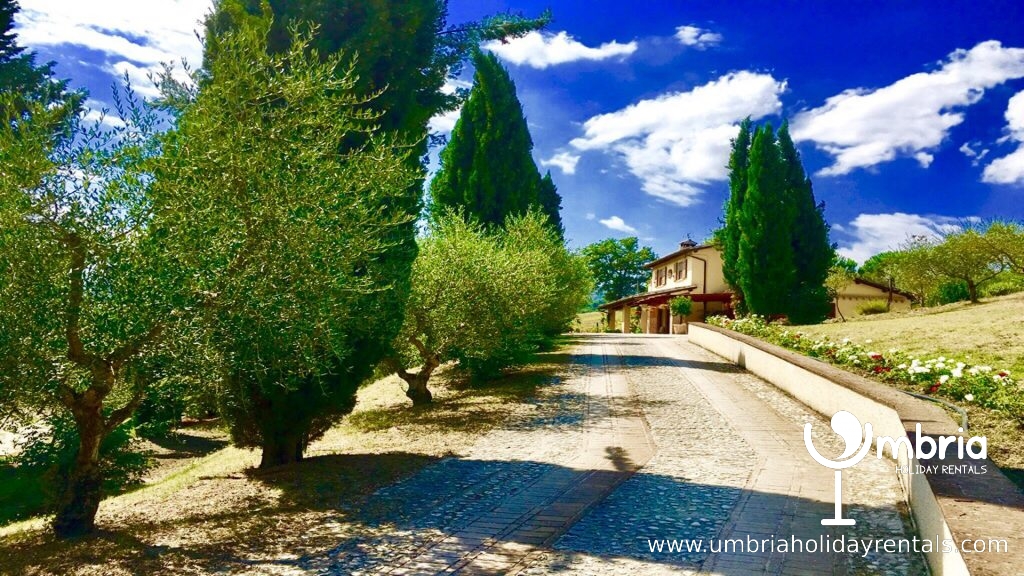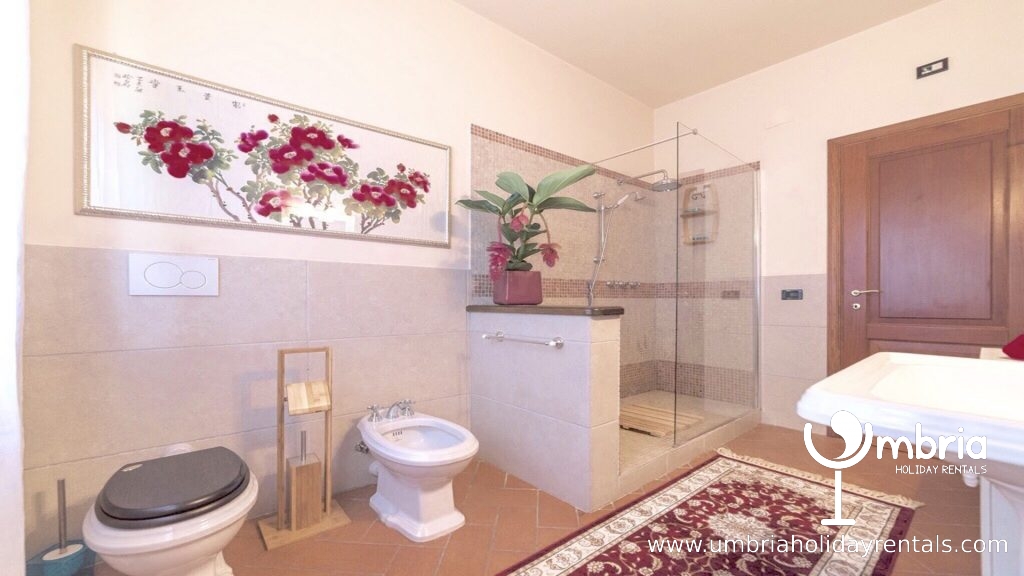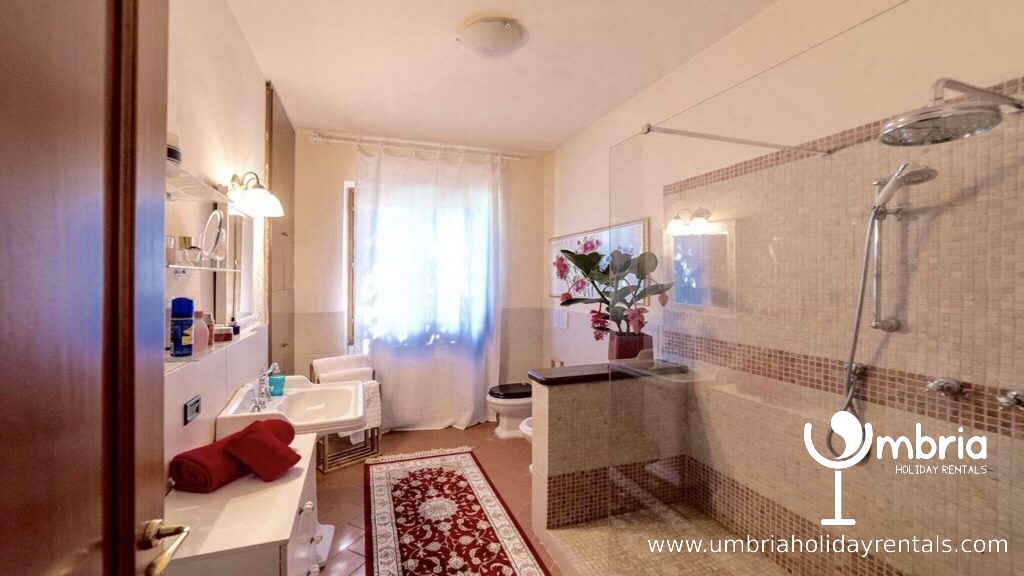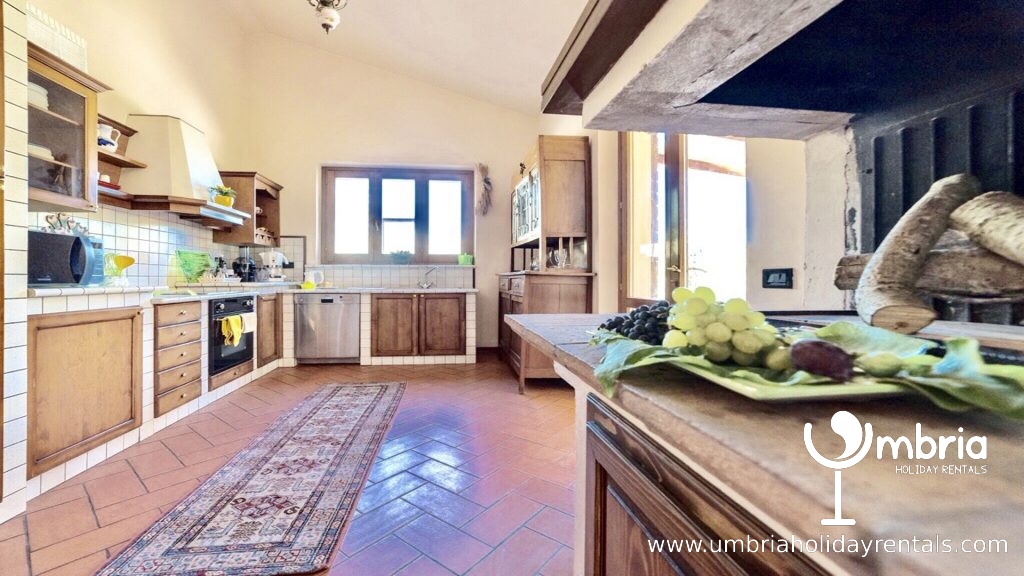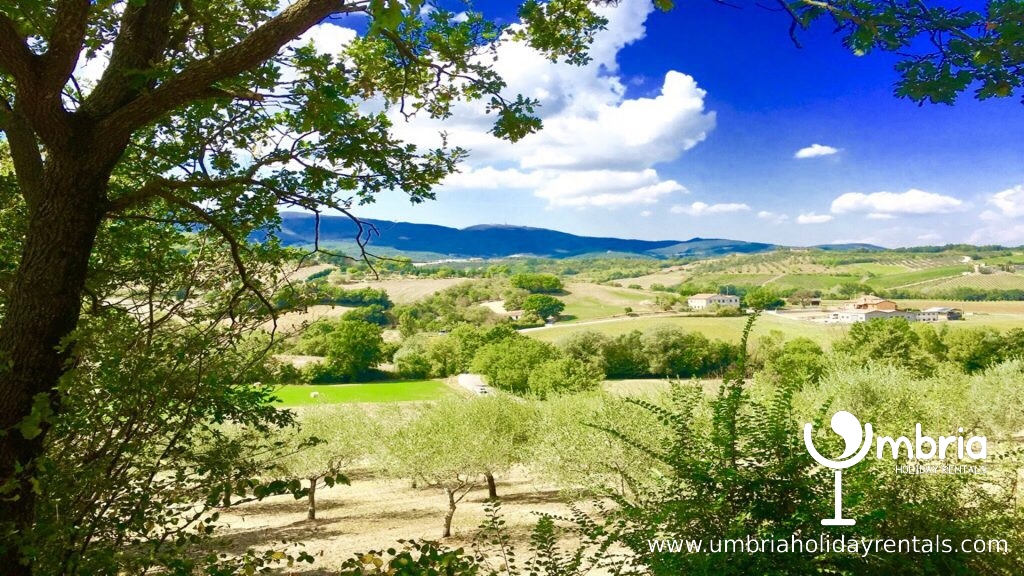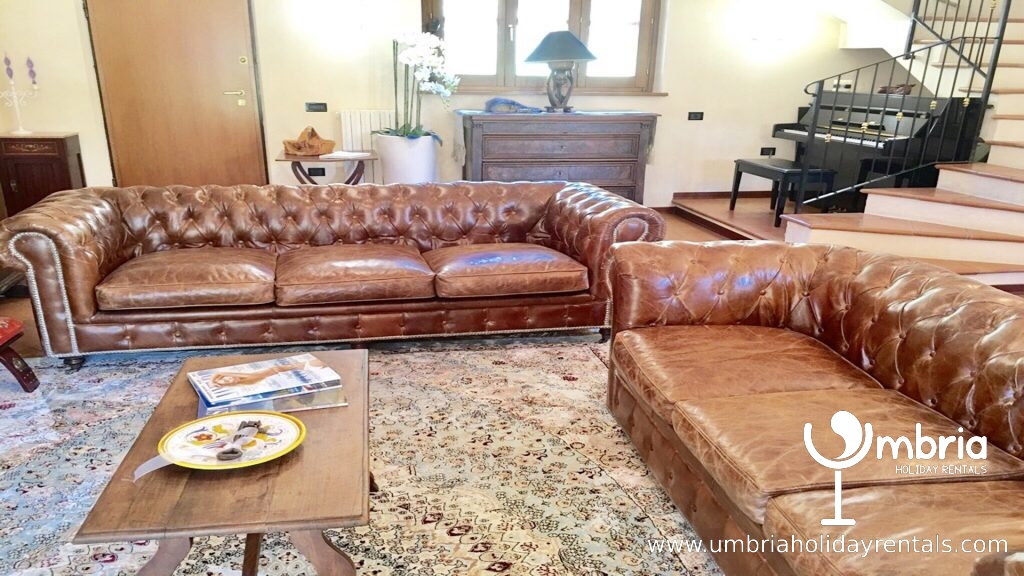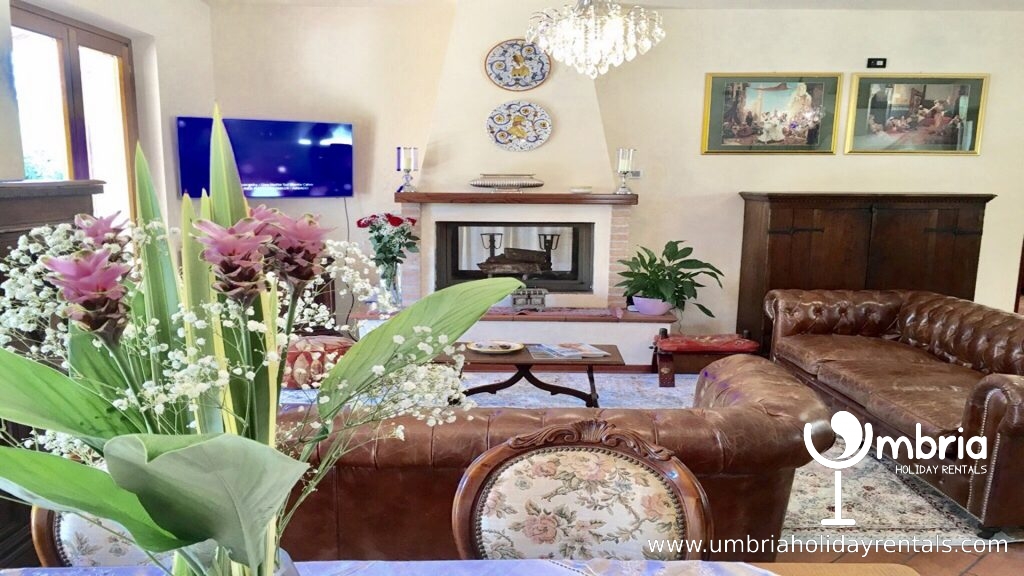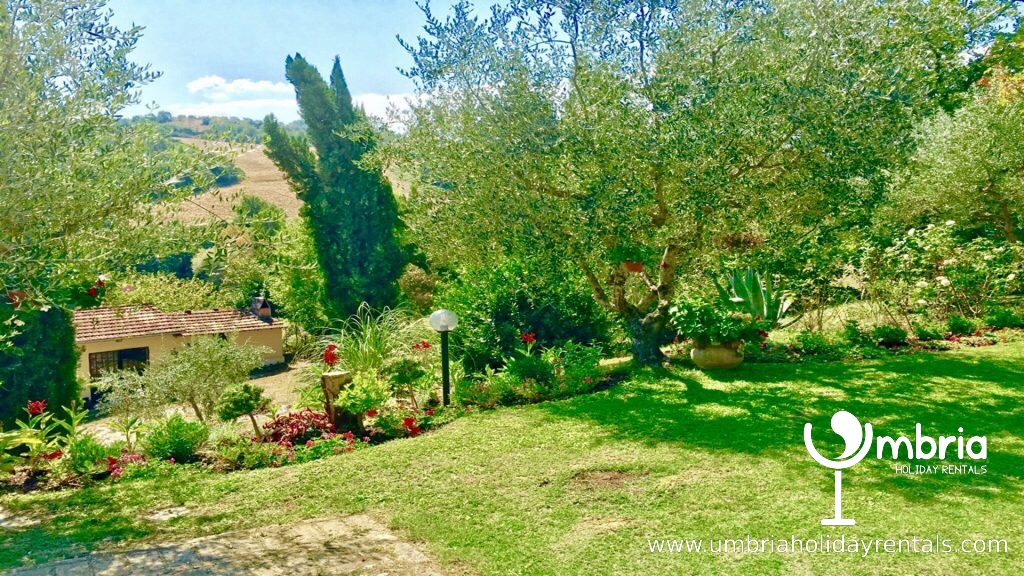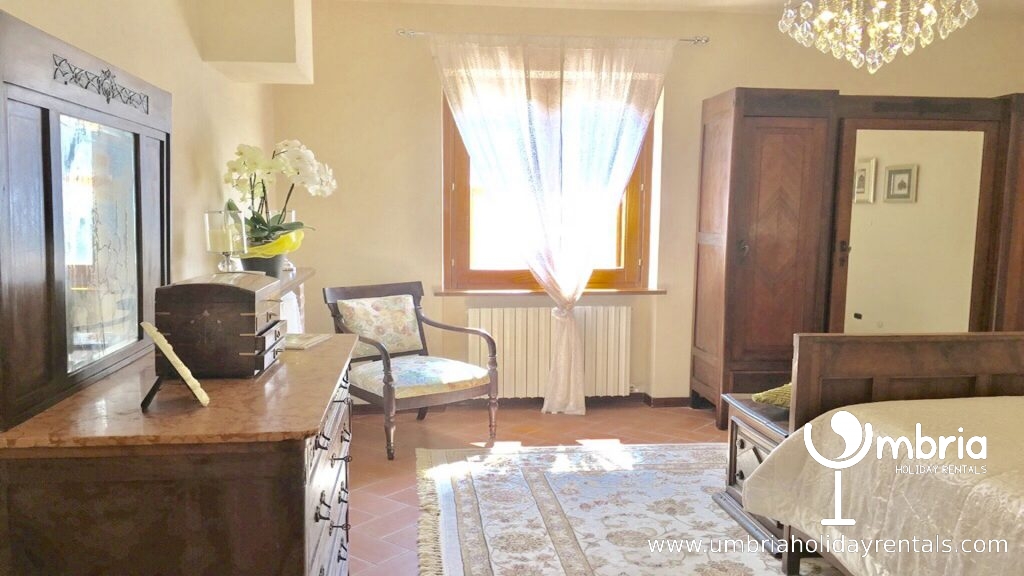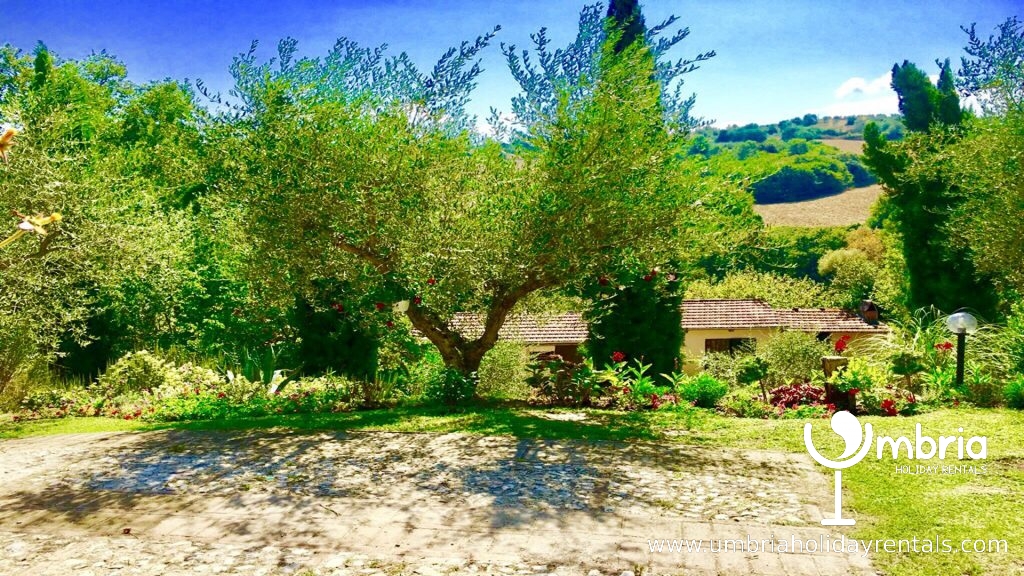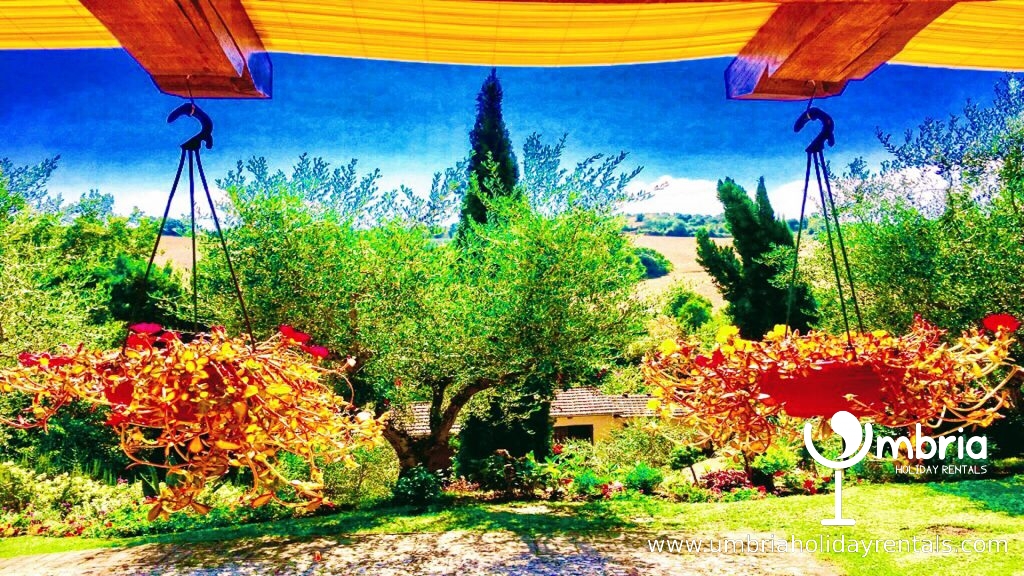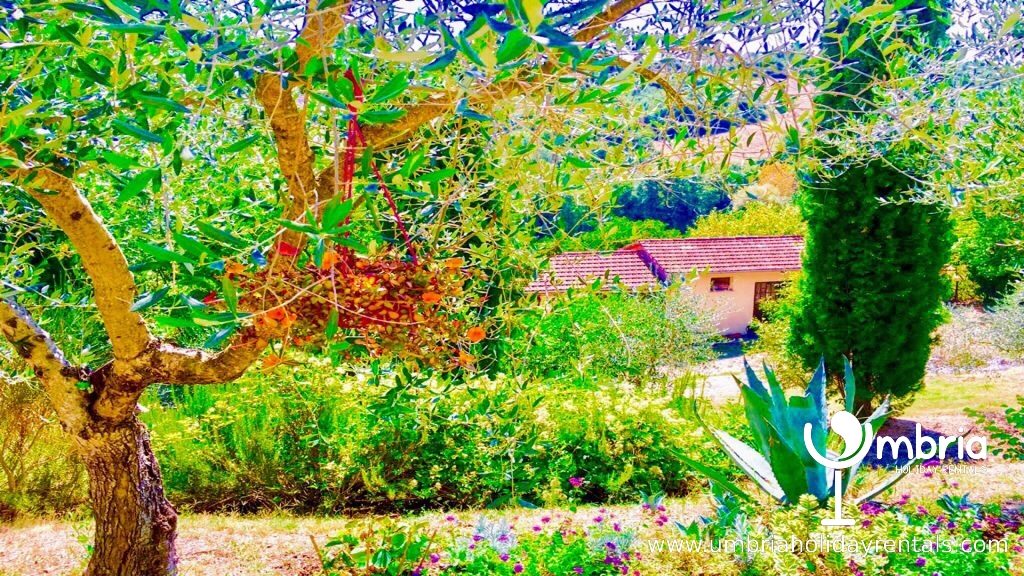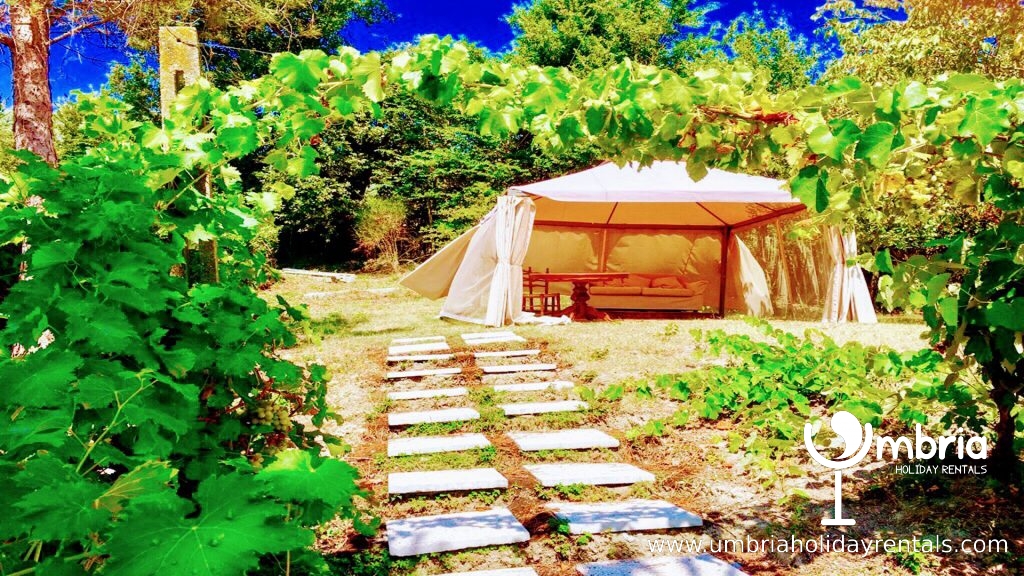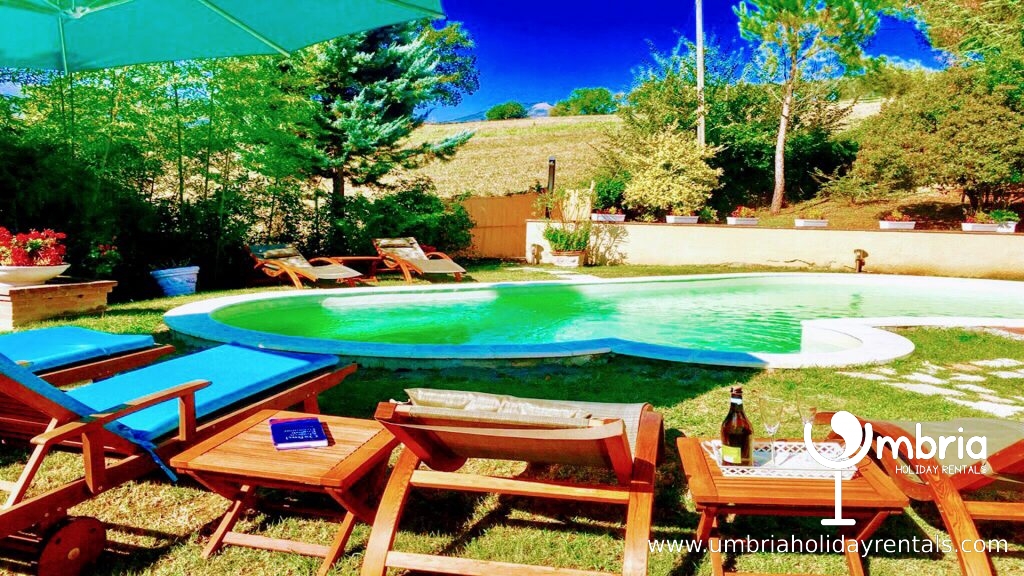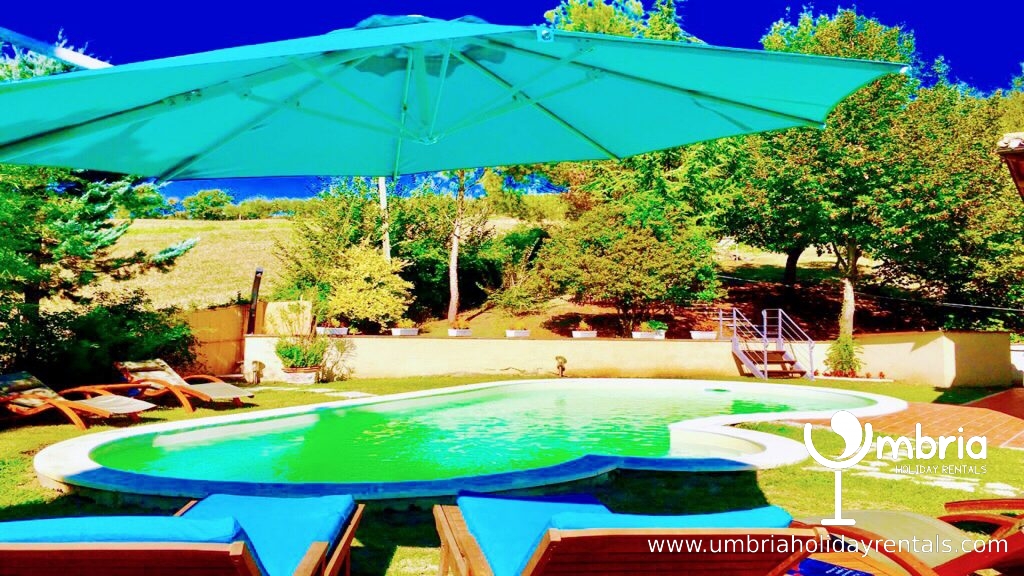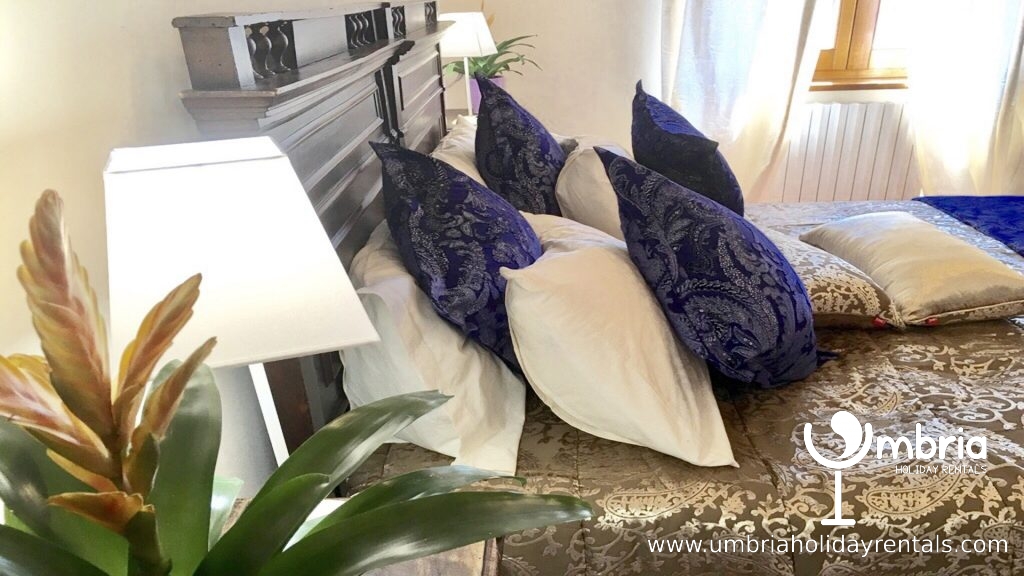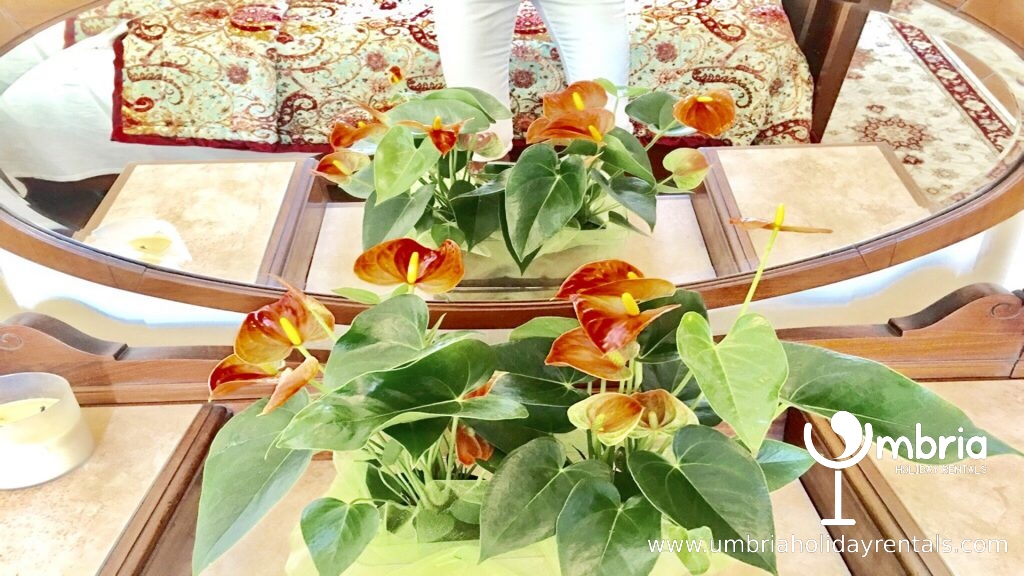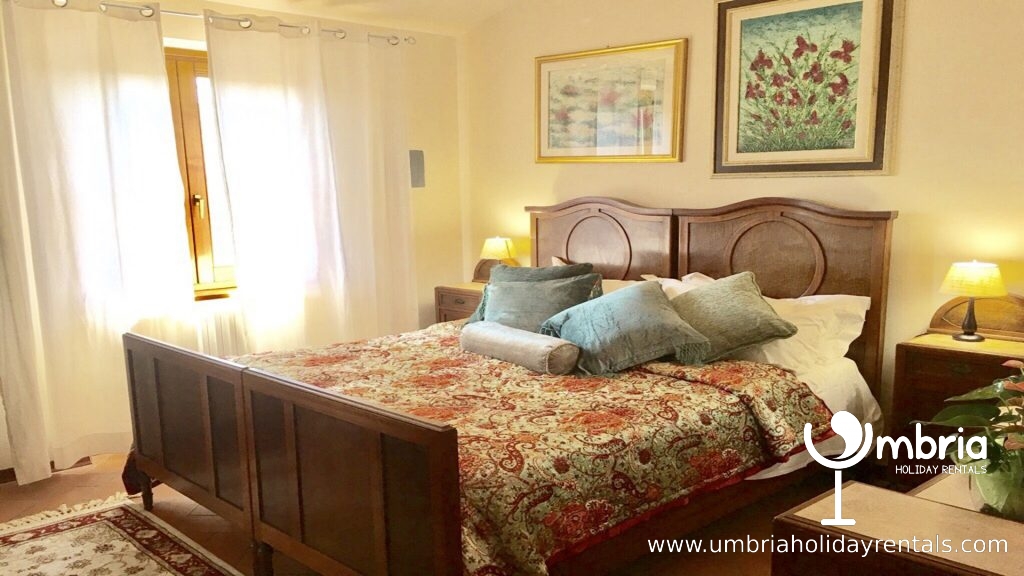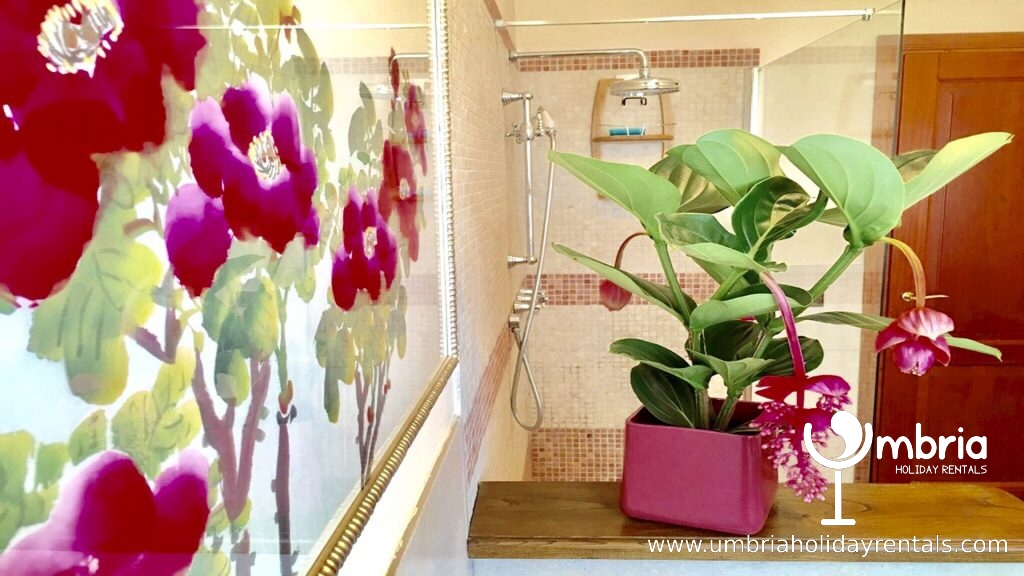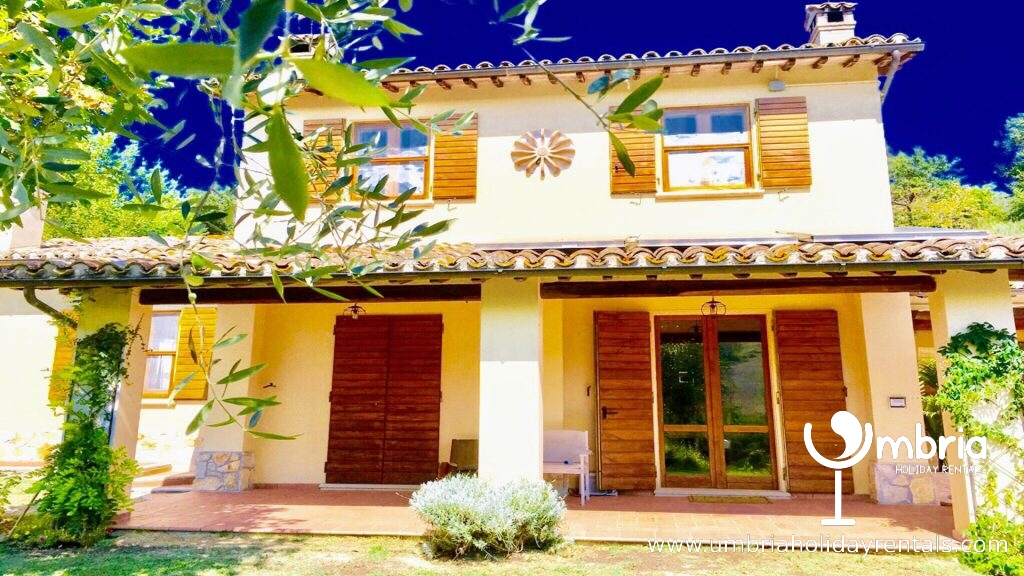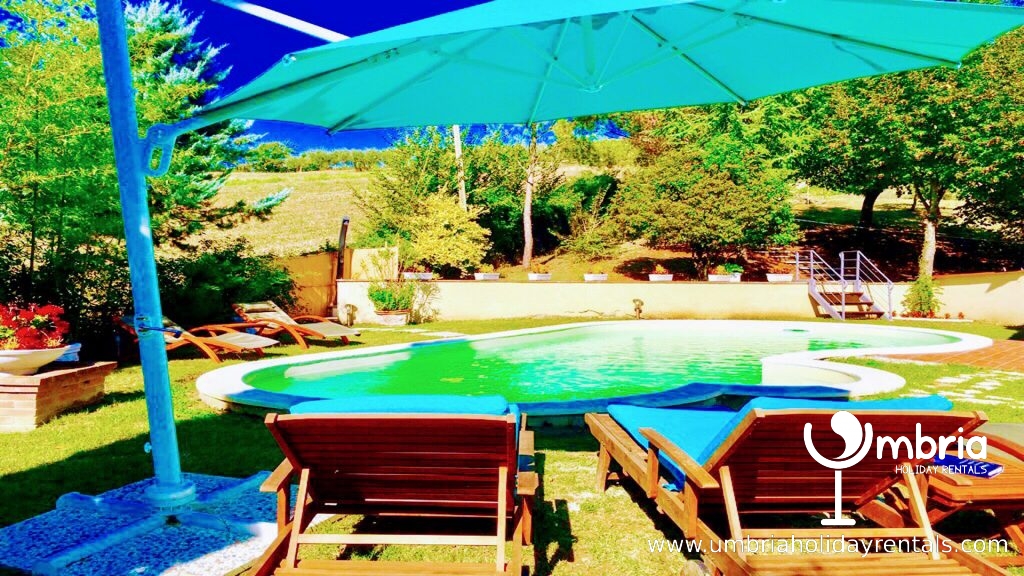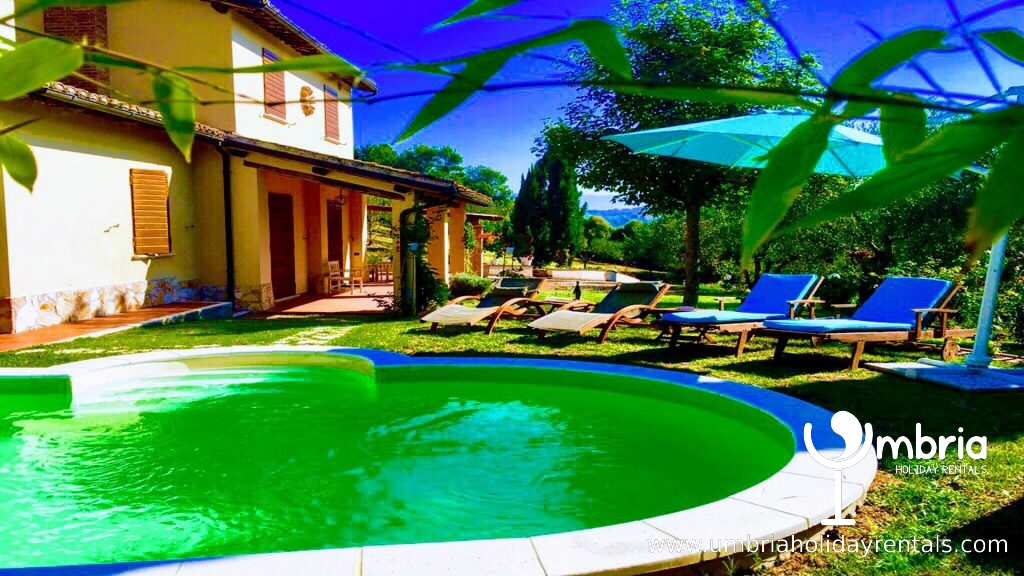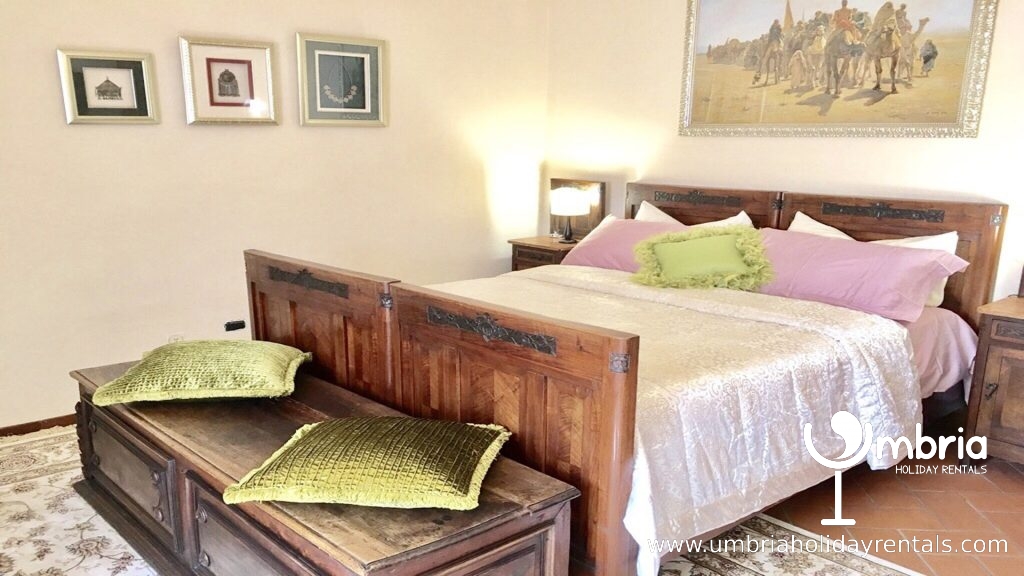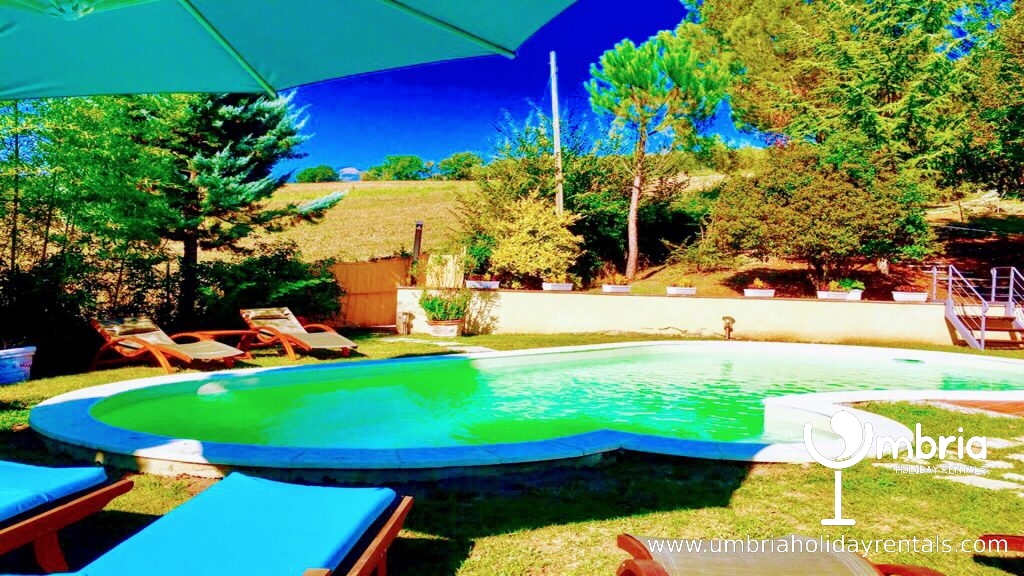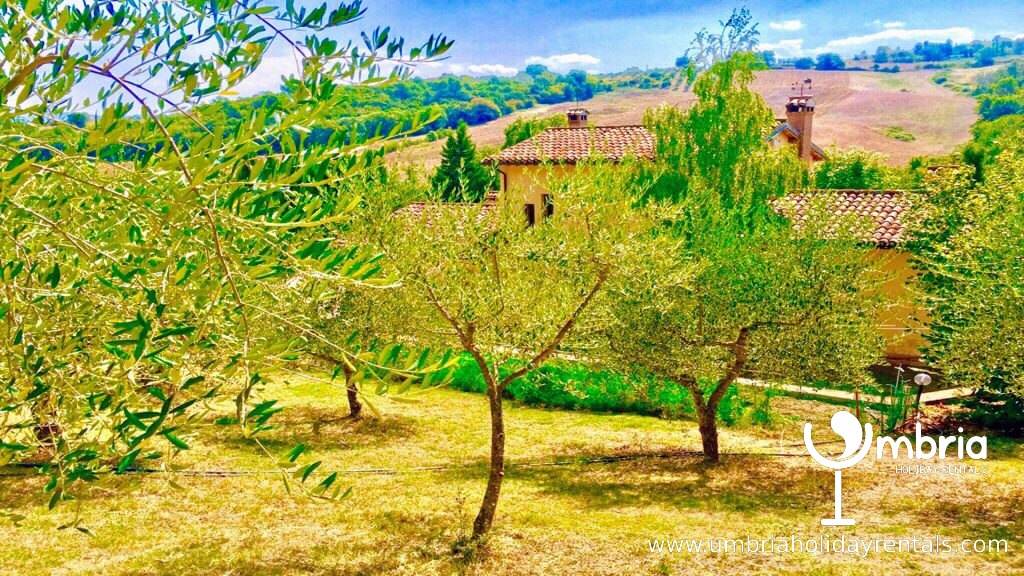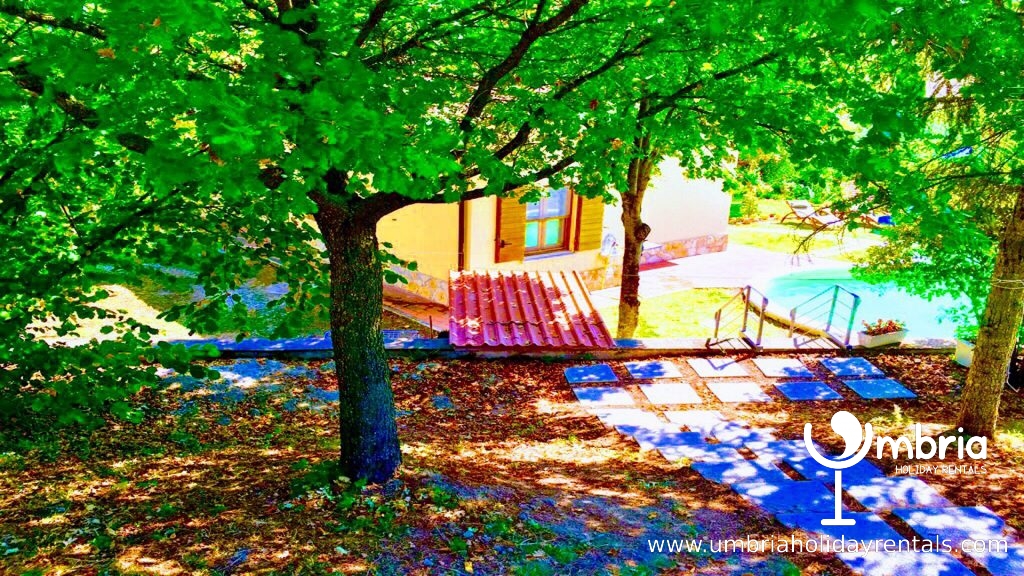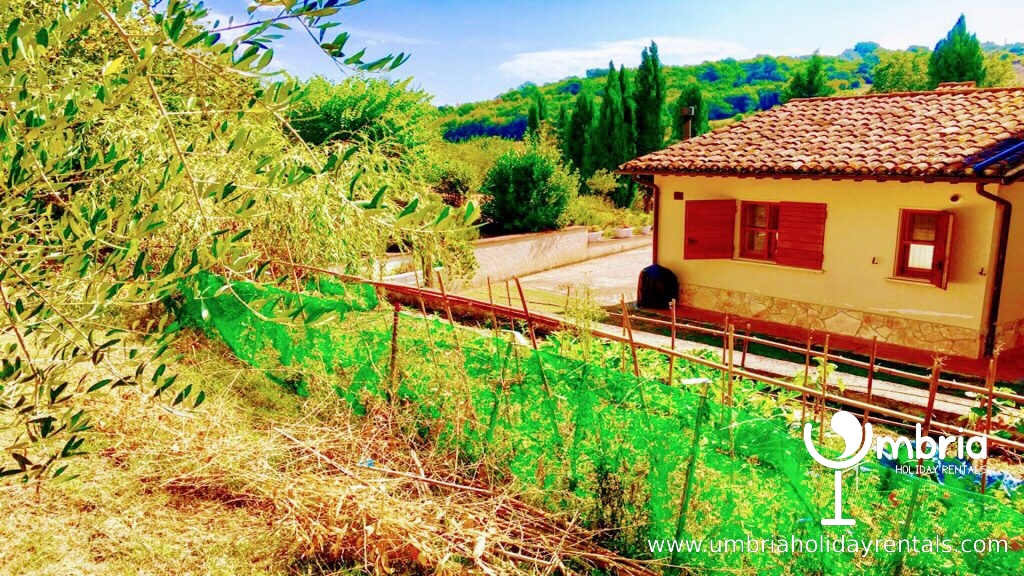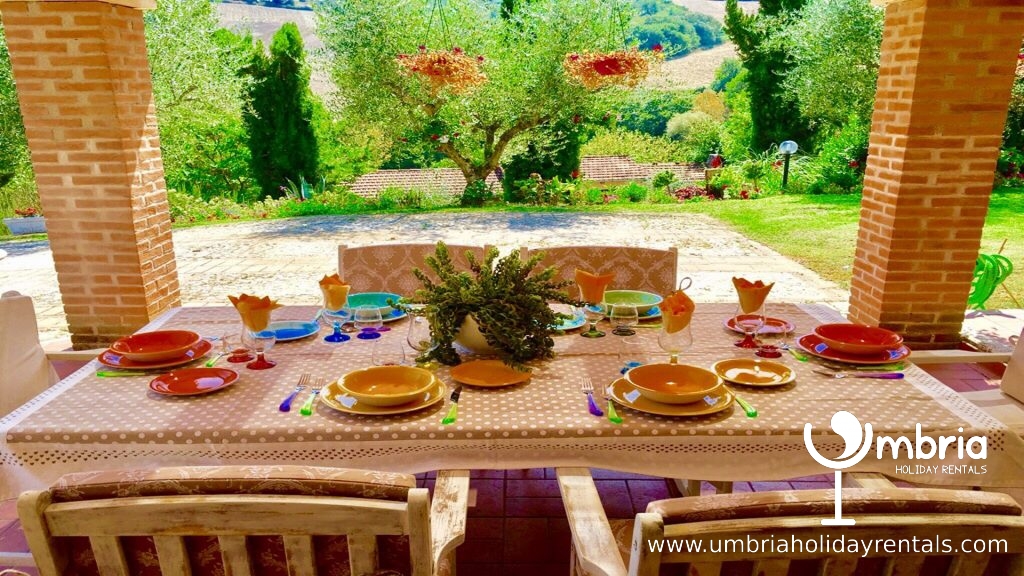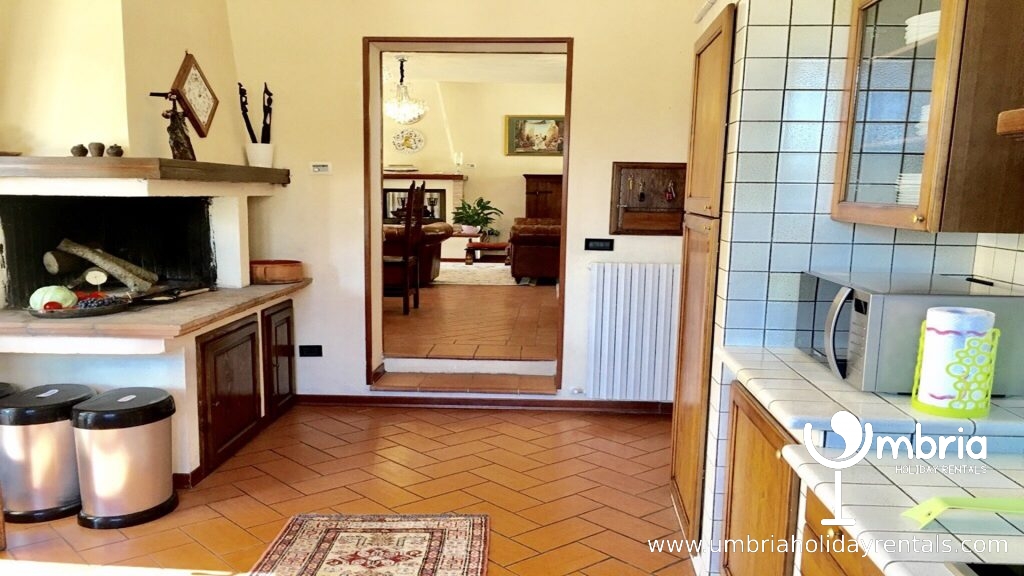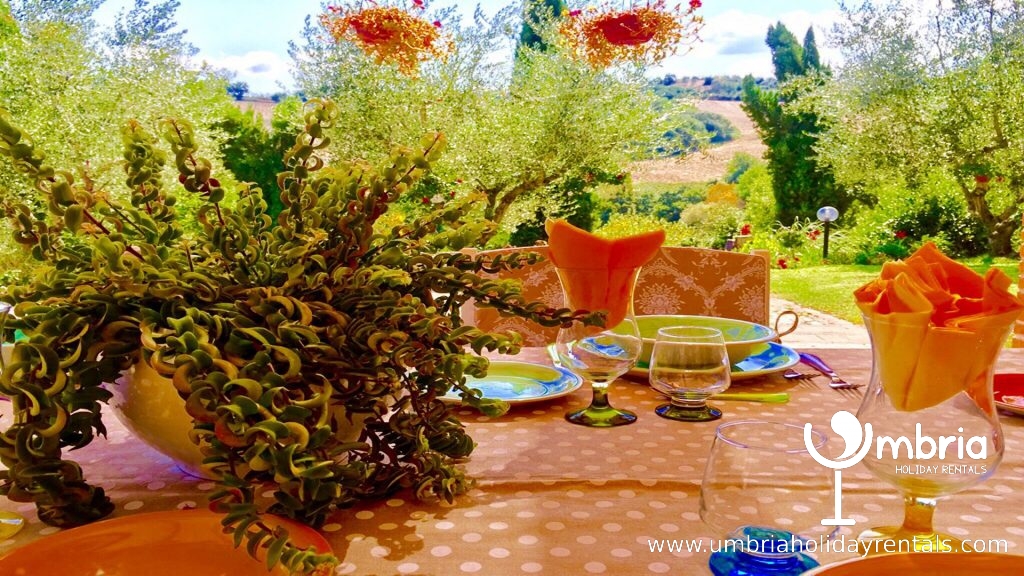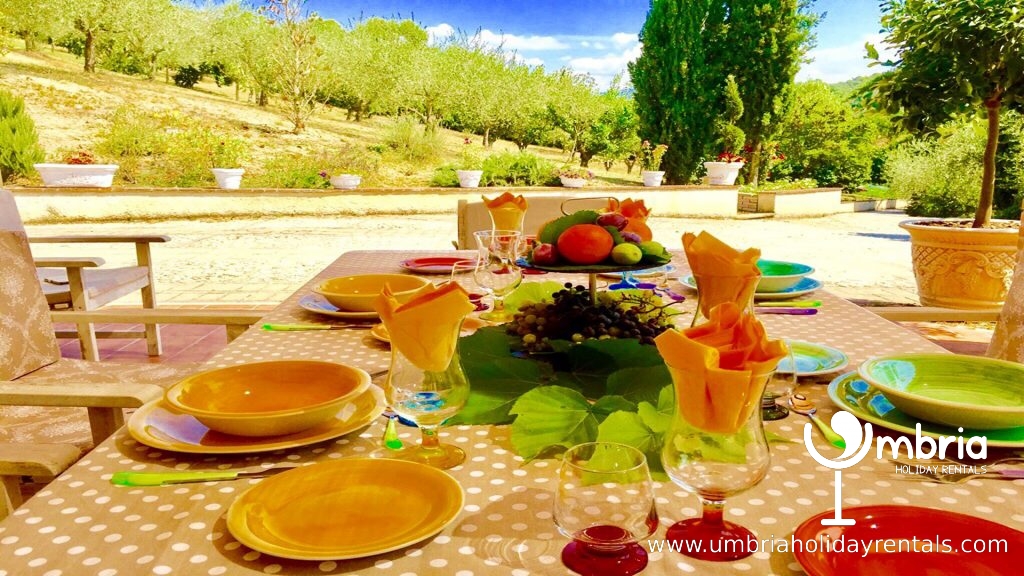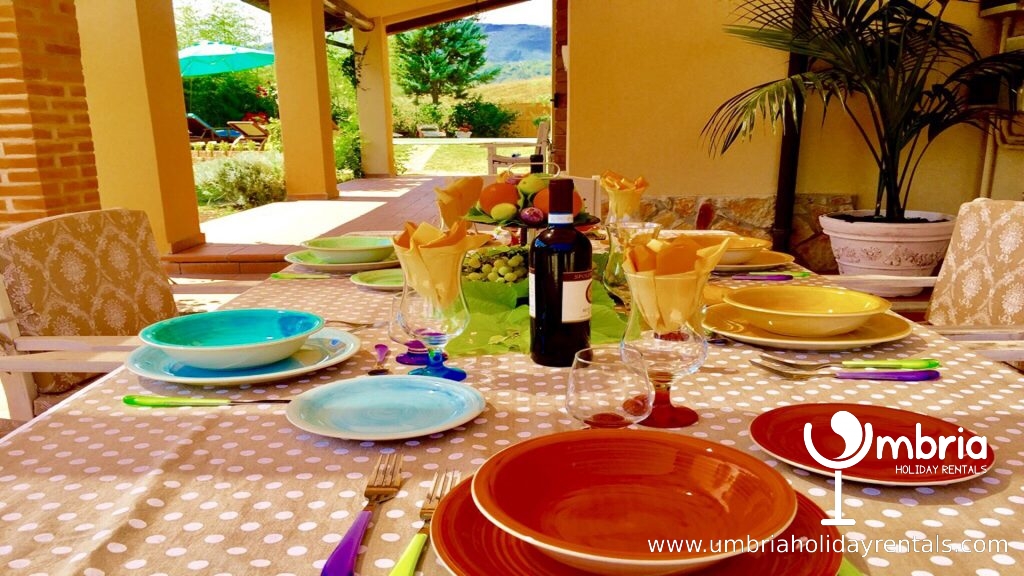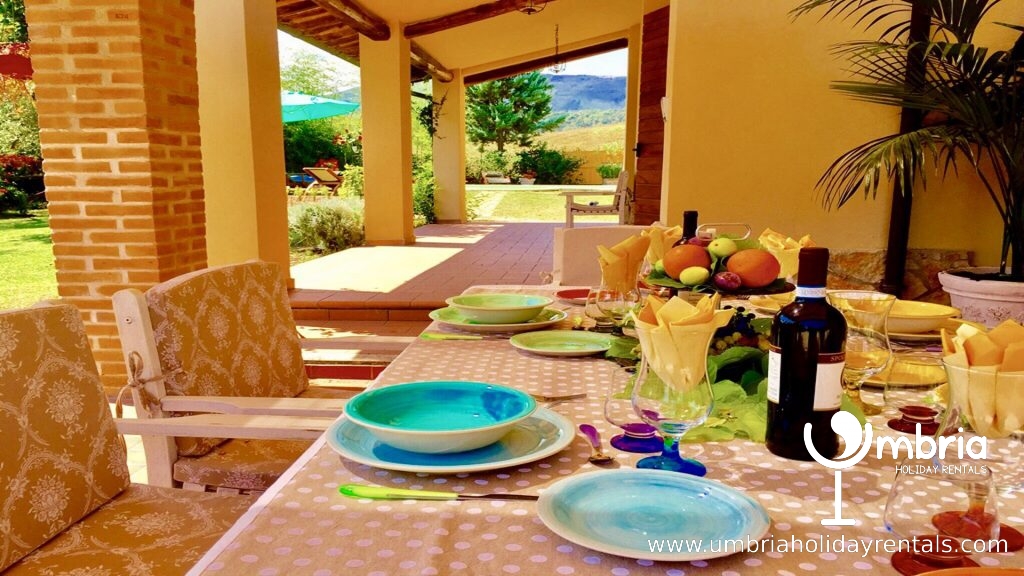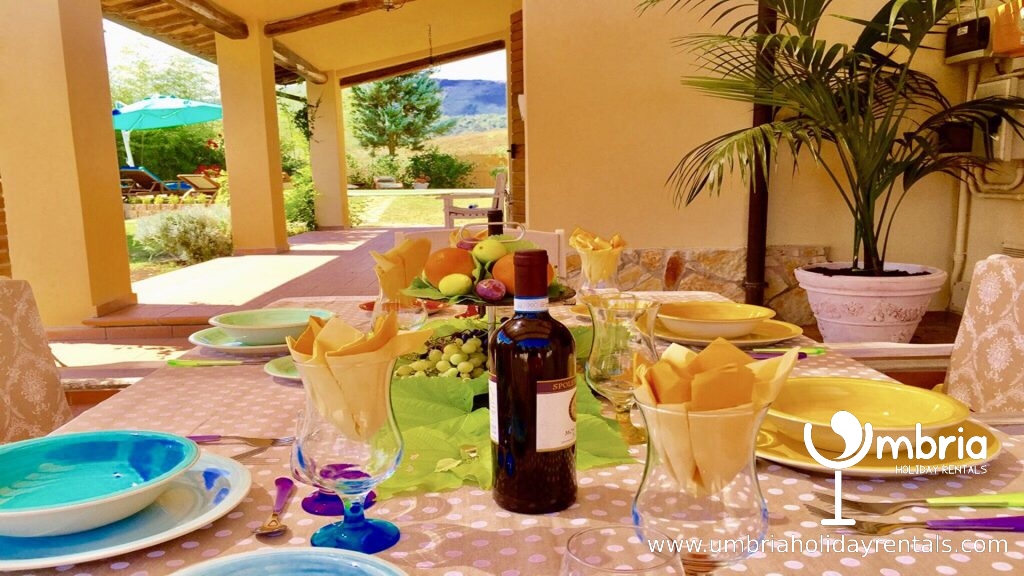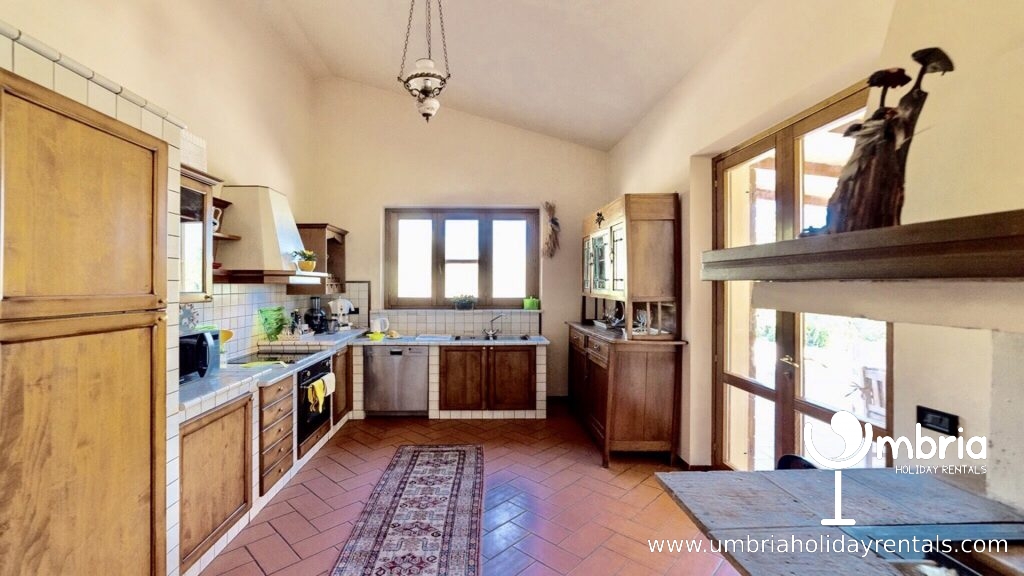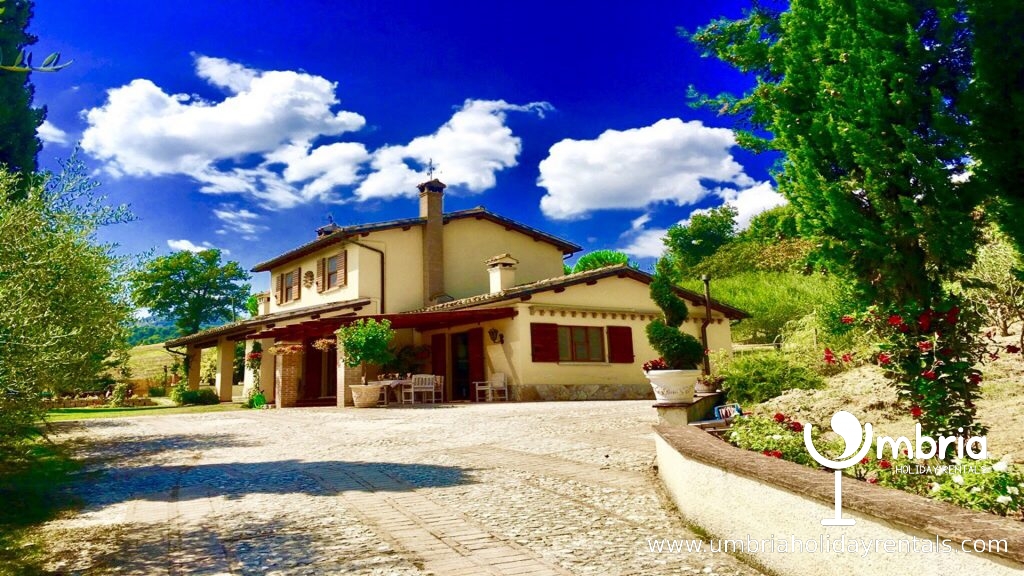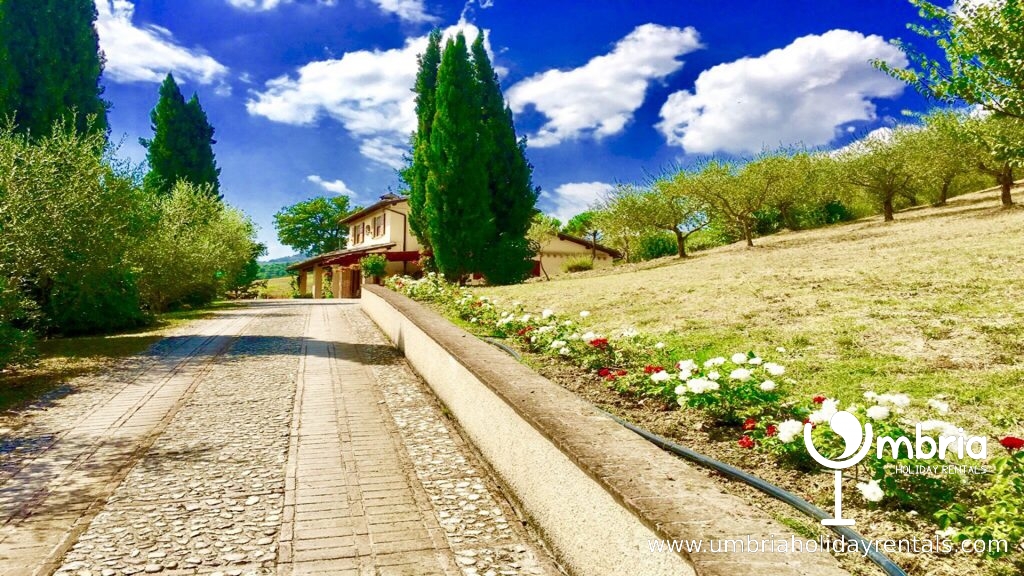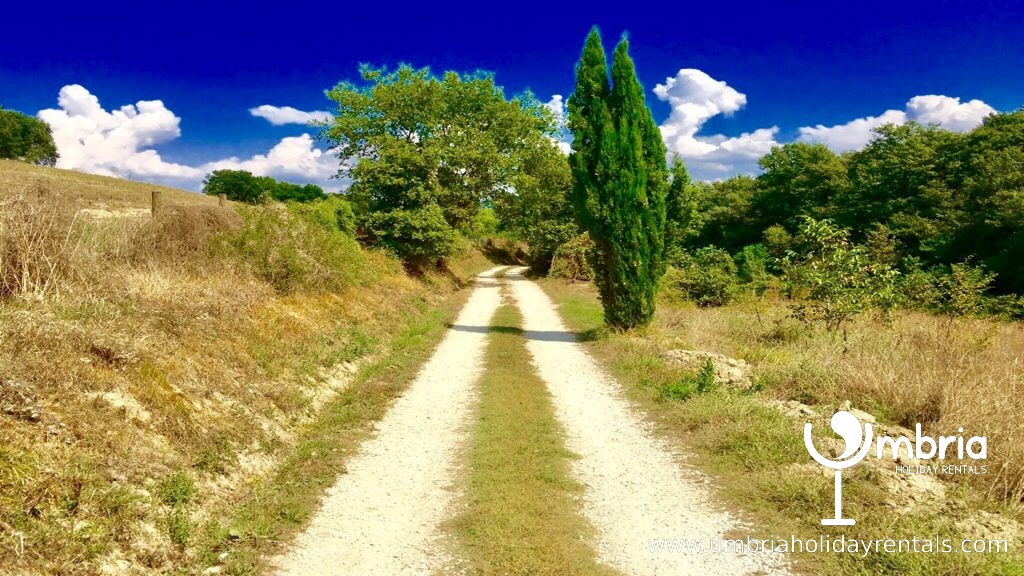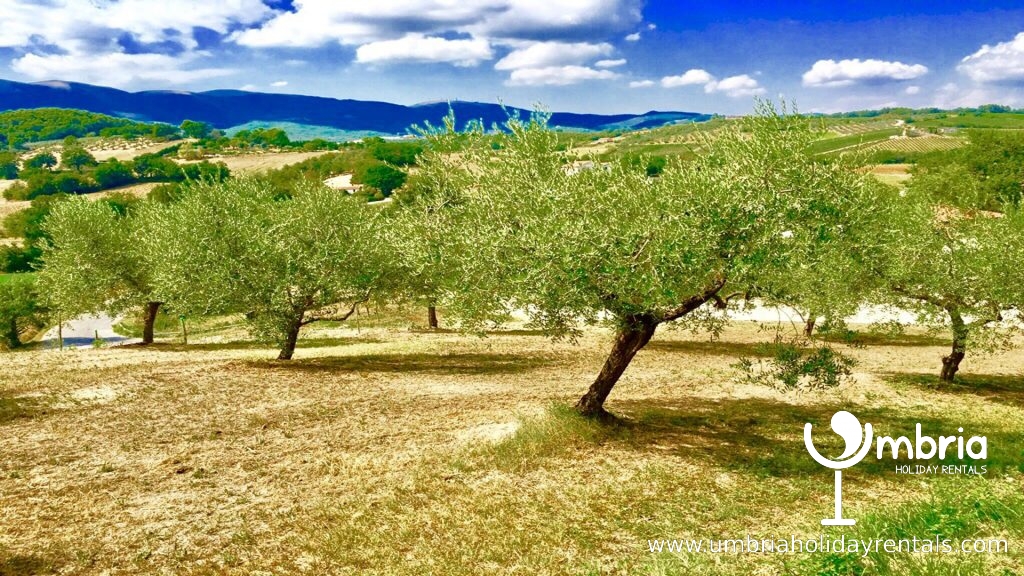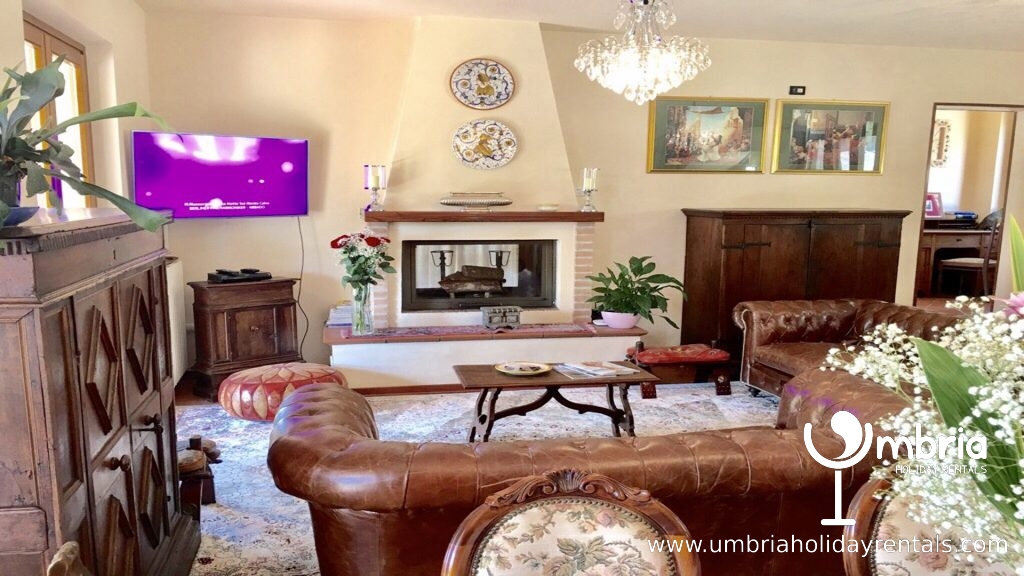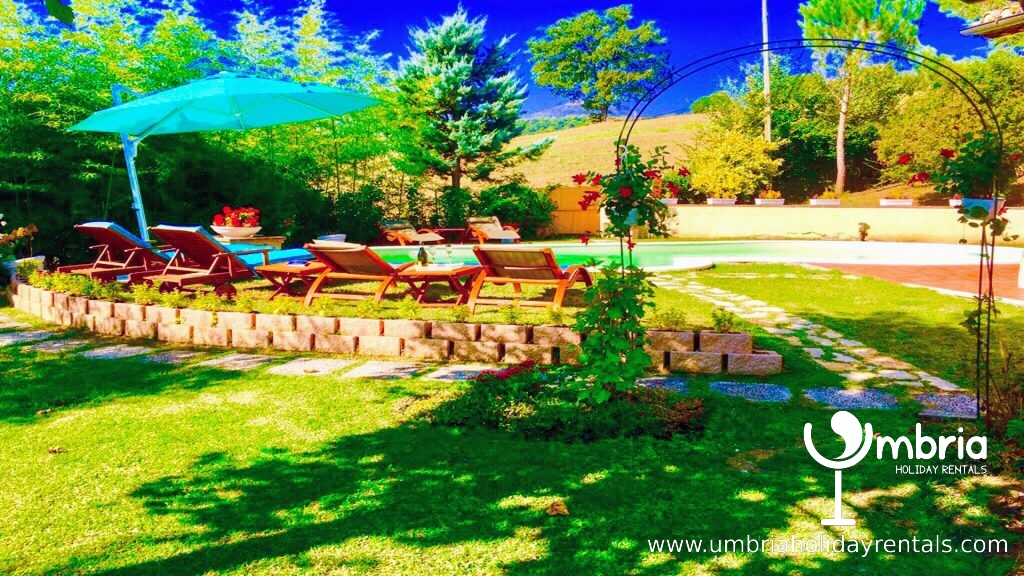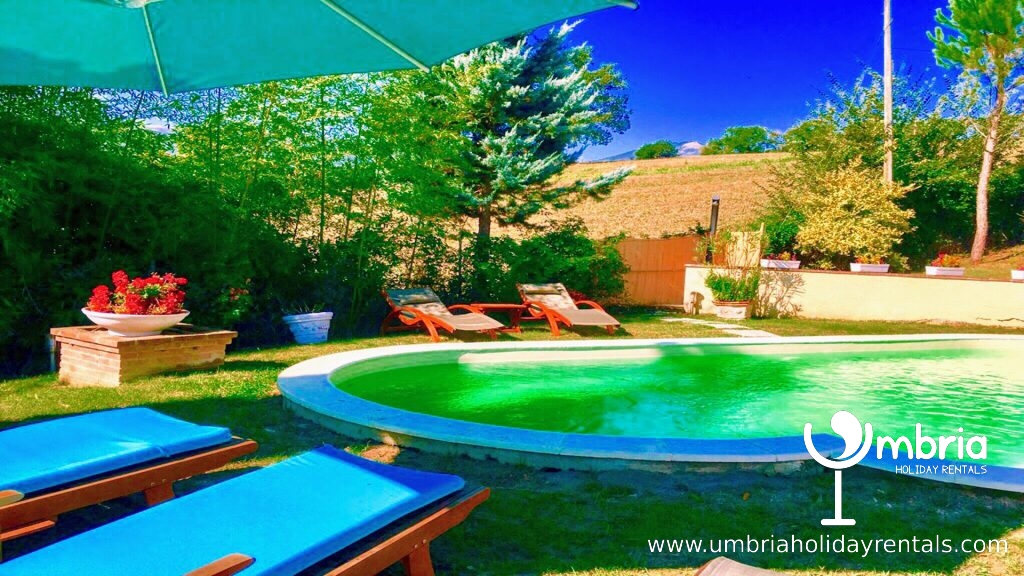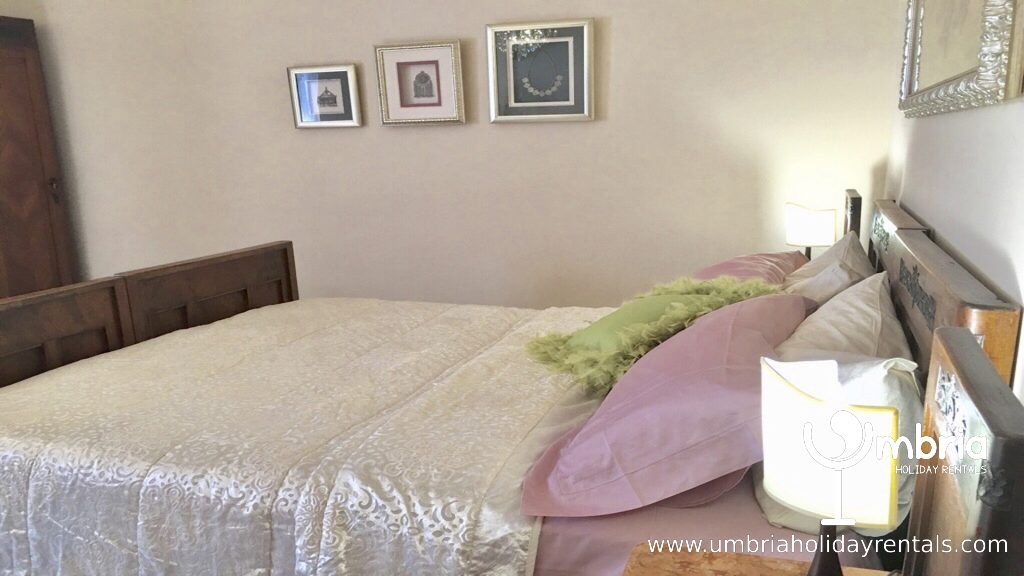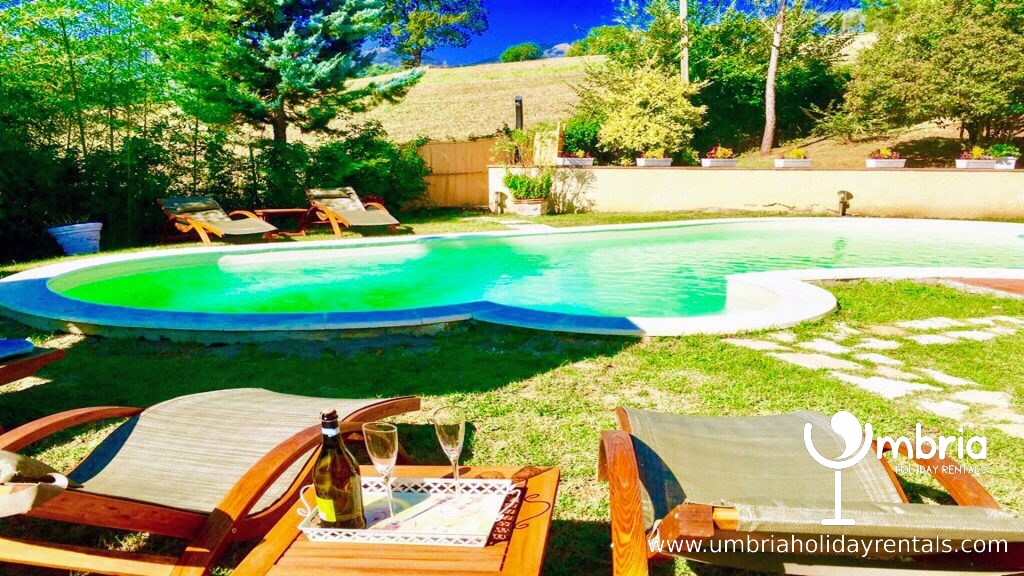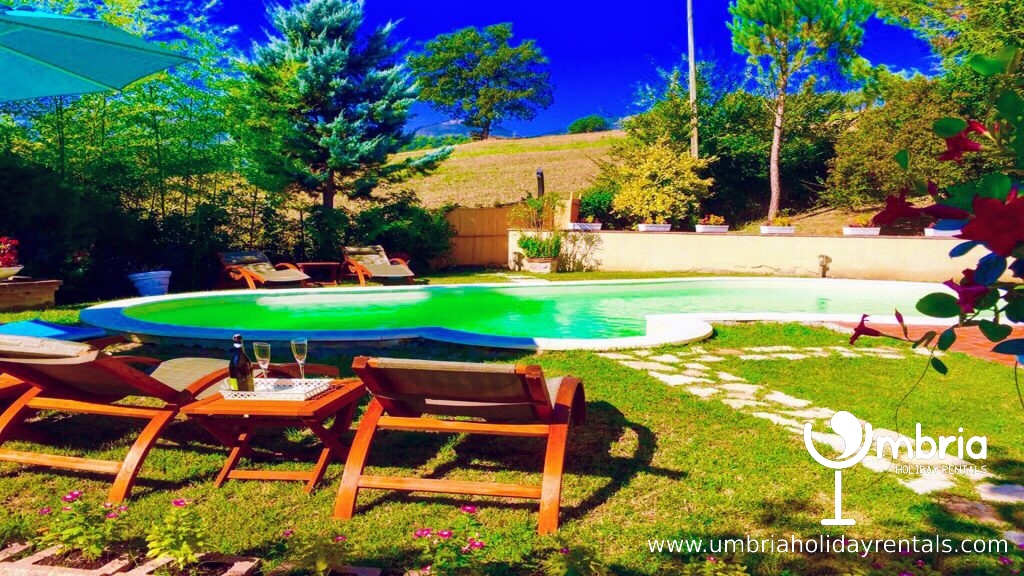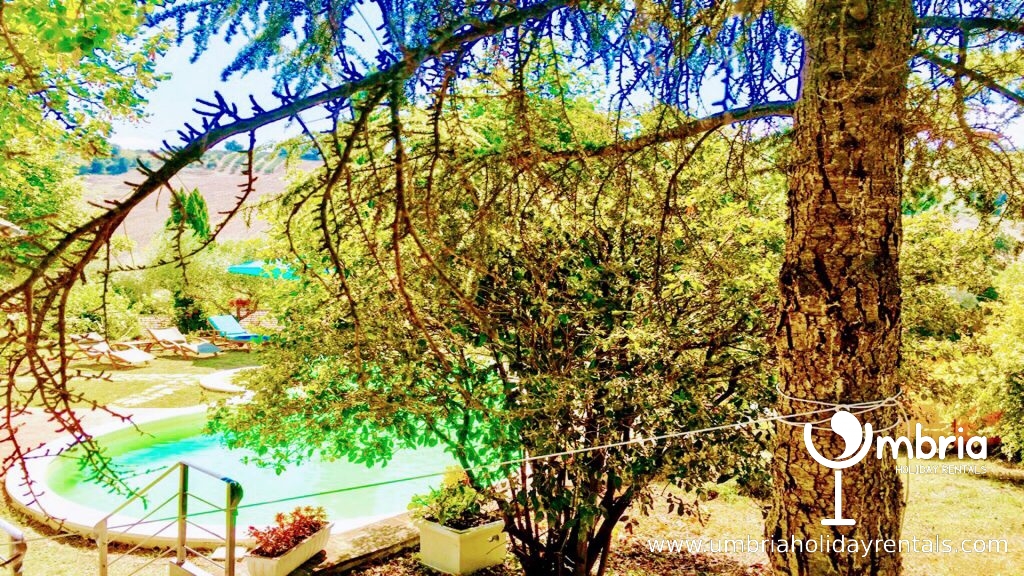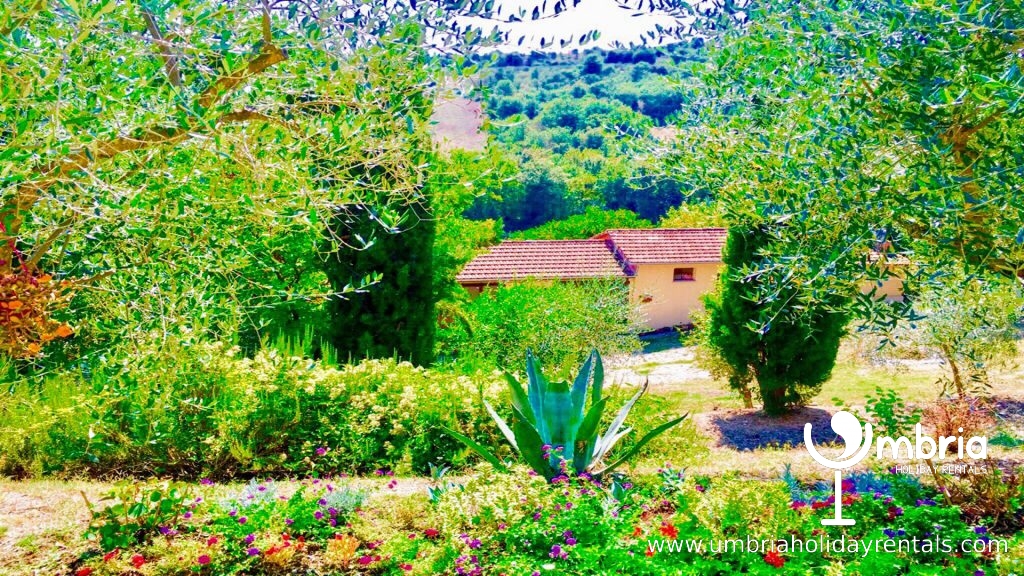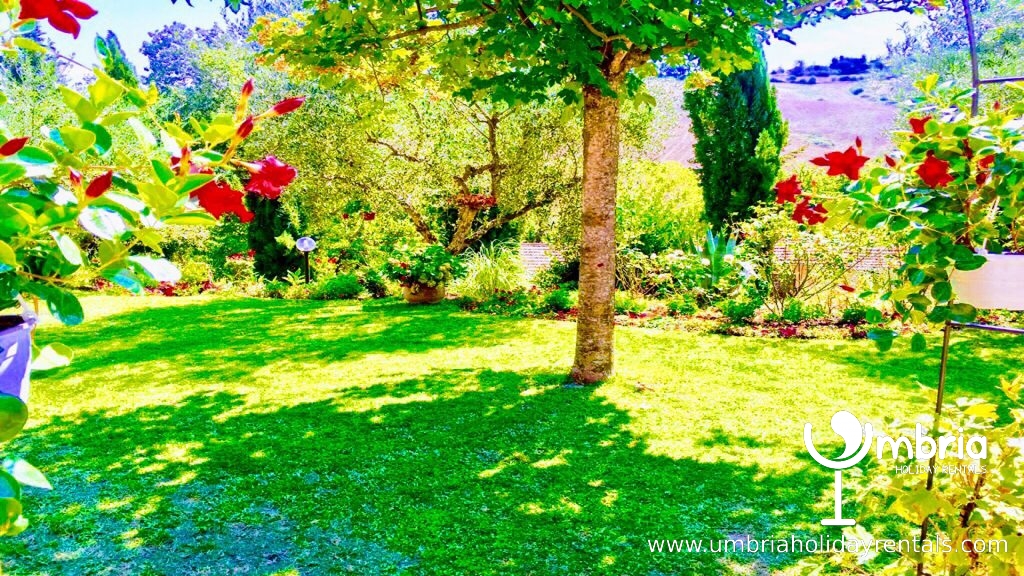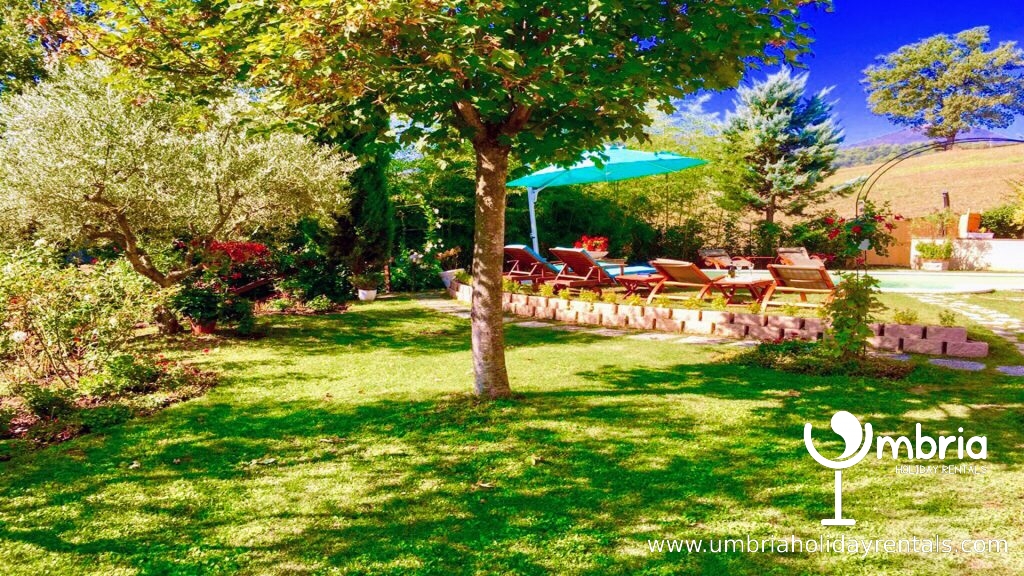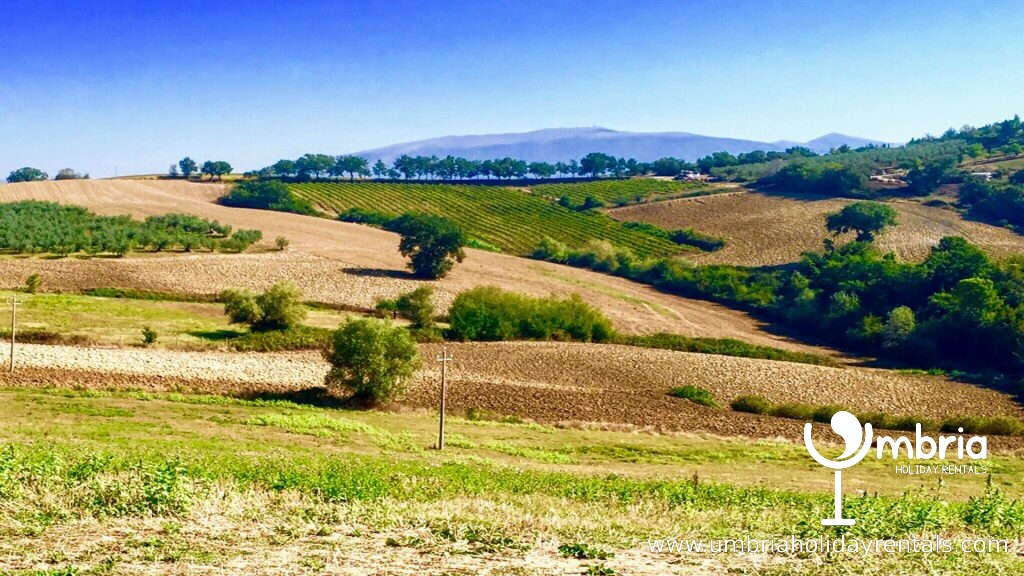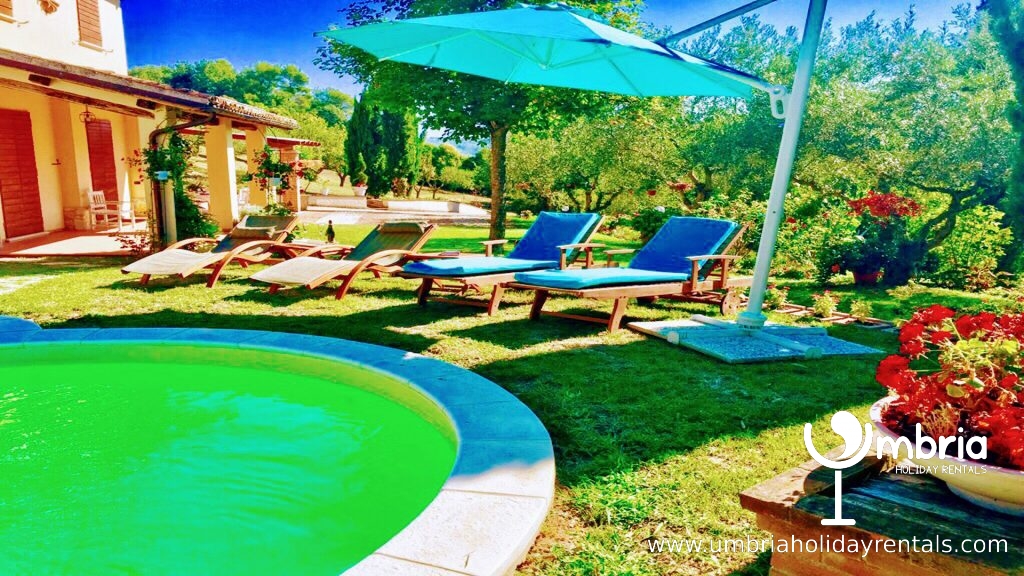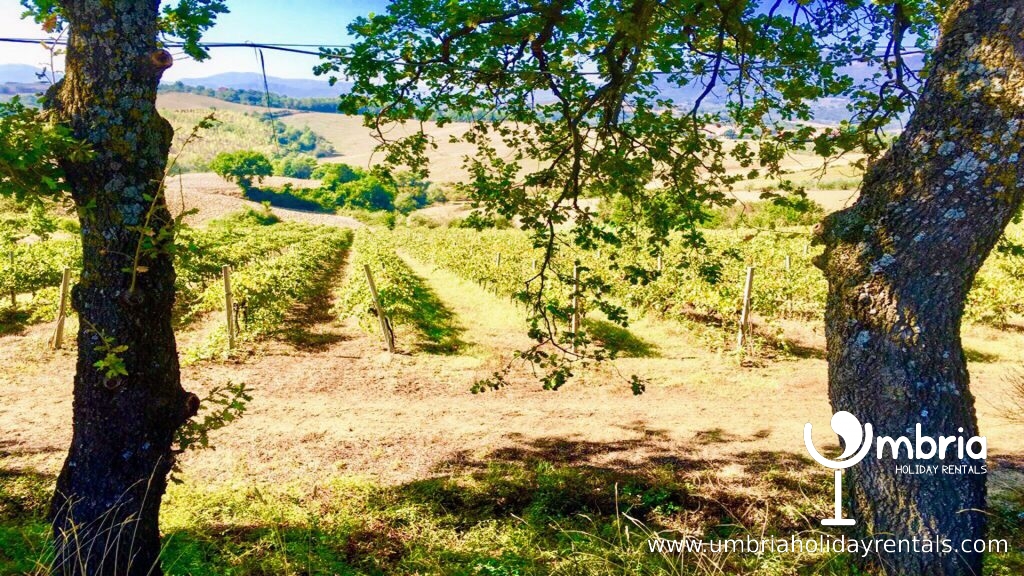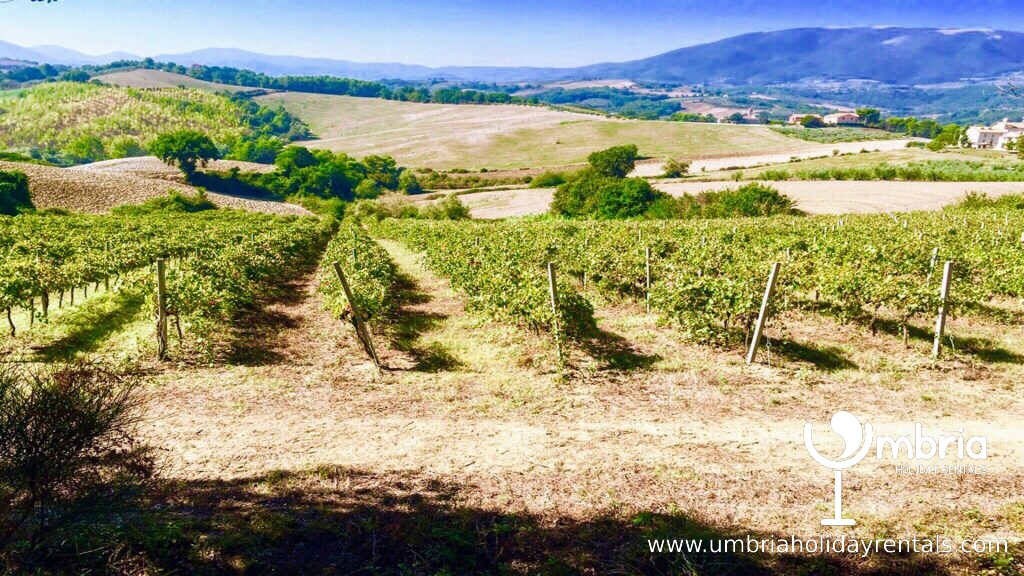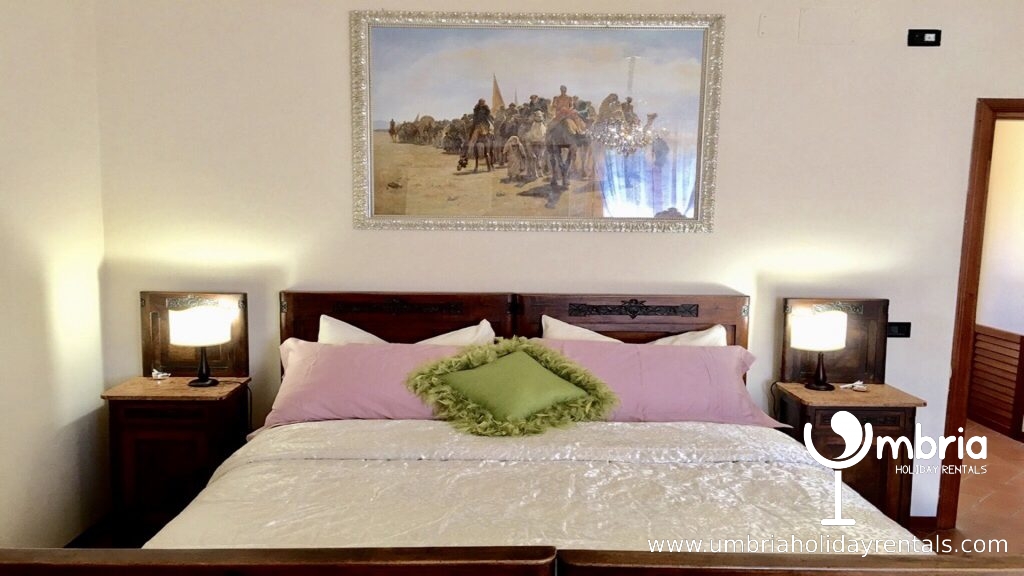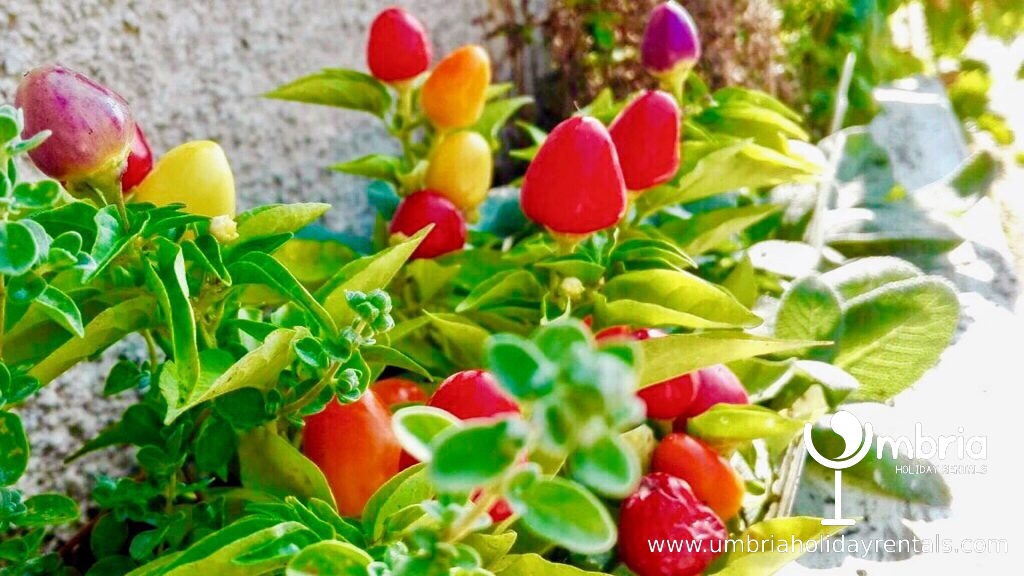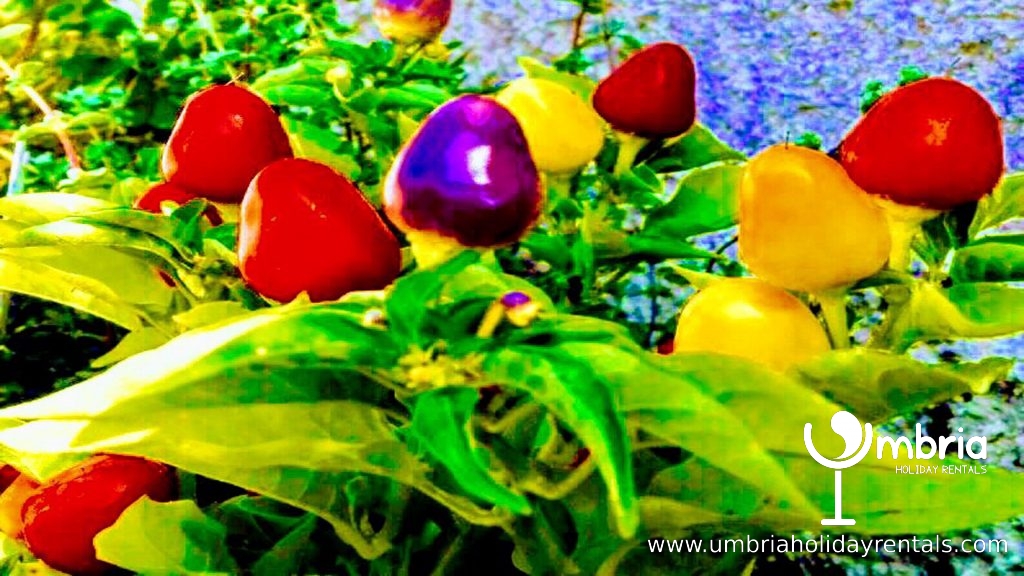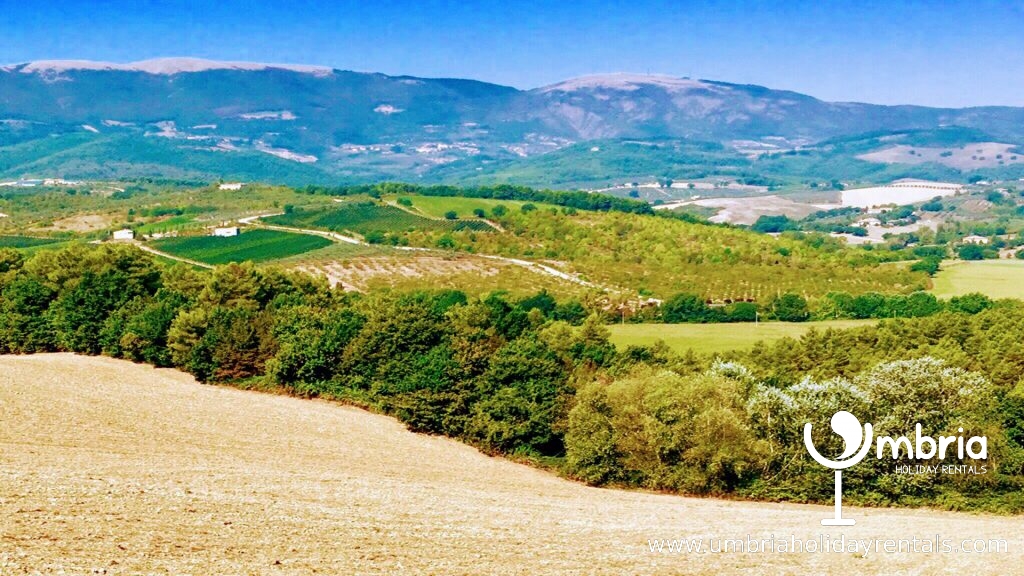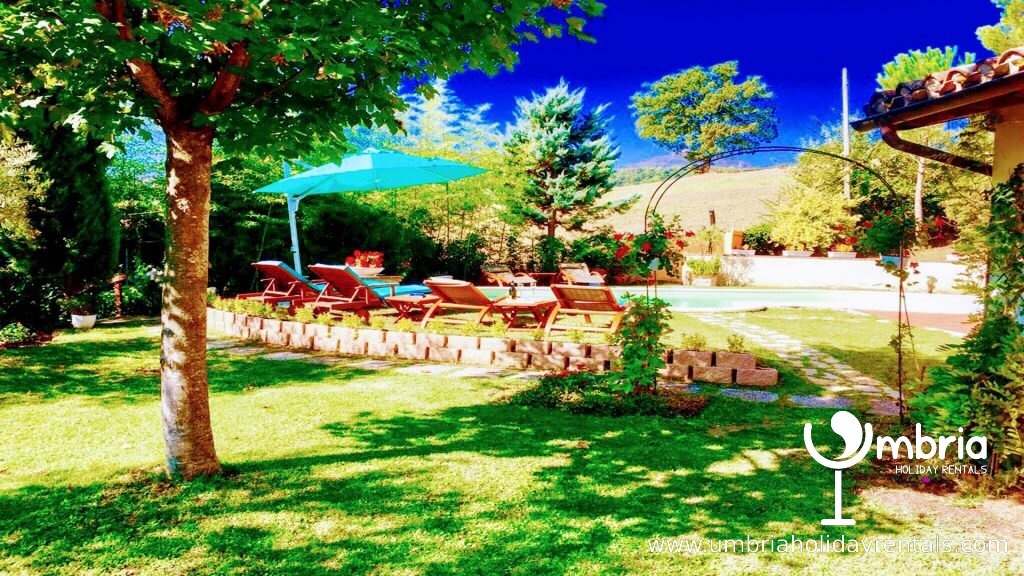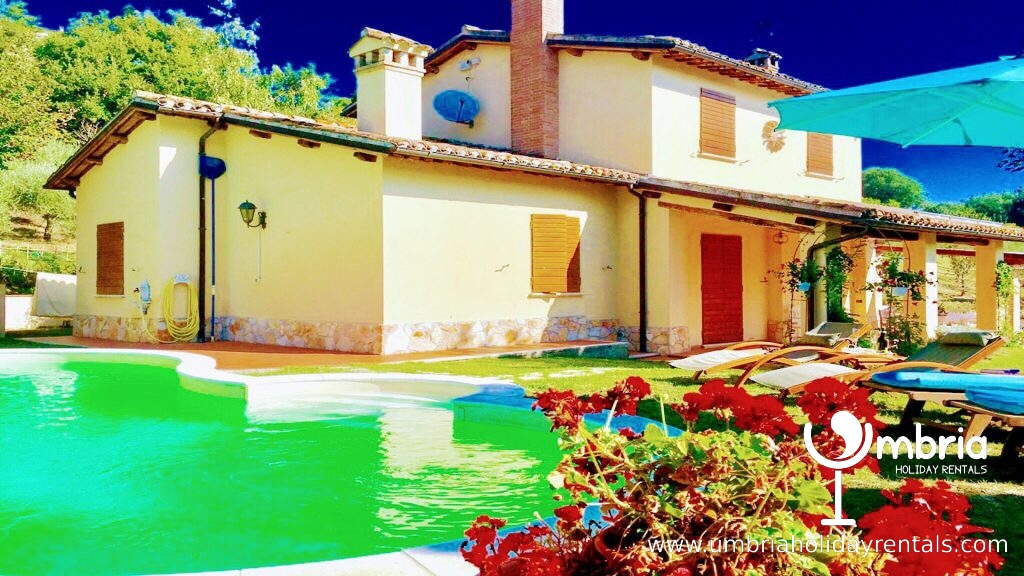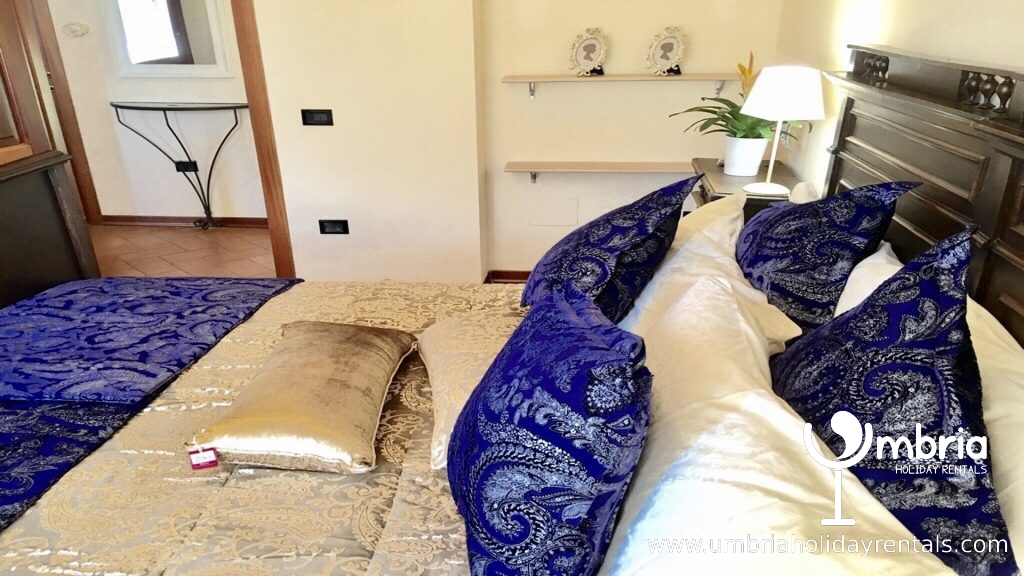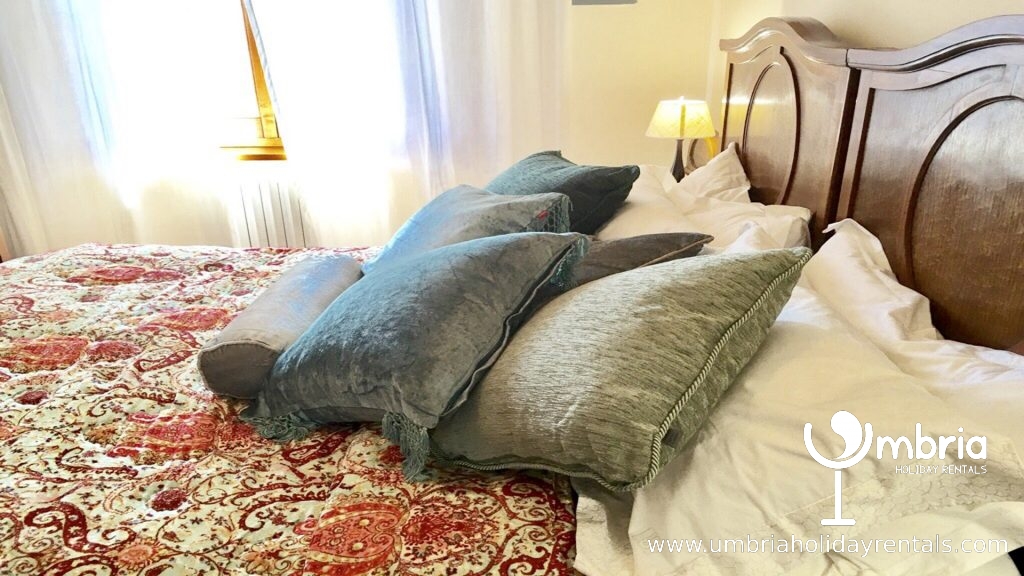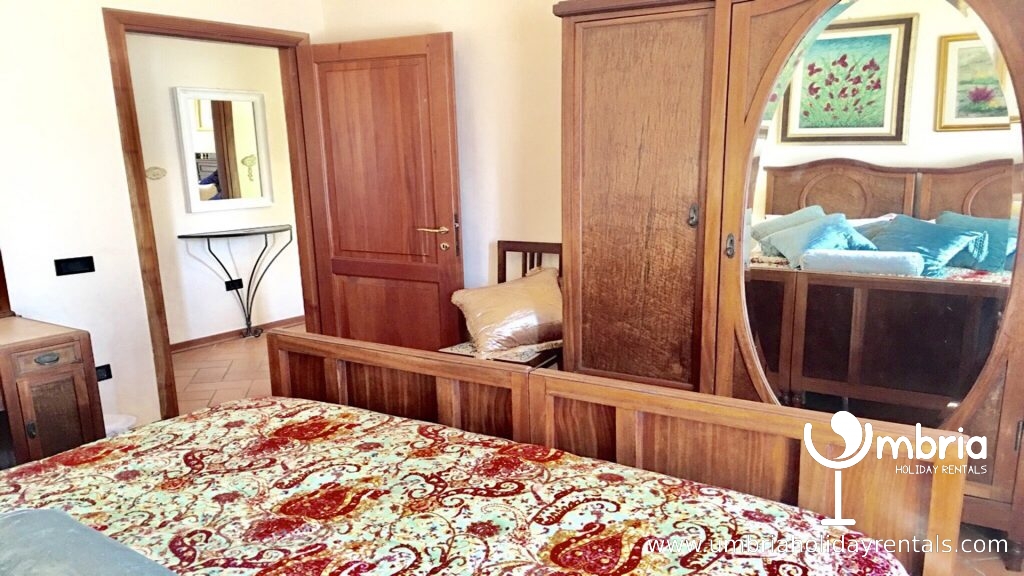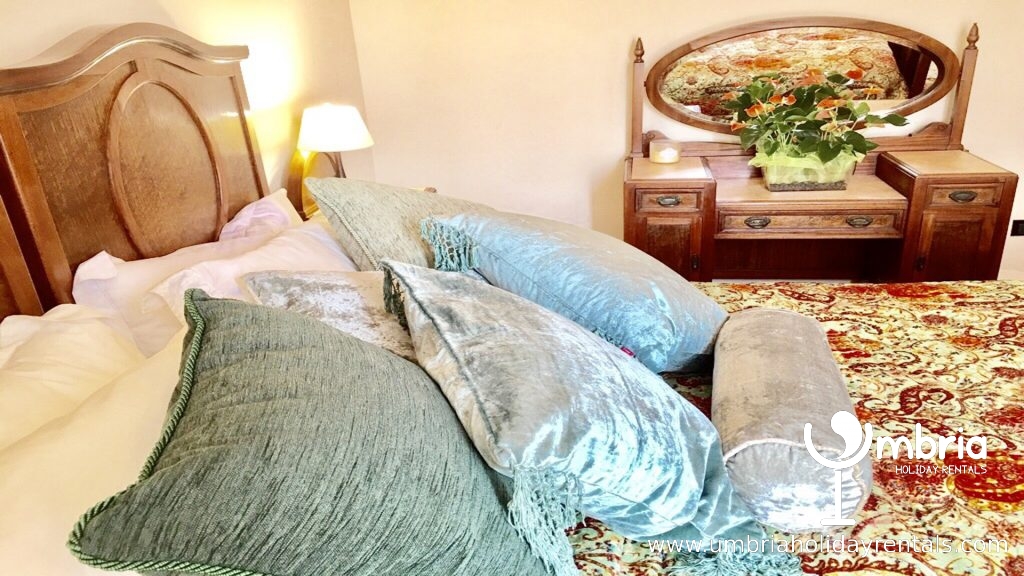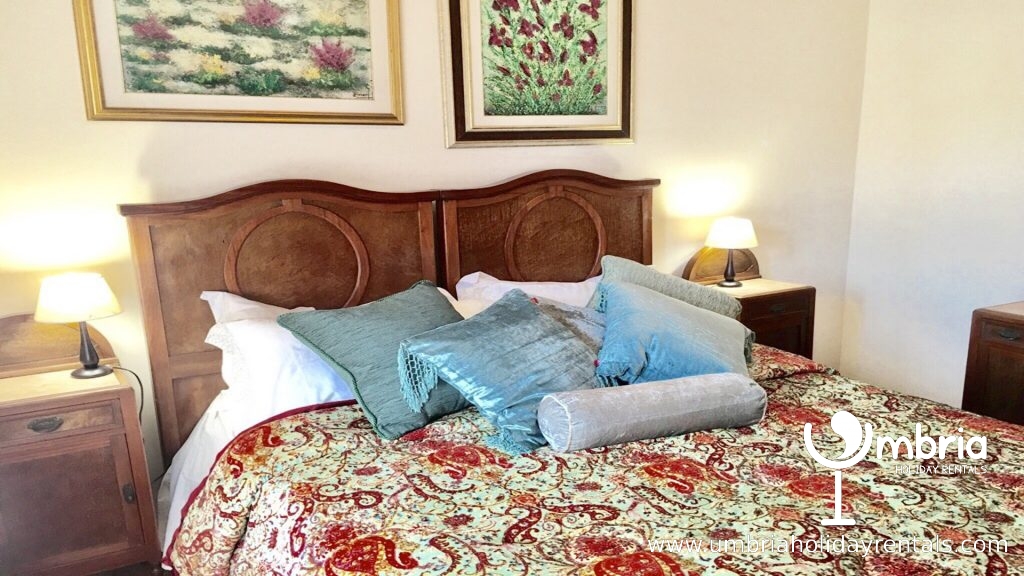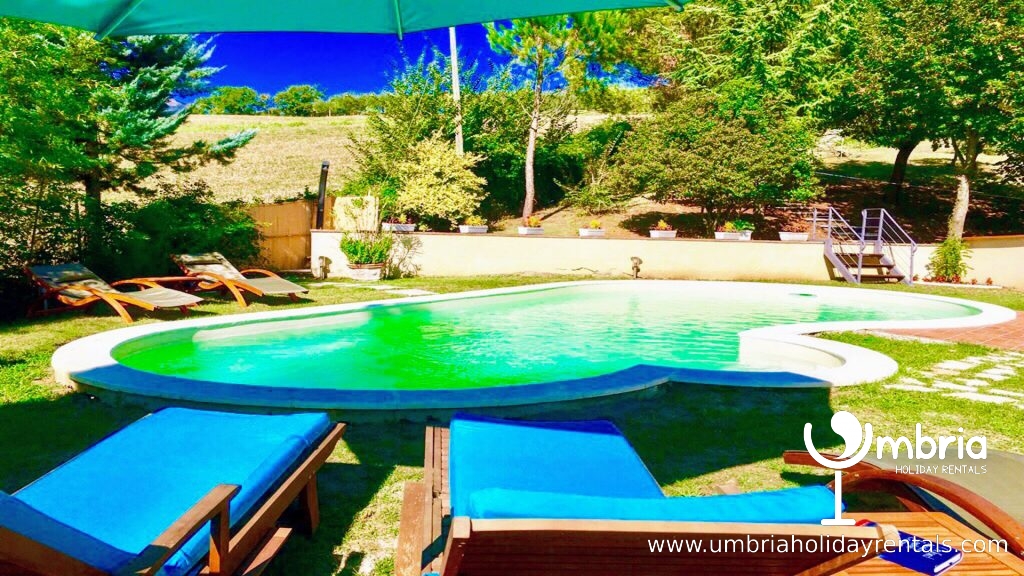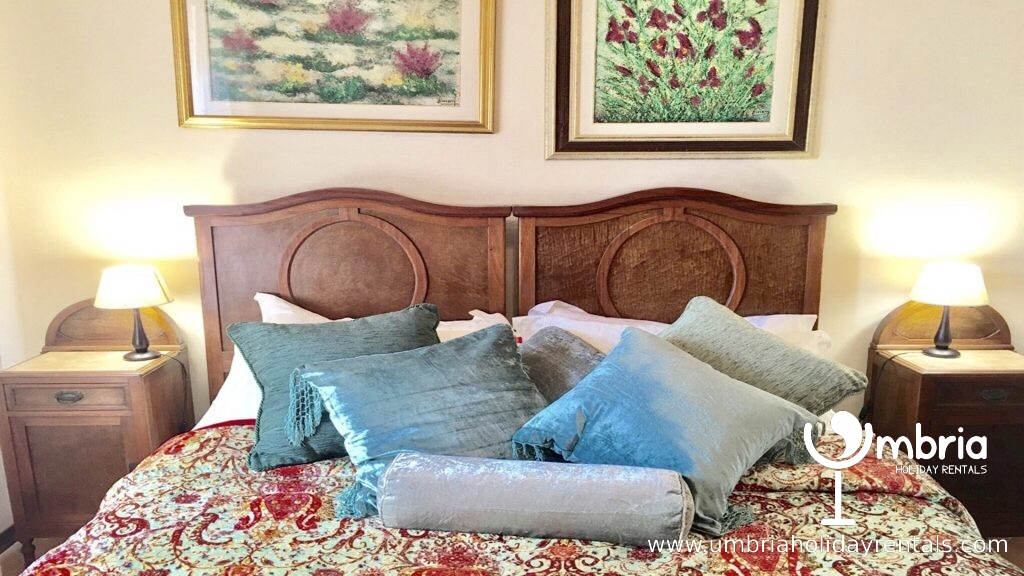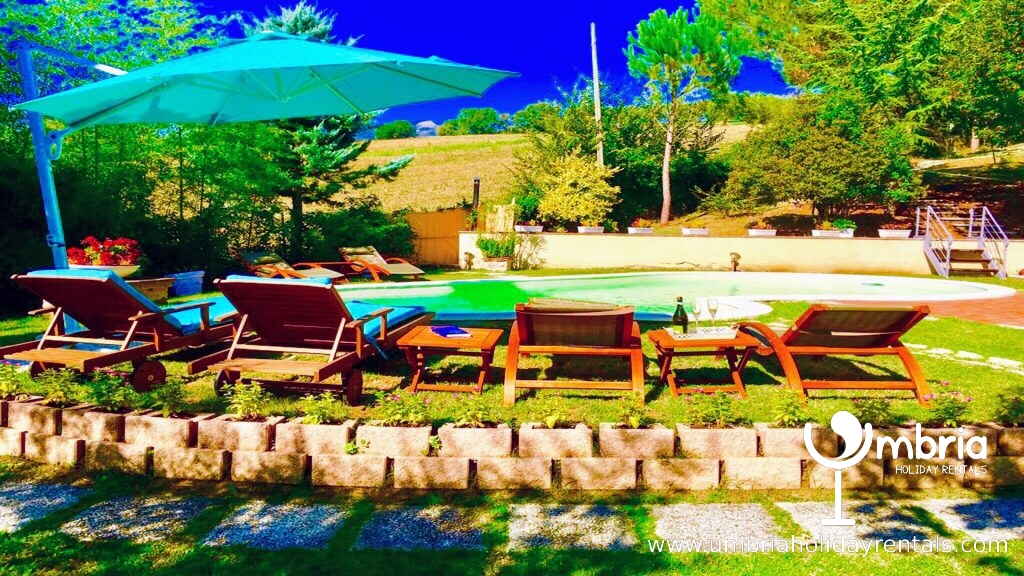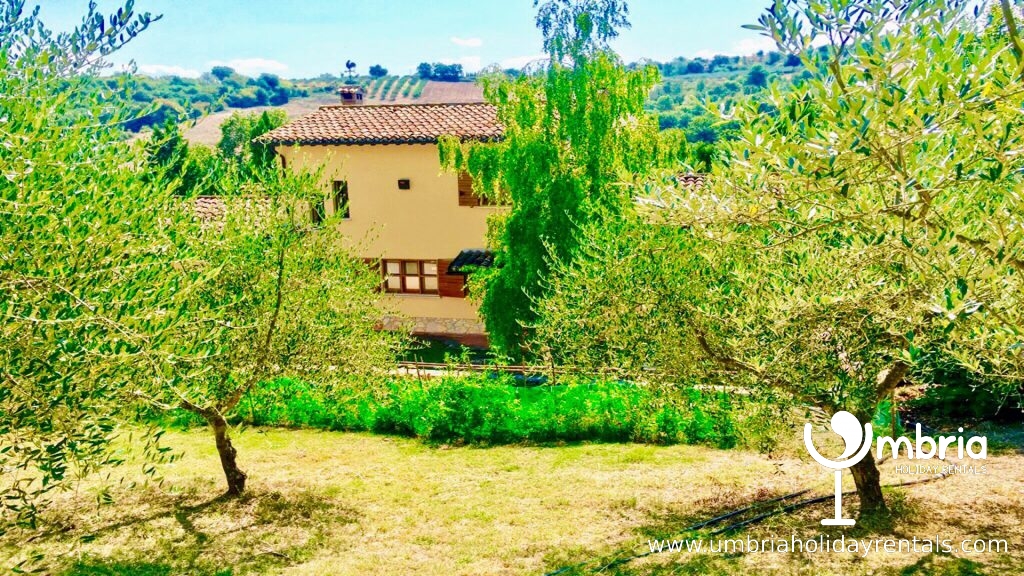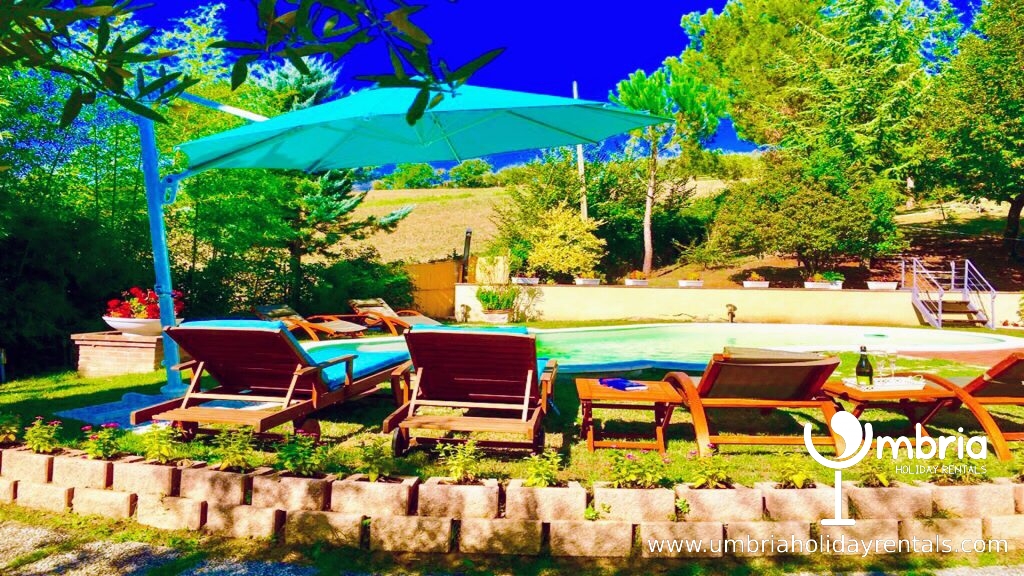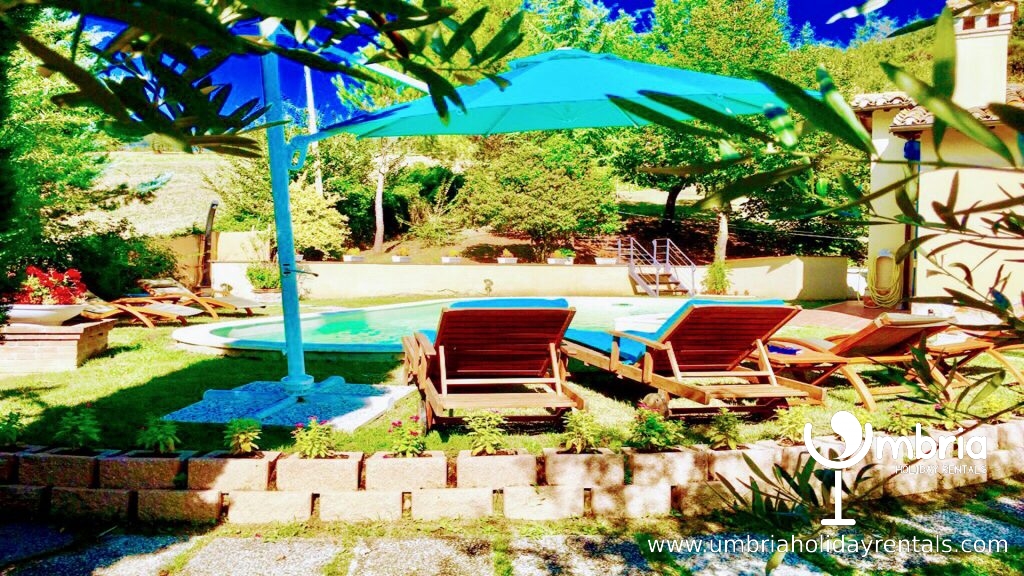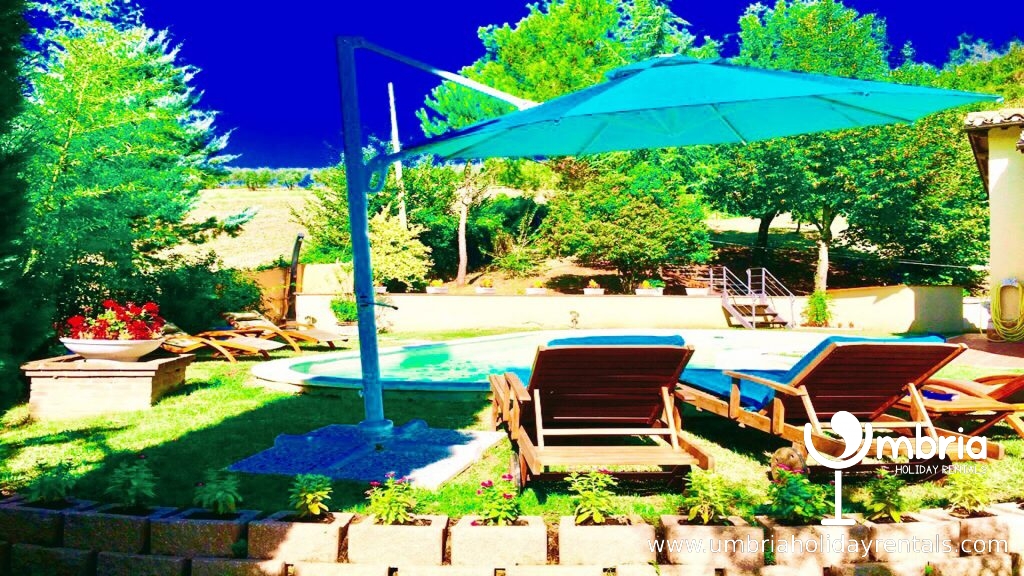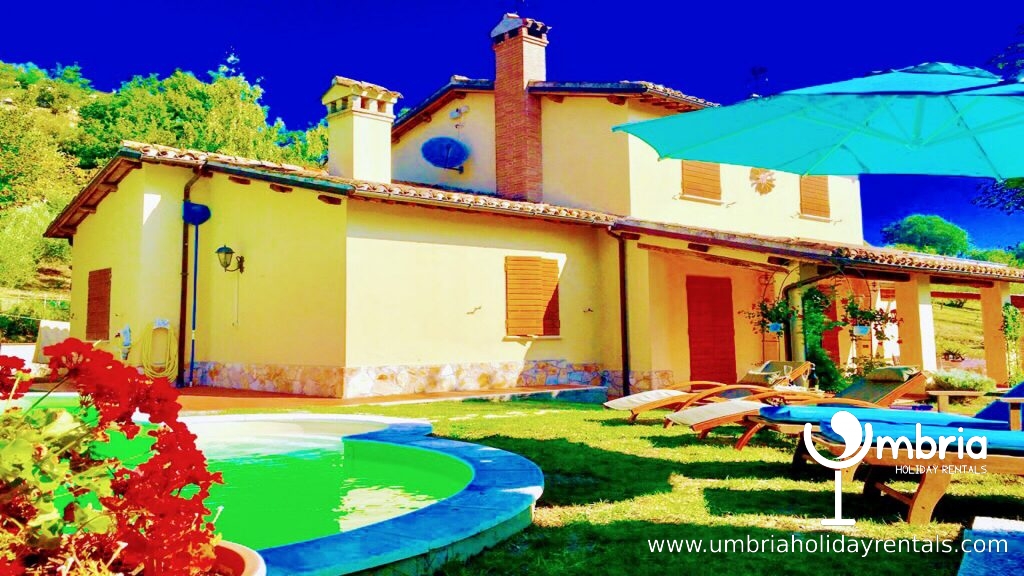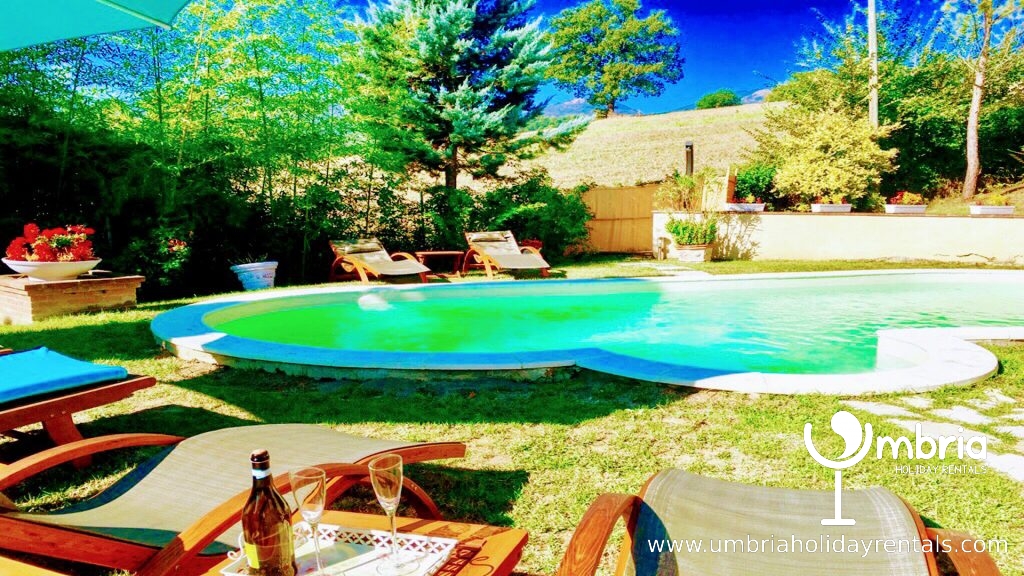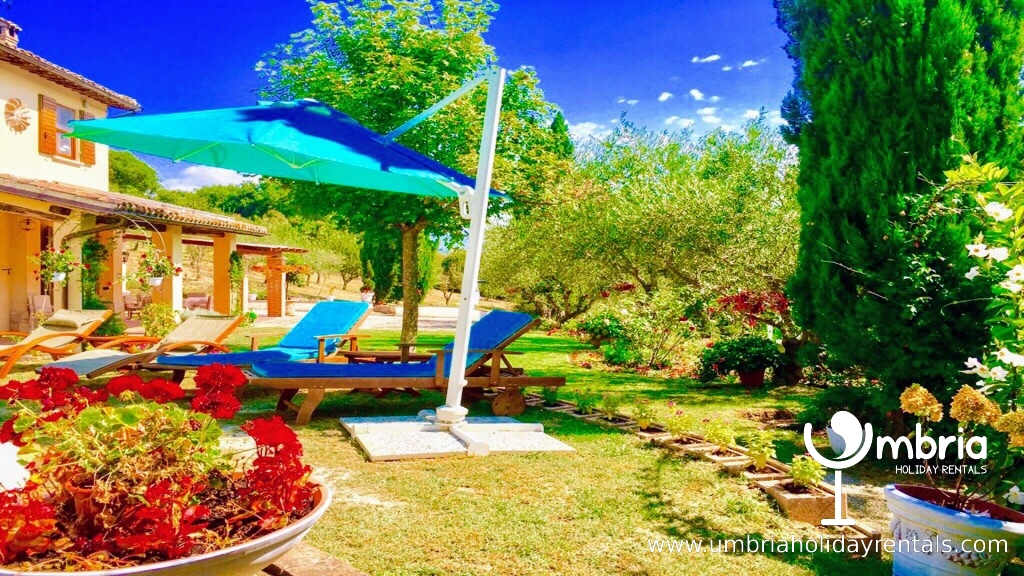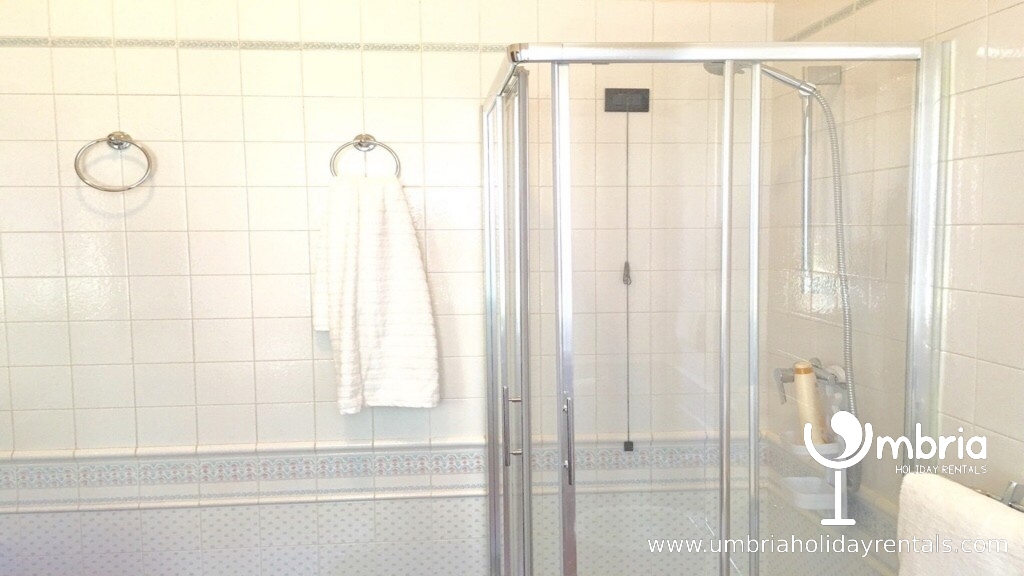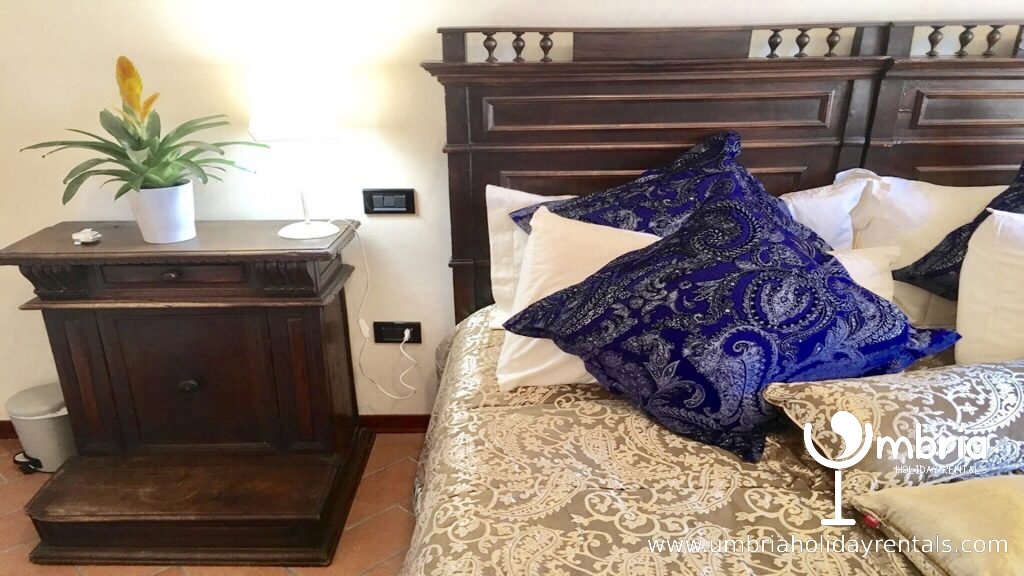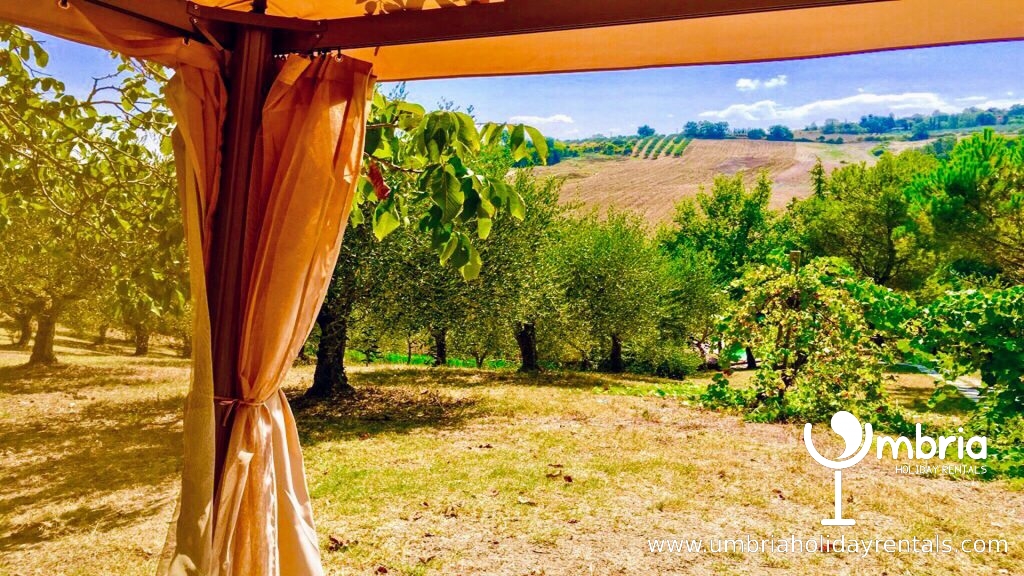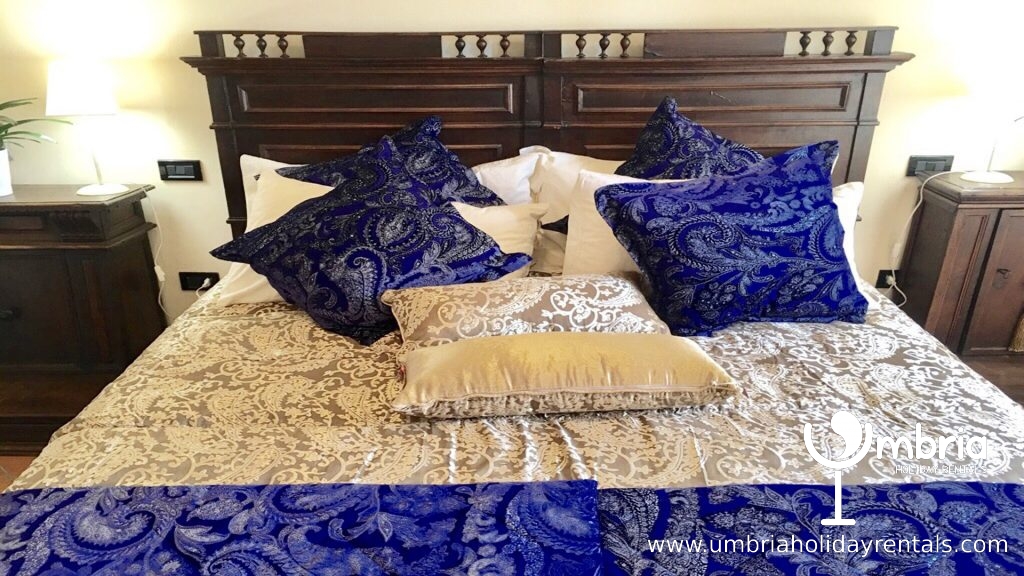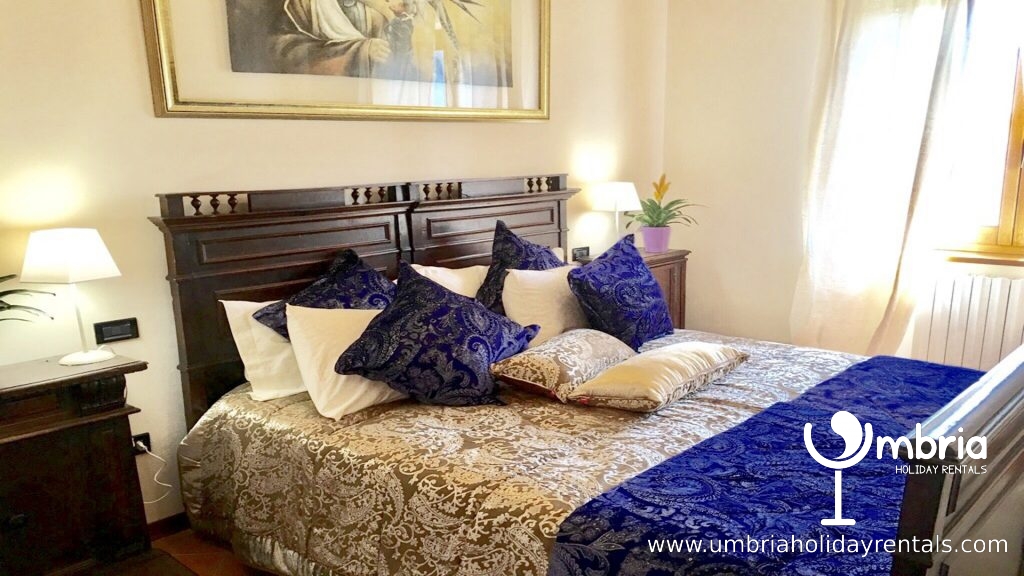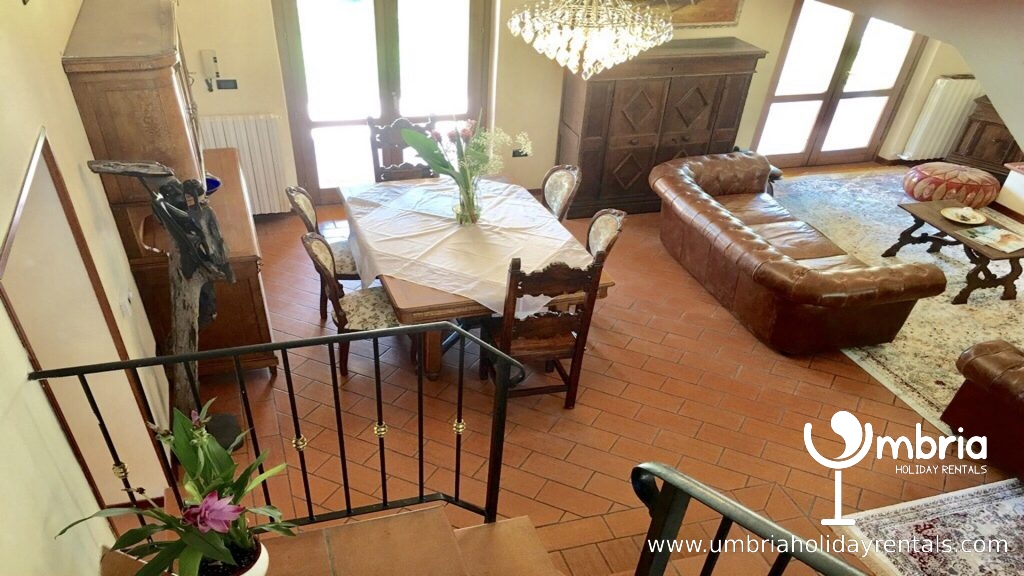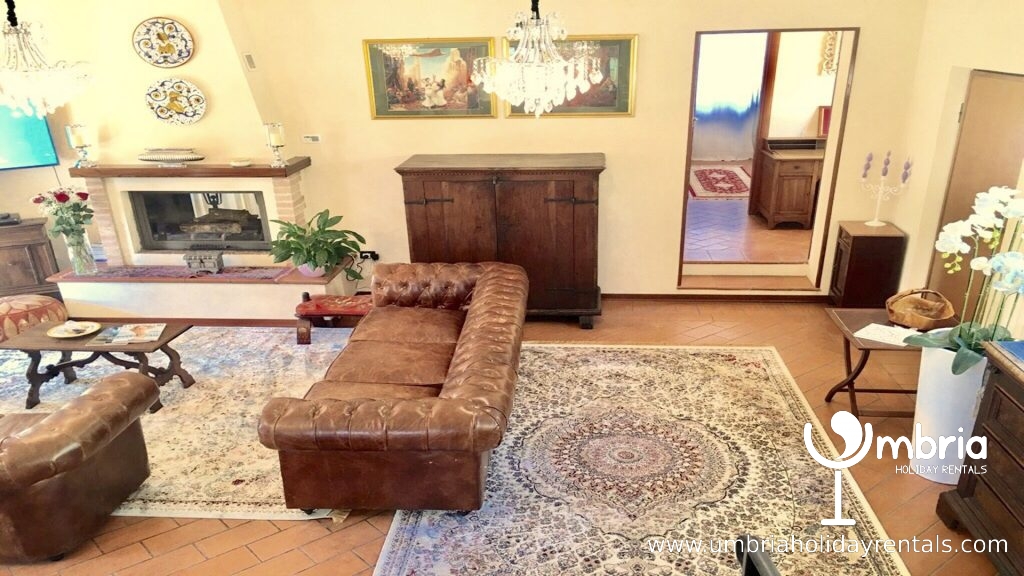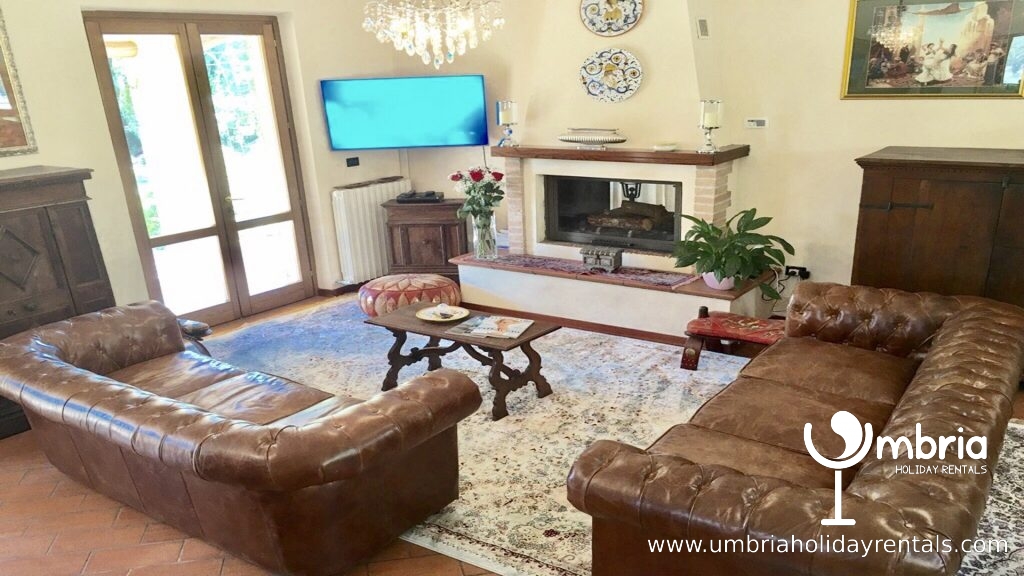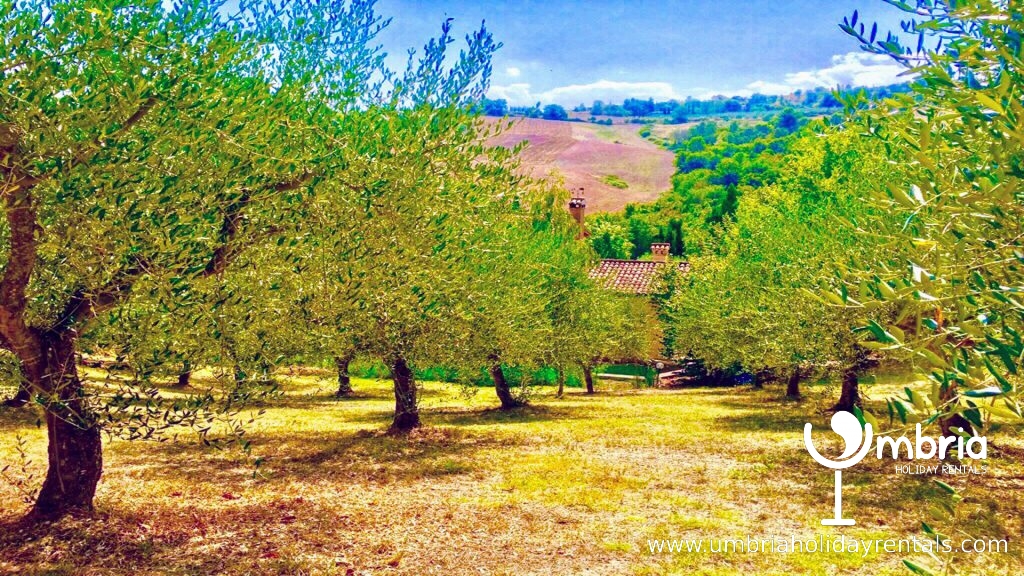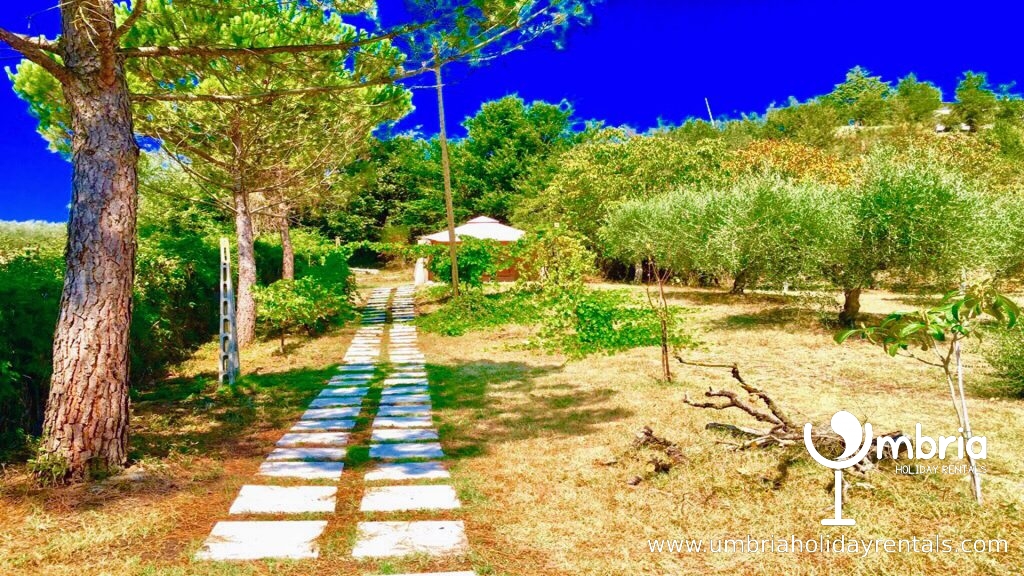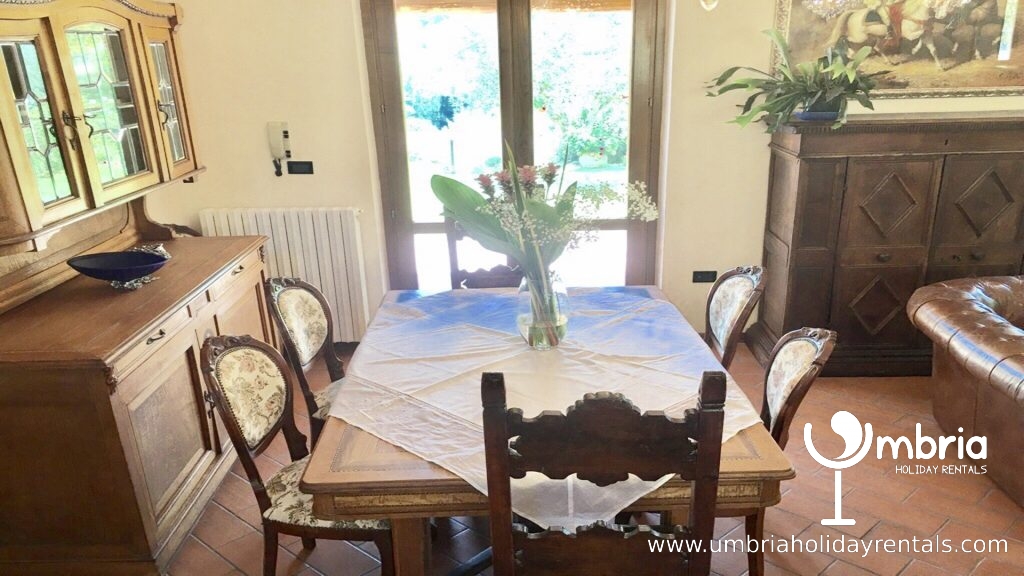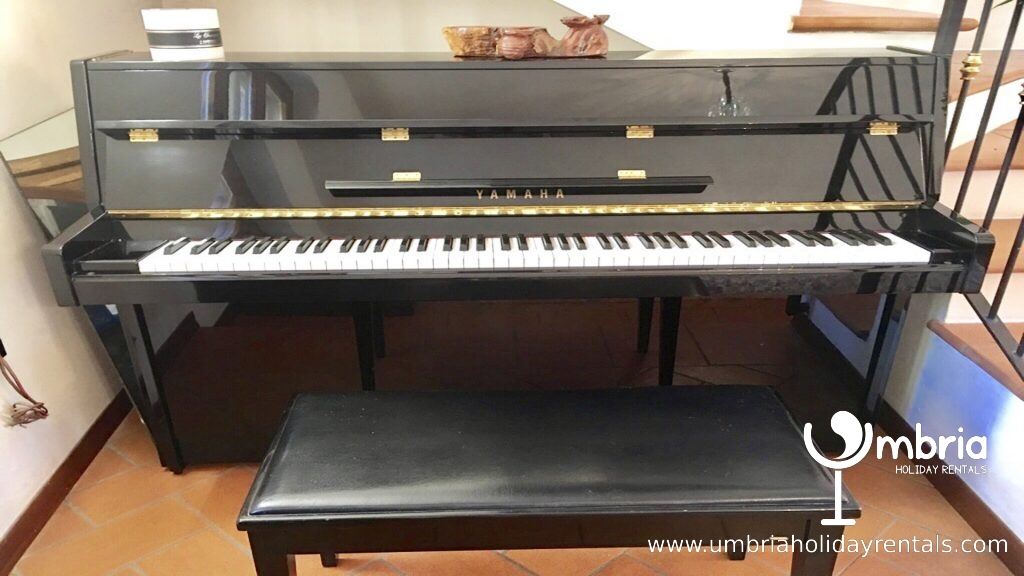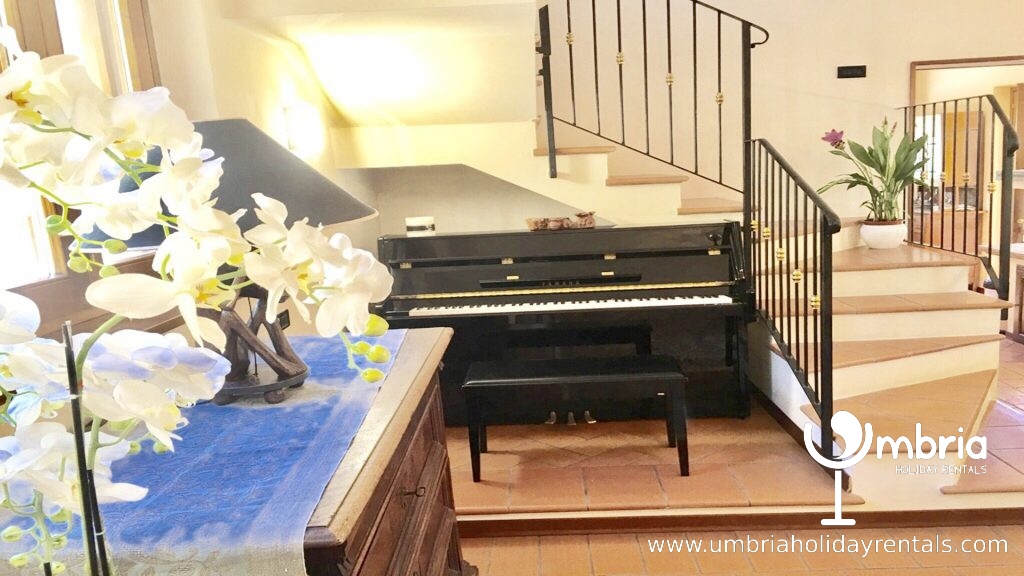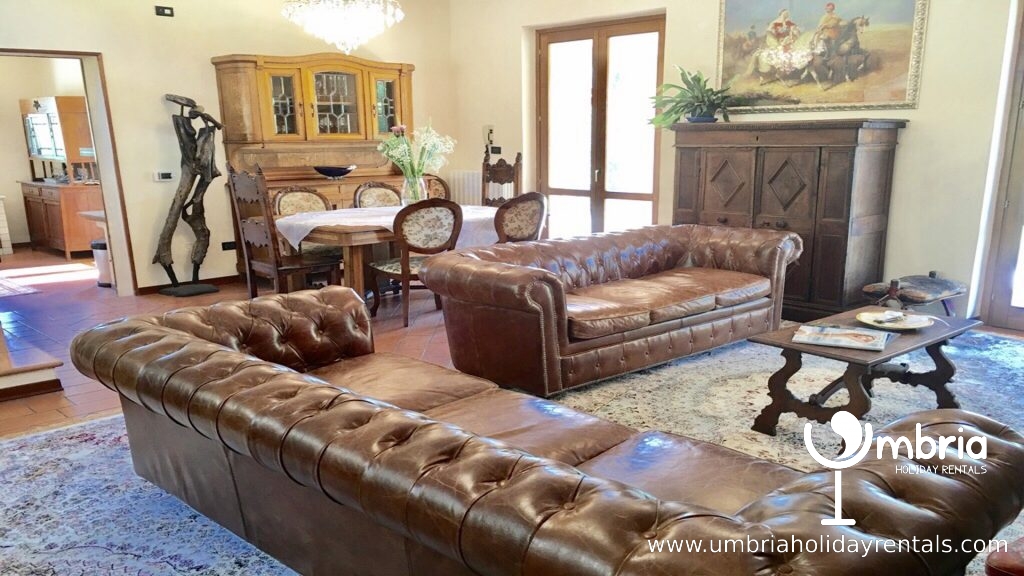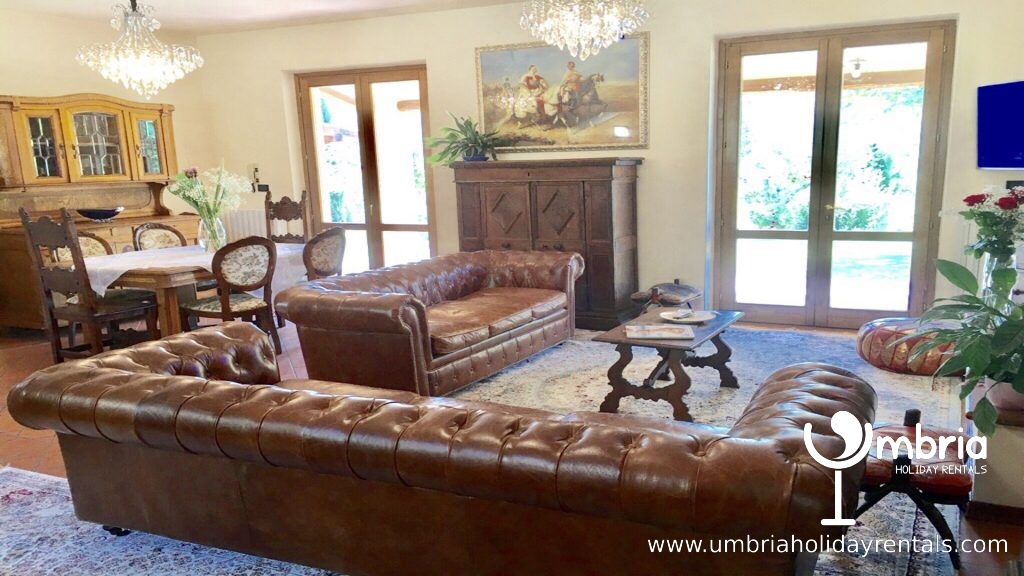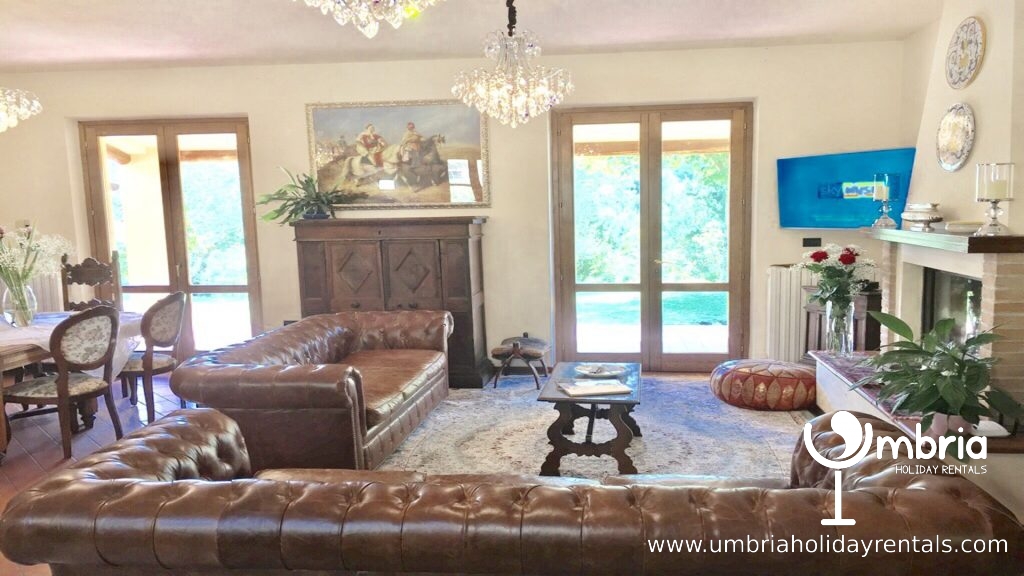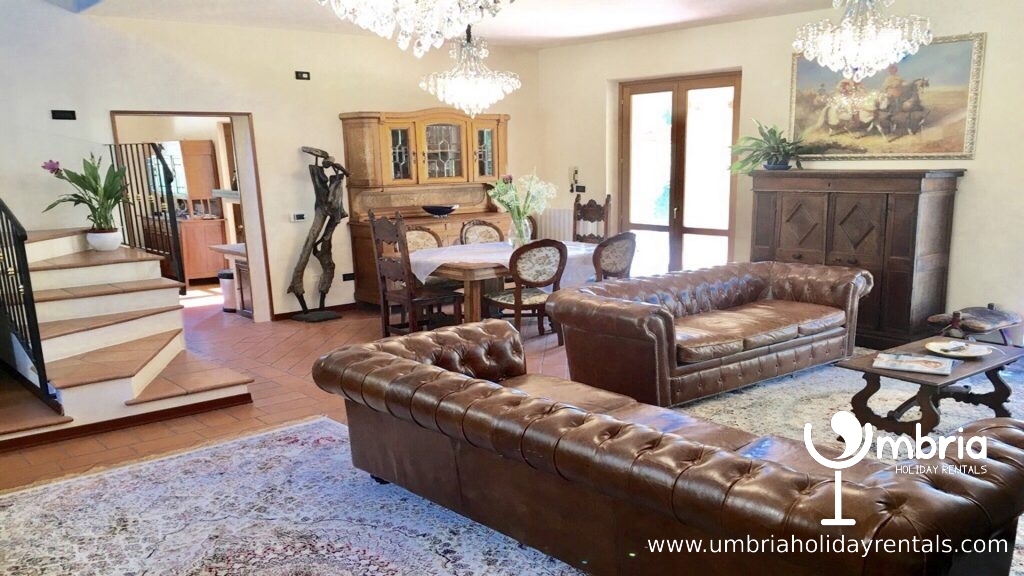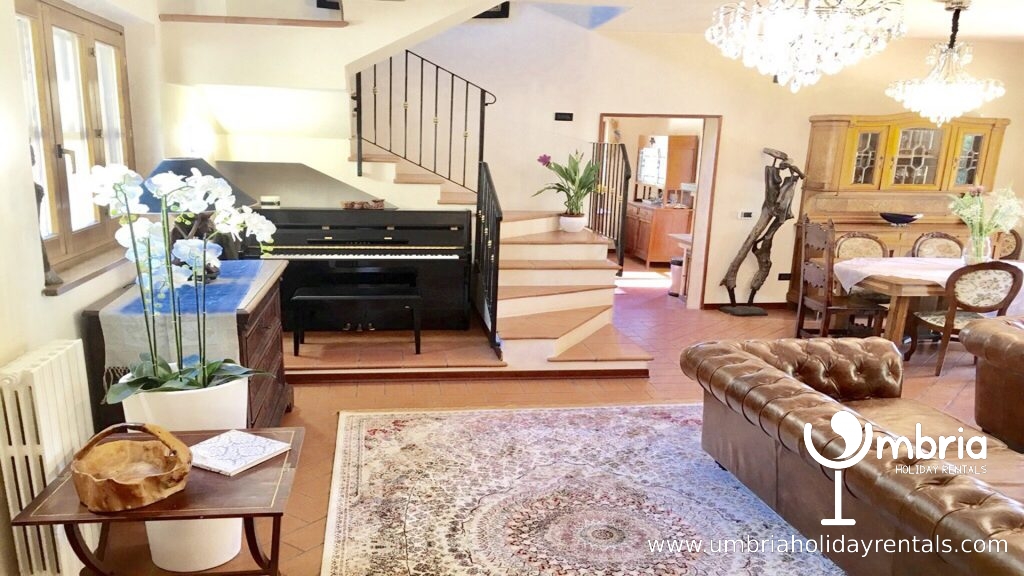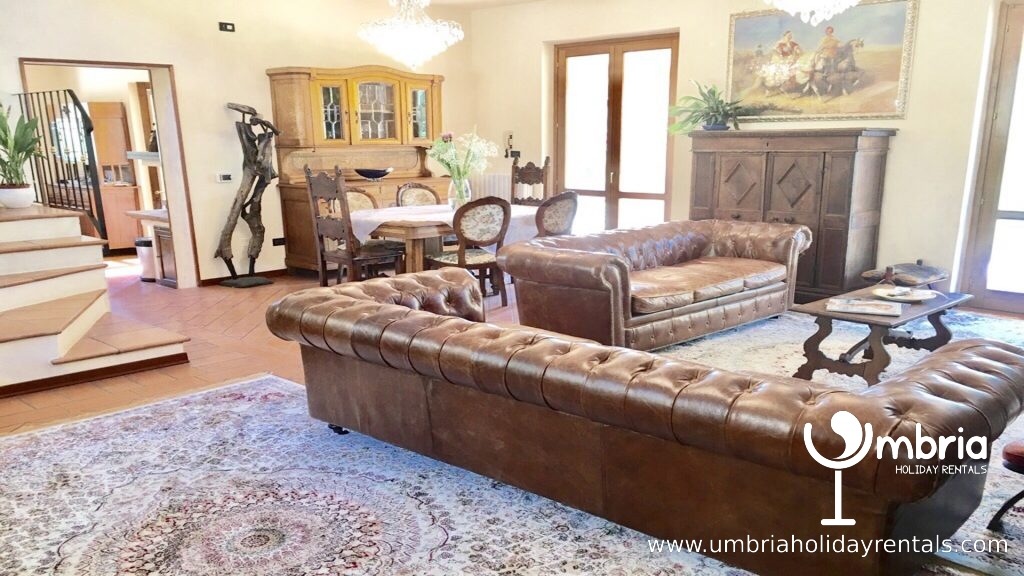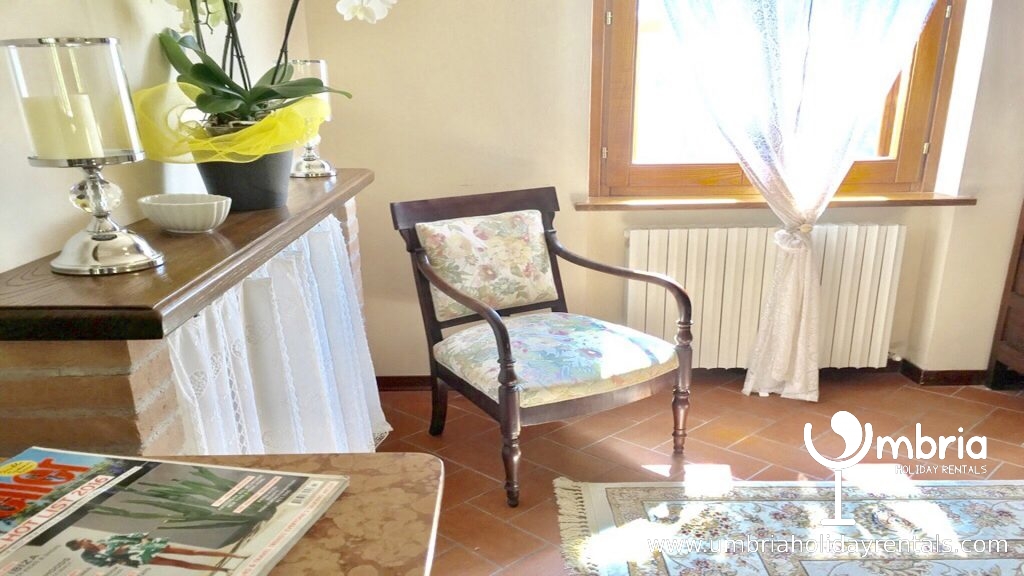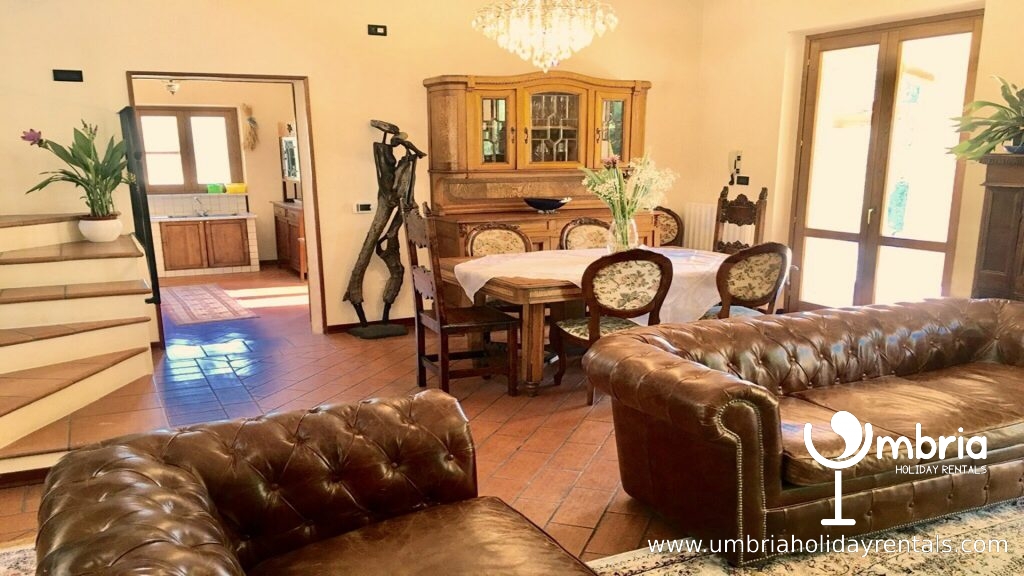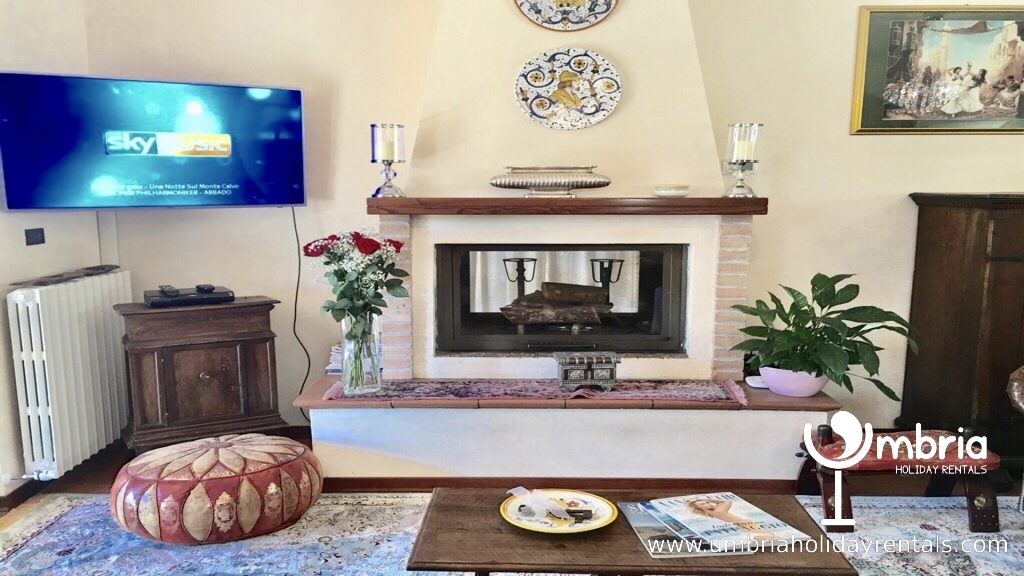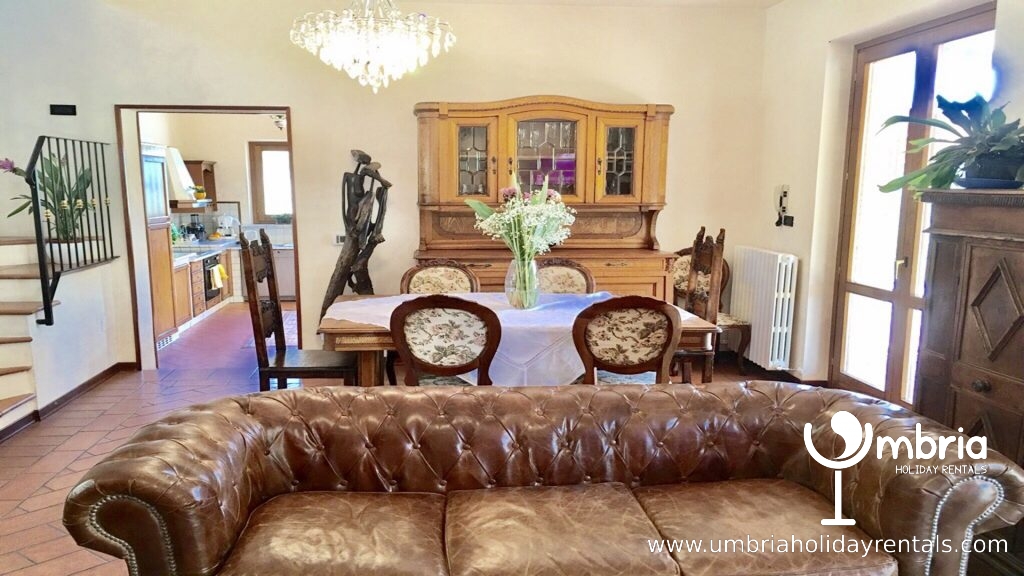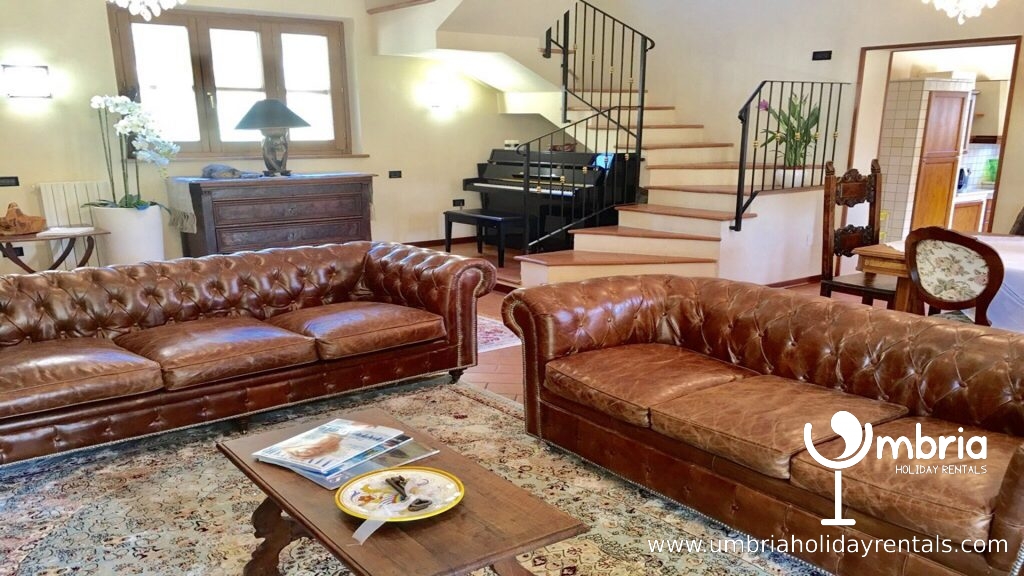 Sleeps:

8

Bedrooms

3

Bathrooms

3

Property type:

Cottage, Country house, House, Luxury, Villa
Property Description
Air-con, SKY TV (with Eng lang films), Wifi, washing machine, dryer, dishwasher, piano + 4 mountain bikes for hire at 15 euros/day each..
Just 10 kms to the mediaeval, pedestrian city of Spoleto, I offer you a detached LUXURY country villa in its own large grounds, with leisure pool and gazebo in the grounds. Olive trees, shrubs and flowers abound. Large living/dining room very comfortably furnished with 2 large soft leather sofas.
Summary…..
Spoleto Pool Luxury is truly sensational. Indeed, it is in a unique category, being a luxury villa, in its own private lavish grounds, consisting of olive groves, vineyards and a "pick your own" fresh vegetable and herb garden, as well as having a leisure pool that is exclusively yours. It can easily sleep 6 persons, having 3 double bedrooms, 2 bathrooms and a cloakroom/WC. It can sleep up to 2 extra persons on spare beds that can be placed in the utility room. With air-con (from Jan, 2017) and WiFi, the villa has a large sitting/dining room that seats up to 8 persons. Here, there are 2 three seater squashy leather sofas. Plus SKY TV with English speaking programs. Plus a piano !! A spacious veranda overlooks the gardens, at the bottom of which are "the potting sheds".
Mountain bikes are available for a small extra charge. This is an area that cries out to be explored and discovered. It is so sensationally beautiful and unspoilt.
And, throughout your stay, Elisa, who is in charge of Spoleto Pool Luxury, will attend to your every need. She lives in the nearby village but will be on standby during your stay. She is Italian and speaks perfect English. She will also advise you about activities, in addition to the activities we suggest – see below. At Spoleto Pool Luxury, you are living in the lap of luxury.
However, you are perfectly placed to have the choice to be out and about, discovering all that Umbria has to offer, under the guiding hand of Elisa, (as well as Leonardo/chef or Carlo/chauffeur/guided tours see below). OR, to stay put in this pampered environment !
And, if you want to book extra cleans, it costs 10 euros/hour and usually takes about 4 hours.
180 euros damage deposit – sorry !!! Returnable on leaving and only for serious damage eg ripping of furniture, breaking of washing machine doors etc.
No expense has been spared on this villa because, essentially, it is a family home, (their other home being in Dubai). And, the family like their luxuries ! For this reason, we ask for a nominal 500 euros damage deposit on arrival, to be returned on your day of departure. Naturally, we expect you to treat this home as you would your own. Unfortunately, some guests do not treat holiday homes with respect and, this is why we have to take a 500 euros damage deposit, as an incentive to such people not to damage our property. Please note that "damage" refers to the slashing of a leather sofa or the yanking off of a washine machine door…….not minor breakages !
Earthquake proofed villa, local crime non existent, no immigration problems, PEACEFUL PERFECTION !
On a serious note, you may have read in the media that earthquakes occur in Umbria. Well, earthquakes occur in many popular parts of the world that you don't hear much about because they are earthquake proofed. Over a period of 40 years, 99.9% of Umbria has now been earthquake proofed. And, we suffer NOT A JOT from earthquake damage. Every so many years, you will hear of a tragedy caused by an earthquake. In Italy, this will apply to tiny hilltop towns or villages, which have not been earthquake proofed, either because the money was "stolen" by corrupt officials or because the government did not want to invest in a small place that housed no works of Art !! However, there are fewer and fewer of these tiny places still in existence because if an earthquake did not cause them to topple, a gust of wind would have finally finished them off, such is/was their decrepit condition. For the rest of us, in Umbria, we live in safety, without wars, without immigration problems, crime free and in an incredible climate.
CENTRAL ITALY LOCATION – couldn't be better !
Please note that when you stay in here in central Italy, close to Spoleto, you are in the very centre of Italy, you can easily access anywhere in Italy eg Rome is a mere 1 hour 30 mins by car. This is why many of our guests choose to stay here, in central Italy, for longer periods and take day trips to all the Umbrian hill-top towns such as Assisi, Perugia, Orvieto, Spello, Montefalco, Norcia, Castelluccio etc, many of which are within a 30 mins radius by car ! Venice is 5 hours straight through by train and Naples and the Amalfi coast is 4 hours. The train station is only 10 kms away, in Spoleto.
Nearby Spoleto ! A must see !
When you visit central Spoleto (a must !), you leave your car in one of the underground car parks because Spoleto is a car free city ! Everything is within very easy walking distance, even the train station. Spoleto is not a typical Italian "city". While called "a city", it is more like a giant fairy-tale castle, full of cobbled and arched alleys, monasteries, museums and theatres, teaming with bars, shops and restaurants and within easy walking distance of mountains and woods – about 15 mins walk up to the spectacular aqueduct and then crossing into the woods and the Sacred Mountains, following in the footsteps of St Francis and Michelangelo, within a labyrinth of marked paths, around the Rocca and up to Monteluco. Further, the recent opening of the travellator, an underground and overground matrix of moving walkways, elevators and escalators, links all the different parts of the tiny city together from the top to the bottom of Spoleto and everywhere in between.
Non touristy !
There are many great restaurants and pizzarias in this area, all excellent and great value. Please note that ALL the restaurants we recommend have excellent food at great local rates. They are not "rip-off" places, of the kind that you start to find venturing towards Perugia, Assisi and Todi, which are much more touristy. Most of this area has remained quintessentially Italian. Approaching the border to Tuscany, it becomes MUCH more touristy and, therefore, MUCH more pricey !! And, once you step over the border, you are hard pressed to find Italians. It's all English, Germans and Belgiums !! Indeed, Tuscany is known locally as "Chiantishire" ! Due to an invasion by the Brits about 60 years ago.
Many activities on offer, including……
…..eating in the garden/home of one of the most celebrated chefs in Spoleto, at very modest prices. An amazing feast with unlimited wine, much written about in the 1000s of excellent reviews we have received over the years ! Our chef is for hire at reasonable rates to give a cooking lesson – set rates for a 5 course meal, including wine or simply pizza and pasta, with unlimited wine, of course ! Followed by another amazing feast with unlimited wine !
Following in the footsteps of St, Francis of Assisi and Michelangelo…..
This whole area is a great walking area and there are many marked paths to a diversity of places, those closer to Spoleto and Assisi, having been trod at one time or another by St Francis and his disciples as well as Michelangelo, who took time out in Spoleto, while he was engaged in painting the Sistine Chapel in nearby Rome. In particular, a favourite haunt of these hallowed persons was Il Ponte, at the top of Spoleto, the magnificent Roman aqueduct that delivers you directly into the Sacred Mountains, a divine place, scattered with alters and outdoor "churches", monasteries and religious monuments, an intensity of religiosity, suffused within the dells, the caves and the flanks of the mighty Monteluco mountain, an overwhelmingly beautiful place. Here, irrespective of your faith or lack of, you cannot fail to be aware of a presence mightier than you ! And, not only here. The same sensory awareness comes upon you as you walk through ancient olive groves that stretch out from central Spoleto, across the mountains and along the great plain, encircled by Gubbio, Assisi, Orvieto, Spello, Montefalco and Perugia, not to mention the tiny village of Uncinano that houses Villa Louise, along ancient trails, perused for 1000s of years, the history of those who have gone before echoing down the ages.
Do without your car for day trips ?
If, at times, you would like to be car free, we recommend the services of an excellent taxi service provider/chauffeur, the trusty Carlo ! He will take you on olive oil tasting excursions, wine tasting trips or drop you off and pick you up in nearby places or faraway places. He is VERY flexible, is open to any kind of transport request and is very knowledgeable both about our local area as well as the rest of Italy. And, he is NOT a rip-off merchant. His prices are very fair and much better than the other local taxi-drivers. And, he is reliable ! Ask me for his contact details. Then, you contact him directly for quotes…. Or, you can use the train – train station in Spoleto, 10 kms away.
Experience everything the area has to offer….
There is pony trekking, white water rafting, fly fishing etc, in the nearby vicinity. You can visit the largest waterfalls in Europe, Marmory Falls, and walk up and down them – 16 miles away. We provide you with lots of information re Spoleto and the surrounding areas to help you decide where to eat, where to visit, beautiful drives etc., all based on our personal experiences and those of our guests. And, we are continually adding to the activities for our guests eg the latest addition is a picnic, which involves a short ramble up a mountain, with a donkey carrying the picnic, then, at the top, with sensational views, the picnic is laid out – a feast with unlimited wine in a heavenly setting ! And afterwards, the children can have rides on the donkey ! Further, a new activity has taken off with a vengeance. It is a truffle hunt. It starts with a beautiful morning walk through outstanding scenery. You arrive at the woods. You are taught how to hunt out the truffle. Then, the chef, Leonardo, who is guiding you, cooks up, alfresco, the most amazing truffle dish. And, you are treated to a slap-up truffle lunch with unlimited wine. Currently, this is No 1 favourite activity ! However, all the activities we recommend are popular.
Accomodation and features
Accomodation type: self-catering
Bedrooms: 3 doubles
Bathrooms: 2 full shower rooms + 1 cloakroom/WC
Living Room Facilities: 2 very comfortable 3 seater soft leather sofas
Dining Facilities: seats 8
Kitchen Facilities: 4 ring stove, clothes dryer, dish washer, freezer, fridge, grill, hob, ice maker, iron+board, microwave, oven, washing machine, coffee maker, cooking utensils, toaster
Entertainment Facilities: books - fiction/non-fiction, piano, satellite or cable TV, DVD player
Internet Access: internet access, wireless broadband
Swimming pool: outdoor pool, private pool on site
Outside:bike, garden, BBQ, parking off street, porch, terrace, veranda, garden chairs, beach chairs, bicycles, deck chairs, sun loungers, extensive grounds, parkland
General Property Facilities: activities guide, central heating, chauffeur, daily maid service on request, firewood, hair dryer, linens provided, local maps, local restaurant guide, welcome paper towels, private chef, welcome shampoo, welcome soap, welcome toilet paper, staff, towels, beach towels
Suitability of the Property: children welcome, suitable for elderly or infirm, pets not allowed, long term rentals available, non smoking only
Notes:
Extra charge for maid service, chauffeur and/or private chef - please request if required.
Mountain bikes included in rate
Rates
| | |
| --- | --- |
| 2017/18/19/20/21 | WEEKLY RATE |
| Oct 1 - Dec 21 | 1050 euros |
| Dec 22 - Jan 2 | 2100 euros |
| Jan 3 - Feb 31 | 1050 euros |
| March 1 - May 31 | 1300 euros |
| June 1 - Sept 30 | 1570 euros |
Rate includes up to 6 persons/utilities, linens, towels, inc pool towels + final clean. And, a Welcome Pack : wine, olive oil, pasta, sauce, milk, tea, coffee, sugar + toiletries to start you off.
7th person is a one off charge of 50 euros - to sleep on a futon.
Child's cot is a one off charge of 30 euros.
Discounted rates offered for all stays of at least 2 weeks.
You can hire bikes with helmets from us for 15 euros/day each.
Extra cleaning is 10 euros/hour - usually takes about 4 hours.
Optional aircon is 10 euros/day.
Optional central heating is 10 euros/day.