I Gelsi – sleeps 6
5 miles to historic Spoleto : beautiful, detached cottage in grounds of Bazzano Manor House, 3 bedrooms/2.5 bathrooms. Sleeps 6. Large Private Pool. Car recommended. Local bus stops outside : to Spoleto, 5 miles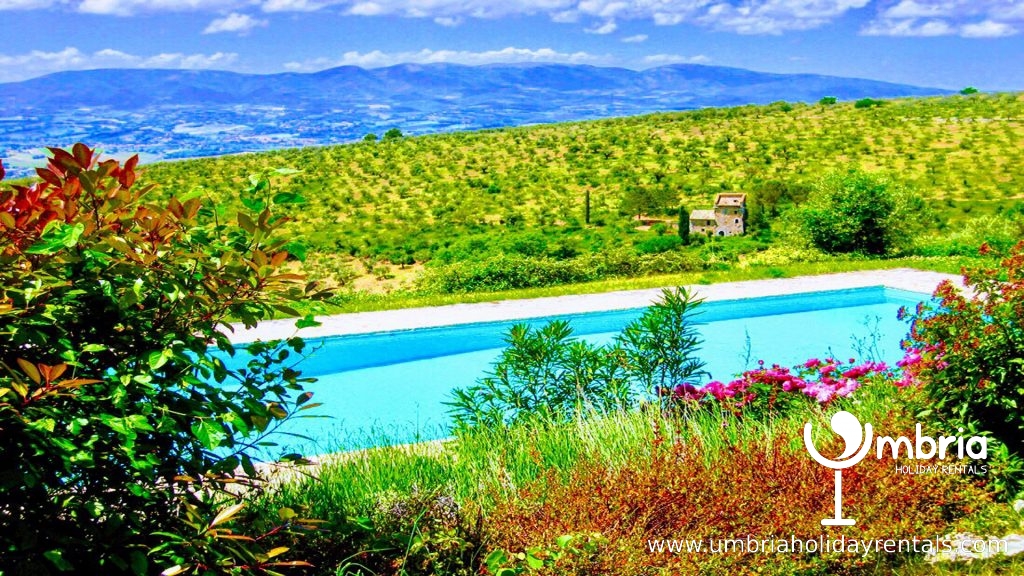 Sleeps:

6

Bedrooms

3

Bathrooms

2

Property type:

Cottage, Country house, House, Luxury, Villa
I GELSI – Sleeps 6. Detached, Luxury, Coach House in Extensive Grounds of Manor House
I GELSI, with WiFI, has a large pool, with changing rooms, shower rooms + WC besides the pool.
Just 5 miles from central Spoleto, this beautiful 16C Manor House is within its own walls with extensive private grounds. The Manor House has been converted into a holiday home and belongs to a French/Italian couple, who live in Paris. The couple mainly stay in the Monastery from July 25 until latter August. And, they may pop in another 1 or 2 times during the year. Other than that, only the groundsman lives on the property in the gatehouse, out of sight of I GELSI.
The large pool is totally private for you, when the owners and their family are NOT in residence, which is most of the year. But, family members may drop by, while guests are in residence. However, rest assured that the estate is large, their huge residence is cited totally independently of I GELSI and the pool is large enough to accommodate everyone without compromising privacy.
In the grounds, the old coach house, I GELSI, is a beautifully restored, detached cottage, with sensational views that sweep across Bazzano Inferiore, taking in valleys, hills and small mountain ranges, embracing poppy fields, swathes of sun-flower fields, hazes of blue corn-flowers, vineyards and olive groves, as your eyes travel toward Spoleto and Assisi.
LAY-OUT
I GELSI has been exquisitely restored, with attention to the minutest detail throughout.
The interior is spacious and light. There are 2 floors :
Ground floor –
large sitting/dining room with fireplace, comfy seating for 6 persons and dining for 8 persons
fully fitted galley kitchen with dish-washer
cloakroom/utility room with washing machine, ironing facilities, WC + hand basin
1st floor –
double bedroom
twin bedroom – beds can be joined
large single bedroom with small double bed, suitable for slim couple or 2 small children
2 bathrooms – 1 with full sized tub, 1 with walk in shower
OUTSIDE
I GELSI is diagonally to the front of the Manor House, separated by a square courtyard.
It has a beautiful terrace with sensational views across the valleys. The terrace will be covered and is awaiting garden furniture.
A large swimming pool with a changing room, shower rooms + WC.
Vast grounds with private woods, an ornamental fish pond, walkways and paths. Absolutely beautiful !
CAR NOT ESSENTIAL…
While we would advise a car, you could get by on the local bus that stops across the road, about 6 times/day, between 8 am and 8 pm. It does not run on Sundays. So, then, and in the evenings, you could rely on taxis.
See the details of our local and trusty cabbie, Carlo, who also does airport runs and guided tours, wherever you want, as well as taking you to olive oil and wine tastings. Indeed, Carlo will do almost anything for those who prefer to be driven. When you write to him for a quote, please write your requirements in simple English :
http://www.umbriaholidayrentals.com/general-information/travel-options–tourist-office.html
THE JOURNEY TO I GELSI FROM SPOLETO…..
From Spoleto, drive for 2 miles, along tree-lined country lanes, until you reach the cross-roads to Bazzano. Poppies and sunflowers gaze at a full sun in a deep blue yonder. A herd of muscular logging mules sway in warm, scented air, their wavy white manes flopped against red furry coats, vivid orange against lush green grass, chomping bright yellow straw. Mountains, smothered by thick patchwork quilts of olive groves and vineyards, a chorus of dizzyingly high, rocky crags, cloudy shapes, black green, glide across mediaeval hill-top towns, perched on purple tips.
To your left, a road leads into hills and mountains, past an old church, a farmstead, a restaurant, a glorious tangle of wild flowers, hedgerows, honey flower fields, abuzz with bees. To your right, a way back to the fairy tale city of Spoleto.Ahead, the ascent begins. Excitement mounts. To the Bazzano Manor House.
In its vast and woody grounds sits the bijoux I GELSI, a luxuriously converted coach house, imperiously spying us from a lofty eyrie. Gently. Like a snake awakening from slumber. The road twists, turns and stretches towards the Manor House. Higher and higher. Below, a world unfurls towards Assisi, embracing patterned plains. Carved into colourful, overlapping emblems, as if God has used His wax seal, to stamp His identity on HIS land, a majestic landscape that expands with each glance, the plain of a billion, trillion pilgrim footsteps, traipsing from Assisi to Orvieto, Perugia to Gubbio. You sense the presence of living history.
You pass the deer enclosure, 5 thousand hectares, the deer, contendedly grazing, unaware of their fate.
Onwards and upwards. Until…..At the top. A high stone wall. Olive groves falling below you to the left, rising above you to the right, a pony rolling on crisp, green grass, goats and sheep, like speckled white dots in a gaze that travels in a nano second to another world, far below – 5 minutes drive away. I know that inside those walls is THE garden that inspired HIM. I know. Because I have walked alongside those walls for years. Peered through the gates and over mossy low bits of wall. Seen workmen come and go. Seen endless seasons change. Enchanted by the curves, colours and textures of the garden. Tempted to stray in there. Unlock secrets. Baited by forbidden fruits.
Tomorrow, I will dare. Tomorrow never comes. And, the years pass…..
ABOUT THE OWNERS…..
The Manor House was in the private hands of an Italian. Then, I heard it was sold…..to someone engaged in war with the Spoleto local government over the installation of a large pool and the restoration of the Manor House. Normal. Local government does not welcome change. For a seeming eternity, nothing much happened. Everyone stopped wondering. Except for me.Then. A phone call out of the blue. I own a property in Bazzano. Will you help me publicise it as a holiday rental ? Filipo is a global strategy consultant. His wife is a Professor of Astrophysics, specialising in the surface of Mars. They live in Paris. The Manor House is their holiday home from July 25 to latter August, each year. And, maybe a couple of times during the rest of the year.
MY INTRODUCTION TO I GELSI…
Tentatively, I open an iron gate. I step onto hallowed ground. No longer a trespasser. Welcomed. I feel important. Privileged. The hugeness of the Manor House ahead of me. Totally restored. Done under wraps.
Filipo and Valerie gesture towards the old stone coach house, opposite the Manor House, also completely restored. It looks as cute as the Manor House looks stately. Do you think holiday makers would like it here, they ask. Beamed ceilings and wooden parquet floors throughout, 3 double bedrooms (1 with a double bedroom, 1 with twin beds), 1 small double bedroom (with small double bed), 2 bathrooms (1 with a full sized tub, the other a shower room, ensuite to the small double bedroom), a utility/cloak room with a washing machine and a WC (on the ground floor), a very large sitting/dining room and a separate large galley kitchen with a dish washer. Views through every window. And, a large, covered terrace.The most perfect restoration.
Born of the majestic Manor House, a converted coach house welcomes a new life. To host people from every nationality. To mesmorize and captivate all who enter her. A different identity requires a new name. I GELSI, named after the famous indigenous tree of the area.
Its large terrace looks beyond the gardens, the ornamental pond, where darting red fish turn gold and blue in rippling reflections of sky and sun, and, the large pool, to a universe below, sprawled over hills and valleys, towards Spoleto and Assisi, ranged by mountains in an inky blue distance.
This is pure Italy. Better than any film-maker can capture. Come see for yourself !
Accomodation and features
Accomodation type: self-catering
Holiday Theme: away from it all, family, historic, luxury, romantic, tourist attractions
Bedrooms: 3 : 1 double bedroom, 1 twin bedroom - beds can be joined +1 large single bedroom with small double bed (can accommodate a slim couple or 2 small children)
Bathrooms: 2.5 bathrooms, 1 with full size tub, 1 with walk-in shower + 1 cloakroom/utility room with washing machine + WC
Living Room Facilities: 2 squashy sofas - seats 6, fireplace
Dining Facilities: dining area for 8 with separate fully fitted galley kitchen, inc dish-washer
Kitchen Facilities: 4 ring stove, dish washer, freezer, fridge, grill, hob, iron+board, microwave, oven, washing machine, coffee maker, cooking utensils, toaster
Entertainment Facilities: TV, DVD player
Internet Access: wireless broadband, internet access
Swimming pool: outdoor pool, private pool on site
Outside:garden, BBQ, parking off street, terrace, garden chairs, sun loungers, extensive grounds, parkland, wooden decking
General Property Facilities: activities guide, ceiling fans - room fans, central heating, firewood, hair dryer, linens provided, local maps, local restaurant guide, welcome paper towels, welcome shampoo, welcome soap, welcome toilet paper, towels, beach towels, daily maid service on request
Suitability of the Property: children welcome, suitable for elderly or infirm, pets considered, long term rentals available, non smoking only
Notes:
Please note that on the estate lives only the groundsman and his wife. The owners, a couple, who live in Paris, only visit the Manor House and mainly stay there from July 25 to latter August. The rest of the time, you will probably have the estate and the pool, exclusively to yourselves. The owners may pop by on 1 or 2 other occasions during the year.
A single bed can be placed discreetly under the stairs in the large sitting/dining room.
While one of the three bedrooms is a large, single room, the bed is a small double bed and easily big enough for 2 slim adults or 2 children.
Rates
| | | |
| --- | --- | --- |
| 2018/9 | Weekly Rate | Monthly Rate |
| 21 Dec - 3 Jan | 2000 euros | |
| 1 May - 3o June | 1150 euros | 4140 euros |
| 1 July - 15 July | 1250 euros | 4500 euros |
| 16 July - 21 Aug | 1350 euros | 4860 euros |
| 22 Aug - 31 Aug | 1250 euros | 4500 euros |
| 1 Sept - 30 April | 1150 euros | 4140 euros |
BOOKINGS NOT TAKEN FOR LESS THAN THE WEEKLY RATE
The rate includes up to 6 persons.
Flexible Arrival/Departure Dates - subject to availability. No arrival on Christmas Day or New Years Eve.
To see details of all that is included in the rate, EVERYTHING, please click on Booking Info :
http://www.umbriaholidayrentals.com/general-information/booking-information.html

A deposit of 25% is required to secure a booking.
To see the full cancellation conditions, please click on Cancellation conditions :
http://www.umbriaholidayrentals.com/general-information/cancellation-policy.html